HeatingForce is reader-supported. When you buy through links on our site, we may earn an affiliate commission. Learn more
7 Best Electric Patio Heaters on the Market (Reviews)
Nothing says cosy quite like an electric patio heater. Whereas gas-powered patio heaters are designed for outdoor entertainment, electric patio heaters have a level of versatility that makes them suitable for both the indoors and outdoors.
In this article, we will be going through an eclectic assortment of electric patio heaters, including making a list of the pros and cons of each heater so that you can make an informed decision.
Is an electric patio heater any good?
There are quite a few reasons why people might be better served by an electric patio heater than a gas-powered one. Electric patio heaters have the aforementioned benefit of being able to be used outside, but they are also better for the environment — and your wallet! While they might not be as powerful as some of the gas-powered heaters on the market, they are generally very simple to set up.
Additionally, you're more likely to get a consistent and even heat with an electric heater, as there is no variability with electricity (unlike gas and propane).
Another benefit is their size
Bulky gas-powered patio heaters are not only cumbersome for indoor operation — they can also be a dangerous fire hazard. Adding gas into any heating equation adds the possibility for fire or carbon monoxide poisoning; conversely, electric heaters do not emit carbon monoxide under any circumstances.
What are the best electric patio heaters?
As with gas-powered patio heaters, there are a number of factors you should consider when choosing an electric patio heater. One factor that both kinds of patio heaters share is appearance. As mentioned above, slim electric heaters tend to be smaller in size and output than their gas-powered counterparts, so keep this fact in mind when making your selection.
Here are the seven best electric patio heaters on the market today.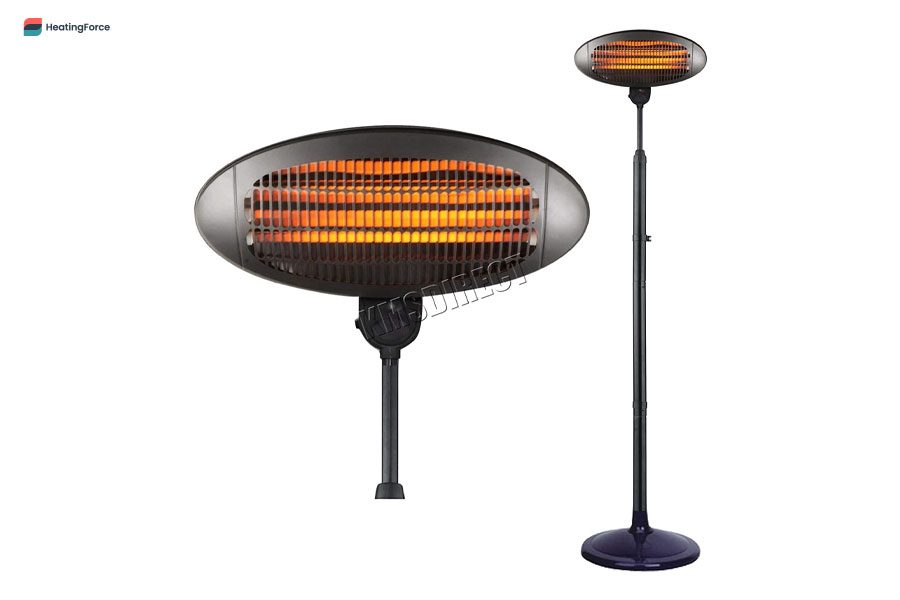 The WestWood Garden Outdoor Quartz 2KW Electric Patio Heater gives off a retro vibe that we really like. Adjustable and freestanding, this steel-framed heater is excellent value. Perfect for a garage or other indoor setting, WestWood has really nailed the classic '60s-style aesthetic. Capable of outputting heats at 650 W, 1350 W, and 2000 W, WestWood have also ensured there's enough oomph here to please most people. In practical terms, you should have no issues warming rooms up to 15 metres squared.
Now, we will admit this heater isn't perfect. The 2-metre power lead is lamentably short, but this can easily be remedied with an extension lead (if need be); as such, this will probably only serve to be a minor inconvenience for most people.
Who Should Buy This?
If you're looking for something that looks stylish, won't break the bank, and will deliver the heat you so sorely deire, it's honestly pretty tough to look past this excellent offering from WestWood. We think this unit will be particularly useful for anyone who likes customisation with their heater. The temperature, height, and angle has a large amount of adjustability, which is really everything you can ask for (and more) in a budget heater.
One final note is that this heater does not ship with a cover, so you may want to look into investing in a cover unless you plan on storing it inside when it's not in use.
Pros:
Affordable and great value
Retro metal design
Highly adjustable configuration
Cons:
Short extension lead (although it can be fixed with an extension cord)
Doesn't ship with a cover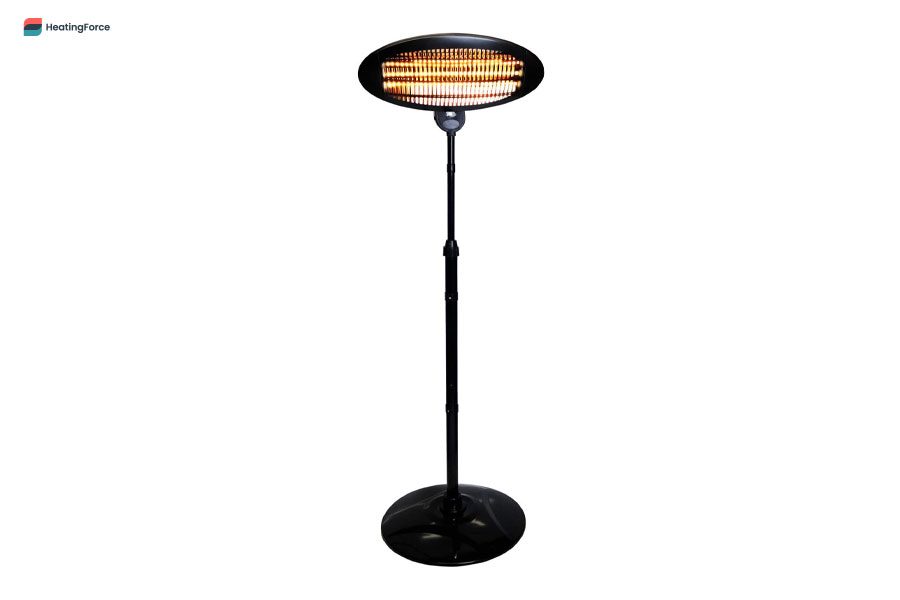 The Oypla Electrical 2kW Quartz Freestanding Outdoor Electric Garden Patio Heater shares a very similar design with the first heater on this list. Indeed, it even shares many of the same features, including adjustable heat and height. Oypla has gone for a more practical approach here, though, giving this particular model a larger base for added stability. Like the WestWood Garden Outdoor Quartz 2 kW Electric Patio Heater, Oypla has included overheat protection to ensure the safety of the product and its customers.
Additionally, Oypla offers free postage for UK residents, which is always welcome news. The heater is CE/GS Certified & ROHS Certified and weighs in at a shade under 9 kg.
Who Should Buy This?
This heater is suitable for home or commercial use. There is a lamp life of 5,000 hours, including a 2000 W quartz tube heating element. The item is weatherproof and ships with a IPX4 rating for outdoor use, but the manufacturers strongly advise against using during rain. In all honesty, the similarities between this heater and the first are vast. If you're tossing up between these two heaters, our advice would simply be to pick the one you think looks best. One other thing to mention is that the setup with this model isn't as easy as the first heater. Other than that, you're bound to love this heater.
Pros:
Affordable and great value
Retro metal design
Highly adjustable configuration
A 4.5-star rating from 240+ Amazon reviews
Cons:
Short extension lead (although it can be fixed with an extension cord)
Doesn't ship with a cover
Setup might be a little bit annoying for some people, although it's not exceptionally hard to figure out
Heat isn't anything to write home about, but it will work great for people who are close to the unit itself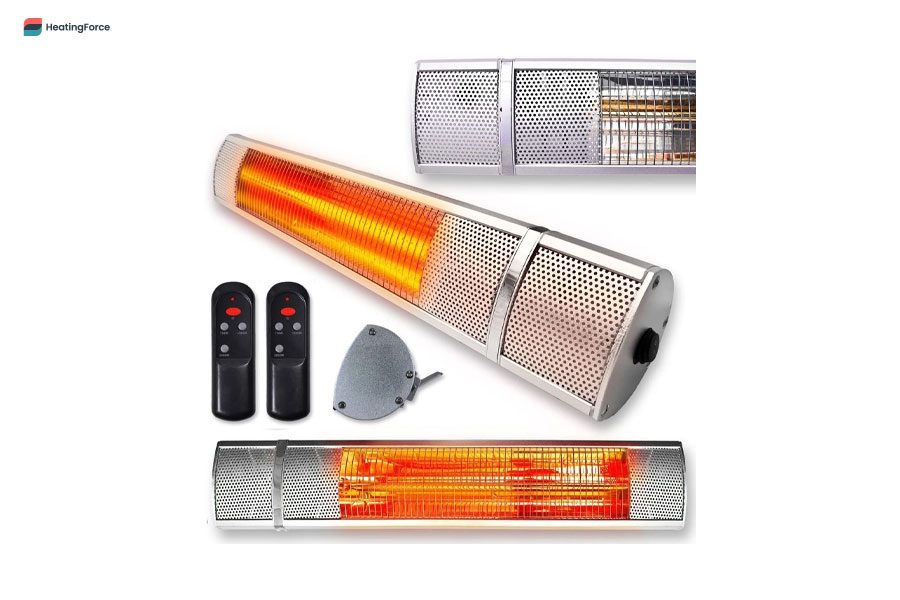 Now for something completely different: the Futura Deluxe Wall-Mounted Electric Heater. This infrared heater is a wall-mountable heater with a distinct design and robust construction. Futura has included a 2,000 W heater with a 2-year guarantee, and its prism-like shape gives it a strong degree of versatility for use in restaurants, bars, terraces, balconies, workshops, gardens, patios, gazebos, decking, summer houses, garages, workshops and many more other places.
Like the other heaters mentioned thus far on this list, Futura has included three different heat settings.
Who Should Buy This?
Futura has thoughtfully decided to include two remote controls for this heater, which is going to be especially useful if you decide to mount this unit to the wall. It will also be handy if you happen to lose one! Like mentioned above, there's really no end to the amount of places where this heater will be useful. It will cost you roughly 20p per hour to run, and the adjustable angle is a nice addition. The manufacturer claims it will heat a room up to 20 metres squared, so you should bear those dimensions in mind when making your decision.
One thing that I really want to mention is the customer care. Futura are obsessive about the quality of their products. In one example, a customer reported a very rare technical fault with their heater, causing it to stop working. In response, Futura offered a money-back guarantee or to have the product replaced free of cost.
The customer opted for the latter, receiving a new replacement in just two days! We think that's impressive and something that all companies should aim for.
Pros:
Ships at a weight of only 3 kg
Great for many different outdoor scenarios
Variable power output
Cons:
A bit more expensive than some of the heaters, although you definitely get what you pay for!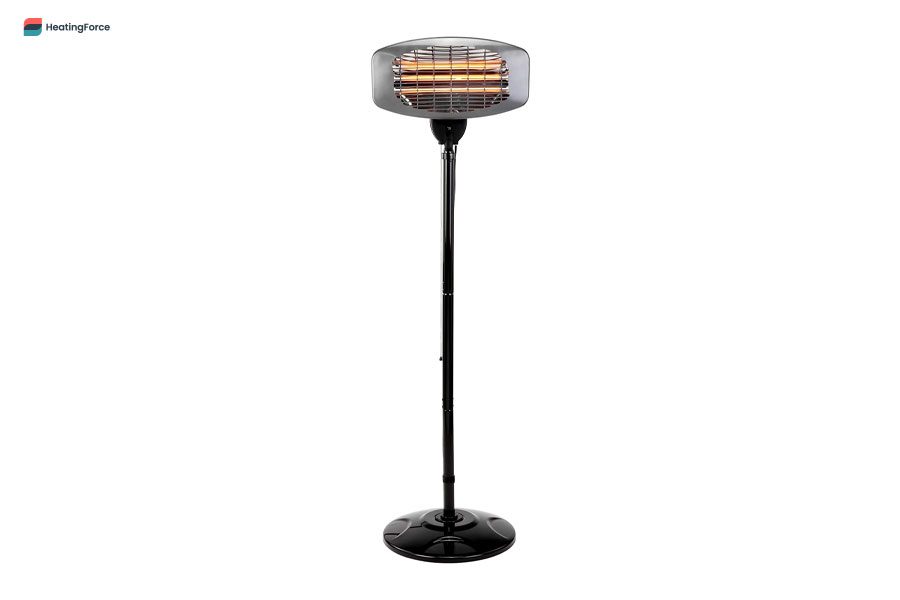 Back to the freestanding heaters now, and the NETTA Freestanding Electric Patio Heater delivers! Upon operation, instant heat permeates the air and eliminates the chill factor, and its adjustable height, swivel head, and heat settings makes this a well-rounded addition to your party hardware. NETTA has a IPX4 weatherproofing, and its exemplary safety rating is beyond reproach. Having said that, this heater isn't fully waterproof; we don't recommend using this heater in rainy conditions (unless it's undercover, of course).
Who Should Buy This?
Party people! Easy to install and quick to heat, I would call this the ideal party heater; in fact, you should be able set it up within just 5 minutes from opening. It can be easily moved inside or outside, which is a great start, and its rock-solid base gives it the kind of sturdiness you want out of a heater when you have hosed-up house guests stumbling around at 2 in the morning. As per the manufacturer's description, "The quartz tubes provide silent and safe heating with their infrared rays."
Netta's one-year warranty is half that of the others on this list, but at least there is one! Anyone who appreciates versatility and dependability will find this heater to be a great proposition.
Pros:
IPX4 weatherproofing
Stable
Solid construction
Easy to move and use
Easy to assemble
Three heat settings
Cons:
Heat could be a little better
Power lead could be a bit longer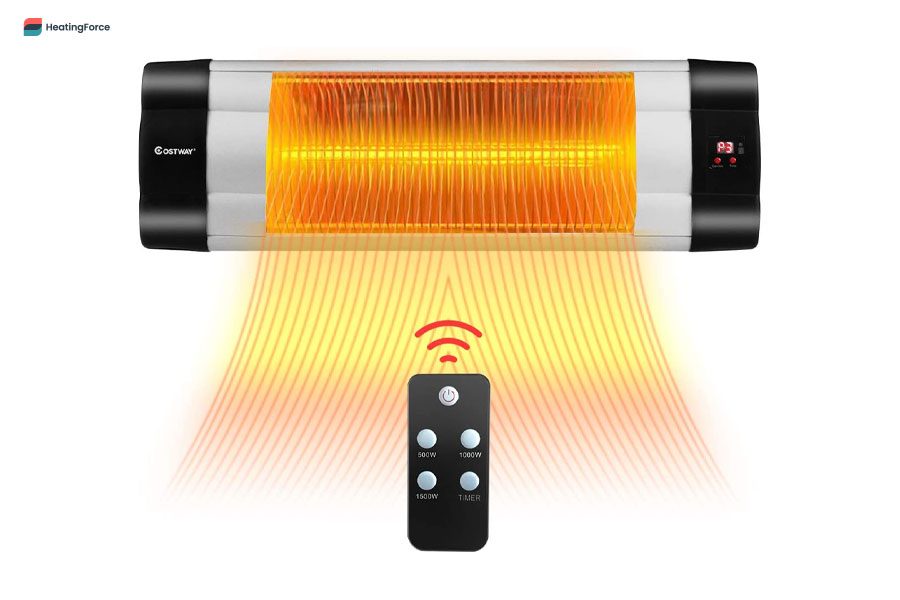 The Costway Wall-Mounted Infrared Patio Heater with Remote Control has been receiving rave reviews, and we can definitely see why! The aluminium alloy for the heater's housing gives it a durable exterior, and the infrared heating is built to ensure a stable level of heat to keep you warm all year.
Additionally, it is waterproof and suitable for indoor and outdoor use. There are three heating modes available, ranging from 500 W to 1,500 W, and the and it has a service life of up to 4,000 hours. Furthermore, its adjustability means it can be placed at various heights and locations. Finally, the inclusion of a remote control shows that Costway has really paid attention to their customer base.
Who Should Buy This?
This is another all-rounder heater that Costway can be really proud of. Anyone who appreciates automatic timing will find the 24-hour timing feature to be particularly useful. If you're looking for a new heater for the office, lounge, bedroom, or patio, this Costway heater will surely serve you well.
One other thing that's worth mentioning is the speed at which Costway has managed to get this heater to reach its full potential. There's nothing more annoying than a heater that takes ages to warm up, but Costway has managed to design and construct an infrared heater that really hits the ground running, much to our delight.
Pros:
Rapid heating
Can be mounted on your wall
Suitable for inside or outside use
Waterproof
Stable heat
3 heat modes
Cons:
Heat output is a bit less than others on this list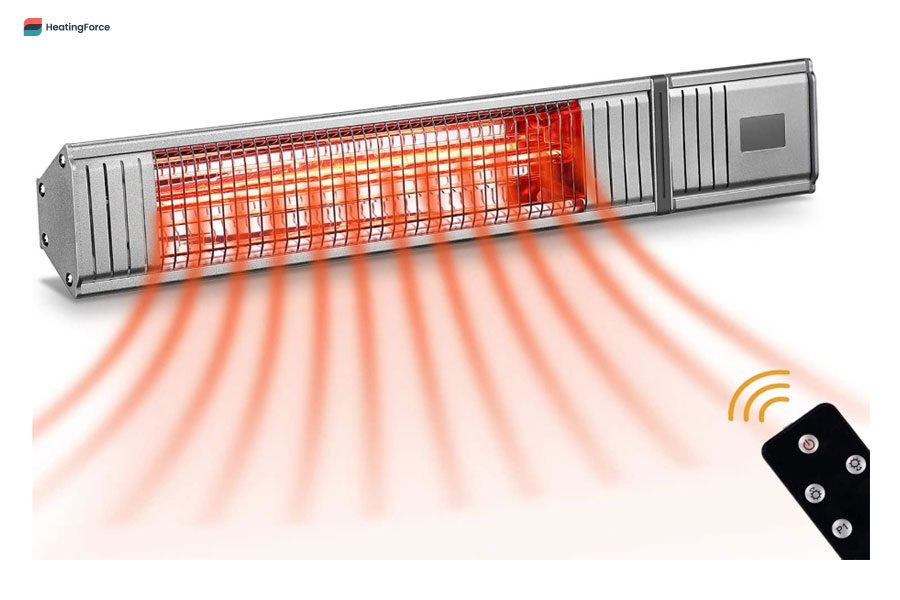 We really love the unique design of the Sundate 3,000W. Made with strong components, including an anodised extruded aluminum alloy housing, Sundate has put its money where its mouth is, offering a 30-day money-back guarantee. It has an IP65 rating, which means it is sealed against dust and is protected against water that is projected from a nozzle, meaning it is suitable for outside use (as well as indoor use, of course).
The heat output of 2,000 W is laudable, but its lack of variable outputs might be an issue for people who are only after heat. Of course, one way around this is to  toggle it on and off as the need requires, although this makes it impractical for passive use.
Who Should Buy This?
Anyone who likes a good guarantee should be enamoured by this offering from Sundate. Moreover, Sundate estimates you will save 30 to 40 percent when compared to traditional gas-powered heaters, which means you'll be saving money in the long run. Additionally, anyone who's a fan of easy installation (and, let's face it, who isn't?) will enjoy the refreshingly easy setup. The on/off rocker switch is also a welcomed addition, ensuring easy use.
A heater with such a strong output is probably best for larger rooms. A lack of variability means we would suggest not using this as a bedroom heater. However, if you have a patio, barbecue area, outdoor lounge, balcony, or some other outdoor arrangement, Sundate is a good bet.
Pros:
Long service life @ 5,500 to 6,000 hours
Efficient
12-month guarantee
30-day money-back guarantee
CE, GS, RoSH certified
Dustproof and water-resistant
Strong heat output at 3,000 W
Cons:
This 1500W Ceiling Patio Heater from KIASA is unlike anything else on this list. Unlike the others, this heater's main purpose is to serve as an outdoor heater, which it does by acting as a sort of lantern. It features a remote control and uses a very efficient infrared heating mechanism and a special halogen tube. Additionally, KIASA has thoughtfully added three heat settings, which is especially useful when you consider that this heater isn't designed to be portable. It also has IP34 rating, which means it is protected against water splashes.
KIASA has also included a free cover, which is something that frequently seems to get overlooked (or deliberately ignored as a cost-cutting measure) by heater manufacturers. KIASA has also included 30-day "quibble-free returns", so you can always send it back if it isn't working to your satisfaction.
Who Should Buy This?
KIASA knows their audience with this heater. Anyone who is looking for a heater above a dining table or in a conservatory will be delighted with KIASA's design choice here. At 1,500 W, KIASA has decided to go with efficiency over face-melting heat. Additionally, its 2-year warranty and shelf life of 5 years or more will give you many nights of desirable warmth, offering a stable level of heat that is unmatched by gas-powered heaters.
Pros:
Long service life @ 5,500 to 6,000 hours
Efficient
12-month guarantee
30-day money-back guarantee
CE, GS, RoSH certified
Dustproof and water-resistant
Strong heat output at 3,000 W
Cons:
Electric Patio Heaters FAQs
Gas heater vs electric heater
Both kinds of heaters have their advantages and disadvantages. If you're looking for something outside, a gas patio heater is a great bet, but electric heaters aren't too far behind, especially for smaller patios. Gas heaters have a larger carbon footprint, so environmentalists and those looking to save money will be served well by an electric patio heater. Additionally, most electric patio heaters can also be used inside, which is a great thing if you would like to keep your options open.
When to use your electric patio heater
Like mentioned above, electric patio heaters give you a lot more freedom with their use. Because they're much more efficient than gas-powered heaters, you need not be so concerned with rationing out their use, which means they are great for extended parties and get-togethers.
The actual areas in which an electric heater is best used will depend highly on the heater model. Throughout our list, we have made suggestions that shortlist areas where a particular heater will excel or not.
Electric- and gas-powered heaters, safety differences
One thing that you should really be aware of with gas-powered heaters is the matter of safety. While good manufacturers will put in safety features to mitigate the risks, there is always a possibility of danger when it comes to gas-powered heaters. Conversely, electric heaters don't have a risk of carbon monoxide poisoning or fire (assuming your wiring has been done correctly, of course).
What are some safety concerns I should consider?
We've already mentioned the safety benefits of electric heaters against gas-powered ones, but that doesn't mean you should take a lax approach to safety. Indeed, it is important that you monitor your heater's performance in case it has any issues. Although rare, there is a chance that your heater might be defective and spark out. In such a case, it is important to keep tabs on performance. Manufacturers are generally very good about replacing defective heaters, but it is also important that you look after the well-being of both your family and your property.
Other things that are common sense but are worth reiterating is ensuring that you don't get too close to a heater or put objects too close to the heater. As with any heater, putting flammable objects within a close proximity to a heater is a fire risk. Ensure you have a fire alarm and fire extinguisher on hand in the unlikely event of a fire.
Conclusion
Electric patio heaters are great for more than just use on a patio. Indeed, electric patio heaters (unlike gas-powered patio heaters) are usually quite adept at indoor use. In short, electric patio heaters cost less to run, are safer, and offer a level of flexibility that their gas-powered counterparts are usually lacking.
One thing we would suggest doing is to write down your budget range, the location (or locations) you wish to use your heater, and also if you'd like to have your heater mounted on the wall or have it standing freely. Of course, there is also the design itself to consider, but that's a matter of subjectivity and something that, at the end of the day, only you will be able to answer.
Finally, as always, we strongly suggest reading the specs and manufacturer's guide. Most manufacturers will include all the pertinent information (such as price, power, features, materials, physical appearance, and any guarantees). Furthermore, do your research and read customer reviews to get a broad sense of a given heater's strengths and weaknesses.
Avoid Expensive Breakdown Costs
Boiler Replacement Promise: If it's under 7 years old and we can't repair it, we'll replace it.
Try
YourRepair
. From £9/mo
All plans include: annual boiler service, all parts and labour, unlimited support and 24hr helpline.