HeatingForce is reader-supported. When you buy through links on our site, we may earn an affiliate commission. Learn more
Heatable Boiler Installation (Review and Buyer's Guide)
HEATABLE is a start-up that is changing the way people in the UK are buying boilers. It is a boiler price comparison site that can help you find the right boiler for you at the best possible price.
HEATABLE is available across the UK and can offer installations within 24 hours and huge warranties on a huge range of Which? Best Buy boilers. If this all sounds too good to be true, read through our full review as we analyse the HEATABLE service in detail to see if they really measure up to all the hype.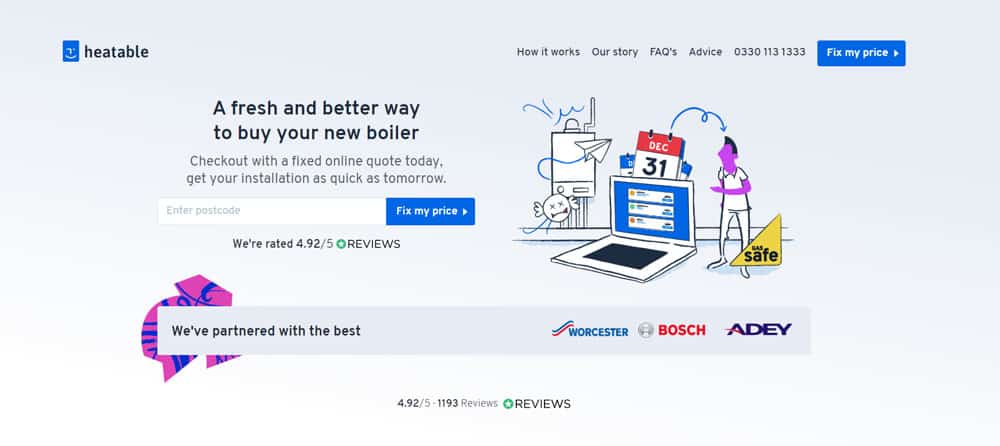 Who are HEATABLE?
HEATABLE is the brainchild of two brothers the north of England in 2017. Sam and Ben Price grew up and went to school near Warrington.
Sam is the techie, so he is the one that runs the online side of the business and heads up the development team. Ben is the one with plumbing expertise, so he runs the companies installation unit.
Despite being just three years old and having no formal links to any of the big boiler manufacturing or installation giants, HEATABLE has gone from strength to strength. It has raised more than £2 million in funding so far.
Reviews
On the HEATABLE website, they make a big thing of their 500+ 5* ratings online. There are lots of review sites for boiler installation providers but the most comprehensive is Trustpilot.
Here, HEATABLE has an impressive 4.7/5 TrustScore with 95% of people rating the service as either good or excellent.
It's an impressive endorsement, especially for such a young start-up and testament to the high levels of customer service they offer. It also suggests that HEATABLE has an extremely bright future.
What Types Of Boiler Do HEATABLE Install?
HEATABLE sells and installs all types of gas boiler. They offer regular boilers, combi gas boilers, and system boilers. HEATABLE can also replace older back-boiler systems, converting them to modern combi boilers at incredibly competitive prices. They also offer some LPG boilers too.
HEATABLE offers a wide range of boiler makes and models and all their Viessmann and Worcester Bosch boilers are Which? Best Buy consumer award winners. That means that they have been independently verified as being among the best on the market.
Get a Viessmann Vitodens 050-W starting from £1,670 with HEATABLE.

If you know which boiler you want, HEATABLE will able to quote you directly, but they will usually recommend you the best boilers they have available for your property and requirements.
How does HEATABLE work?
Using HEATABLE to get quotes, purchase your new boiler, and even getting it installed is remarkably quick and easy.
Firstly, you will need to visit their beautifully designed and user-friendly website. Click on the dark blue Fix My Price button and you will be prompted to answer a simple series of questions about your property and your heating system.
These will include things like the type of fuel you use, the type of boiler you have now, whether you need to change the location of your boiler, how many bedrooms there are in your home, and where in the country you live.
HEATABLE's website will then generate a list of recommended boilers for your home. You will see two prices listed with each boiler. One is a fixed price to buy and install your new boiler, which includes VAT. The other is the monthly cost if you want to buy the boiler using credit. In line with FCA regulations, HEATABLE's prices remain the same whether customers are paying in full or on a credit plan.
Once you choose the right boiler for you, there are no other hidden additional charges. The fixed price quoted there is all you will have to pay. Every installation comes with a filter to protect your boiler, a chemical flush to clear out any gremlins and all required safety attachments.
Click on the blue Pick Install Date button and you will be invited to choose the most convenient available installation date from their calendar. The price quoted underneath the date indicates how this date will affect your price. These small variations depend on installer availability but weekends are the only dates that will cost more.
Once you have paid, your installer will contact you the day before your chosen date to introduce themselves. They will bring the boiler with them on the day along with any other relevant materials they might need. A like-for-like installation will typically take no more than one day but if you converting from type of boiler to another or switching location, it could extend to two days.
HEATABLE Boiler replacement costs
It is impossible to give a precise idea of how much your new boiler might cost because there are so many variables and no two boiler installations are exactly the same.
If you live in a small home and require nothing more than a basic budget boiler, you could be looking at an all-in price of around £1,600 or maybe even a bit less. If you have a bigger home, want a more high-end boiler or need to move your boiler, this could go up to £3,200 or even more.
Get a high quality Worcester Bosch boiler starting from £1,770 with HEATABLE.

If you want to get a clearer idea of how much your boiler will cost, the best advice we can give is to go onto the HEATABLE website, enter your requirements, and get a free quote from them. You are under no obligation to buy and can be clear about what sort of costs you are looking at in just a few minutes.
Are HEATABLE installations cheap?
Yes. Buying and installing a new boiler using HEATABLE is guaranteed to be cheaper than going through your local installer or buying from a retail outlet.
HEATABLE has struck unique partnerships with most of the leading boiler manufacturers that operate in the UK. This allows them to deliver a price point and quality combination that can't be matched!
They also offer a price match system. If you find a genuine like-for-like quote that is cheaper somewhere else, they will match it and if they can't, they will give you a £50 Amazon voucher!
Exactly how much cheaper will depend on the make and model of boiler that you choose. But all of HEATABLE's prices are transparent and getting a fixed price quote is simple, so if you want to see how much you will save, comparing prices is simple.
What is included with a HEATABLE boiler installation?
For the fixed price quote you receive on HEATABLE, you will get a brand new boiler and a full installation with all parts and labour costs included. Your installer will even take your old boiler away with them.
Every HEATABLE boiler also comes with a long warranty that covers all parts and labour. At present, all HEATABLE boilers regardless of make or model come with a ten year warranty meaning you have peace of mind for an entire decade.
HEATABLE boilers also come a number of additional services as standard. This includes:
A chemical flush
Pipe upgrade
Flue kit
All combi boilers will also come with a wireless controller unless you choose to upgrade to asmart thermostat (Nest 3g) on checkout.
All of this will be detailed on your HEATABLE quote so be sure to read through it carefully so you know e xactly what you are getting.
HEATABLE Finance options
If you are buying a new boiler through HEATABLE, you don't have to pay the full costs up-front if you don't want to or can't afford to.
Every boiler HEATABLE sells is available on a pay monthly arrangements and some come with up to 2 years interest-free credit. The interest-free payments allow you to spread the cost over two years without incurring any interest costs.
Alternatively, you can choose to pay monthly over a period of 3, 5, 7, or even 10 years. HEATABLE's standard interest rate for pay monthly purchases is 9.9%. They typically don't charge if you want to make overpayments and you can choose any deposit amount between 0% and 50% of the overall cost.
Who should buy a boiler from HEATABLE?
HEATABLE makes the process of choosing, buying, and installing a new boiler simple and fast. It removes the need for a site visit in order to get a quote and gives you a huge choice of the very best boilers at a range of prices to allow you to make the right choice for you.
It makes all the installation arrangements for you too which means all you have to do after visiting the HEATABLE site is make sure someone is around on your chosen installation date.
For cost, usability, and quality of service, HEATABLE is very difficult to beat and it is an ideal solution for just about everyone.
What's next?
If you need a new boiler, all you need to do is click on one of the links on this page to visit the HEATABLE website and start the ball rolling.
If you have any further questions or comments about HEATABLE, do share them with us using the comment box below. Hopefully, this review covers all the details you need, but if there is anything we have missed, please don't hesitate to help us fill the gaps.
Avoid Expensive Breakdown Costs
Boiler Replacement Promise: If it's under 7 years old and we can't repair it, we'll replace it.
Try
YourRepair
. From £9/mo
All plans include: annual boiler service, all parts and labour, unlimited support and 24hr helpline.