6 Best Slim Electric Heaters for Warmth, Looks and Pocket
Throughout human history, heating systems were often as bulky as a bonfire. These days, however, we can enjoy incredible warmth in even the coldest of months from ultra-slim heaters no wider than 10cm.
Advances in manufacturing and materials science have ushered in an age where your radiator doesn't just keep you safe and warm, but makes an aesthetic statement that speaks to your sense of personal style.
Today, we guide you through the booming market of slim electric heaters suited to the home, office, or cabin. We recommend six specific models for your consideration, then provide in abstract the key features top-tier radiators must possess in our mini buyer's guide toward the bottom of the page.
Best slim electric heater (2020)
The electric radiator market certainly doesn't leave one wanting for choice. There are so many cost-effective units that will work a treat to keep you comfortably warm without breaking the bank. However, a glut of options can lead to analysis paralysis, impatient comparison shopping, and eventually an ineffectual or even dangerous radiator purchase.
Allow us to shoulder some of that burden for you, with our list of the best slim electric heaters currently on the market. Each is rated for efficiency, effectiveness, safety, and aesthetics–and will offer exceptional value for money at any price point.
Topping our list of the best slim heaters is Futura's handsome Eco range of oil-filled electric radiators. There are four models on offer, ranging from 600W-1800W of power, suited to rooms from 7.5m2 to 20m2. No matter which model you choose, rest easier knowing it'll never protrude more than 80mm out from the wall.
That's all well and good, but what makes Futura's line our top recommendation? Well, there's innovation hidden beneath those sleek panels in the form of a proprietary mineral fluid. This special retention medium is designed to heat up quickly (historically a shortcoming of oil-filled radiators), but lose heat very slowly.
The result is a rare combination of quick-start warmth production and high efficiency long-term operation.
Of course, you needn't merely rely on space-age technology to stretch your penny. Your Futura Eco features an advanced 24/7 thermostat displayed through a handsome blue back-lit LCD. You can programme it to automatically adapt to the needs of the day of the week. What's more, there are three basic heat settings, appropriate for maximum comfort, energy savings, and staving off frost. If you're daunted by that much control, Futura provides 9 pre-sets you can use out of the box or tailor to your needs.
Another handy feature is the ability to detect whenever you open a window, and shut off until you close it.
In terms of safety, there's a keypad lock so the children don't fiddle with unsafe settings. There's also a thermal cut-off so that you never have to worry about the Futura overheating. The Eco is surprisingly light yet durable with aluminium construction. It's also dead simple to handle DIY installation without hiring an electrician. If anything ever goes wrong with your unit, Futura stands by their product with a 2-year warranty.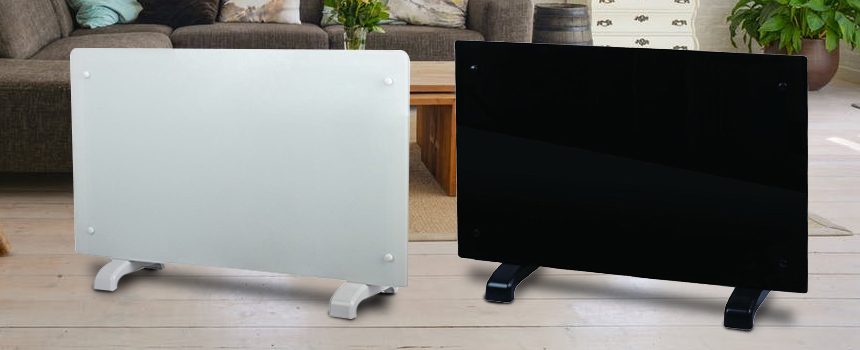 In stark contrast to our first recommendation, Glowmaster presents us with a masterclass in simple elegance with its Electric Panel Heater.
Just 11cm deep, this unassuming panel heater is the archetype of slim-line heating. As such, you can just easily mount it on the wall as set it free-standing. With IP24 waterproofing, you might even consider the bathroom a suitable placement for the Glowmaster. (Though we recommend you call an electrician to secure the plug against splashes).
If the prospect of an almost all-glass radiator makes you somewhat nervous (or extremely nervous if you have rowdy children), rest easy! Your Glowmaster's lithe façade is actually an armoured wall of tempered glass, resistant to impact and shattering.
Shielded beneath is where the magic happens: a lightweight x-shaped aluminium heating element heats up fast to produce a toasty radiant heat. Because it is so encased, you won't have to worry about dust or oxygen particles getting burnt off and thus exacerbating allergies.
Best of all, it is dead silent, with no moving parts or exposed heating elements.
In terms of electronics, the Glowmaster comes with a simple manual thermostat and toggles for two heating modes. Don't worry about this super-slim electric heater overdoing it, either, as the Glowmaster features overheat protection so you can rest easy.
We've reviewed the Adax Neo before, but that's just a testament to how flexible this incredible panel heater is. Coming in six models (400-2000W) and as many colours, it's clear that Adax wants you to have just the right radiator to suit your requirements. Regardless of which you choose, the Neo politely occupies a mere 84mm space projected out from your wall.
Further, Adax has loaded the Neo with smart functionality. This includes open window detection plus a programmable 24/7 digital thermostat and timer.
There's also a unique adaptive start system, which "learns" when to fire up in order to meet your programmed temperature at the exact time you set. There are also three location-based modes of operation to maximize comfort in the home; bring about greater efficiency in the office; or to simply remain defrosted throughout the season in a cabin.
You won't find any obnoxious smells or sounds with this unit. The Neo is thoroughly allergy-friendly with nary a fan nor exposed heating element to be found. As you'd expect from a premium electric heater, there's overheat protection, plus a child lock to keep curious fingers from endangering the whole home with improper settings.
If that weren't enough, Adax wants you to appreciate its gorgeous, Nordic-styled Neo for years to come with a thorough 5-year warranty. It's so lithe and lightweight, it occupies its included wall bracket with equal aplomb as its floor mounting stand.
Truly, Adax has produced an attractive and effective high-speed heating system.
Easily the most expensive range of slim-line heaters on this list, the Economy+ Wall Mounted Radiator from RadiWarm offers plenty to justify its price point. First-off, this isn't just another standard unit with oil-filled fins; instead, the Economy+ is a thermal mass radiator, featuring heat cells filled to the brim with high-grade silica.
Since this isn't a liquid medium, it heats up more quickly than is possible with traditional oil. However, the silica sand is specially formulated to retain heat, so once it's been warmed up, it won't gulp energy to maintain a comfortable radiant temperature.
Enhancing efficiency further is RadiWarm's proprietary heating software, which carefully calibrates output for maximum comfort in eco saving mode. It's fair to categorise the Economy+ as a hybrid heating system, as it warms both through radiation (through the silica sand) and convection (out the top vents). As such, you're getting the best of both worlds without any of the downsides like poor performance or dry air.
Depending on your priorities, the Economy+ is a guilt-free buy as it is handmade in Yorkshire. If this isn't sufficiently indicative of the quality you're likely to receive, RadiWarm offers a handsome 2-year warranty guaranteeing your satisfaction with the build. Interfacing with the Economy+ is easy once you know how, with its 24/7 programmable thermostat and colour-coded timer.
Admittedly, their documentation could use a bit of revision. But once you get past the initial learning curve, it's all quite intuitive.
A note of caution on the larger models: the cable extrudes from the right side of the unit, which may pose limitations on where you can install it in your home or office. Regardless, the process is a simple one, and won't necessitate the services of an expensive electrician.
If you thought we were done praising Adax, allow us to take you even further down the slim-panelled, toasty-warm rabbit hole. A glance toward the Neo WiFi might seem like you've bolted unnecessary complication onto a perfectly good radiator. But in fact, that extra bit of smart kit is all about convenience and, more importantly, efficiency.
The keyword here is "automation". The Adax Neo WiFi provides you with unprecedented control over the operation of your radiator through use of a proprietary mobile app. Compatibility ranges across all major platforms, including iOS, Android, and Windows mobile, so nobody gets left out.
Having a modern visual interface by which to programme your radiator isn't just a novelty; it greatly increases the odds of you actually using the advanced functionality which will allow you to shave entire pounds off your monthly electric bill. What's more, you can monitor and manage output from anywhere at any time. So, if you're coming home from the office on a particularly cold night, you can tweak the programming so that it's just right the moment you step in the door.
On its own merits, the Neo WiFi is an outstanding electric radiator. Available in seven models ranging from 400-2000W, it maintains the same slim dimensions as its predecessor at just 87mm deep.
It sports IP24 waterproofing, and is suitable for the bathroom (provided you've had an expert ensure the plug-in's watertight as well). There's also an easy-read LCD temperature display which you can lock children out of entirely; a no-hassle on/off switch, adaptive start and open window detection; plus reliable overheat protection you can trust.
No matter the setting, the Neo WiFi's surface will never breach 75°, making it the perfect family-safe thermal guardian for your home.
Rounding out today's selection of top-recommended slim radiators is the aptly named Devola Classic Electric Panel Heater. Despite its slight 116mm width, the Devola is immediately recognisable as a wall heater rather than some sort of avant-garde art installation. For many, the classic stylings of the Devola will represent the culmination of decades of aesthetic design, rather than a rejection of it.
But perhaps looks are not at the forefront of your concerns when searching for an electric heater? If this is the case, consider that Devola is a trusted household name for good reason.
Indeed, the Classic Panel Heater comes with a 2-year guarantee, and is fully compliant with the Lot 20 directive for energy efficiency.
The Classic line of slim Devola radiators comes in 1500W, 2000W, and 2500W models, each as thin as the last. The largest and heaviest of these weighs in at just 8.6kg, lending itself to already-simplified DIY wall-mounted installation.
All models feature the same integral precision thermostat–accurate to within a half degree–controlled by a 24/7 digital timer. You can even programme a heating schedule up to 4 weeks out!
To further fine-tune the efficiency of your Devola, choose from one of three available heating modes: Comfort, which you can set between 5-35°; Eco, which operates 3.5° below your chosen comfort threshold to save energy; and Frost, which protects the unit against freezing over when you're away during the winter.
Now that we've got to the bottom of this review, we invite you to take a second look at the pricing. More than likely, you'd completely forgotten we were talking about a radiator under 100 quid! That's Devola, for you.
Shopping for slim electric heaters (buyer's guide)?
We always recommend you do your due diligence in selecting the right heater for the job. Otherwise, you risk outrageous power bills, poor warming, or at worst unsafe operation. While we've just recommended a wide array of heaters to suit various needs, we understand you might still want to continue your comparison shopping. That's why we've compiled this short buyer's guide, which should help you hone in on the most important features your home or office demands in a heater.
Budgetary constraints
When selecting a radiator, there's an underlying trade-off between upfront savings and long-term efficiency you must be aware of. While modern materials and design have come a long way to bridge this gap, the logic still generally holds true that a more expensive heater will have advanced features to save you money in the long run.
Inexpensive radiators are more likely to provide bare-bones functionality and be of cheaper construction. Or, they're just likely to be a lot smaller and less powerful, quality aside. This doesn't mean that you need to rush out and spend top-dollar on a radiator, however. Just be aware that the useful service life of your cheap radiator is likely to be much shorter, and is likely to draw more power to produce less heat throughout the duration.
While none of our recommended units in this article require professional installation, there exist plenty of models which do. Be careful to recognise when this is the case, or prepare to foot even greater cost than initially anticipated. Similarly, picking radiators from major brands with a healthy aftermarket of spare parts makes it more likely that any future repairs will be modest in cost.
RELATED READING: The 7 best towel rail heaters
Quality, maintenance, and warranties
Tying in closely to our first point, go for the best quality heater you can for the price you're willing to pay. Poor construction or cheap components are likely to fail on you sooner rather than later. Plus, bottom-shelf radiators are often designed to be replaced, rather than repaired. In any case, you'll be spending much more than you'd like in the long run.
Besides simply paying more, target your shopping towards mid-priced models which come with a manufacturer guarantee. Typically speaking, companies which offer warranties have an efficient supply chain. They can afford to expend some resources to ensure that you are happy with your product. This also typically correlates with higher-quality parts in the first place.
In terms of maintenance, typically speaking the fewer bells and whistles there are, the less likely you are to run into component failure. (And, the cheaper it will be to affect a repair down the line.) Oil-filled radiators are simpler machines than fan-blown models, and thus are much less likely to break on you. Of course, not every application is best served by an oil-filled radiator, so be careful to weigh the cost of upkeep against the savings inherent in picking the right type of heater for the job.
Advanced features
Most radiators will provide some means to control their heat output, but these can range wildly in complexity and utility. One unit may sport a simple manual dial that lets you set an approximate temperature, while others feature cutting-edge smart apps that let you control your radiator down to a fraction of a degree from the other side of the globe.
Timers are another important consideration–unless you're going to be home most of the time and available to make manual adjustments, you'll need some form of automation to raise and lower heat production in accordance with the time of day. Whether it's a simple hourly timer, or a fully integrated digital calendar depends on how complex your personal schedule is.
Also useful is open-window detection, which cuts the power when it detects you've opened a door or window. Typically speaking, opening any portal to your home or office will result in the loss of a lot of warm air at once, and your radiator's thermostat will by default overcompensate to regain its programmed temperature. Open-window detection tells your radiator to wait just a moment before committing a tonne of energy to the task. Once the window or door is closed, the ambient warmth of your home will rapidly equalize the temperature, saddling your patiently-waiting, window-detecting radiator much less work to do.
Safety considerations
Commonplace and innocuous as they may seem, radiators can pose quite a danger to your health and home. After all, they are literally creating a source of intense heat that gradually diffuses throughout a wide area. It is thus imperative that you pick a radiator with strong safety features, without exception.
First, does your chosen model have a thermal cut-off, which automatically shuts the heater down to prevent it from getting overly hot? If not, pass it by–even if the price is alluring, that's a major corner to cut.
Almost as important is a tip-over switch, which are admittedly less common in slim, typically wall-mounted electric radiators. Radiators can be knocked over by pets, children, or even yourself; and prolonged contact with anything other than the air (like your carpeting or upholstery) can pose a serious fire hazard. A tip-over switch cuts the power the moment it detects a fall, and can be the difference between "oopsie" and "oh, the humanity".
If you have children, a child-lock can be equally indispensable. Kids love to explore their surroundings in a most tactile manner, and include changing the heater to unsafe settings.
Beyond these features, consider that radiators without exposed heating elements are far less likely to catch your curtains or clothing on fire. Make sure that your radiator's plug is securely soldered to the unit, is properly grounded, and is of overall robust quality.
If you're going to install your radiator into the bathroom, please do ensure it is waterproof. IPX4 is the bare minimum for Zone 2 of your bathroom, which is to say positioned within 0.6m of splashing water like your sink or tub. In this case, you'll still need to call an electrician to guarantee that the plug itself is water resistant.
Wrapping up
At this point, you should have a fairly good understanding of what kinds of slim electric heaters are out there on the market, plus what factors go into making a great purchase. We've reviewed six heaters at a variety of feature sets and price points. Any one of them should serve all but the most niche applications with efficiency and style.
Our buyer's guide should prove an effective spring board for further market research, should you choose to do so beyond this article.
Which slim electric heater most appeals to you? What do you consider to be must-have features? Tell us your thoughts in a comment below.
Avoid Expensive Breakdown Costs
Boiler Replacement Promise: If it's under 7 years old and we can't repair it, we'll replace it.
Try YourRepair. From £8/mo
All plans include: annual boiler service, all parts and labour, unlimited support and 24hr helpline.