The Best Infrared Patio Heater in 2023 for Entertaining Outdoors
Long before the pandemic, an outdoor infrared heater would allow pub patrons to enjoy their libations even on the chilliest days of the year. This year, the same efficient heaters can help us socialise in relative safety, in the comfort of our own patios. In this guide, we will walk you through 9 infrared patio heater models that we think are the best in 2023. 
In this post, we'll examine the 7 best infrared heaters available online. But first:
What exactly is an infrared patio heater?
In essence, infrared heaters work just like the sun (minus the harmful UV radiation, that is). They create heat that your skin and clothing absorb, thus warming you instantly. Because they emit direct rays, infrared heaters can only warm-up what's directly in front of them and omit the surroundings; but, they work fast.
ALSO READ: Huge Guide on Best Patio Heaters
Infrared heaters come in several shapes and sizes, with the most common ones being wall-mounted and fairly small. That said, you can also find floor-standing, ceiling-hung, or pole-mounted variants.
Infrared patio heaters' unique benefit is their efficiency. That's because they concentrate heat on a specific target, rather than heating everything around them indiscriminately. Compared to a gas heater, or a traditional electric patio heater, infrared heaters can save you a substantial amount of money in the long run. What's more, infrared heat does not produce direct emissions; nor does it change the humidity or oxygen level in your house, if used indoors.
These heaters can be powered by any source, such as natural gas or propane, but electric models are far more common.
To help you find the best infrared heater, I've scoured Amazon's selection and ranked the top 7 models. I've weighed each product based on its functionality, price, unique features, ease of use and assembly, and its consumer reviews.
The Best Infrared Patio Heater Models on the Market in 2023
The relatively small Prem I Air infrared patio heater can be used indoors as well as outdoors; external use is constrained to sheltered locations (i.e. under a canopy or in a gazebo), as this model is not rainproof.
The Prem I Air has three heat settings: 650kW, 1350kW, and 2000kW. It can hang on two screws at the back, and get secured by third, so it's easy enough to put up and take down. The heater's head can be adjusted up to 45 degrees to aim the heat precisely where you want it.
Specifications
Dimensions: 52.5 x 26 x 23 cm
Weight: 1.65 kg
Power source: electricity 230V/50Hz
Output: 2kW
Cord length: 1.5 metre
What do people say about it? The Prem I Air produces a great deal of heat, which can be felt about 1, 5-2 meters away. The 3 heat settings and adjustable features seem to work without significant issues. One often-reported nuisance is the flimsy bracket, which has made some consumers question the stability of the mounting. Most consumers commend the convenience of being able to easily attach and detach the device and mount it to a pole.
Pros:
Great heat output
Adjustable heat source
Reasonable price
Cons:
Poor-quality bracket
Short power cord
To summarise
This model's use instructions don't warn against attachment to a wood fence or wall, which is a big plus if you want to use the heater outside. The heater also comes with several vital, convenient features:
adjustable angle,
3 functional heat settings, and
easy detachment/attachment to a wall or a stand
The Prem I Air is a handy little infrared heater that does its job outstandingly well.
Firefly is a well-known brand with quite a few different heater models on the market. Some are flexible and give you 3-in-1 mounting options: wall-mounted, baseless, and floor standing. This Heatlab patio heater comes with 3 heat settings – 650w, 1350w, and 2000w – and the ability to adjust the horizontal tilt to aim the heater in the desired direction.
It's made up of a quartz tube and provides nice ambient light as well as safe and silent heat on your patio.
Specifications
Dimensions: 50 x 30 x 20 cm
Weight: 1.12kg
Power source: Electricity cord 90cm
Power output: 650w / 1350w / 2000w
What do people say about it? The overwhelming consensus is that the Firefly Heatlab infrared heater offers instant, powerful heat output and brilliant value for your money. The quality of the mount-a potential safety hazard-seems to be disputed some. Also, the length of the power cable, at just 1 metre, was a big annoyance for most reviewers; some have had to use an extension or even replace the original cord. 
Pros:
Great heat output
Adjustable up/down angle
Cons:
To summarise

This Heatlab patio heater is a powerful, efficient heater, as long as you're not too bothered by the often-cited mounting issue. It emits a great deal of heat on all three output levels and ranks high in online marketplaces.  
 Freestanding infrared heaters are not always easily found, and the scarcity makes this one is a popular item.
The Blumfeldt Rising Sun stand heater is manufactured with die-cast aluminium. It comes with remote control, an LED display, and 3 heat output settings. As a bonus feature, it comes equipped with a 24-hour timer; and, the actual heating source – the head, if you will – can come off off the telescoping pole and you can mount it to a wall.  
Specifications
Dimensions: 95.5 x 162cm / 197 x 74cm
Weight: 7 kg
Power source: Electricity 230V/50Hz
Output: 850w / 1650 / 2500w
What do people say about it? The discreet design is a pleaser among most, and the heat output is not disappointing – most reviewers are very impressed with all three levels. On the downside, some customers have voiced issues with the quality of the components from which the heater is built.
Pros:
Affordable price.
Decent heat output.
Cons:
Flimsy stand.
Plastic components. 

To summarise

The mounting flexibility is a huge bonus here. You can take this heater down from the wall and bring with you anywhere on your patio or garage. It also gives off a substantial amount of heat and comes at a reasonably low price.
This Blumfeldt patio heater is floor-standing, and comes with a rather brilliant feature: a 360/120-degree oscillation function. The device has 2 heat settings, 600w and 1200w, and a handle, so you can move it to wherever you should desire. Safety is ensured with a cool-touch grille and the essential shutdown function that activates if the heater gets tilted over.
Specifications
Dimensions: 63 x 28 x 28cm
Weight: 2.9kg
Power source: Electricity, 220-240v / 50/60Hz
Cord Length: 1.8 metres
What do people say about it? According to the vast majority of the reviews, this Blumfeldt patio heater is quite remarkable, mostly thanks to the heat output and the oscillation system. Some buyers were also pleased that it's relatively lightweight – at barely 3 kg, it is effortless to move around. Once it's turned on, the device quickly heats the surrounding area and creates a pleasant ambience.
Pros: 
Oscillation function that helps you keep your many guests warm
Cons: 
Apparently the heating bars are a tad fragile, and are often damaged upon delivery.
To summarise
It is easy to understand why consumers would be attracted to this freestanding infrared patio heater from Blumfeldt. The oscillation system is a rather brilliant feature (you can turn it on or off, by the way), as it can let you heat multiple people by merely turning on its own, like a fan. It's lightweight, easy to carry, and has a decent heat output. It is definitely a heat guru!
The Costway wall-mounted infrared patio heater comes with remote control, LED display, 3 heat settings ranging from 500w to 1500w, and a 24-hour timer, so you never have to worry about ballooning electricity bills or safety. Like other infrared heaters, the Costaway heats quickly, and emits heat where you need, further adding to its energy-efficiency.
It is adjustable in an up-down angle and can be used both indoors and outdoors.
Specifications
Dimensions: 60 x 18 x 9
Weight: 2 kg
Power source: Electricity 220-240V/50Hz
Material: Carbon fibre, aluminium alloy, plastic
Service life: up to 4000 hours
Cord Length: 80 cm
What do people say about it? Most reviewers agree that The Costway wall mounted infrared heater affords excellent heat output. For indoor use, it seems the highest level is not required at all. It does its job very well, and everyone finds it easy to install. From a substantial amount of reviews, only one customer expressed disappointment, and that's because you can't mount this heater on wooden walls.
Pros: 
Fast heat and excellent output.
Cons:
It's not suitable for mounting on wooden walls or fences.
 To summarise

On Amazon, the Costway wall mounted infrared patio is a highly ranked product. It is reliable, offers robust and stable heat output, and is easy to assemble.
Mensa heating Imus is a 2-sided, freestanding, portable infrared heater, that handily fits under a table. The primary advantage of the Mensa heater is the Safe-Touch technology, which makes it completely safe to have around children and pets, as the protective grill maintains a low temperature at all times. Indoors, the heater can heat up an area of 4 square metres and has and bulb life of up to 7000 hours. 
Specifications
Dimensions: 67.2 x 20 x 20cm
Weight: 3.6kg
Power source: Electricity, 230v /50Hz
Output: 550W
Cord length: 3 metres
What do people say about it? Most consumer reviews are quite positive. Reviewers praise it for its decent heat output, instant heating, and cost-efficiency. Surprisingly, the Mensa even earned some positive remarks for the length of its cord, which is a staggering 3 metres long!
The customer service team at Mensa also got their fair share of compliments; the few customers that did have an issue reported prompt, professional assistance.
Pros:
Great heat output, superior quality.
Safe-touch safety.
Long power cable.
Cons: 
To summarise

Mensa Heating is an expert in outdoor heating. The company's products boast superb energy-efficiency and a reduced carbon footprint. The Mensa Heating Imus can save you 94% in heating costs compared to a traditional gas heater, all while fitting neatly under the table to keep your feet, and body warm with the rising heat.
Whilst most electric heater have impractically short power cords; the Imus impresses with its 3-metre cable. You can actually use this heater without extension cords!
The VonHaus wall-mounted infrared patio heater comes with a quartz tube design and has a distinct, industrial look. It also boasts several technical advantages. It's designed to heat up to the desired level (1,000W or 2,000W) in only 45 seconds and can radiate heat up to 3 metres away. The VonHaus patio heater comes with a modest cord measuring 1.8 m. It's rated IP65, so it is safe for outdoor use IF plugged into a IP65-rated socket as well.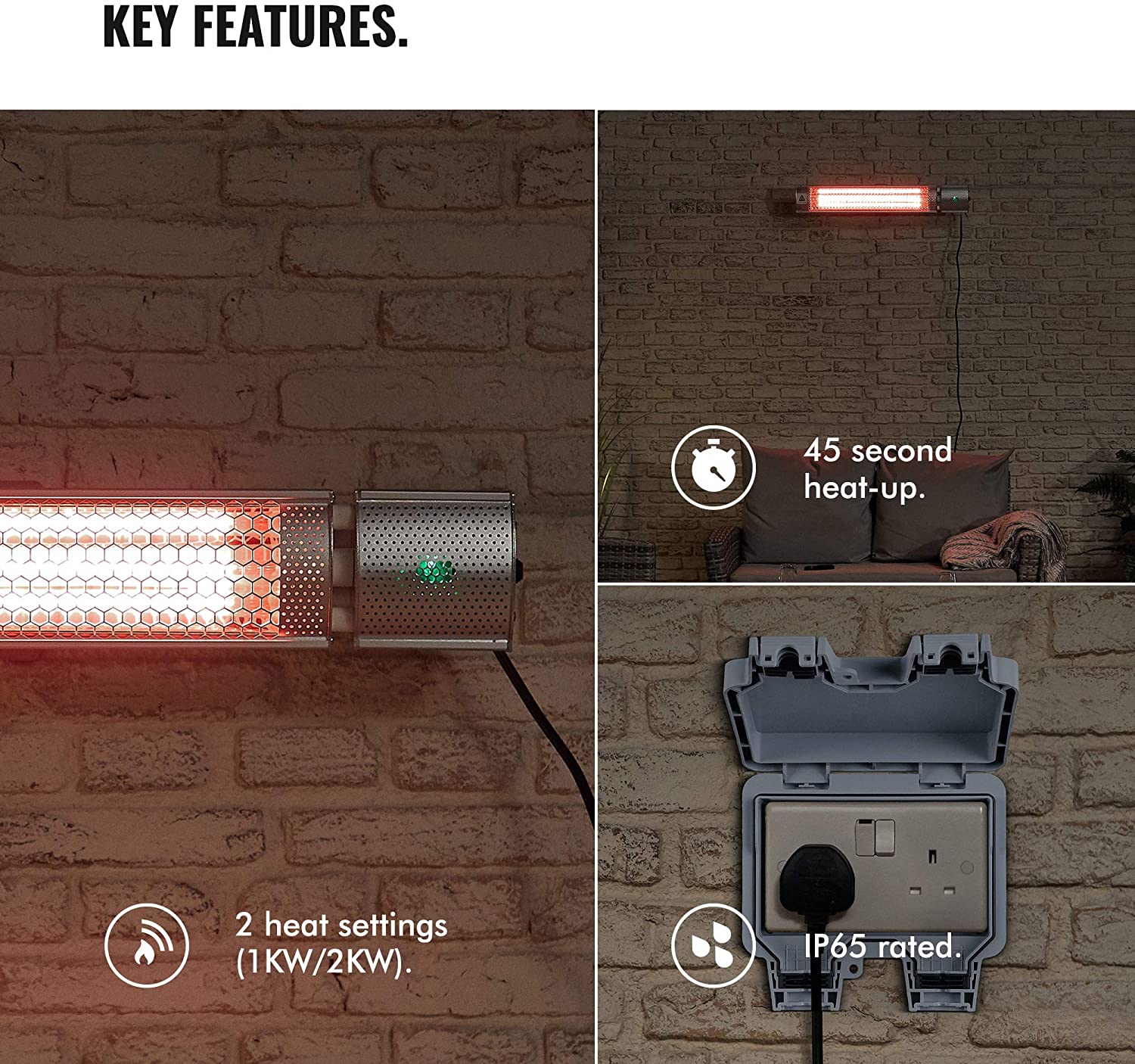 Specifications
Dimensions: 72 x 17 x 14
Power source: Electric
Output: 1.0kW / 2.0 kW
Cord Length: 1.8 metres
Rainproof: IP65
What do people say about it? People who bought the VonHaus generally agree that it is a quality, wall-mounted infrared heater. The assembly is easy, and the device quickly radiates a substantial amount of heat. A frequently cited nuisance is that it's not possible to adjust the angle at the VonHaus, so make sure you find the optimal mounting location before you attach it.
Pros:
Rapid heating
Sound output
Cons:
No way to adjust the angle
To summarise

In the VonHaus, you get a compact, yet powerful heat source and an elegant design, all for a low price.
The Futura Deluxe infrared patio heater is yet another wall-mounted heater with a high water-resistance rating of IP65. 
You may find that it's quite similar to the VonHaus both in function and aesthetics, but there are 4 key distinctions: 
the Futura has 3 heat settings instead of 2 

It's range is 20m

2

instead of 16m

2

you get 2 remote controls, and 

it costs significantly more than the VonHaus
As you can see, the Futura offers a bit of an upgrade from the VonHaus. But, whether the perks justify the price increase is entirely your call. 

Specifications
Dimensions: 63 x 15 x 12

Power source: electric
Output: 750W / 1.5kW / 2kW
Cord length: 1.75 metres
Rainproof: IP65
What do people say about it? I dug through all 200+ Amazon reviews, and found ONE that was truly negative. The rest are quite glowing, really, mostly praising the heat intensity and durability. 
One happy buyer reports that their heater broke down barely 2 years after the purchase, and the manufacturer swiftly replaced it in a matter of days, free of charge (so we know they honour the warranty). 
The only recurring complaint is that the remote works intermittently. 
Pros 
3 heat settings

Quick, intense heat 

2 remote controls

2-year manufacturer warranty 
Cons
More expensive compared to equivalents from other brands

Remote works inconsistently, according to consumer reviews
To summarise
The Futura Deluxe infrared patio heater gets plenty of praise from buyers, and it's easy to see why — it's powerful, durable, easy to install, and comes backed by a 2-year warranty. On the flipside, it's a bit pricey. Still, if you don't mind paying just over 100 quid for your outdoor patio heater, this may be one of the better models this money can buy. 
We're finishing off our list with the DONYER POWER hanging outdoor infrared heater — an elegant device that serves as a source of both warmth and cosy light. Meant to hang from the ceiling, this heater is conveniently out of your way, so you needn't worry about knocking it over or moving it from one spot to another. 
Whilst there's no handy remote control option like some of the other heaters on this list have, the DONYER POWER comes with a handy pull rope. This lets you change between the 2 heat settings and switching the heater off. Pull it once, and you get 800W of instant, downward heat — perfect for 1-2 people enjoying an evening libation. But pull the rope twice, and the heater comes alive with 2,000W of power — enough for a small dinner party. 
The price point is quite reasonable, just shy of £80 at the time of writing (you can check the current price on Amazon here). And, you get 2 colour options — black or copper. 
Specifications
Dimensions:

42 x 42 x 25 

Weight: 2kg
Power source: electric
Output: 800 W / 2.0kW
Rainproof: IP24
What do people say about it? The only negative review I could find pointed out that the power cord only measures 140cm. And, depending on where you want to hang this heater, this could be a deal breaker for you. 
On the upside, most other buyers were quite content with both the heat intensity and the aesthetics. Based on these reviews, the DONYER POWER hanging outdoor infrared heater produces sufficient heat to keep a dinner party of 4 nice and balmy on a chilly summer night. 
Pros 
Ample heat

Doubles as a lamp

Great for the outdoors AND the indoors 

Reasonably priced 
Cons
To summarise
The DONYER POWER hanging outdoor infrared heater offers dual functionality, as both heater and lamp. And, based on hundreds of rosy reviews, it works as advertised. The only downside is the short power cord, but sadly, that's an issue with most infrared patio heater models.  
Infrared Patio Heaters FAQs
How does an infrared patio heaters work?
Infrared heat is the direct transfer of radiant heat from the source to the object. It produces no heat loss to the surrounding area, unlike most other (convection) heaters, which warm up the air around them.
Infrared heaters work by converting electricity into radiant heat, then directing this radiation into a steady beam. This use of radiant heat, and the lack of heat loss to the nearby air particles, gives infrared heaters their hallmark energy-efficiency.
Are infrared outdoor heaters more efficient?
Infrared heaters use less energy, and heat the surface you aim them at extremely fast. You feel their glow right away as the rays, similar to the sun's, instantly project warmth at the point where you direct them. When it comes to heating a large area, such as an enclosed patio, they fare poorly compared to convection heaters that actually heat the surrounding air.
How do I size my infrared outdoor heater?
Most infrared heaters have an effective range of about 1.5 metres, from the heat source to the surface. This constraint means you need to be quite close to the heater to feel the benefit. That said, some powerful models, like the VonHous, can warm surfaces as far as 3 metres away.
With this limitation in mind, consider where you will mount your unit. If you're planning to heat a table for 2 people, you may get away with mounting the heater at the closest wall and pointing the heat source down. If you plan to entertain multiple guests, however, you may need several units to produce sufficient heat. On the same note, consider how you'd mount the heaters – remember, they only heat what's directly in front of them.
Infrared Patio Heater Safety Considerations
Many infrared heaters are encased in cabinets, and the heat is dispersed using a fan. This turns them into a convection heater and sort of defeats the purpose, in my humble opinion; but, the enclosure keeps the heater safe from water, debris, and accidental contact.
Like most heaters, the infrared variants typically come with an automatic shut-off and a tip-over switch.
During my research, I found that typical infrared heaters don't come with a cool-touch safety and can get perilously hot at the source; so, take care to avoid accidental touching.
Like other electric appliances, always handle your infrared heaters with extreme care. Follow instructions thoroughly when assembling and mounting, and remember to switch the device off when you are leaving the room. Keep the heater away from items that can melt or ignite easily.
IP Ingress protection ratings determine the level of protection an electrical product has against foreign bodies and liquids. The higher the IP rating, the more resistant the device is against intrusion.
Most infrared heaters are rated IP44-splash-proof, which means the outdoor use is limited to areas that offer some protection against the elements. To ensure safety, always place your infrared heating unit under a canopy or inside a gazebo.
Infrared Patio Heater PROS:
They produce instant, energy-efficient heating
Infrared heaters send instant heat to the surface at which you aim them, so they're a super-efficient choice for your patio if you are interested in heating only yourself and your guests. There's no heat loss with these devices – every watt they create reaches its target, rather than heating the nearby air. That said, if you want the entire area to be warm, a traditional, convection heater would be more fitting.
Infrared heaters are comfier and healthier
An infrared heater does not pollute the surrounding air, nor does it affect the relative humidity. So, on top of the lower carbon footprint, you also get greater comfort as your sinuses and skin won't dry out every time you huddle under your device.
Infrared heaters are silent and easy to operate
They make almost no noise, and using them could not be simpler. These devices are low-maintenance, as there are few moving parts which could wear out over time.
Infrared Patio Heater CONS:
And infrared outdoor heater will not heat your entire patio. Instead, it will heat what you aim it at, and works best for warming up small, nearby areas. You will need more than one unit to keep multiple people warm. So, if you're planning to entertain large parties of guests, go with a convection gas or electric patio heater.
Infrared heaters may lack standard safety features. If the infrared heater does not come with a cool-touch safety feature – as many don't – it can get dangerously hot and present a significant safety hazard to small children and pets.
Final Thoughts
Infrared patio heaters score far higher in energy efficiency than their traditional, convection peers. That said, their limited way of "zoned" heating may not work for you if you wish to remain mobile on your patio, or want to host multiple guests.
I hope that my list of the top infrared heaters will help you in your search. Have you used any of the heaters that I've mentioned in this post? Or, do you have an experience with any other brands or models or infrared heaters in general that you'd like to share? If so, please leave a comment for our readers and us below!
Avoid Expensive Breakdown Costs
Boiler Replacement Promise: If it's under 7 years old and we can't repair it, we'll replace it.
Try YourRepair. From £8/mo
All plans include: annual boiler service, all parts and labour, unlimited support and 24hr helpline.