HeatingForce is reader-supported. When you buy through links on our site, we may earn an affiliate commission. Learn more
Halogen Heater: The Best Heaters On the Market in 2021 (Reviews)
Halogen heaters operate mostly in the infrared spectrum, converting up to 86 percent of their input power as radiant energy. These highly efficient units are efficient, practical, and versatile. Halogen heaters are usually compact in size, and highly portable, but often high in output. This makes them great for seasonal use in your home during the winter months, and easy to place in storage the rest of the year.
For this list, we'll be going for quality over quantity, offering you five of the best halogen heaters for sale on the market in terms of output, efficiency, and value. This will allow you to make a smart, informed decision on the item halogen heater best suited for your home or room before buying.
 What is a Halogen Heater Best For?
Halogen heaters run at a higher temperature than their nichrome-wire counterparts, but they get less hot than incandescent light bulbs. As mentioned above, efficiency, size, and value are the three foremost traits when it comes to the advantages offered by halogen heaters. Another way of framing the usefulness of halogen heaters is looking at some of the shortcomings of other heater types; for example, other space heaters are larger or potentially unsafe. Some gas heaters could, hypothetically, cause carbon monoxide poisoning if it has a fault or is improperly maintained.
Electric heaters, including halogen heaters, do not carry such a risk.
Most halogen heaters aren't what the average person would think of conventionally attractive (although there are some exceptions); this is primarily because the halogen bulb filaments need to bee seen in order to give heat, which isn't something that an oil-based radiator (for instance) needs to do.
However, judging a heater by its looks is about as useful as judging a book by its cover, so for this list we're going to be focusing primarily on efficiency and value. We'll also be considering features, including safety features and heat settings, to ensure you have everything you need when buying your next halogen heater for your home.
Best Halogen Heaters (Reviews)
Based on our extensive research these are the best halogen heaters on the market right now: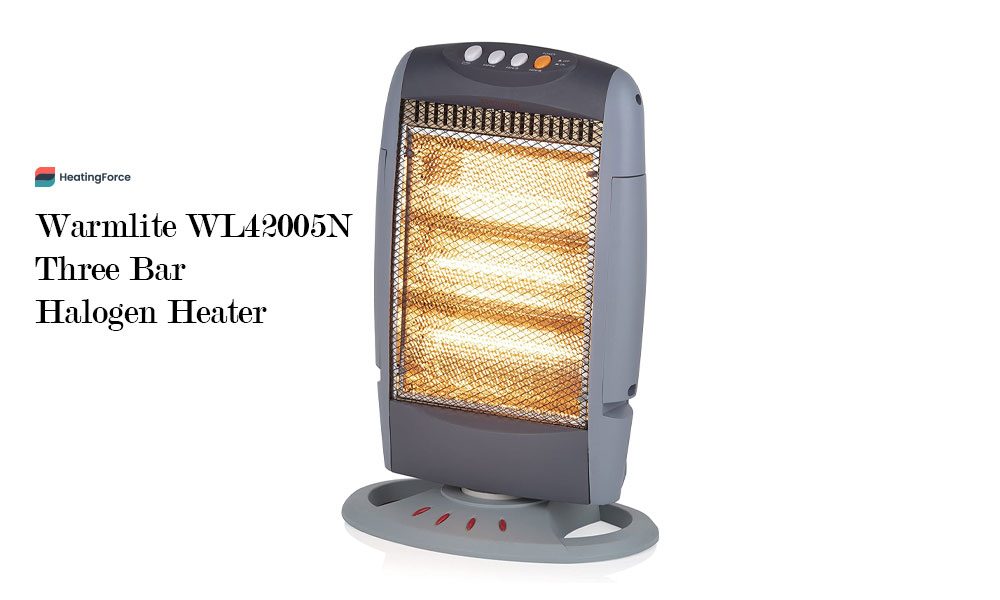 Kicking things off is the heater we dubbed the best halogen heater in a previous article. What really sets the Warmlite WL42005N apart from the others is its safety and value for money.
It even looks nice, which is saying a lot for a space heater, especially one at such a modest price point. It even comes with an easy method for bulb replacement (should this become necessary at some stage in the future). It also comes with three heat settings: 400 W, 800 W, and 1,200 W.
Like we mentioned in our other article, the power in this halogen heater is nothing special, but 1.2 kW should do the trick for most people. We'd encourage anyone who prioritises safety and value to look into this halogen heater.
What makes this heater safe? Well, as you might know, space heaters sometimes get a bit of a bad rap for their tendency to fall over. However, Warmlite has designed this heater with a stable, topple-resistant base.
Of course, accidents happen, and the last thing you want is for your space heater fall over and cause a house fire, so thankfully Warmlite has figured out. This halogen heater features a safety tip-over switch and thermal cutoff mechanism, ensuring you and your family can get cosy by the heat without worrying about any accidents with the halogen heater.
As for warranty, Warmlite offers a guarantee of 1 year, but this can be extended to two years if you register the product online.
Who Should Buy This?
Pros:
Good value
Reliable

Portable

Guarantee of one year; can be extended to two years if registered online
Three heat modes available: 400 W, 800 W, and 1,200 W
Stable base to minimise the risk of accidental toppling
Excellent safety features
Cons:
Relatively low power output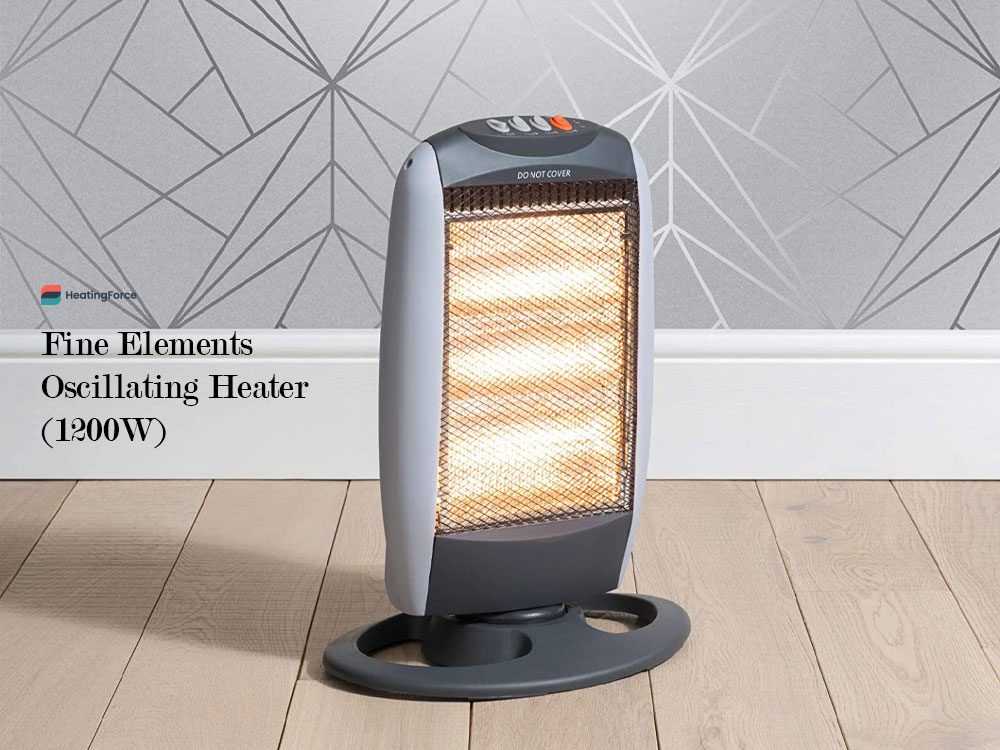 The Fine Elements Oscillating Heater is cheap and economical. Honestly, this halogen heater might just be the dark horse of the list. It features oscillation heat settings and ships with an extra cut-out fuse in case you blow the first one.
But what about the lifespan of the tubes? Well, Fine Elements estimates that you'll get around 8,000 hours out of your halogen tubes. Put another way, that's like running your heater for 8 hours every weekday for 3+ years.
Of course, most people won't be using this halogen heater anywhere near that long, so you could theoretically get many years of use out of this little unit, which makes it a smart choice when it comes to buying one for your home.
Lightweight and portable, Fine Elements has perfected the art of making low-priced heaters. The word 'cheap' has a lot of baggage due to it implying corner-cutting or inferior build quality, but this isn't the case here.
It's supremely portable and provides excellent heat output for the price and wattage. It can be used in a conservatory or just in the living room on a cold winter's day.
Then there's the efficiency, which we really must get back to. Cheap heaters are notorious for draining your wallet like Stephen Curry drains 3-pointers. Fortunately, this isn't the case with the halogen heater.
Honestly, we have no idea how Fine Elements has managed to get such a cheap oscillating heater to be so economical, but clearly whatever they've done is working, so more power to them.
While this unit has a very stable base, a cut-off switch has been added to ensure that there isn't any danger if it's somehow knocked over.
Who Should Buy This?
Pros:
Cheap and great value

Portable to move around the home

Instant heat
Stable base
Cut-out fuse (for extra safety)
Long tube life
Three heat modes available: 400 W, 800 W, and 1,200 W
Cons:
Relatively low power

output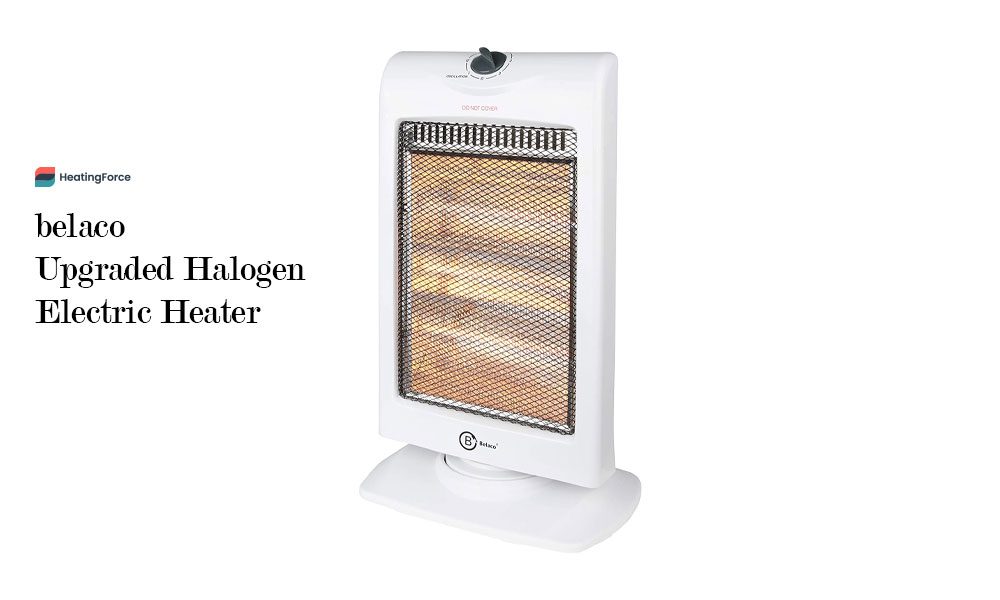 The belaco is yet another 1,200W halogen heater, this time with an upgrade. As usual, we have three heat settings available: 400 W, 800 W, and 1,200 W. It is lightweight and comes with three halogen tubes.
This heater certainly looks nice, and it's arguably the most palatable halogen heater on this list in terms of appearance; however, looks don't warm up our toes when things get chilly in late December.
The cream colour is pleasant to the eye, but the gentle fireplace-style glow is really this heater's shining point. The improvements for the upgrade have been made across the board, and its ability to heat evenly and quickly should be applauded.
The construction is also robust and will stand the test of time. We're not exactly sure, but it's quite possible there was an upgrade in terms of the material quality. In any case, we're really thrilled with this offering from belaco.
All these things in mind, you really can't go wrong with this halogen heater. However, we feel it is our due diligence to mention that there is no mention of a guarantee. While the 4.5-star rating is a great indicator of its quality, there is apparently no way of getting replacement bulbs for this model.
However, at this price point (and at the risk of sounding a little wasteful), one can always buy a new heater unit once this one reaches the end of its life. It's small and portable size is perfect for heating a bathroom or similar size space or room in your home.
Who Should Buy This?
Pros:
Pretty design
Stable base

Portable, easy to move around the home

Has the charming glow of a fireplace
Has received upgrades from the previous edition
Three heat modes available: 400 W, 800 W, and 1,200 W
Safety features that include automatic cutoff and tip-over protection
Cons:
No replacement tubes available
No mention of a guarantee
Relatively low heat output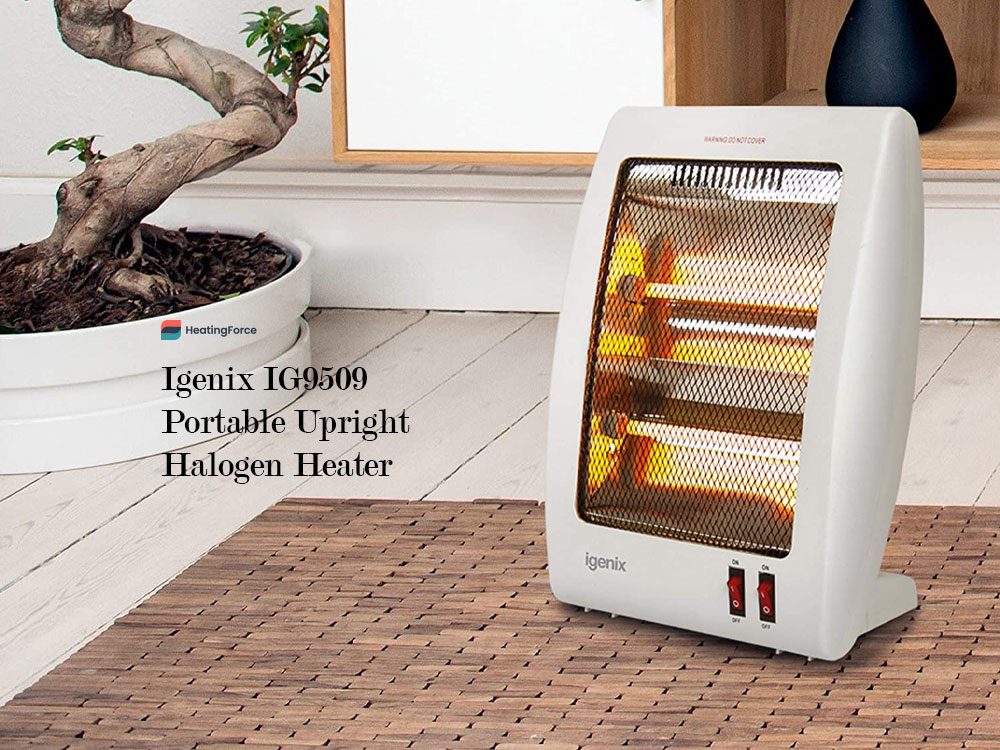 I get some seriously retro vibes from Igenix IG9509 Portable Upright Halogen Electric Heater.
I'm not really sure what it is; perhaps it's the mesh grill or the horizontal halogen bars? Or, perhaps, it's those old-school red switches or the cream-white casing that is elegantly supported by a single base foot.. In any case, it's probably a combination of these traits, and I have to say I appreciate the consistent design aesthetic of this halogen heater.
I'm a sucker for retro, and this baby harkens back to a simpler time.
Indeed, this heater unit only has two heat settings (400 W and 800 W), so simple really is the operative word for this model. 800 W might be enough for some people, but good luck trying to keep more than one person warm with this thing, let alone a larger room in your home.
Then again, the intention of this kind of compact heater is almost always going to be that of a personal heater, so it feels unfair to belabour this point too extensively.
Who Should Buy This?
As already mentioned above, this heater is only 800 W. However, it might be enough for you, so don't go discounting this heater on wattage alone.
The efficiency here is excellent, which should be great news to people looking to cut down on power wastage – whether for environmental or economic reasons.
This halogen unit has a wide-angle heat reflector and safety features such as an automatic cut-out and tip-over switch. If you're looking for something portable, Igenix has you sorted.
Weighing in at just 1.2 kg, the IG9509 is easy to move about from room to room.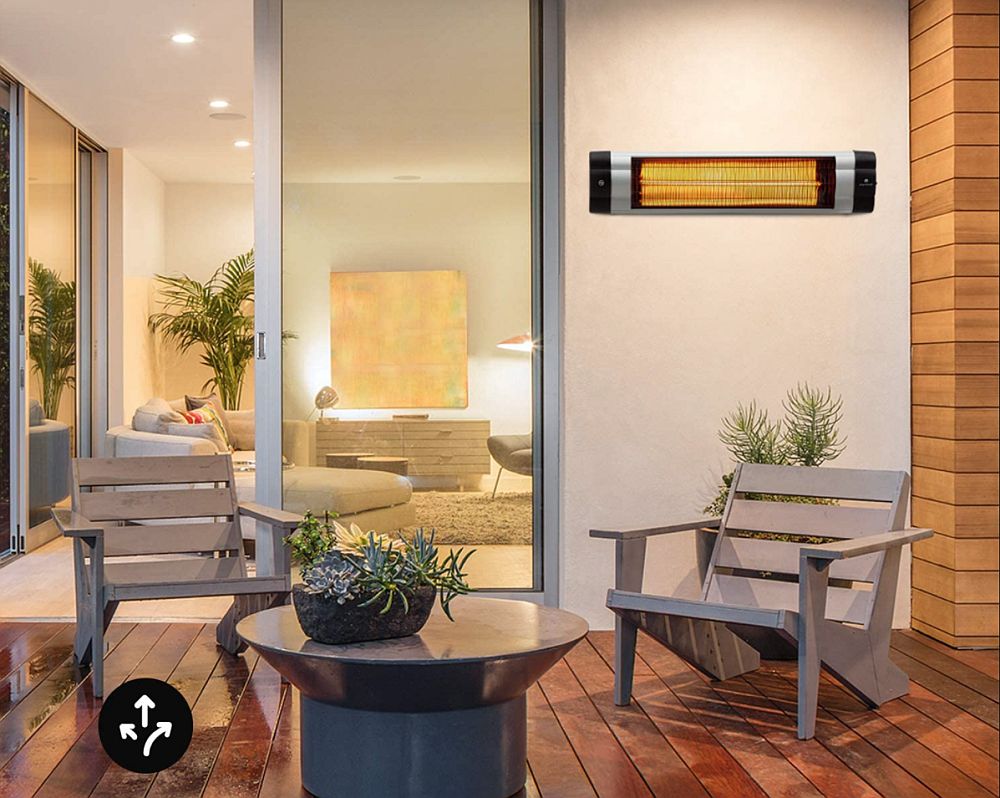 Breaking the mould a bit here on our list of the best halogen heaters, we present the Rising Sun Mono from Blumfeldt. Featuring that famous German engineering, this heater from the Blumfeldt brand offers a highly durable, outdoor infrared heater capable of withstanding the elements with aplomb.
The Rising Sun Mono is highly flexible in how you can deploy it, thanks to its sturdy, extendable base. Whether you're in need of heat for your garage, conservatory, patio, or garden, you're pretty much good to go out of the box. It weighs just 7gk all total, and is easy to position but hard to knockdown.
In terms of heating, you'll find the 2500W halogen heating element positively belches heat. It is made all the more efficient and effective through the use of a stainless steel reflector, enabling you to focus all that energy on warming your specific living area or room rather than dispersing it wastefully into the air.
Who Should Buy This?
If you're looking for an outdoor patio heater with great coverage, Blumfeldt's Rising Sun Mono is hard to beat. This halogen heater heats up quickly and offers a powerful but gentle heating sensation similar to a warm sunny day. We also love the cosy aesthetic cast by the inviting glow of the heating element–sure to liven up any gathering.
Pros:
Super-powerful 2500W heating element
Durable IP34 construction perfect for outdoor usage
Lightweight and easy to set up and move
Adjustable height and directional heating
Cons:
Power cord is just too short, and doesn't reach the ground at full extension
No warranty, though Blumfeldt will replace units

that

arrive broken

 
Halogen Heater FAQs
When should I use my halogen heater?
While halogen heaters make for great personal heaters due to their ability to produce even warmth at an efficient rate, we recommend you only run your heater when you're able to monitor it.
While these space heaters have safety mechanisms built-in, not every safety measure is 100 percent perfect.
Another thing to keep in mind is what level you want to run your halogen heater at. All of the heaters on this list have heat modes that facilitate heating at different wattages, so sometimes you might find that you're better off dialing back the heat if you are not looking for maximum heat.
Alternatively, you can turn the halogen heater up to max when you first arrive home or enter into a room, and then just dial it back once you feel sufficiently warm.This gets you warm nice and quickly without unnecessarily wasting energy or overheating the room.
Rating heater features and value of Halogen heaters vs other space heaters
We already covered this to an extent in the intro, but allow us to just build upon what we laid down. Halogen heaters are cheap and efficient; that is something we really want to reiterate.
If you're looking for a heater that is cheap but effective, halogen heaters are a great choice for your home. Additionally, you won't run the risk of getting carbon monoxide poisoning with these heaters, which makes it a fantastic choice for senior citizens.
Speaking of which, their compact and portable nature is just another benefit for this kind of audience, as they are easy to place in storage, and the automatic cutoff and tip-over protection that comes standard with the halogen heaters on this list.
We should also mention that families with young children could also benefit immensely from these safety options and settings as well as affordability since all of these heaters have been manufactured with cost in mind. One thing to keep in mind, though, is that guarantees and the policy on part replacement can vary from manufacturer to manufacturer, so it is imperative that you contact your halogen heater manufacturer if you have any doubts.
Where should I use my halogen heater?
Bedrooms, living rooms, and conservatories are all really popular options for placing a halogen heater. Another location option is an enclosed workspace such as a shed or garage. If your intention is to heat an entire room instead of just a small area, then you may want to look into investing in a large radiator heater instead of a space heater or a gas patio heater.
Regardless of where you intend on using your halogen heater, inside the home or in a garage, we recommend you read the manufacturer's manual before use (or contact the heater manufacturer directly, if applicable).
What are some safety concerns I should consider?
While we've already gone over the safety features of these heaters extensively, it's always prudent to remember that no technology is foolproof. Accidents can happen, so ensuring you have a fire plan ready to go is always a good idea. (You should have a fire plan ready regardless of whether you own a heater, but the point is particularly important if you have space heaters.)
One other frequently overlooked risk of a heater is that of water damage. Some of the larger heaters boast water resistance; the halogen heaters on this list do not. As such, please be careful when holding or transporting liquids around your halogen heater. Spilling water on your heater or electrical component can cause short circuits and/or injury.
RELATED READING: Best Electric Patio Heaters
Conclusion
Halogen heaters are the perfect personal heater for your home: affordable, safe, portable, and perfectly tailored for the individual. They are easy to collect from storage when needed and are quick to store away after the cold weather passes. If you're looking to keep a whole room warm, please consider taking a look around our website for other kinds of heaters, as opposed to choosing a halogen one.
Additionally, make sure you read the halogen heater manual, understand the various settings, and check with the manufacturer if you have any concerns. Finally, make sure you're aware of how to most efficiently operate your heater.
The best way of doing this is to determine optimal placement (that doesn't come too close to objects or people) and to test the different heat settings offered. Another trick is to try different wattage settings to see which power output is best for your given situation, and room and the area of placement in your home.
Avoid Expensive Breakdown Costs
Boiler Replacement Promise: If it's under 7 years old and we can't repair it, we'll replace it.
Try
YourRepair
. From £9/mo
All plans include: annual boiler service, all parts and labour, unlimited support and 24hr helpline.