HeatingForce is reader-supported. When you buy through links on our site, we may earn an affiliate commission. Learn more
No Hot Water? Here's What You Need To Do
In this 5-minute guide to boiler's with no hot water, we've split it down into sections, so you can flick straight to the section that sounds like your problem.
We've also included a quick "fix" section with each, where possible.
No Heating Or Hot Water
I Have No Hot Water, But My Heating Works
Cold Water Works, But No Hot Water
No Hot Water In My Shower Only
Before we carry on, if you want an engineer to look at the problem you can book one in here.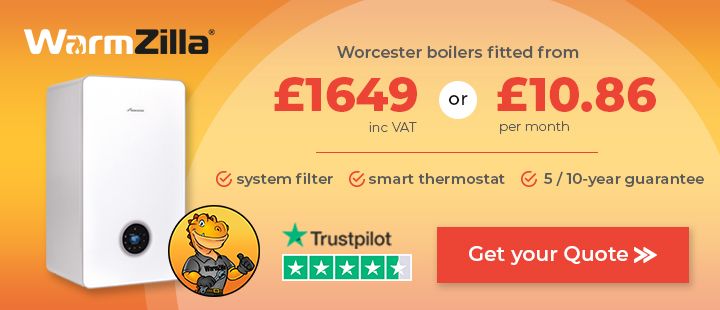 Thinking about ditching your unreliable boiler, for a fresh one with a long warranty? You can get a Worcester Bosch installed DIRT cheap here.
And, if you're looking for a faults not listed here, checkout our guide to boiler problems.
No Hot Water Or Heating
Of all the diagnosis's, this is the hardest one to pin-point without inspecting the boiler. The possibilities are pretty much endless.
#1 – No Power To Boiler
Is your boiler control panel blank? Are the power lights off?
The Fix
We've created a guide specifically for users with no power to their boiler here.
#2 – Faulty Heating Pump
On each boiler, there is a "flow" (hot water out) and a "return" (water returning to the boiler, after going around the heating) pipe.
Your flow pipe should be hot. The return pipe should be a little bit cooler; radiators and pipework will take some of the heat out of the water as it travels round the system.
If neither the flow or return are hot/warm, there's a chance the pump isn't circulating.
The Fix
Need to diagnose a faulty pump? We've created a guide to central heating pump problems here.
#3 – The Pilot Light Has Gone Out
The pilot light is the small flame you see in your boiler. If this has gone out, it's likely a fault code has appeared (check your owner's manual to see what the fault code means).
The Fix
We can't advise fixes on gas related issues. You should contact a Gas Safe engineer.
#4 – Faulty PCB/Display Panel
If you have power, and can hear internal parts working/moving, there's a good chance you've got a faulty PCB and display panel.
Like other components in the boiler, they do break over time. This process can be sped up if your boiler is leaking water that's made it's way into the control panel.
The Fix
Due to the complexity of the boiler's display panel, the best option is the replace it.
The PCB is incredibly expensive. Expect a bill of around £500. If your boiler is over 5 years old or out of warranty, depending on the condition of other parts, it might be worth considering a replacement.
Typical installation prices start from around £1,800+. However, we'd recommend checking out WarmZilla (a boiler comparison site). They're one of the cheapest for Worcester boiler installations (use discount code WZ-200 for a £200 discount at checkout) , and you can get your £1,639 price online, in less than 2 minutes here.
#5 – Faulty Programmer or Timer
No hot water or heating could mean that you have a faulty timer or programmer.
The Fix
Check the owner's manual for details on how to reset the programmer and timer.
And, if you've had a power cut, this can mess with the time/date stamp on both devices. If you've programmed your heating and hot water, it could be set to the wrong time. Check time/date stamps and change if necessary.
#6 – Frozen Condensate Pipe
If you're getting no hot water or heating on cold mornings, or during winter, there's a good chance the condensate pipe is frozen.
The condensate pipe vents flue gases from your property, and these are prone to freezing.
The Fix
Check the pipe for blockages/frozen debris. Clear the blockage and slowly thaw out the pipe.
#7 – Boiler Lockouts
A boiler lockout is a shut-down procedure. It's a shut-down sequence initiated by the boiler when it realises there's something not quite right.
The Fix
There's a tonne of reasons a boiler can lockout; some have been mentioned above.
The display panel will show a fault code. With that information in hand, head over to our page on common boiler lockout causes and fixes here.
#8 – Low Or No Pressure In The Boiler
Your boiler needs pressure in order to heat up hot water. If you have no hot water or central heating, it could be due to a loss of pressure.
The Fix
We've created a guide to why boilers lose pressure, and the fixes here.
No Hot Water But Heating Works
When there's no hot water but the heating works, this is usually a sign of a faulty diverter valve.
However, it's important not to jump to conclusions. We've had people contact us in the past with the same no water water/heating works problem. Their engineer fitted an expensive diverter valve, and it didn't fix the problem.
The Fix
Here's a guide to diagnosing a faulty diverter valve.
Remember, don't jump to conclusions. There are other reasons you could be getting heating but no hot water, such as faulty S-plan, Y-plan or zone valves.
My advice would be to contact an engineer before spending any cash on repairs. If you'd prefer a replacement, you can get a price online here.
No Hot Water But Cold Water Works
When you get no hot water, but the cold water works, there's a few potential problems.
First, as this is quite a broad issue (it's easier to diagnose when seeing the heating system), check out the first two sections first:
No Hot Water Or Heating
No Hot Water But Heating Works
Those cover actual boiler faults. But, we've been to properties where it's not the boiler's fault at all.
Have you smelt gas and turned off the gas valve?
If this is the case, you'll get cold water from the hot tap, but as there's no fuel for the boiler to burn (and heat the water), you won't get hot water.
Did you try to increase the pressure of the boiler via the filling loop and close off more than one valve?
In this scenario, the gas lever is probably still open and ready to fuel the boiler, but the water supply for the hot, has been turned off.
The Fix
For the boiler to heat water it needs two things:
You'll want to check that both of these levers are open.
If your property has no water coming from the taps at all (perhaps you just moved in), there's a good chance the mains stopcock (sometimes there's more than one) has been turned off.
You'll need to turn this back on to get a supply of water to the boiler, taps and shower.
No Hot Water In Shower Only
If you're getting no hot water in the shower only, but everywhere else is fine there's a few explanations:
The mixing valve in the shower is stuck, or broken
Anti-scalding device set in the wrong position
The Fix
If the mixing valve is stuck or broken, it needs to be replaced or fixed. Personally, for the sake of what they cost, I'd get it replaced.
On most newer showers you'll have an anti-scalding device built in. If this is set too high, the water won't heat up. It's located behind the knob used to turn the heat of the shower up and down. Adjusting this can sometimes fix the problem.
That said, it's unlikely this has suddenly just changed (so, unless you've just moved in, we'd head for the mixing valve).
What's Next?
Still need someone to come and fix your hot water?  You can book one to take a look here.
Prefer a replacement boiler? We'd recommend getting a price from WarmZilla's boiler calculator.
Whether you've got no hot water and heating, or just no hot water in your shower, we hope this has helped.
If you're still stuck, drop a comment below and we'll get back to you as soon as possible.
Avoid Expensive Breakdown Costs
Boiler Replacement Promise: If it's under 7 years old and we can't repair it, we'll replace it.
Try
YourRepair
. From £9/mo
All plans include: annual boiler service, all parts and labour, unlimited support and 24hr helpline.