The 6 Best Conservatory Heaters (Reviews) and How to Pick Yours
Your conservatory can be a great source of pleasure during the summer months. When it's warm outside, it can function as an extra living area, a greenhouse, and a lovely sunroom. But what about all the cold months when you are not able to use it? Getting efficient conservatory heaters can extend their use well into the dead of winter.
Conservatories are not insulated anywhere near as good as a house. Using an electric heater in an uninsulated enclosure entails a great degree of heat-loss and an increase in your electric bill. That said, all the heaters I've included in my list below are as eco-friendly and efficient as they come. They are meant to save you as much money as possible while keeping your conservatory useable all year.
Let's start with a few vital factors you must consider before buying a heater for your conservatory.
Consider This Before Purchasing Conservatory Heaters
Size
The size of the heater you will need to warm your space should be your first concern. A small conservatory floor area obviously requires less heat to stay warm so that you can get away with a unit with lower watt output, such as an infrared heater. Conversely, larger spaces call for more powerful devices, like freestanding gas-fired heaters.
Usage
How will you use the heater? Suppose you need an occasional boost of heat when entertaining in your conservatory during winter. In that case, most models will do the job. Or, perhaps you want your conservatory to be kept at a specific temperature at specific times, e.g. a comfortable 21 degrees while enjoying your morning coffee. In this case, a heater featuring a timer will come in handy.
Plants are often the main drive to keep a conservatory warm during winter months. To ensure that the temperatures never drop below zero, you will need a heating unit with frost protection.
Efficiency
Most of us worry about energy consumption, be it for environmental or financial reasons, and if you are no exception, choose a heater with a thermostat. It's way more energy-efficient in the long run, and offer a much more convenient means of controlling the heat output.
Safety
A wall-mounted heater is safely bracketed out of the way if you have small children or pets. If you choose a floor-standing heater, make sure it has the tilt-over safety feature to shut the heater off should it be knocked over. All heaters in this listing are up to the current safety standards.
Fan, Convection and Ceramic Heaters
Electric heaters generate heat in different ways, and the ones I will show you here are either fan, ceramic, convection or a mix of all three. They can heat your conservatory, garage, or hobby room quickly, but also have their pros and cons.
Fan heaters: Fan heaters are a bit noisy, but take mere seconds to fill up a room with hot air. A fan heater blows air from a heated element. In modern fan heaters, this element is ceramic, which is why most newer models are promoted as ceramic heaters. The ceramic heating element makes them safer and more energy-efficient than traditional fan heaters as they quickly reach the peak temperature. But, as soon as the heater is turned off, you should expect the temperature to drop rapidly.
Convection/Convector heaters: Convection heaters are silent and disperse heat evenly. They channel colder air from the bottom of the unit, through the heating element, and out the top. This process repeats continuously while the unit is turned on, always heating the colder air sucked in at the bottom.
Oil Radiators: The radiator's fins are filled with oil (which never has to be replaced). This oil flows through an electric heating element to reach the desired temperature. Because oil can stay hot for a long time, you can expect the heat to radiate from the surface for a while. The extended radiation is what makes radiators ideal for rooms that require heating over a continuous period. This is also why oil radiators offer a more economical heating solution compared to standard fan heaters.
Dry Air
Dry air can become a problem when using electric heaters, and the best way to combat that is with a humidifier. Humidifiers work by simply releasing moisture into the air, resulting in less dry skin and fewer sinus issues. If operated consistently, humidifiers will drastically improve dry environments created by electric heaters. The good news, too, is that they are relatively cheap.
What Are the Best Conservatory Heaters on the Market?
Using advanced ceramic heating technology, the Pro Breeze Ceramic Fan Heater provides fast and efficient heating for your conservatory or any other small space.
This little wonder has two power settings – 1200W and 2000W.  A fan-assisted 60° oscillation system distributes the heat emitted by the ceramic heating disc. The device can also be switched to static mode. The built-in and fully adjustable thermostat monitors the temperature in the surrounding area to guarantee you optimal heating.
The compact design, lightweight nature and carry-handles make the Pro Breeze perfect for your conservatory, or any enclosed outdoor area where a portable heater is a convenient option.
The Pro Breeze Ceramic Fan Heater is equipped with overheat protection, and a tilt-over safety-switch to ensure the heater instantly switches off should an unsafe situation occur.
Specifications:
Dimensions: 26 x 5 x 15.5 cm
Weight: 1.75 kg
Material: Ceramic
Power Source: Electric /220-240V
Heat Output: 2000W
Heating method: Ceramic
Heating surface: 30m2
Safety: Overheat protection, Tip-over safety switch
What do people about it? Based on over 2,700 reviews, the Pro Breeze Ceramic Fan Heater is quite a hit. The unit itself does not get hot, only the front grill. It's got a powerful heat output, warming a 5 x 5-metre space within minutes, which is especially impressive given the size. It makes a sound when running, but is not too noisy, so it will not obstruct a conversation or your morning meditation. The oscillating system makes it easy to spread the heat over a larger area.
Pros:
Powerful heat output
Compact design
Portable
Oscillating system
Highly recommended
Cons:
To summarise
The Pro Breeze Ceramic Fan Heater is compact yet powerful. The ceramic heating disc combined with the oscillating system and fan makes the ProBreeze much more efficient (and convenient) than traditional fan heaters. With mostly positive Amazon reviews, it seems that this little heater offers excellent value for your money.
The Dimplex Cadiz 3kW radiator features oil-free technology. It offers almost instant warm-up with the efficient conversion of energy into heat. The twin-panel system lets you switch on only one side to save energy, or turn on both sides for greater output. It has four wheels for easy movement.
The Dimplex radiator comes with electronic climate control. The thermostat enables you to set the desired temperature boost, between 5-35°C, with 1-degree increments. A programmable 24- hour timer lets you preset when your heater turns on and off, so the heater can start warming up your conservatory before you have to go in. If the power cuts, the programme needs not to be reset. All these handy features ensure that as little heat is lost as possible.
The Dimplex Cadiz Oil Free radiator comes with remote control and has a 5-year guarantee.
Specifications:
Dimensions: 5 x 77 x 25
Weight: 11 kg
Power Source: Electric
Heat Output: 3000W
Heat Method: Convection
Heat Surface: 50m2
Safety: British Electrotechnical Approval Board (BEAB) approval
Cord Length: 1.5 metres
What do people say about it? Reviews from new customers, together with updates from folks who purchased their radiator years back, are highly positive. Apparently, the Dimplex Cadiz Radiator does not fail in meeting its expectations. It provides instant and powerful heat without letting your electricity bill run wild. It even heats larger rooms quite quickly, and the thermostat function works well in detecting temperature changes and switching ON and OFF when it's meant to.
The radiator makes no sound at all, and it's light enough to be moved around. Setting the timer-control seems to be a bit of a hassle, but there is plenty of online help, as well as Dimplex customer service to walk you through it.
Pros:
Silent operation
Electronic climate control
5-year guarantee
Light display screen
Twin-panel system
Remote control
Thermostat
Cons:
The cord is short, at only 1.5 metres
No safety details
To summarise
The Dimplex Cadiz is a brilliant radiator with multiple features designed to heat your conservatory in no time. The Electronic climate-control thermostat lets you program your heater to your exact needs step-by-step. It is even possible to input several programmes, so you don't have to re-adjust them when the seasons change. The twin-panel system makes the usage, even more, eco friendly and convenient as you decide how the heat should be dispatched.
The TaoTronic is a PTC space heater with a fan and a ceramic heat element. It produces lots of steady heat, letting warm airflow fill a room. The TaoTronic is equipped with a 65° oscillation system with a 7° tilt) to widen the heat range. There are three heat levels: high – 2000W, low – 1200W, and ECO. The latter aims to reach a target room temperature of 24° C and the output fluctuates depending on the indoor climate. The heat settings, as well as the oscillating system, are remotely controlled.
A hidden handle makes this noise-free and lightweight heater perfect for your conservatory afternoons, as you can quickly move it to where you might need it most. The TaoTronic has an LED-Display placed at the top, a 7-hour timer, 12-hour auto shut off for convenience and safety, and a tilt-over safety switch and overheat protection.
Specifications:
Dimensions: 2 x 19.6
Weight: 3 kg
Power Source: Electric
Heat Output: 2000W
Heat method: Fan/convection
Safety: Overheat protection sensor, tip-over safety switch
Cord Length: 1.8 metres
What do people say about it? The vast majority of people who purchased TaoTronic attest its power and efficiency. It heats a room to the desired temperature quickly and automatically shuts off when the target temperature is reached.
The design is more modern and stylish than many other models at the market, which seems to please the crowd. The remote control can be a bit flimsy, and the control panel lets you adjust settings just as easily.
Pros:
Thermostat programming
Fast heating
Oscillating
Portable
Powerful heat output
Cons:
Unreliable remote control
To summarise
The TaoTronic is a decent, reliable heater for any conservatory or garage. It instantly takes the chill out of a summer night and keeps you warm and cosy while working on a cold winter day. The oscillation and 7° tilt system give this portable heater a great advantage, as the heat is dispersed at a wide range without compromising the intensity.
The TaoTronic heater comes highly recommended by previous buyers and is a great purchase that is well worth your money.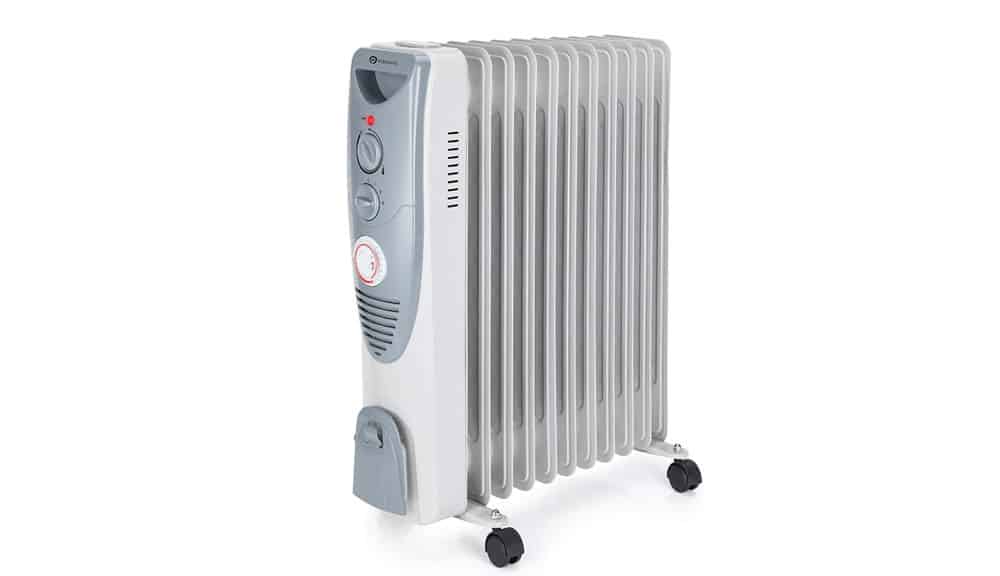 This 2,500W radiator has 11 oil-filled fins that warm up instantly and quickly distribute heat to any room no matter the size or shape. It comes with three heat settings: 1000W, 1500W, and 2500W. It is equipped with a thermostat dial that lets you control the heat output of the radiator. A 24-hour timer also allows you to program the heating times as you see fit.
The slim design makes this heating unit fit almost anywhere. The castor wheels, along with the front handlebar, enable you to move and store the unit hassle-free. A cable tidy helps you hide the cord when the radiator is not in use.
PureMate 2500W Oil Filled Radiator has overheating protection, an auto thermostat shut off and tilt-over safety switch.
Specifications::
Dimensions: 50 x 24 x 62 cm
Weight: 11 kg
Power Source: Electric corded 220-240V
Heat Output: 2500W
Heating surface: 26 m2
Safety: Overheat protection, auto shut off, tit-over safety switch
Cord Length: 1.5 metres
What do people say about it? This radiator pumps out heat in a matter of minutes, and according to a vast amount of customers, it is more efficient than any other heater they've tried over the years.
It starts heating at the bottom and rapidly radiates warmth to the surrounding area. All three power settings, as well as the thermostat set temperature, are spot-on according to the gauge.  Moving the unit around presents no difficulties, thanks to the wheels and handlebar.
Pros:
Quick heat
Powerful
Quality built
Easily moved around
Cons:
To summarise
The PureMate radiator is a quick heater that will leave you happy and comfortable, as you can easily bring this unit with you and instantly enjoy the heat it radiates. The well-functioning thermostat, as well as the 24-hour timer, are sure to save you money in the long run.
The Pro Breeze 2,500W Digital Oil-filled Radiator offers an industry-leading chimney design that creates a powerful circulation of hot air and accelerates the healing process. This design makes the Pro Breeze 2,500W Digital Oil-filled Radiator more efficient than conventional radiators or a traditional oil-filled radiator. It draws in the cold air at the base, channels it up to the heating element, and then disperses hot air into the room, allowing sinking cool air to circulate back into its base.
This high-powered oil-filled radiator has 10 heating fins that quickly heat any room. The Pro Breeze 2,500W Digital Oil-filled Radiator has four heat settings: 1000W, 1500W, 2500W, and an ECO thermostat mode to save energy as you set the radiator to the desired temperature. All functions can easily be set and controlled via the LED display or remote control.
The Pro Breeze 2,500W Digital Oil-filled Radiator has a 24-hour timer and an automatic thermal-cut off. It is equipped with overheat protection, and a tilt-over safety-switch to provide maximum security. Four Castor wheels make the unit easy to move around.
Specifications:
Dimensions: H: 55 x 26 x 67 cm
Weight: 16 kg
Power Source: Electric 240v
Heat Output: 2500W
Heat method: Radiant Convector
Heat surface area: up to 32m2
Safety: overheat protection, a safety tip-over switch and automatic thermal shutoff
Cord Length: 1.5 metres
What do people say about it?
The Pro Breeze is a great radiator that quickly heats a room, even on its lower heat settings. It is silent during operation, and the temperature settings are easy to adjust. That said, the 24-hour timer only allows for a single ON/OFF setting in 24 hours. Also, there is no frost protection to turn on when the temperature below 5°C.
Pros:
Quick heat
Three heat settings
Powerful output
Wheels
Cons:
The display does not turn off as long as the heater is ON
The remote control lacks range
No frost protection
To summarise
The ProBreeze Oil-Filled radiator is perfect for rooms that require effective heating for extended periods, like a conservatory, but also provides near-instant heat. Relying on oil instead of water, the unit stays warm for longer, making it a low-cost solution compared to other electric heaters. It comes highly recommended by previous buyers.
The Devola Designer Electric Heater is one of the most technologically advanced models on the market. With the mobile app installed and connected to the unit over WiFi, you can control heating from your smart device and adjust the settings any way you want.
An integral precision thermostat makes the electric convector heater switch on and off when the set temperature is reached, within an accuracy of half a degree, making it even more energy-efficient. It has three heat settings, with a maximum of 1000W.
The Devola Designer Electric Heater's tempered glass design is modern and will look stylish in any interior setting. The heater can be either freestanding or wall-mounted, as it comes with a set of legs and mounting brackets. The LED display light can be switched off during operation. All settings are controlled via the same display, the remote control, or the smartphone app.
A 24-hour timer can be set to turn the unit on and off as you see fit.
Specifications:
Dimensions: 52 x 51 x 7 cm.
Weight: 8 kg
Power Source: Electric
Heat Output: 1000W
Heat method: Radiant
Heat surface area: 15 m2
Safety: Double overheat protection and IP24 rating
What do people say about it? Most reviewers commend the Devola Designer Electric Heater for its efficiency and aesthetic. The slim design makes it fit into most places without obstructing the décor. The WiFi-connected control works perfectly, and if you can't be bothered to change settings with your hands, it works well by voice command. It is not the cheapest heater to operate, but it heats up rather quickly.
Pros:
WiFi-enabled
Two mounting options
Thermostat
Alexa and google home enabled
Frost Protection
Child lock
24- hour weekly timer
Cons:
The display is complicated to turn off.
To summarise
If you prefer a heater that is a bit more subtle in shape and also easy to install, this is a great choice. It comes with all the required mounting hardware, meaning that you won't have to pay anything extra for an electrician to set it up. The slim design allows you to maximise your floor space, which is perfect for smaller conservatories or hobby rooms.
The Devola Designer Electric Heater offers excellent array features and heats most smaller rooms quickly.
Final Thoughts
I hope that my top picks, along with the selection guide, will help you make an informed decision before you purchase your conservatory heaters.
If there is anything I missed, or if you'd like to share a personal experience with one of these units, please leave our readers a comment below!
Avoid Expensive Breakdown Costs
Boiler Replacement Promise: If it's under 7 years old and we can't repair it, we'll replace it.
Try YourRepair. From £8/mo
All plans include: annual boiler service, all parts and labour, unlimited support and 24hr helpline.