Greenhouse Heater (UK): The 6 Best Heaters on the Market in 2021
The UK weather sadly doesn't allow us to grow tomatoes at wintertime. So, if you want to turn your Greenhouse into an all-year hobby house where plants will thrive, you'll have to rely on a heater.
In my list below, I've included several heater options; they all operate and benefit your greenhouse in different ways.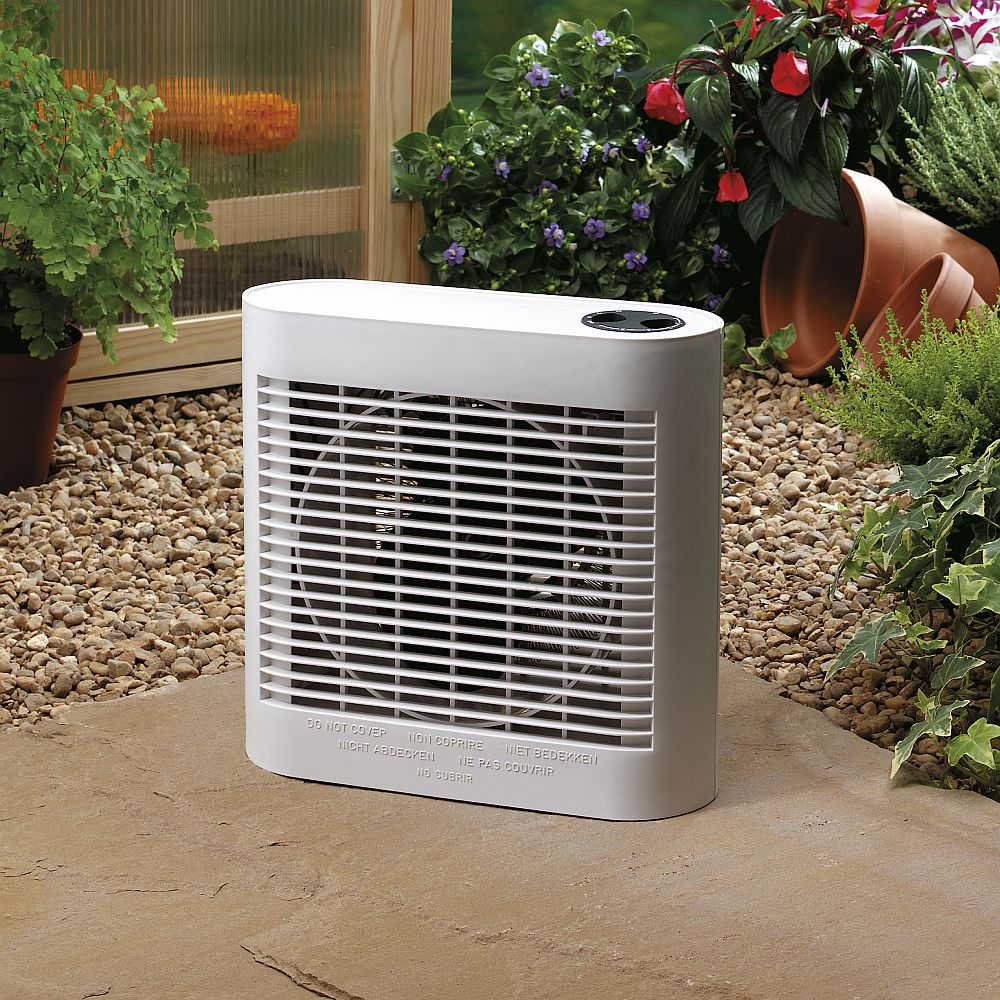 Which Type of Greenhouse Heater Should I Choose?
I've dug up the best Greenhouse heaters out there, but how do you know which one is right for you?
Electric oil-filled radiators are great. They will heat up the entire space and keep you comfortably warm, so you can enjoy your Greenhouse for hours even in the coldest months. The oil-filled fins get heat from electric elements and radiate warmth from their surface into the surrounding air. These heaters are efficient, too — because oil can stay hot for an extended time, the radiator will keep emitting heat even after it's been turned off.
Electric fan heaters are powerful and fast. They quickly generate sufficient heat to warm up your Greenhouse; however, the temperature rapidly drops back to previous levels when the device is switched off. Due to this flaw, fan heaters are a bit less efficient — and more expensive — to operate than their oil-filled peers. For a quick boost of hot air that keeps you warm for a short while, however, fan heaters are excellent.
Electric tube heaters and paraffin fuelled heaters are used to keep a Greenhouse frost-free, not to make the occupants feel warm. If you don't mind wearing layers while gardening, you won't need anything more than the subtle wattage they provide.  Your choice will be both cost-efficient and suitable, as both electric tube heaters and refillable paraffin heaters are excellent at preventing frost.
Gas heaters give off tonnes of heat, so you can count on one to keep you and your plants toasty no matter how cold it is outside. However, it is essential to have proper ventilation to avoid Carbon Monoxide build-up, which is extremely dangerous for both you and your plants. Gas heaters are only meant to be used in open or semi-enclosed spaces and are a great option when you don't have a nearby electric outlet.
Size and Wattage
The lower the wattage, the less energy your heater consumes. Keep this in mind if you're simply looking to keep your Greenhouse frost-free, and are not interested in using it as a lounge area. On the other hand, if you want to use your Greenhouse to grow tropical plants all winter, will need a larger heater with a similar higher wattage to produce the desired temperature.
The 6 Best Greenhouse Heaters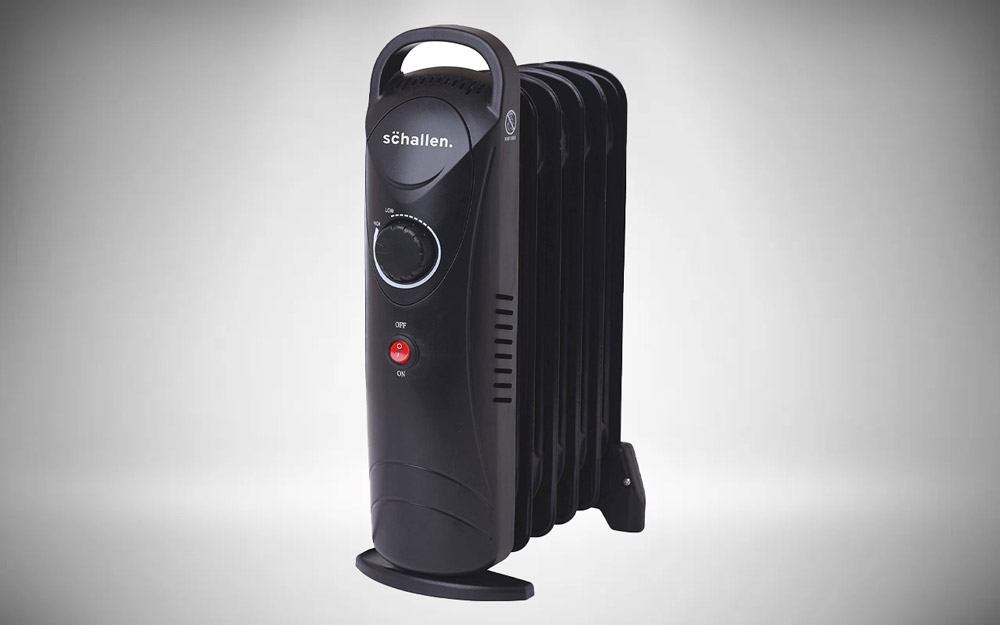 The Schallen 800W Portable Oil Radiator has 6 fins and comes with a thermostat, so you can pre-set the desired temperature. The radiator will run by itself, switching on and off to ensure the ambient temperature remains at your desired level.
The smaller size of this device makes it an excellent choice for greenhouses, as it won't take up much floor space, or be in your way. It is easy to move the heater from one location to another, as it weighs just 2 kg and has a carry handle and castor wheels attached. At the bottom, you will find a cable tidy to store the cord and plug when you are not using your heater. Automatic overheat protection and a tip-over switch are included for safety.
Specifications
Dimensions: 38 X 28 X 14 cm
Weight: 2kg
Material: Metal
Power Source: Electric
Heat Output: 800W
Safety: automatic overheat protection system and tip-over switch
Cord Length: 1.5 metre
What do people say about it? The 6 fins heat up instantly, and the heat radiates throughout the space almost immediately. The heater is also silent, and the adjustable temperature control is quite convenient and works without problems.
Pros:
Thermostat control
Instant heat that lingers
No noise
Portable
Cons:
To summarise
There are many oil-filled radiators are on the market, but few have as many positive reviews as the Schallen 800W Portable Oil Radiator. It's a well-functioning heater that's also easy to handle. Should you need a larger model, Scahellen has these ones as well: 1500W with 7 fins,  2000W with 9 fins, and 2500W with 11 fins.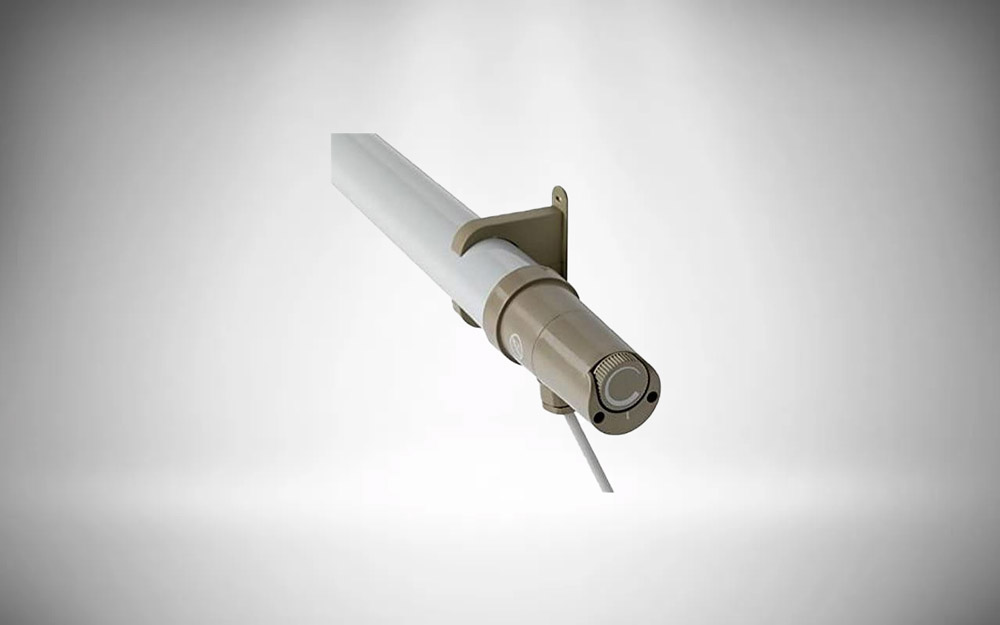 Designed to run continuously, the Sunhouse Tubular Heater will keep your greenhouse frost-free at all times without taking up any space. The tube and casing combined measure 713 mm in length, and with the brackets supplied, wall-mounting the device is fairly straightforward.  With 80W output, the Sunhouse Tubular Heater will heat to its maximum setting, and continue to operate in periodic cycles to ensure a steady temperature.
As it's IPX4-rated, this tube heater is splash-proof, so you can safely install it along the wall of your greenhouse.
Specifications
Dimensions: 7 X5 X 83 cm
Power Source: Electric
Wattage: 80 W
Water resistance: IPX4
What do people say about it? Most customers are happy with the heater's durability; even after long-term use, the device continues working without issues. The mounting only allows for backside installation, which can be difficult in an all-glass greenhouse. Some users had to resort to building a wooden rack, then mounting the Sunhouse Tubular Heater to it. On the upside, the heater easily keeps the space frost-free and costs close to nothing to operate.
Pros:
Cheap to operate
Compact
Splash-proof
Thermostat-controlled
Cons:
Does not heat the surrounding air
Wall mounting can be an issue in an all-glass Greenhouse.
To summarise
The Sunhouse Tubular Heater offers a great way to prevent frost in your greenhouse without spending a fortune on electricity. It's also affordable, so you can purchase several of these for a larger space without splurging.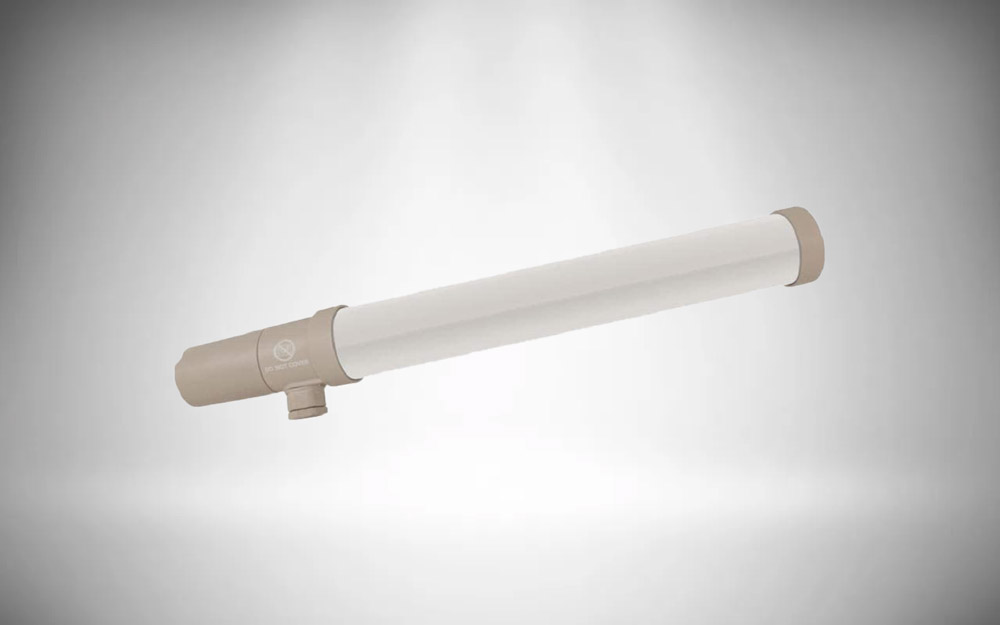 During winter, the main objective is to keep your greenhouse frost-free; for this, the Dimplex ECOT2FT Tubular Heater is an ideal option. Its 40W provides a subtle background heat — just enough to keep your plants from freezing — without heating the whole space. The device has an adjustable thermostat that allows the user to control the heat output and keep the Greenhouse just above the freezing level.
The mounting bracket lets you install the Dimplex ECOT2FT Tubular Heater at either the wall or the floor of your greenhouse.
Specifications
Dimensions: 43 cm
Weight: 700 g
Power Source: Electric
Wattage: 40W
Safety: Auto-reset thermal overload cut-out / IPX4
Cord Length: 1.5 metres
What do people say about it? The vast majority of customers are incredibly pleased with the Dimplex ECOT2FT Tubular Heater. It produces enough heat to ward off frost, and costs around £1-2 per month to run. 
Pros:
Extremely cost-efficient
Compact
Splash-proof
Cons:
It is merely for frost-protection
To summarise
The Dimplex ECOT2FT Tubular Heater is an apt choice if all you need is frost control. It's easy to install, and the thermostat control lets you keep the heater working at all times. Depending on how large your greenhouse is, you may need several of these to maintain the right temperature.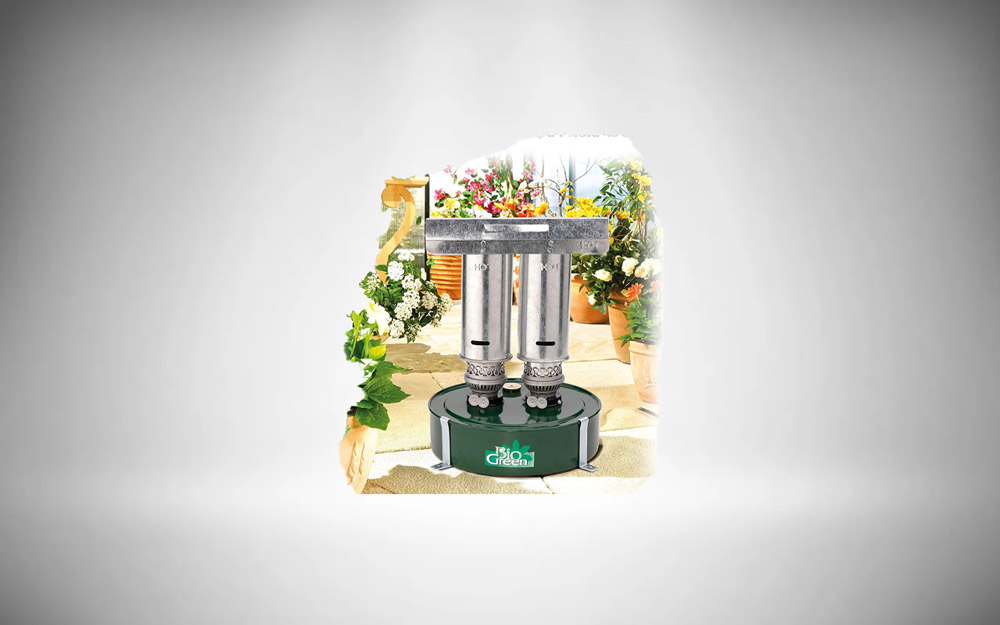 Biogreen WM p5 Warmax is a reliable and robust heater for smaller greenhouses. Operating at the lowest setting, it functions well great as a frost-guard. The heater runs on paraffin and has a 4.5-litre tank capacity, which delivers heat for up to 3.5 days.  It has a maximum heat output of 600W, and can distribute warmth to an area of 5m2.
Specifications
Dimensions: 49 x 34 cm
Weight: 2.94 kg
Power Source: Paraffin
Heat Output: 600W
Tank capacity: 4.5 litres
Burning time 3.5 days
What do people say about it? Most folks who bought the Biogreen WM p5 Warmax meant to use it as frost-guard, and as such, it seems to work without issues. The fact that the burners can operate individually makes for a simple way to control the heat output. The wicks are around 30cm, and at the lowest setting, a few millimetres should last for several days. It's excellent for keeping frost away from your newly planted tomato plants, and costs little to operate.
Pros:
Great frost-guard
No assembly or mounting
Low-cost
Portable
Cons:
You have to refill the paraffin.
You have to replace the wicks
To summarise
This powerful paraffin burner is easy to operate, and an obvious choice if you lack electric outlets in the greenhouse. The Biogreen WM p5 Warmax can burn for several days without any interference, and even longer when used as a frost guard.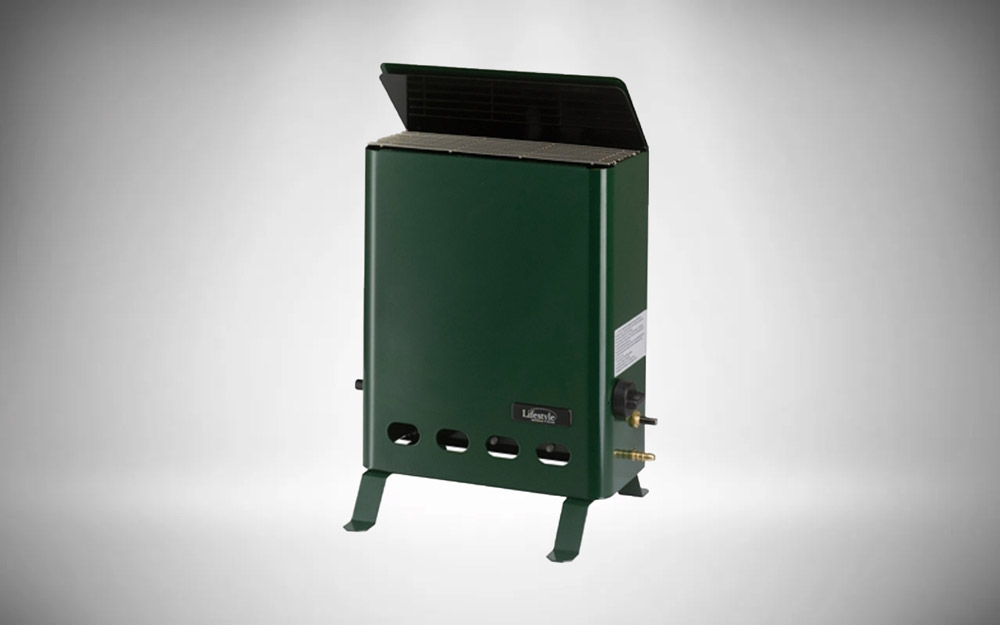 This 2000W Propane-powered heater is reliable, powerful, and ideal for a ventilated or semi-enclosed greenhouse. The heater is thermostat-controlled, with a self-ignition piezo button that allows it to switch on and off depending on the ambient temperature.
The Eden Gas Greenhouse 2kW heater comes with a hose and a 37Mbar regulator to control how much fuel goes in, and help avoid overheating. This heater is CE-approved, so it's up to EU standards. A single 13kg bottle of propane lasts approximately 14 days at medium setting.
Specifications
Dimensions: 30 X 13 X 48 cm
Weight: 4 kg
Power Source: Propane
Heat Output: 2000W
Safety: Oxygen Depletion System /Safety Valve
What do people say about it? The thermostat-controlled self-ignition system is almost unheard of in gas heaters, and that's what sets the Eden Gas Greenhouse 2kW apart. The device's durability also gets tonnes of praise. It heats an average-size greenhouse quickly, and when it runs 24/7 on the medium setting, the greenhouse can retain a temperature of around 14°C with outdoor temps of about 5°C.
Pros:
Powerful
Durable
Thermostat-controlled
For safety, oxygen depletion system measures the level of oxygen in the ambient air
Cons:
Proper ventilation is required
Expensive to run
To summarise
Running this device 24/7 might be a bit too costly, but it's great for staying warm while you're in your greenhouse. If you intend to operate the heater for an extended time, be sure to provide proper ventilation to avoid Carbon Monoxide build-up.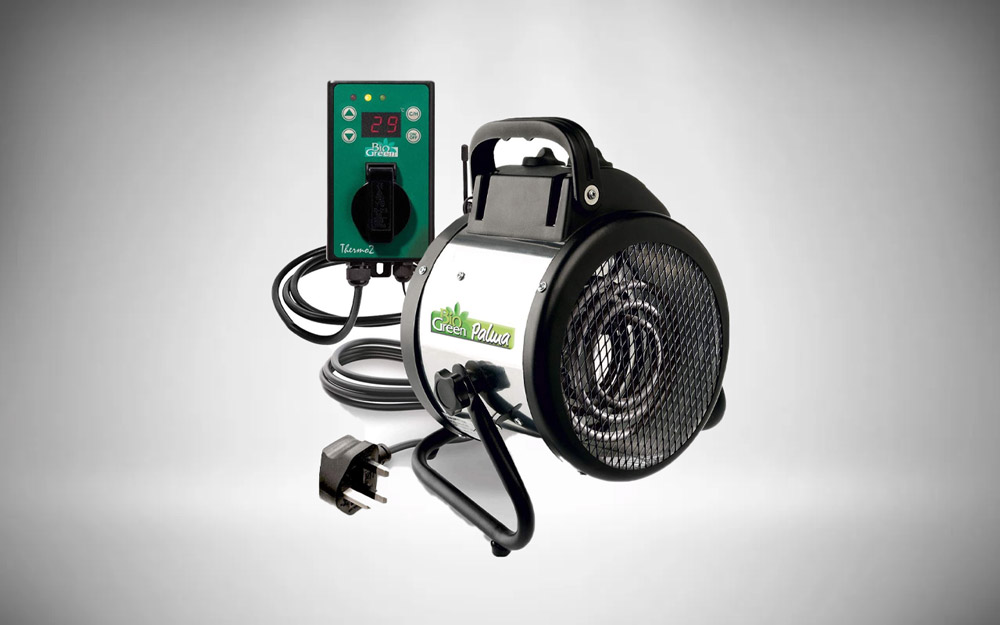 The Bio Green PAL Heater is a floor-standing, durable fan heater made of stainless steel. Despite its compact design, it boasts powerful, 2000W heat output. The circulation fan is specifically designed for use in greenhouses, and apparently helps prevent mould growth. It's fairly energy-efficient, so the running costs won't overwhelm you.
The heater's feet are coated with non-slip rubber, and a carry handle makes it easy to bring the unit with you. The device's IPX4 rating certifies the heater as splash-proof.
Specifications
Dimensions: 28 x 19.5 x 31.5 cm
Weight: 5 kg
Material: Stainless Steel
Power Source: Electric 230V
Heat Output: 2000W
Water resistance: IPX4
What do people say about it? The Bio Green PAL Heater is sturdy, quiet, and economical, with an accurate internal thermostat. The heater gets praise for its versatility — you can use it as a frost guard, space heater, and ventilator, alternating the modes from its controls.
The Bio Green PAL Heater rapidly heats a space to a comfortable level where you can relax for hours during winter. The cord is almost 2 metres, so finding a nearby outlet isn't much of a challenge.
Pros:
Thermostat control
Economical
Durable
Portable
Cons:
To summarise
You get what you pay for, and by splurging on the Bio Green PAL Heater, you get durability, versatility, energy-efficiency, and plenty of adjustable heat. No matter what you need from a greenhouse heater, it seems like this device do it for you.
Parting Words
Have you used a greenhouse heater that you like? Or any of the ones I listed here? If you have, please share your experience with our readers by l
Avoid Expensive Breakdown Costs
Boiler Replacement Promise: If it's under 7 years old and we can't repair it, we'll replace it.
Try YourRepair. From £9/mo
All plans include: annual boiler service, all parts and labour, unlimited support and 24hr helpline.