The Best Oil-Filled Radiators on the Market in 2021 (Reviews)
Oil-filled radiators are efficient, attractive, and safe, but selecting the best unit for your home takes careful consideration. Today, we review the nine oil-filled radiators with the widest appeal, each selected for their unique features and intended use-cases. Near the end of the page, we also provide a handy buyer's guide for making more informed purchases.
About oil radiators
Despite the name, oil-filled radiators do not actually burn oil as fuel. Instead, the oil goes into a reservoir, which stores and then diffuses the heat into the room. In comparison to other forms of heating, oil-filled radiators convert nearly all of the energy they consume into heat. What's more, even after you turn the unit off, the oil retains heat extremely well, and continues to radiate warmth for some time afterwards.
We also love oil-filled radiators because they don't dry out your air like blower-equipped heaters do. They're also dead-silent, and so are perfect for bedrooms where quiet nights are necessary for restful sleep.
While caution should be exercised not to touch the hot radiator fins or position the unit near highly flammable objects, they don't have an exposed heating element and present a reduced fire hazard compared to other types of heaters.
Which is the best oil-filled radiator?
Below, we review the top oil-filled heaters on the market. We've made our selections to fill specific applications according to room size, efficiency, budget, and other variables. Of course, beyond heating ability, every entry on our list boasts superior safety features–because ultimately a heater must protect your family, not endanger them.
Heads up: if you're looking for wall-mounted radiators, skip to the last three listings.
Price: £ | Dimensions: 33 cm x 24 cm x 60 cm | Heat modes: 3 | Power: 600/900/1500 watts | Material: Steel | Finish: White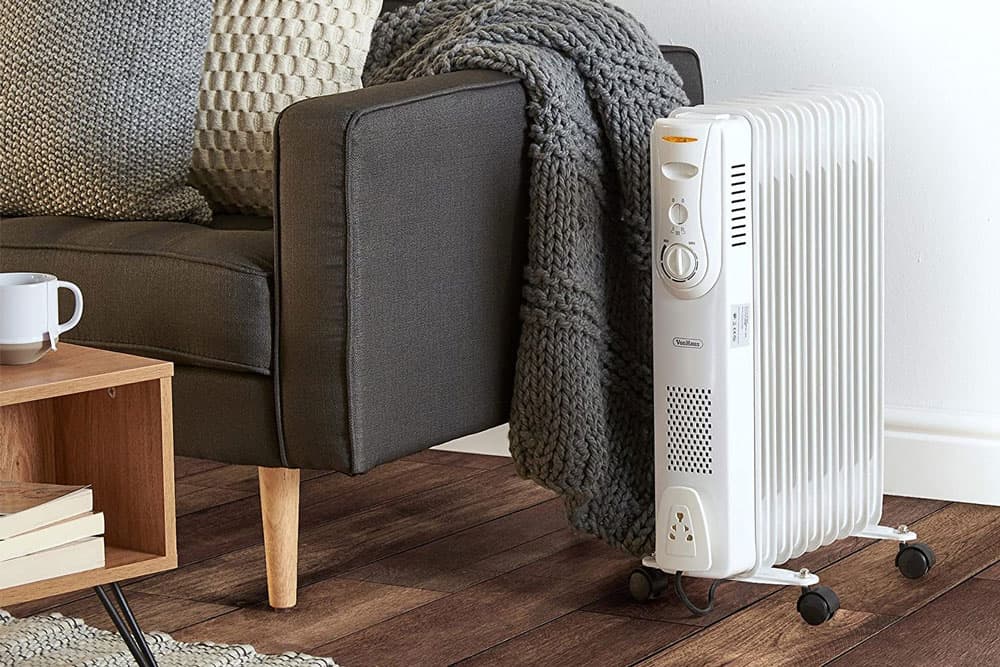 VonHaus has a stellar reputation in the manufacturing industry. Known for their high-quality components and stringent manufacturing techniques, this freestanding portable heater is no exception. Offering three power settings and the all-important safety cut-off feature, VonHaus offers a well-crafted heater that won't break the bank.
VonHaus has included a two-year warranty with this model, and the four castor wheels and carry handle offer excellent portability and stability. It features an adjustable thermostat so that you're able to dial in the optimal temperature for your specific situation.
Like all oil-filled heaters, it's best that you use it in rooms that have good insulation. This heater is designed for occasional use, so keep that in mind if you're looking for a more permanent solution. At 1500 Watts, though, this particular model is capable of heating rooms up to 25 square metres, which is actually quite solid for a heater of this type and price range. It is lightweight but sturdy, and the plug never got hot. All in all, VonHaus has delivered a compact heater at a compact price point.
Price: ££ | Dimensions: 44 cm x 16.0 cm x 65 cm | Heat modes: 3 | Power: 2000 watts | Material: Metal | Finish: White
The De'Longhi Dragon 4 TRD40820T comes with pre-assembled handle and wheels for convenient maneuverability, and its anti-frost feature makes it a great candidate for unoccupied rooms that are prone to cooler-than-normal temperatures. The company describes its unique finless design as producing an "enhanced chimney effect", which "accelerates hot air through vents for effective heating". Combined with a 24-hour mechanical timer, and you've got an ideal all-Winter product geared towards efficient usage.
Artfully designed and manufactured, De'Longhi offers an unprecedented ten-year warranty on this model. This shows they have complete confidence in the longevity of this product. One review claimed that they had a De'Longhi heater that lasted them 23 years before giving up the ghost. Considering De'Longhi is an Italian appliance company that's been around since 1902, the market would seem favourable towards their company ethos.
Despite the price jump from the first heater on this list, this heater is actually very well costed considering the quality and use you can expect to get from it. As far as sheer output is concerned, the radiator is capable of heating a room of 60 metres cubed, and it has won particular favour from people using them in conservatories.
Price: £ | Dimensions: 50 cm x 24 cm x 62 cm | Heat modes: 3 | Power: 1000/1500/2000 watts | Material: Metal | Finish: White
When it comes to sheer value for money, the Pro Breeze® 2500W Oil Filled Radiator is arguably the overall best heater on the market. The reason for the discount might be due to the heater being on the market for a few years, but that just means it has stood the test of the time. Unlike, say, a smartphone, improvements to radiators are slow and subtle, and a solid older design like the Pro Breeze 2500W can (and does) prove effective for many years before becoming obsoleted.
It features 11 oil-filled fins, ensuring your room will be swiftly filled with radiant heat upon use. Crucial safety features include a secure tip-over switch, overheat protection, and automatic thermal cut-off. The built-in thermostat will allow you to regulate the temperature with unsurpassed control, ensuring the room maintains a glowing warmth any time of the year.
Using intermittent 5-minutes bursts 12 times a day, one user was happy to report a power bill of just 45p per day for the heater—a small price to pay for unwavering comfort throughout the day. At this price point, you might even consider buying two of them. (Please note: As with all cost measurements provided within this article, they are estimations only; running costs will vary with room size, temperature, and the price of electricity in your region.)
Price: £ | Dimensions: 50 cm x 24 cm x 62 cm | Heat modes: 3 | Power: 1000/1500/2000 watts | Material: Metal | Finish: White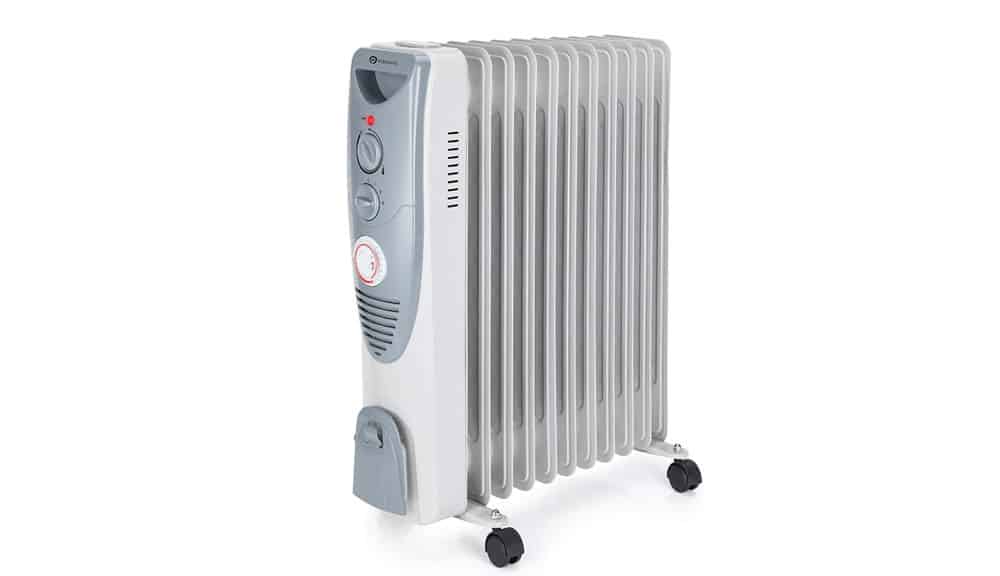 With a slim, portable design, the PureMate 2500 W Oil-Filled Radiator is an exercise in engineering efficiency, cramming 2500 watts into a satisfyingly compact design without compromising on performance. Suitable for use in the home, office, or garage, this heater from PureMate proves its versatility at a very attractive price point.
Like all truly great heaters, PureMate hasn't cut corners with safety, either. It includes a housing for the power cord and being shipped complete with overheat protection, auto shutoff, and tip-over safety protection.
Customer reactions to this heater are overwhelmingly positive, including an impressive 77% of customers giving this model a 5-star review from more than 130 ratings. This PureMate radiator heats up a room quickly and efficiently, ensuring unsurpassed comfort at a very affordable price point. Some inferior heaters on the market tend to skew towards high efficiency at the cost of low effectiveness (or vice versa), but this heater masters both metrics with ease.
Price: £ | Dimensions: 40 cm x 24 cm x 63 cm | Heat modes: 3 | Watts: 1000/1500/2500 watts | Material: Steel | Finish: White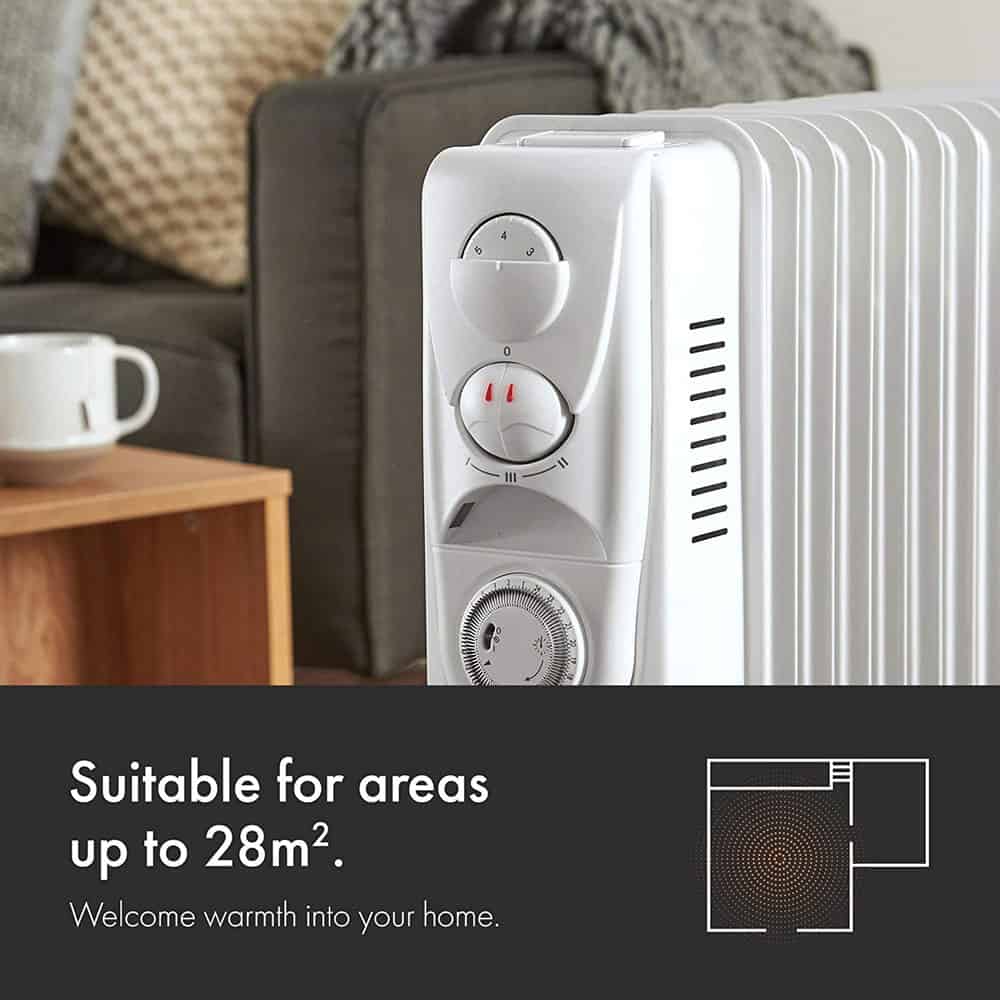 If you were impressed by the previous 7-fin VonHaus entry on this list but were hoping for a little more oomph in your heater, you may have met your match. The 11-fin variant utilises the same build materials of its smaller counterpart, but with one key exception: more power.
This model is extremely popular; it has received around 1,200 reviews, with two-thirds of the ratings being perfect scores. In our experience, the heater fills a room with warmth surprisingly quickly, although perhaps it's less surprising considering the added heat output compared to its 9-fin counterpart. However, if you thought the added power would result in a lack of efficiency, you'll be glad to know that this isn't the case. It's quite possible that this is the most efficient heater on this list, as the thermostat only keeps the heater on when it's below your desired heat threshold, thus costing around a paltry 10p per operational hour to run.
Like the 7-fin variant, portability is also a notable advantage of this heater. Due to the added output of this heater, you might find yourself being content with the lowest heat setting. If you don't have central heating, this 11-fin wonder will help keep you feeling warm even in the coldest of winter nights.
Price: £ | Dimensions: Overall – 61.5 cm x 62 cm x 25 cm; Fin size – 57 cm x 12.5 cm; Cable – 150 cm (L) | Heat modes: 3 | Power: 1000/2000/3000 watts | Material: Metal | Finish: Grey
AMOS is another brand that consistently scores well for their radiators, and this model is a prime example of their engineering prowess. AMOS combines a modern design aesthetic with a level of conventionality that we've come to expect from top-of-the line oil-filled radiators. Sporting a curved exterior flank and 13 perfectly machined fins, this beastly radiator offers up to 3000 watts of unmitigated heat, ensuring you'll never have to worry about getting literal cold feet in your bedroom or office again.
Naturally, AMOS has included all the safety features you could need, and it does this all at an extremely aggressive price point. The heating capacity afforded by a 3000W heater is self-evident, but what makes this model particularly appealing is the blistering speed in which it can heat up even a relatively large lounge room.
While it does cut the heat at your desired temperature to save power and keep you comfortable, it regrettably doesn't include a timer. If this is something that is important to you, we recommend you select another heater on this list; if not, then this heater is another great pick that offers terrific comfort, efficiency, and value.
Price: ££ | Dimensions: 55 cm x 120 cm x 2 cm; Mounted depth – 6 cm | Heat modes: Thermostat only | Power: 1000 watts | Finish: White
At just 1,000 watts, this wall-mounted Celsius heater was never designed to fight among the heavyweights, but it is nevertheless capable of providing a great deal of warmth in various room scenarios, including the office, bedroom, dining room, lounge room, hotel, conservatory, shed, outbuilding, caravan, and extensions.
Despite its IP20 rating, the radiator is not waterproofed and therefore not suitable for bathrooms. If you're looking to heat up a large room, this heater won't have the horsepower to provide optimum coverage; however, it is perfectly designed for small- to medium-sized rooms.
Celsius has included a lot of features in this heater, including brackets, anti-asthma function, four timer modes, overheat protection, anti-frost, and a bevy of other features. It does this all in a slimline form factor and at a reasonable price point, thus earning this coveted spot on a list that's dominated by freestanding heaters.
Price: £ | Dimensions: 55 cm x 95 cm x 6 cm | Heat modes: Thermostat | Power: 800 watts | Finish: White
We absolutely love the Electriq Ultraslim heater. At only 800 watts, this heater is designed with your power bill in mind. (Trust us—when your bill arrives, you'll be really glad you selected this unit.)
Where to start? For one thing, the clue is in the title. At just six centimetres thick, you'd be hard pressed to find a heater this thin. Its lightweight build works as a free-standing or wall-mounted unit, making it the most flexible heater on this list.
What's more, though, is that this heater has an IP22 rating, meaning its water-resistant design makes it an ideal addition to your bathroom. If you're looking for a bathroom heater that won't get in the way and simply does a reliable job, stop reading and add this item to your cart right now!
Price: £££ | Dimensions: 57.7 cm x 8 cm x 93.7 cm | Heat modes: 5 | Power: 1800 watts | Material: Aluminium | Finish: White
We've arguably saved the best for last here. If your bank account runs deep, take a look at this Warmehaus-designed heater. This thing has more features than a Swiss Army knife, and its stylised design makes it perfect for any modern home or apartment. (This is especially true if you have wooden floorboards to complement its tastefully striped visage.)
Its fast and efficient heating capability and two-year "fit and forget" guarantee will ensure that you need not slum out another cold winter morning or night again. This unit also features a dead-simple LCD thermostat and robust construction, especially considering it is only 8 cm thick.
The Warmehaus Slimline Fluid Inertia includes a 7-day, 24-hour timer, frost-protection setting, and sturdy aluminium exterior. It features 11 fins with a whopping 1800 watts, which is quite intense for a wall-mounted heater. With 5 heating modes and a simple installation, although it's recommended you have a qualified electrician install this item for maximum safety and peace of mind.
Quick buying guide for an oil-filled heater
When it comes to value, especially for oil-filled heaters, one should look past the upfront cost. A cheap heater might look good on the surface, but cheap things tend to cost you more in the long run, and this couldn't be truer when it comes to oil-filled radiators.
The size of the radiator, your source of power, and the intensity applied in heating the air are the major efficiency determinants. However, energy efficiency cannot be determined from these factors alone.
1. Size of the Radiator
It is common sense that bigger heaters will require more energy consumption. It is therefore wise to settle for smaller heaters where smaller heaters will suffice. Larger radiators are usually going to require more power to run than space heaters designed for the home or office, so you should bear this in mind when budgeting for your next heater.
Larger heaters tend towards more basic, robust, and efficient designs, while smaller heaters pack more advanced features in order to remain efficient. Think about it this way: large heaters naturally diffuse more heat from greater surface area, while smaller heaters have cleverer tricks up their sleeves to achieve similar results. In either case, make sure the size of the radiator fits the size of the room, otherwise its size-based virtues will go to waste.
2. Capacity
A radiator that uses a lot of energy to give a high output may be more efficient than one that uses less energy to produce less. At any rate, ensure you choose a heater that is not wasteful. For oil-filled radiators especially, try to keep your heater on the lowest comfortable setting. Overheating is wasteful, expensive, and potentially dangerous. As a general rule of thumb, the more wattage your heater has, the more likely it is that you will be able to get away with using lower heat settings. As always, check the size of your room against the heater you wish to buy, as some heaters are incompatible with certain room sizes or types. For example, not all radiators are suitable for bathroom use, so make sure you do your research before making a purchase.
3. Safety features
A radiator, just like any other electrical appliance, is likely to become defective after a period of time. As such, safety features are there to protect you if a fault should occur.
The more safety features a radiator has, the better. Auto shut-off in case of extreme temperatures is one of the important features to look out for. Freestanding heaters are particularly susceptible to falling over, and thus a tip-over switch is of particular importance with these kinds of heaters. Tip-over switches only make sense if you decide not to mount your radiator on the wall, so keep this in mind when making a selection.
Having the power to control your device's output also minimises the chances of accidents occurring. Remote controls and other advanced features (such as timers) are also important things to consider.
4. Adjustability
How much control do you have over your radiator? How wide are your options? The settings should give you a wide array of options to ensure safe and efficient operation at all times. A programmable heater, as mentioned above, will allow you to control the temperature to the precise degree, assuring an unsurpassed level of comfort.
Rapid weather changes might give you problems, and certain rooms (such as garages) are particularly susceptible to dropping in temperature due to poor insulation. Therefore, you want a heater that allows you to adjust dynamically according to the changes taking place.
5. Energy-saving features
It is not just about the radiator's material efficiency; how well does its design encourage efficient usage? Look for easy-to-use energy-saving features like a thermostat, remote control, timer, ability to program, and many others. Moreover, it is imperative that you can turn your devices off when you do not need them. Once again, a timer is particularly useful for ensuring your radiator does not consume an excessive amount of energy.
How to get the most out of your oil heater
Heater companies do their best to offer turnkey warming solutions, but it's up to you to use it properly. Otherwise, you run the risk of poor heating, high power bills, or even fire. Follow these tips to improve the efficiency and safety of your oil-filled heater.
Read the details of your manual
The user manual isn't just a modern Rosetta stone, it's there to teach you how to operate your new heater. Make sure you understand the safety functions first and foremost, then dig into the advanced programme settings. You'll learn how to run the heater when (and only when) you need it, enhancing your comfort while reducing your bill. Your manual will also give you crucial maintenance tips, letting you avoid easily preventable repairs.
Learn the heating controls
Let's put it another way–heating controls are made to improve your user overall experience. You owe it to yourself to make the most of your investment by learning the controls. Here are a few of the most common:
Remote control – Imagine leaving your seat every time to adjust your heater. It is annoying and inconvenient, especially when you are busy doing other things. This is where a remote control comes in handy. Like a TV set, it allows you to switch the heater into a setting of your preference.
Timer – This is another important feature you could take advantage of. With a timer, you can arrange for your heater to go off or turn on at specific times. This will save you a considerable amount of energy in the long run.
Thermostatic valves – A thermostat allows you to automatically maintain a desirable level of heat. This is a particularly effective feature, especially in cases where you only use a few of your rooms.
Phone apps/Smart home integration – We live in the 21st century, so why not make use of the available technology to your convenience? If you have the option to control your radiator from your phone or let Alexa/Google Assistant automate the task, do it!
Position your radiator correctly
Heater positioning is critical, especially if you have children. If you decide to mount your heater low to the ground, make sure your model has a child lock. If you're not sure if it has one, it's best to contact the manufacturer to check. All new purchases come with a manual. The best thing to do is to follow the step-by-step instructions. This will ensure you have a safe and comfortable experience. Plus, you won't rack up a large electricity bill from suboptimal use.
The bottom line on oil radiators
Oil-filled heaters are a fantastic choice for the home or office, and this list offers you the best of the best.
When deciding which oil-filled radiator to buy, make sure you pick out the right size and colour (if applicable). Don't just consider price and power, as design and features are sometimes just as important (if not more so). As mentioned earlier, safety is of the utmost importance when considering the purchase of an oil-filled heater.
Ensure that you follow all instructions carefully, as improper use may lead to a dangerous situation. Thankfully, oil-filled heaters come with overheat protection, but careful vigilance during heater operation is always recommended.
Where will you put your new heater? Do any of our recommended units appeal to your specific needs? Let us know your situation in a comment below!
Avoid Expensive Breakdown Costs
Boiler Replacement Promise: If it's under 7 years old and we can't repair it, we'll replace it.
Try YourRepair. From £9/mo
All plans include: annual boiler service, all parts and labour, unlimited support and 24hr helpline.