HeatingForce is reader-supported. When you buy through links on our site, we may earn an affiliate commission. Learn more
Most Energy-Efficient Space Heaters for Home and Office (Reviews)
There are a lot of space heaters on the market today, which is good for consumers, but it also means there are many products to sift through—and not all products use high-quality components and safety mechanisms.
Many poor imitations and counterfeits proliferate the market, and these inferior products aren't just inefficient—they can be dangerous.
Best Space Heater for Home Use
In this article, we'll take a look at six of the best space heaters on the market.
Near the end of the article, we'll explain what sets a good space heater away from a poor one so that you can make an informed decision.
Price: £ | Dimensions: 17 x 11.5 x 20.4 cm | Heat modes: 3 | Power: 900 and 1800 watts | Material: Ceramic with ABS flame-resistant materials | Finish: Black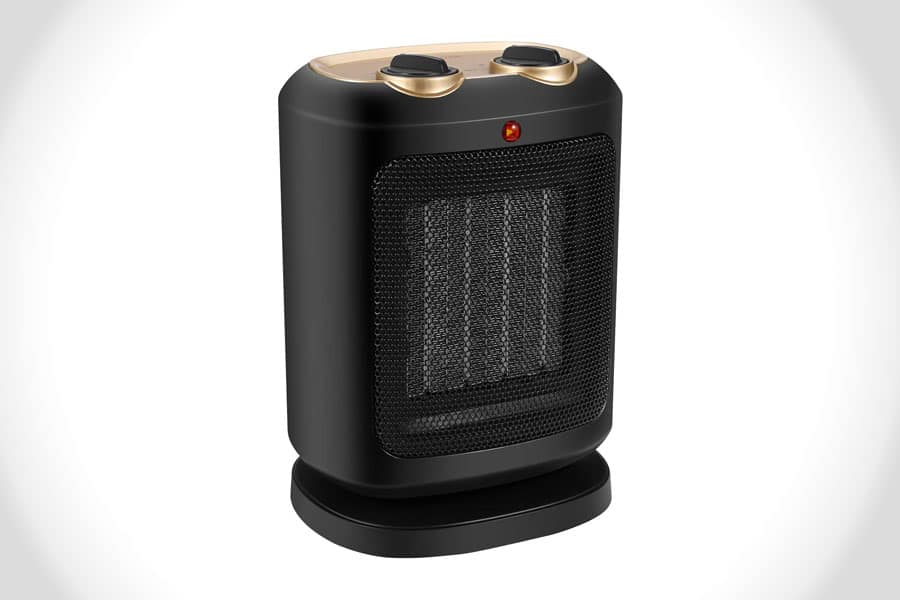 COMLIFE PTC is one of the most energy-efficient space heaters available, using a rotation mechanism to warm up your room. Where many heaters are limited to directional heating that leaves cold spots in the room, COMLIFE heats evenly throughout by design.
This heater has three warming modes (high heat, low heat, and fan-only), making it usable both at home and at work. Designed as a standalone unit, COMLIFE's sleek black heater takes only two seconds to fire up and blanket your room in comforting warmth.
It's also incredibly safe, with built-in sensors that automatically shut the unit down if it is either knocked over or if it begins to overheat.
Most heaters emit quite a lot of noise; COMLIFE does not. It always runs quietly, and its reasonable size makes it portable–and affordable to boot.
Price: £££ | Dimensions: Amp diameter – 153 mm; base diameter with plate – 204 mm | Heat modes: Can be set to the exact degree | Power: 1500 watts | Material: Rubber-like | Finish: White/Nickel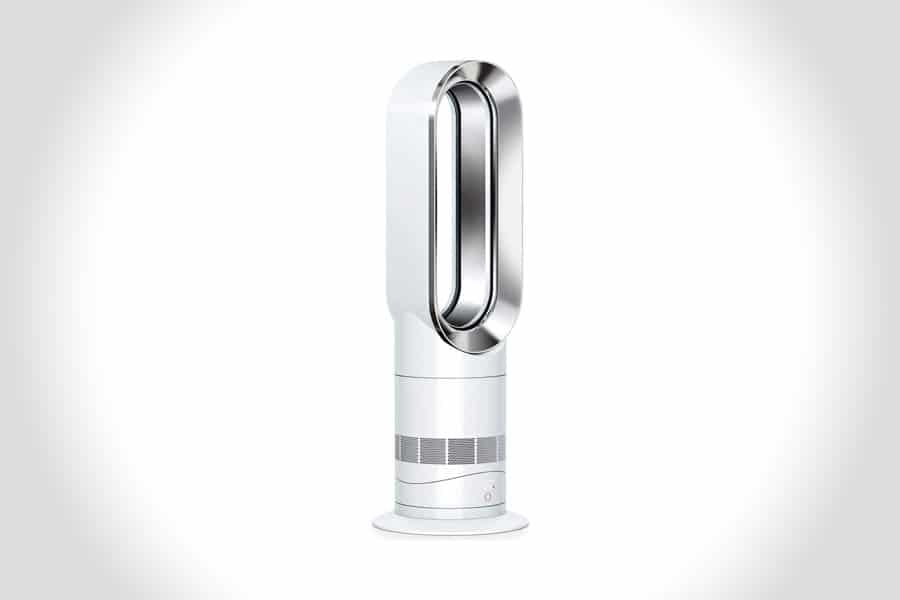 Outfitted in a handsome white and brushed aluminum housing, Dyson's AM09 Fan Heater is a stylish yet comforting addition to any room. With its convenient, compact footprint, you'll never have to worry about the AM09 hogging your floor space or making it difficult to carry it between rooms.
Core to the AM09's design is a patented air-multiplier technology, invented by James Dyson himself. It allows you to change between a wide-range diffused mode for blanket heating and a more narrow jet for focused heating. It's not only functional, but highly aesthetic, with a graceful loop set atop a space-saving 204 mm-wide base. 
Unlike other conspicuous heaters, the AM09 presents itself as an attractive, modern piece of home décor. The lack of obvious heating elements not only adds to its space-age styling, but is actually a safety feature as well since it prevents nearby drapes and sheets from catching fire. What's more, the Dyson AM09 features an automatic cut-off to prevent fire from breaking out due to overheating, allowing you true peace of mind.
The AM09 is extremely efficient and customizable, allowing you to dial in the settings between 0 and 37 degrees. Another unique feature of the Dyson AM09 is that it functions as both a heater and a cooler, so it can continue to serve you during the Summer months. In any use-case, it produces even temperature changes almost instantaneously in a whisper-quiet, 100% odour-free fashion.
Price: £ | Dimensions: 12.5 x 12.5 x 20.5 cm | Heat modes: 3 | Power: 950 watts | Material: Ceramic | Finish: Black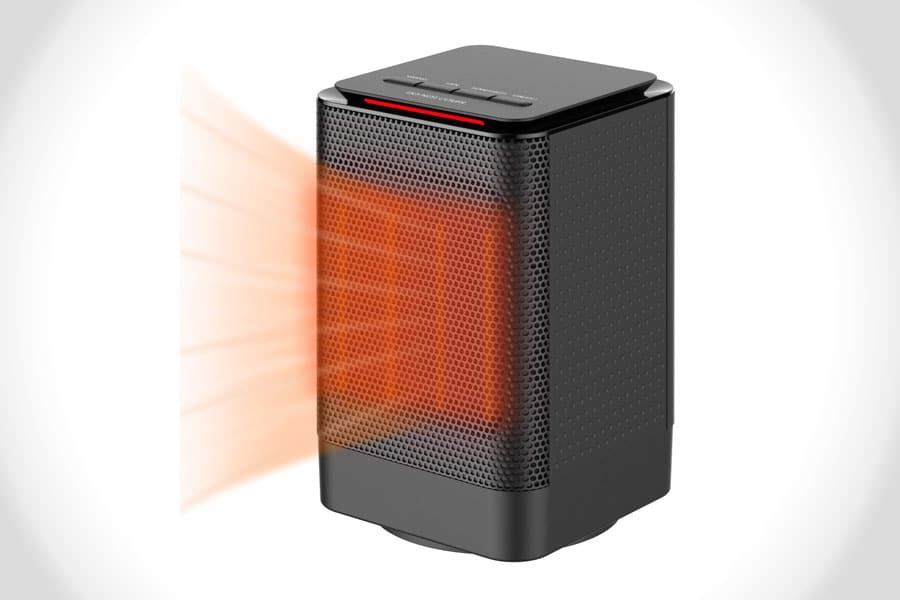 DOUHE's portable space heater offers near-instantaneous heating in an eye-catching package. It's not just powerful, however, it is highly efficient and wastes very little of the energy it draws to warm up your room. Designed firmly with indoor heating in mind, the DOUHE is equally at home in the household or office.
Despite its fast-heating specifications, the DOUHE is also incredibly safe, featuring an automatic shutdown of its electric fan in case of an accidental drop or tip. This effectively prevents any electric shocks or any damage, reducing the risk to high-traffic homes with rowdy children bouncing about. Its highly stable foundation demonstrates a clear mind for safety in its design.
Even better, the chassis consists of fire-resistant materials, and the way it diffuses heat allows it to safely operate even in cramped quarters. The DOUHE heater offers even warming throughout the room without interfering with air circulation one bit. Its small footprint is matched by its price as well, especially as there are voucher discounts that are made applicable from time to time.
While DOUHE has only been making space heaters for five years, it's already sold more than 5 million units. Their success demonstrates that they're willing to learn from their competitors, and producing a unit that is safe, stylish, and highly energy-efficient that is durable enough to last a lifetime.
Price: ££ | Dimensions: 111 x 38 x 40 cm | Heat modes: 5 | Watts: 2300 watts | Material: Various | Finish: Black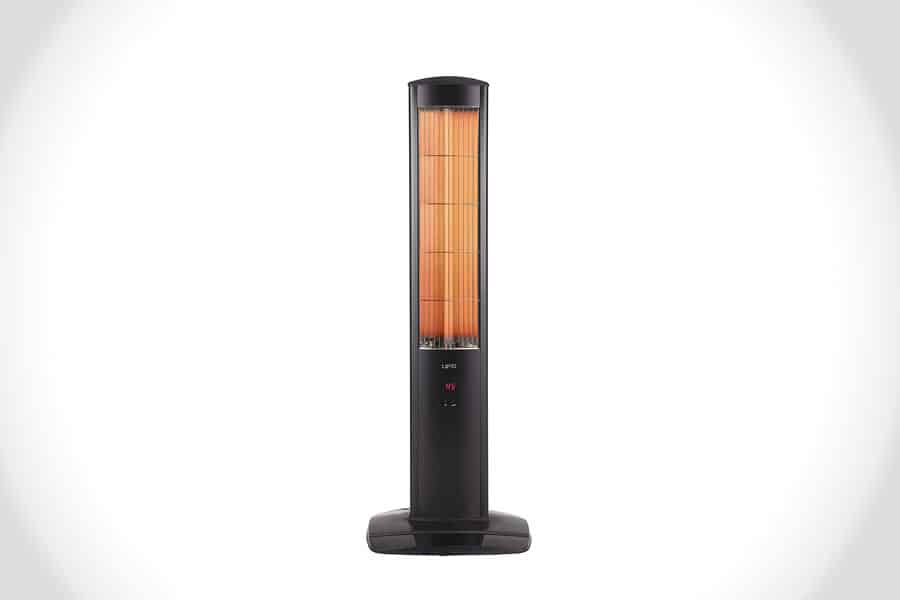 Once the temperature dips below a certain level of comfort, you need a heater that warms the room as soon as possible. Enter the UFO Micatronic T23 heater, which warms your room within seconds.
The UFO isn't just fast–it's also incredibly energy-efficient. While it's rated for a powerful 2300 watts, it converts an incredible 99% of that energy to heat. What's more, it retains its performance even through adverse weather changes like wind gusts and humidity seeping into the home. Further, the eco-friendly UFO Micatronic T23 does not interfere with oxygen supply or internal humidity distribution, and you will barely sense a change of odour once the heater goes on.
Other defining features of this heater include remote control, tip-over protection, and free-standing ability. It also has a distance-detection sensor, which will effect an automatic shutoff if it is accidentally shoved near to upholstery, drapes and the like.
UFO offers a unit which is appealing to the eye, black in aspect with handsome orange detail. Its incredible performance somehow manages to come in a highly portable package, as well, making it highly versatile. You can use it in any room large or small, making for toasty bedrooms, or you can even take it outdoors with you to enjoy your patio in the colder months. In both cases, it works effectively and efficiently.
Price: £ | Dimensions: 20.5 x 10 x 19.5 cm | Heat modes: 15 °C to 32 °C | Watts: 500 watts | Material: Ceramic | Finish: Black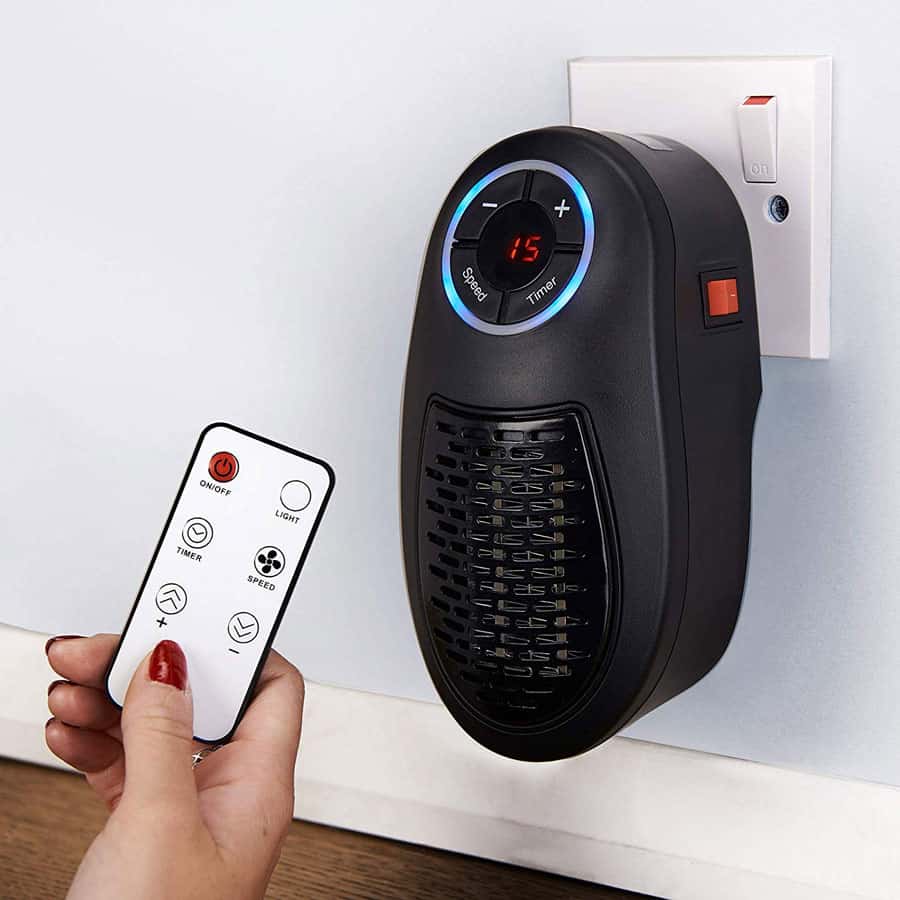 This portable mini electric fan heater is another in the line of highly versatile units by GoHeater. You can use it at home, in the office, or when travelling, thanks to its portability and energy efficiency. Furthermore, the heater is easy on the eyes, with dial illumination cycling through 7 attractive colours.
While it isn't the most energy-hungry unit on this list, it clocks in at a respectable-for-its-size rating of 500 watts, and does a great job of converting the vast majority of that power directly into heat. Where most small-footprint heaters struggle with efficiency, you'll have no cause for complaint with GoHeater.
You can customize its output with a convenient 12-hour timer, allowing you to make best use of it when you need it and shut off when you don't. This makes a remote control something less than a necessity, though you have the option to purchase one for just £5 more. Additionally, there is an easy high- and low-speed setting button for you to select the intensity of the heater when warming your room.
Just a warning, though, that you cannot use an extension lead with this product. GoHeater is firmly designed to operate directly from the wall plug, and occupies this niche perfectly.
Price: £ | Dimensions: 27.6 x 17.8 x 16.6 cm | Heat modes: 2 (Normal and fan-only) | Watts: 600 watts | Material: PTC ceramic heating | Finish: Black and blue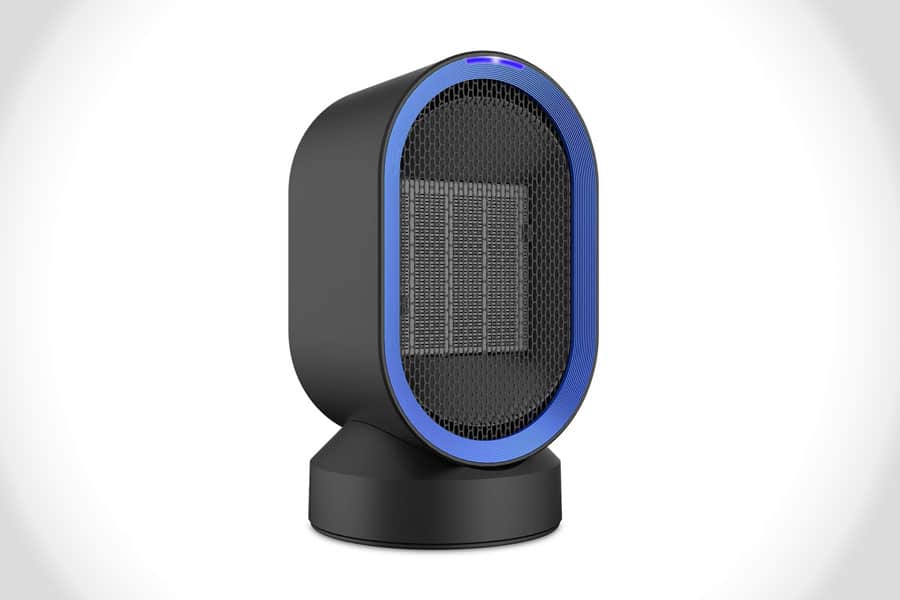 Portable and with smart touch control, NEXGADGET offers rapid heating with smart inbuilt safety features. Within just three seconds of turning on, you'll enjoy a blanket of warm air that permeates the room thoroughly and easily.
This is in opposition to most small-footprint heaters, which must compromise heating for a smaller aspect. We were highly pleased with the NEXGADGET, which offered sustained warmth throughout all normal-sized rooms. It's simple to transfer from room to room as well, with a sturdy inbuilt handle comfortably distributing this unit's already slight weight for the best in portability.
You can toggle your NEXGADGET's output with a single press; in one mode you get comfortable heating, while the other blows a soothing, natural wind for freshening up stale air. In heating mode, you'll enjoy low energy consumption to cut your monthly bills and make for a more eco-friendly home.
While NEXGADGET's price is low, you still get features for peace of mind like tip-over protection to guard your home. Overall, this small, affordable heater is poised to be a best-selling heater in 2020.
Buyer's Guide to Space Heaters
There are many heaters on the market, many with similar specifications and price-points. If you'd prefer to do your own market research beyond our recommended units, use this quick buyer's guide to aid your decision-making process whilst weighing features.
Size vs efficiency
While it is common sense that bigger heaters will require more energy consumption, they also tend to be more efficient. However, it is wise to settle for smaller heaters where smaller heaters will suffice, as sometime a bigger heater simply means additional features to power. Also, bigger heaters tend to be more basic in terms of their construction. Smaller heaters, on the other hand, tend to be more advanced in technology in order to maintain efficiency.
Heater portability
Different heaters have varying degrees of portability. While some heaters can be mounted on walls, others cannot. It is possible to move some heating appliances from one location to another, while it is impossible or inconvenient to move others.
Heater capacity
When thinking about an energy-efficient heater, consider the relationship between input and output. A heater that uses a lot of energy to give a high output may be more efficient than one that uses overall less energy to produce less. At any rate, ensure your heater outputs the most amount of heat for the least energy draw.
Heater safety features
A heater, just like any other electrical appliance, is likely to become defective after a period of time. As such, safety features are there to protect you if a fault should occur. The more safety features a heater has, the better. Auto shut-off in case of extreme temperatures is one of the important features to look out for, while it is crucial that portable heaters that are susceptible to falling over have a tip-over switch.
Having the power to easily control your device's output also minimises the chances of accidents occurring. Remote controls and programming are not just for convenience, they encourage optimal operation of your device and thus, boost safety.
Adjustability
How much control do you have over your heater? How wide are your options? The settings should give you a wide array of options to ensure safe and efficient operation at all times.
Rapid weather changes might give you problems. Therefore, you want a heater that allows you to adjust dynamically according to the changes taking place. After all, heating controls are made to improve your user experience. If utilised well, it will save you energy, time, and money. It will also protect you from potential safety hazards.
Energy-saving features
How much freedom does your heater give you to safe more energy? Always be on the lookout for features like a thermostat, remote control, timer, programmability, and other items that foster ease of use. After all, if it's difficult to operate your heater, you're unlikely to make the most of its energy-efficiency settings. Be doubly sure you can turn your devices off when you do not need them, or when you're outside your house.
Other questions you may ask: when living in a house with a lot of rooms, how decentralised is the heater? Does it allow you to switch off the heaters in the other rooms?
RELATED READING: Best Gas Patio Heater on the Market (Buying Guide)
Reach
Go for more powerful heaters when you have a bigger room to heat. A big space may require you to buy a heater that allows mounting, and as many heaters lack mounting features, you need to be aware of this fact.
Typically, your seller will provide you with details of how far your heater will warm the room. Some buyers ignore these details and end up with unfulfilled expectations. We do not want the same to happen to you; matching your living area with the right heater will achieve optimal results.
Tips to efficiently use your space heater
An incredible heater is only as good as the way you use it, so follow this guide to ensure optimal operation of your chosen unit:
Read the details of your manual
The first step to a successful appliance application is mastery of the instructions. Once you have the details with you, it is now time to start exploring the best settings for your room. Every manufacturer is legally obliged to contain safety and correct operation information in these manuals, which is why we advise you not to skip any details.
Have a plan beyond the failsafes
You should have a good idea of what to do in hazardous situations. Not only that, in case of an accident, what should you do? Who should you call for assistance in case you are in need? In the event of a fire, do you have adequate gear on hand to put out the fire?
Most buyers overlook these aspects. Remember, different products have different advanced features, which only the manual can fully explain. While these offer a great measure of peace of mind, you can't fully rely on them to protect you. Always remain vigilant in using your heater the best way.
Match the heater to the application
Various heaters come with different heating methods. This selection alone has the power to decide the level of energy efficiency your heater achieves. For instance, imagine having all your rooms heated when you only spend time in a single room. Wouldn't that be a waste of energy?
Deciding to heat occupied rooms alone—and only when necessary—will save you hundreds of pounds annually on your electricity bill.
Position your heater correctly
Heater positioning is critical. It also must be practical. For example, you should not use a heater meant to be kept outside in your house, indoors. Another example of poor positioning is using a garage heater inside a single room. You will likely burn yourself and make the room unbearable (and unsafe) to live in, besides.
Imagine also what could happen if you used a kerosene-powered heater in the kitchen, for example. (Here's a hint: it starts with 'f' and rhymes with 'wire'.) It is, therefore, essential to evaluate the likely risks before making the decision to position your heater.
Some heating appliances are not meant for mounting. Having such heaters in workplaces may not be a good idea. It is likely to inconvenience you, other staff, and even cause accidents.
In any case, be aware of the intended use-case for your heater, and follow it accordingly.
The bottom line
It would be wonderful if we could recommend a single unit that stands tall above the rest, but every home has requirements as unique as the people living in them. That's why we're reviewing a range of products that should best fit the widest range of needs. It is the goal of this buyer's guide to help you select for energy-efficiency, adjustability, portability, capacity, safety features, and overall effectiveness in heating your home or office.
Keep in mind that no heater is fully "set and forget"–you must exercise due diligence to control the proper variables for the application, including power consumption and room placement. However, each of our recommended units feature various failsafes to mitigate the inevitable mistake or malfunction over time and keep your home safe and secure.
Which of these units appeals to your situation, and why? Do you already have experience with one or more of these products? Leave us a note below, we love to hear from you!
Avoid Expensive Breakdown Costs
Boiler Replacement Promise: If it's under 7 years old and we can't repair it, we'll replace it.
Try
YourRepair
. From £9/mo
All plans include: annual boiler service, all parts and labour, unlimited support and 24hr helpline.