It goes without saying that electric heaters aren't cheap to run. So, it makes sense to invest in the most energy efficient appliance possible – that's going to save you a tonne of cash in the long run.
In our guide to the best electric heaters, we'll be focusing on only the products that are the cheapest to run.
Below, we'll cover:
Electric heater running costs
Types of electric heaters (and which one is right for you)
The best electric heaters on the market today
Electric Heater Running Costs
How Much Does It Cost To Run An Electric Heater?
Working out the cost to run your new electric heater isn't particularly difficult.
You'll need two things:
Your kWh (kilowatt hour) electricity rate on your current energy tariff (for instance, 13p)
The kW output of your electric heater.
As an example, let's just assume you're on 13p per kWh for electricity on your current tariff.
And, let's assume you have a 1 kW electric heater.
Electric Heater Cost Calculator
The calculation based on the above is simply 1 (kW output from your heater) x 13p (kWh charge from your electricity supplier) = 13p per hour.
A few different scenarios to work out costs might be:
6.5p for 30 minutes running time
£1.30 for 10 hours running time
£2.60 for 10 hours running time using a bigger 2 kW electric heater
A 2kW heater, only being used at half capacity (1kW on the thermostat) will use 13p per hour, but 26p per hour on its maximum 2kW setting.
As we've said: kW output of your heater x cost of your tariff (per kWh) = The cost to run your heater per hour.
Which TYPE of Electric Heater Is The Cheapest To Run?
Before picking a specific heater, you need to determine which type of heater is going to be the most economical to run. Different types of heaters are designed for different scenarios and spaces.
You can then skip to our section covering the best electric heaters for each type below.
Typically, the most popular electric heaters in the UK are:
Convection heaters
Fan heaters
Halogen heaters
Storage heaters
The Best Types Of Electric Heaters
Below we've quickly covered the different types of electric heaters.
Remember, the cheapest electric heater to run for one person, might not be for another. And, that's because it depends on the type of space you're trying to heat, as well as things like your property's insulation and so on.
The most suitable is what ends up being the cheapest to run and most efficient.
Convection Heaters
Convection electric heaters aren't the quickest to heat a room, but they're ideal for small-medium sized spaces that you want to heat for a few hours or more.
Typically, they are quite large. So, not only do they take up space, but they can be more difficult to move than say, a small fan or halogen heater. That said, a typical convection heater only weighs around 4-5kg.
In our opinion, the Dimplex 402STi offers the best value for money in this category.
Fan Heaters
Electric fan heaters are perfect for small rooms that you want to heat for short periods of time. They'll warm air and distribute heat quickly and efficiently. They're also compact and lightweight, meaning they're portable.
However, they're not ideal (or efficient), when it comes to heating large spaces with high ceilings, or spaces that you're planning to heat over a long period of time.
If we're buying a fan heater, we're buying the Dimplex DXFF20TSN.
Halogen Heaters
Halogen electric heaters are ideal for outside spaces, or those that are particularly draughty (such as an old building without good insulation). And, that's because halogen heaters focus on warming objects, not air.
If you're suffering from feeling like the whole room is cold and it's a struggle to heat due to draughts or lack of insulation, this is going to be the best electric heater for you.
The Warmlite WL42005N gets our vote for the best electric heater in the halogen category.
Storage Heaters
You've probably come across storage heaters if you're on an Economy 7 or 10 tariff. They can store heat, meaning you can build-up that heat on your evening tariff, and use it in the day.
That might sound like this is going to be the cheapest electric heater to run. However, they're certainly not our top pick.
They're ridiculously expensive. In fact, to a point where it would be cheaper to upgrade your heating system both from an initial investment point of view, and in terms of running costs. Not to mention the fact they're usually the heaviest heaters on the market, meaning they're not easy to move from room to room, or pack away into storage.
That's why we won't be recommending any storage heaters below. The best electric heaters (depending on your space and heat requirement) that are the cheapest to run and buy are convection, fan and halogen.
The Best Electric Convection Heater
Our Pick: Dimplex 402TSTi 
We're heading for the Dimplex 402STi as our top pick, and here's why.
If you browse any online store offering electric convection heaters, you'll see plenty of cheap, or no name brands. Generally, the highest rated products aren't always the best, but instead, the cheapest.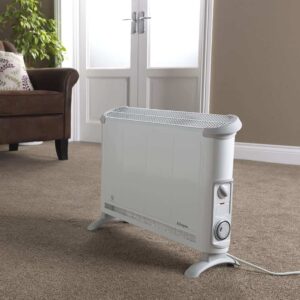 Dimplex is a well-known brand in the heating industry, so this is where I'd be looking. For their lower end 402STi, you're only looking at around £5 more compared with a no-name equivalent, so it's no brainer in our opinion.
Power Output
The question is, what size electric heater do you really need? There are plenty of 1kw heaters available, but it's much better to get a 2kw or bigger and reduce the temperature on the thermostat if needed.
This is going to reduce the kWh you use, but you still have the option of that extra heat boost by using the full 2kw output.
The 402STi is a 2kw heater but setting it at half power means you'll only be using around 1kWh of electric.
Weight
If you're looking for a portable electric heater, convection (or fan heaters for that matter) are ideal.
The Dimplex 402STi for instance, weighs just 3.6kg. That's going to make it easy to move from room to room, or to pack away into storage during the summer months.
Unlike most convection heaters, the Dimplex 402STi has been designed to be portable. The two carry handles make it extremely easy to move.
Controls
Not only can you change the temperature on the Dimplex, you'll be able to program it, using the 24hr programmer.
So, you'll be able to set it to come on just before you wake up and click off just after you go to sleep.
Cord Length
One thing worth looking at when buying an electric heater, is the cord length. If you're short on sockets you might have to place the heater the opposite end of the room to a plug.
Bear that in mind, as the only downside to the electric heaters, is they usually come with a short cord. The Dimplex is reasonable, with a 1.5m cord length.
Reviews
There are hundreds of reviews of the Dimplex 402STi heater online, most being positive. Of the reviews I found, most negative ones referenced a bad smell.
This is typical of electric heaters when they're new. After an hour or two of running, this smell should disappear.
Should You Buy The Dimplex Electric Heater?
In terms of longevity, Dimplex are a well-known brand, so, including purchase costs, the Dimplex 402STi is likely to be the cheapest heater to run.
Compared with no-name brands, it offers extras such as a 24hr thermostat and a frost setting. And, that's why we've made this our pick for the best electric convection heater.
The Best Electric Fan Heater
Our Pick: Dimplex DXFF20TSN
There's a chance you've already guessed we're a fan of Dimplex, as the Dimplex DXFF20TSN is our pick for the best electric fan heater.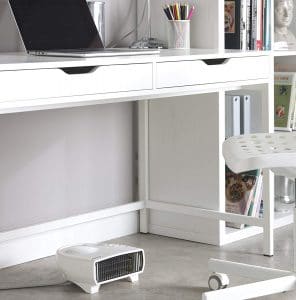 That's not to say there aren't other options. For instance, there are electric fan heaters likes this one for around half the price. But if it were me, I'd invest in something that's going to stand the test of time.
It's unlikely these cheaper brands are going to offer a warranty at all, compared with Dimplex's 3-year warranty offering.
Power Output
We're sticking with the 2kw output product as our pick for the best electric heater, although there is a 3kw option if you're trying to heat up a larger space.
The 2kw unit from Dimplex is more than big enough to heat a small room, or even a compact space such as a campervan.
Weight
At under 4kg the convection heater mentioned above isn't exactly heavy. But, one thing it doesn't have on its side, is size.
Typically, fan heaters are much smaller, and that's certainly the case here. It's just 24.5 x 25.3 x 11.4 cm and weighs just over 1kg.
So, if you want a portable heater that you can move around easily, the Dimplex fan heater should be at the top of your shortlist.
Controls
Like the convection heater, you'll get a range of heat settings which can be controlled via the thermostat, including a cool air setting for hot summer days.
Reviews
Like other Dimplex electric heaters, you'll find a tonne of reviews online. As with any product, it's worth reading through these reviews, to see what buyers say about things like heat settings and noise.
Should You Buy The Dimplex Electric Fan Heater?
The difference in price between the cheap brands and Dimplex is much higher for fan heaters than it is, for say, convection heaters. You're looking about twice the price for a Dimplex fan heater compared to the cheapest ones available.
However, a 3-year warranty is something not offered with cheap products, and combined with its efficiency, we'd consider this the best electric fan heater, as well as being one of the cheapest to run when you factor in purchase costs and how long it's likely to last.
The Best Electric Halogen Heater
Our Pick: Warmlite WL42005N
For particularly draughty buildings, a halogen heater is going to be ideal. They focus on heating objects, rather than air. And, that's perfect when you're in a building where there's a constant flow of cold air – a small heater is going to struggle to keep it up to temperature.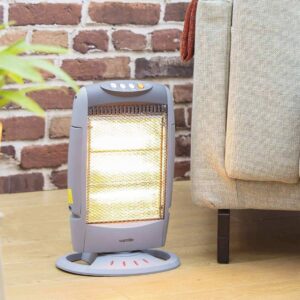 Our pick for the best electric heater in this category, is the well-priced Warmlite.
Power Output
You'll notice the Warmlite is a little lower in output compared to our two picks above, being just 1.2kw. Typically, this is going to be a big enough heater to heat a small space.
For days where you just want to take off the chill, you'll be able to set the heater to its 400w or 800w setting. And, for the cooler days and nights, you'll be able to max out the heater on its 1.2kw setting.
Weight
In terms of weight, halogen electric heaters typically sit somewhere in between convection and fan heaters.
In the case of the Warmlite, it's just under 2kg. So, that means it's portable – it's easy to move from room to room, or pack away for storage.
Controls
As we've mentioned you'll have three settings on offer: 400w, 800w and 1200w.
Built into the controls is a safety mechanism meaning if the heater is knocked over, it's going to cut out automatically. This is a must have safety feature that will come on all the best electric heaters.
Reviews
For such a low price, you'd expect the reviews of the Warmlite to be reasonable at best. But, that's not the case. There are tonnes of positive online reviews from happy customers, and they're certainly worth a read.
Should You Buy The Warmlite Halogen Heater?
After comparing multiple halogen heater's specifications, reviews and prices back to back, we don't think there's a better one on the market; Warmlite offer one of the best (and cheapest) halogen heaters for the money.
What's Next?
That's it!
Hopefully our guide to the best electric heaters not only helps you understand which type of heater you need, but also, which one is the cheapest to run based on your heating requirements.
Still stumped? Get in touch via our contact page and we'll drop you a line as soon as possible.