HeatingForce is reader-supported. When you buy through links on our site, we may earn an affiliate commission. Learn more
Condensing Boiler Guide: Best Condensing Boilers and Costs in 2021
Looking to replace your condensing boiler, and don't know where to start? This guide has everything you need to know to make an informed choice.
We've analysed condensing boilers (please note all most modern boilers are condensing boilers) thoroughly, and are ready to answer questions like What is a condensing boiler? or How does a condensing boiler work? Read on.
Looking to get a boiler installed? We recommend WarmZilla.
They're a new kid on the block for online boiler comparison, so condensing boiler replacement costs here are about as good as they get.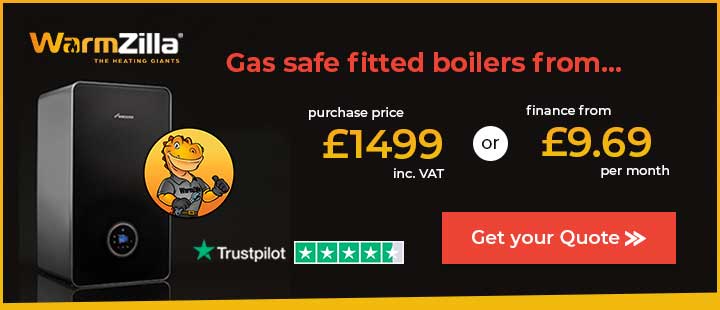 What Is A Condensing Boiler?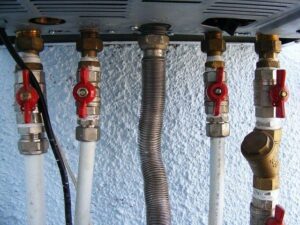 The fact is, all modern boilers are condensing. Simply put, they're much more efficient that a non-condensing boiler, and building regulations state that condensing models now need to be fitted.
Without boring you too much; each boiler has a heat exchanger. On a condensing boiler, this heat exchanger is larger, or there's a secondary heat exchanger. That's able to recycle more heat from flue gases. And, that means it's using energy that would otherwise be wasted.
As an example, the typical output temperature of flue gases can be 120°C-200°C on a non-condensing unit.
How Does a Condensing Boiler Work to Achieve Efficiency?
Due to the efficiency of a condensing boiler's heat exchanger (or secondary heat exchanger), the flue gas temperature drops to 50°C-100°C. Essentially, anything between 20°C-150°C of temperature/energy has been recycled.
That's going to lead not just to a smaller carbon footprint, but lower fuel bills too (whether that be gas, oil or LPG).
Energy Cost Comparison
But what do those numbers mean in terms of extra pound notes in your pocket?
Well, around 55% of your energy bills is spent on heating. If you're looking to save money, your boiler is the place to start.
A study on the Energy Saving Trust's website shows you could save anything up to £305 per year. That's for a detached house, and a boiler with a low energy efficiency rating (G). Obviously, savings drop for smaller houses, and those with boilers that have a higher energy efficiency rating.
| | | | | | |
| --- | --- | --- | --- | --- | --- |
| Old boiler rating | Semi-detached | Detached | Detached bungalow | Mid terrace house | Mid floor flat |
| G ( < 70%) | £200 | £305 | £155 | £175 | £95 |
| F (70–74%) | £140 | £210 | £105 | £120 | £65 |
| E (74–78%) | £120 | £180 | £90 | £105 | £55 |
| D (78–82%) | £120 | £180 | £90 | £105 | £55 |
Depending where you fit into the chart above, there's a good chance a new condensing boiler installation could pay for itself in the space of just a few years (more on that below, see "condensing boiler installation costs").
What Size Condensing Boiler Do You Need?
If you're all set on upgrading to a new boiler, the next thing you need to figure out, is what size you need. Rather than rewrite something we've already written, there's a quick guide to boiler sizes here. We're going to assume you already know the type of boiler fitted in your property (a combi for instance).
There are two key takeaways from the above article.
The first is that no property is the same. One 5-bedroom house isn't the same as the next. You need to get a boiler installation company to come and spec your property. Otherwise you could be overpaying for a boiler that has higher output than you need, or be installing a boiler that falls short in terms of hot water and heating output.
The second is a reference chart. You can get free quotes and a installer to spec your property here.
We can't stress enough, use this only for reference. Get a Gas Safe boiler fitter to come and spec your property.
| | | | |
| --- | --- | --- | --- |
| Property type | Radiators | Bathrooms | Size of boiler (kw) |
| Smaller properties. Typically, apartments and 2-bedroom terrace houses. | 10 or less | 1 | 24kw-27kw |
| Medium sized properties. 2-4 bedrooms. | 10-15 radiators | 2 | 28kw-34kw |
| Large properties | 15-20 radiators | 2 | 35kw-42kw |
Condensing Boiler Prices
So, how much do condensing boilers cost? The price (boiler only) is going to be determined by a few things:
Size (kw output)
Brand
Model
As an example, you could go with a 24kw from an unreliable brand that offers little or no warranty. That could cost as little as £500 upfront but is most likely not to be a cost-effective solution long-term. Boiler repairs aren't cheap ☹.
We always recommend buying boilers that have a minimum of 5-years warranty; there's plenty of choice. Below are some examples of condensing boiler prices, from brands (and specific models) that we'd recommend.
But first, let's start with a few ranges we like and their warranties, rather than specific sizes and prices:
Ideal Logic Plus (7-years)
Ideal Max (12-years)
Baxi 600 (7-years)
Vaillant EcoTec Pro (2-years, upgraded to 5-years with Vaillant Advance)
Worcester Greenstar Combi (5-10 years)
The price chart below is for 24kw boilers only, that gives you an idea of how prices directly compare across different ranges. There's a similar price difference when moving to larger boilers, such as a 30kw.
| | |
| --- | --- |
| Boiler | Prices |
| Ideal Logic Plus 24kw | £750 |
| Worcester Bosch Greenstar 25I Combi | £900 |
| Baxi 624 | £710 |
| Vaillant EcoTec Pro 24 | £850 |
As you can see from the boiler prices mentioned above, Vaillant and Worcester tend to be in the higher end in terms of cost.
Ideal Boilers are one of the cheapest of the high-end brands. And, although Baxi are generally up there with the more expensive, their new Baxi 600, is extremely competitive on price.
Best Condensing Boilers Installation Costs
I wouldn't go ahead and choose a boiler just yet. As we've mentioned, it's worth having an engineer come around and spec your property first.
Typically, we'd expect boiler installation costs for condensing units to start at around £1,800 for a cheap boiler, and upwards of £2,000 for something like a Worcester.
For bigger properties, the price is going to be £2,000 and beyond, even more if it's an oil installation (oil boilers can be £500-1000 more expensive than gas and LPG units).
There are a few ways to get the best deal on your new boiler. The first, is to get a fixed price online, from a company like WarmZilla. You'll get a Worcester 25I Combi installed for just £1,649, well below our £2,000 estimate mentioned above. And as a bonus, you'll be able to get finance through WarmZilla too.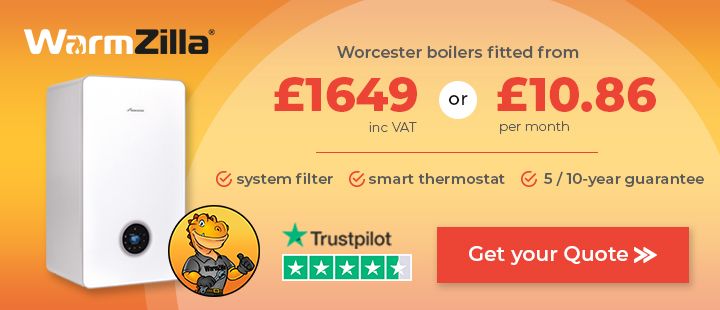 But, if you prefer, you can get back-to-back comparisons from local fitters. By filling out this form you'll be able to get up to 3 on-site visits and compare quotes.
Thinking about going with a national boiler installer like British Gas or Help-Link? We've created a detailed guide of what to expect in terms of price, in our guide to boiler installation.
Conclusion
Thanks for reading out 5-minute buyer's guide to condensing boilers. Hopefully that's enough information for you to start getting quotes.
Got questions about condensing boilers, prices, the best brands, or installation costs?
Leave a comment below and we'll get back to you as soon as possible.
Avoid Expensive Breakdown Costs
Boiler Replacement Promise: If it's under 7 years old and we can't repair it, we'll replace it.
Try
YourRepair
. From £9/mo
All plans include: annual boiler service, all parts and labour, unlimited support and 24hr helpline.