What Size Boiler Do I Need?
There are literally thousands of boilers on the market. And specification sheets rarely make deciding what size boiler you need any easier.
Although you should consult a Gas Safe engineer to calculate the correct BTU output and therefore, decide on the correct boiler, this guide will help you understand some of the popular options.
A cool way to figure out what size boiler you need, is to use a company's fixed price quotation tool.
BOXT (part owned by Bosch), have a 90-second form. That asks you questions about your property to determine which is the most suitable boiler for your heating system.
They then list a range of boilers with the cheapest and most suitable first. After a few questions being answered, here's the the boiler they think is ideal for a 2-bedroom flat (or, just go and fill out the form yourself here):
Understanding What Size Boiler You Need
Unfortunately, not all boiler manufacturers have their own boiler calculator.
Ideal Boilers is a prime example.
There are three major groups of combi boiler sizes:
24kw-27kw
28kw-34kw
35kw-42kw
And typically, you can estimate the kw boiler size needed using this as a ball park.
Boiler Sizing Chart
| Property Type | Radiators | Bathrooms | Boiler Sizing |
| --- | --- | --- | --- |
| Smaller properties. Typically, apartments and 2-bedroom terrace houses. | 10 or less | 1 | 24kw-27kw – Check price |
This all assumes that there is "reasonable" demand for hot water, and nothing excessive. Combination boilers heat hot water as and when it's needed. So, no hot water is stored.
Priority is always given to your hot water. So, if you jump in the shower for 10 minutes, some of the output directed at the central heating will likely be pushed towards the shower. If this isn't a problem (which it isn't for most), a combi boiler will fit your needs perfectly.
Also, it assumes you have average sized radiators.
If you have large radiators (such as a 500mmx2000mm double convector) as part of your central heating, you'll likely need a higher output than the one mentioned in the above table.
Here are a couple of examples of Worcester Bosch and Ideal Boilers suitable for a range of properties.
Boiler size for a small 1-2 property with up to 10 radiators (including apartments and flats)
Worcester Bosch 25SI Compact
Ideal Logic Plus 24
Boiler size for a 3-bedroom property with 10 radiators
Worcester Bosch Greenstar 25i or 30i
Ideal Logic Plus 30
Boiler size for a 4-bedroom property with 14 radiators
Worcester Bosch Greenstar 42CDI Classic
Ideal Logic Plus 35
Boiler size for properties with 5 or more bedrooms, with more than 16 radiators
It is possible to use a combination boiler for larger properties with this number of radiators, but calculations need to be made before hand. Typically, properties of this size will have a system boiler feeding a hot water cylinder that stores water.
Boiler Size Calculators
BOXT Boiler Size Guide & Price Calculator
Glow-Worm Boiler Size Calculator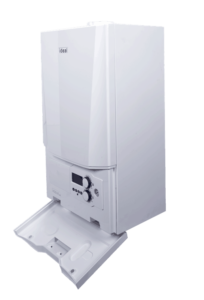 Worcester Bosch Combi Boiler Size Calculator
Vaillant Boiler Size Calculator
Conclusion
All of the above is a guideline for the size boiler your property is likely to need. You can get your boiler spec'd correctly (as well as getting a fixed online price) using this online boiler calculator, in less than 90 seconds.
Still got questions relating to boiler sizing? Drop us a line and we'll do our best to help you out.