HeatingForce is reader-supported. When you buy through links on our site, we may earn an affiliate commission. Learn more
Changing From A Conventional Boiler To A Combi [Cost Guide]
Looking to upgrade your existing conventional boiler to a combi, but not sure if it's the right move?
No problem! This guide is going to cover everything you need to know, before making the switch, including:
Expected costs
Work involved
Reasons to upgrade
The best combi boilers to install
Which Installer To Use
How Much Will Upgrading To A Combi Boiler Cost?
Typically, you'd be able to get a combi boiler installation for a small-medium property for roughly £1,800-2,000. However, changing from a conventional boiler to a combi is a lot more work than simply switching a broken appliance, with a new one.
Assuming your upgrade is a simple one, you should expect to pay around £2,700-£3,000. But, there are a lot of factors that are going to affect the installation price.
You can use a cost calculator and get a fixed price on-screen for your conversion, here, which will account for all of these factors.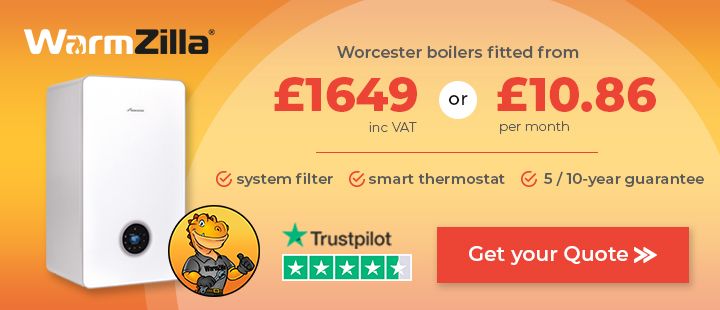 What's Involved In A Combi Boiler Upgrade
Combi boiler upgrades vary when it comes to the workload. And naturally, increased workload is going to mean an increase in price.
Here are a few things that affect the price of any boiler installation:
Moving a boiler to a new location
New core hole needs to be drilled for a flue in a new location
Gas run needs to be upgraded to current standards
Heating controls need to be upgraded from the originals
The installation of magnetic system filter (advised), and a limescale filter (advised for hard water areas)
The installation of TRVs
Type of boiler warranty (i.e. a low budget appliance with a 2-year warranty, over a leading brand with 5-10 years warranty).
Other things that increase the price of changing from a conventional boiler to a combi, rather than a straight combi swap, include:
Removing the old hot water cylinder
Removing the cold water feed tank (usually in the loft)
As you can see, it's not a one size fits all approach.
Reasons To Change To A Combi
The average household is suited to a combi boiler. Unless you have ridiculously high demand for hot water and heating (dozens of radiators, and multiple showers running at once), there's a good chance a combi boiler is for you.
Even if your family has a high demand for hot water and heating, there might be a storage combi boiler to suit.
To double check, you can use this boiler size calculator, which will offer up the best solutions, based on clickable multiple choice questions it asks about your property.
So, what are the benefits of upgrading to a combi boiler, over your existing conventional setup?
Efficiency
Unlike a conventional boiler, a combi heats hot water on demand, rather than having a constant supply of water being heated in a cylinder; that makes them more efficient.
The Energy Saving Trust estimates extremely old boilers in large properties, could be costing an additional £305 per year compared with a new one, and that doesn't even factor in efficiency savings from your combi upgrade.
Space Saving
If you've ever been house hunting, the likelihood is, you've come across more than one redundant airing cupboard in your time. Most likely, the pipework has been capped, the cylinder that it used to house has been removed, and the property's heating system has been upgraded to a combi.
You'll save tonnes of space when upgrading to a combi. Not only can you remove the cylinder from your airing cupboard and the cold feed tank from the loft, there are plenty of manufacturers offering compact boilers, which will sit in a standard sized kitchen cupboard.
For larger properties, that bonus might mean freeing up kitchen space and improving aesthetics, by removing a wall hung boiler. For flats and apartments, where space is prime, it's extra storage that you wouldn't have had otherwise.
The Best Combi Boilers To Install
There's a tonne of choice when it comes to boiler manufacturers, and specific boiler models.
Typically, you'll find boilers are catagorised by:
KW output – is it powerful enough for your property?
Size – will you need to fit it into a small space, such as a kitchen cupboard?
Warranty – will you sacrifice warranty, to get a cheaper boiler?
Most important here, is warranty. We'd not suggest sacrificing warranty to save £100 or so on a new boiler. Why? The installation could be costing you upwards of £2,700, but the boiler is only to make up around 40% of that cost.
If you want to go with products from brands that have confidence in their OWN products longevity, we'd suggest choosing one that has a warranty to match. Typically, that means going for a 5-year warranty as a minimum. However, there are boilers with 10-years warranty, so if your budget can handle it, it's going to be money well spent.
Here we've listed some our of top picks for the best combi boilers when it comes to value for money.
But, that's not an extensive list. We've also wrote about our picks for the best boiler manufacturers here.
Which Installer Should You Choose For Your Combi Upgrade?
There are literally thousands of installers across the UK. Some are small and local, some are national. And from what's available, you'll see a huge differential in prices quoted for the same job.
Our suggestion? Get researching, and get some prices.
For smaller local installers, you can jump over to this network, and request up to 3 quotes from installers that work specifically in your area.
National companies tend to be much more expensive. However, we find WarmZilla are always worth a look.
They use an automated online quote system, removing costs associated with other national firms (phone reps, on-site sales people and so on) and that means they tend to be on-par with local installers in terms of prices, rather than national installation companies.
You can check prices for them here.
What's Next?
Hopefully that's everything you need to know before changing from a conventional boiler to a combi.
Got questions? Drop us a line through our contact form, and we'll get back to you ASAP.
Avoid Expensive Breakdown Costs
Boiler Replacement Promise: If it's under 7 years old and we can't repair it, we'll replace it.
Try
YourRepair
. From £9/mo
All plans include: annual boiler service, all parts and labour, unlimited support and 24hr helpline.