HeatingForce is reader-supported. When you buy through links on our site, we may earn an affiliate commission. Learn more
2020 Combi Boiler Installation Guide – Size, Fitting Cost & Best Boilers
If you're looking to upgrade your old, unreliable and inefficient appliance with a new one but don't know where to start, this guide to combi boiler installation is going to help.
Fitting a new combi boiler isn't cheap, so, you want it to last. Below we'll cover the information you need to make a purchase decision, including:
What Is A Combi Boiler?
Boiler Sizing
Compact Boilers Explained
Expected Combi Boiler Installation Costs
Which Boiler Brand Should You Choose?
Which Are The Best Combi Boilers To Install?
Cash Savings With Your New Boiler
What Is A Combi Boiler?
A combi boiler heats on demand, rather than heating and storing water constantly. It prioritises hot water rather than heating. So, if it's struggling to keep up with heating and hot water demand (for instance, if two showers are being used alongside central heating), it will focus its attention on showers.
Heating hot water on demand, means there's no need for large cold water storage tanks, or hot water cylinders – that saves space.
Combi boiler installation tends to be cheaper than the replacement of system or regular boilers. And, that's because combis don't use the storage tanks mentioned above.
If you have neither of these tanks in your property, it's likely you already have a combi boiler; so, it's going to be a straight swap. That's good news, from a bank balance perspective.
You CAN upgrade to a combi boiler, even if you have a system or regular boiler. By doing so, you'll be removing the need for storage tanks and cylinders, creating additional space in your property in the process. The removal of tanks and cylinders, as well as capping off pipes, is going to add to the installation cost.
Combi Boiler Sizing
Now you've confirmed you need a combi boiler installed, you need to determine what size boiler you need.
This is where things can get slightly confusing. Boiler sizing isn't just based on how many bedrooms your property has. You'll need to be considering the square footage of your property, number of radiators and towel rails, and demand for hot water; for instance, do you use two showers at once?
The latter is extremely important. As we've mentioned, combi boilers heat hot water only when there's demand. And, powering two showers with hot water at the same time, is a big ask.
Typical boiler sizing would be as follows, but you can use this 90-second boiler size calculator to double check:
Combi Boiler Size Chart
| Property Type | Radiators | Bathrooms | Boiler Sizing |
| --- | --- | --- | --- |
| 1-3 bedrooms | Up to 10 | 1 | 24kw-27kw – Check price |
| 2-4 bedrooms | Up to 15 | 2 | 28kw-34kw – Check price |
| 3-5 bedrooms | Up to 20 | 2 | 35kw-42kw – Check price |
Compact Boilers Explained
It's not just the kw output you need to be looking at when booking in your combi boiler installation. You also need to be considering the size of the installation area.
Most boiler manufacturers offer what's known as a "Compact". Typically, it's going to be a Compact that you'll need, if you're planning on the boiler fitting in a kitchen cupboard.
As an example, the Worcester 32 CDi Compact is 690 x 390 x 280, whereas the Worcester 30i (not being compact), comes in at 710 x 400 x 330.
In this case, the 32 CDi Compact would be suitable for a kitchen cupboard installation, whereas the 30i is going to be suitable to a larger installation such as a garage, airing cupboard, or wall-hung in your kitchen.
Bear in mind, not all manufacturers label these boilers as "Compact". A typical example, would be the Ideal Logic Plus, so it's always worth checking dimensions before making a purchase, unless your boiler fitter specifically states it's compact and will fit in a kitchen cupboard.
Combi Boiler Installation Costs
Now we come to the all-important, price. Like sizing up your appliance, combi boiler installation costs can vary, even on very similar properties. For example, one 3-bed semi might cost £1,900 for boiler replacement, whereas another could be well in excess of £2,000.
A lot of that price differential comes down to the boiler you need. A more powerful boiler costs more money. And, a boiler from a leading brand with a long 10-year warranty (we'll get into that more below) as opposed to a less desirable brand with a 2-year warranty, is going to have an obvious price differential.
For average properties with 2-3 bedrooms, you'd be looking at the £1,800-£2,100 mark. That's a boiler from a top brand like Worcester, with up to 10-years warranty.
If you are looking to relocate your boiler, the cost could be an additional £300 or more, so make sure you factor this into the price.
We put details for a small house into this fixed price form, and here is the price we got:

Combi Boiler Installation Cost Comparison
Below are some estimates of combi boiler installation costs based on the amount of bedrooms and bathrooms your property has.
| Bedrooms | Radiators | Bathrooms | Boiler Sizing | Installation Cost |
| --- | --- | --- | --- | --- |
| 1-3 bedrooms | Up to 10 | 1 | 24kw-27kw | £1,770-£2,000 – Check price |
| 2-4 bedrooms | Up to 15 | 2 | 28kw-34kw | £2,000-£2,400 – Check price |
| 3-5 bedrooms | Up to 20 | 2 | 35kw-42kw | £2,400-£3,000 – Check price |
Which Boiler Brand Should You Choose?
There are varied opinions throughout the combi boiler installation industry when it comes to which are the best brands.
One installer might be favourable towards a brand like Baxi, whereas another might focus on fitting Vaillant or Potterton boilers. A brand most installers tend to fit, is Worcester Bosch – they've won the Which? Best Buy award 9 years running.
Honestly, the leading brands are all similar in price and quality. It all comes down to warranty offered, and the installation cost being offered (so, the total, including parts and labour).
An installer that fits 100 Vaillant boilers a year, is going to be able to offer you a better deal on Vaillant, than Worcester, simply because of them buying in bulk from their merchants.
As an example, HEATABLE are one of the biggest installer in the UK. Their combi boiler installations running into the thousands every year, so they can offer ridiculously low prices. But, they're also able to offer 10 years warranty on most Worcester combi boilers, which is a step up from what most boiler fitters can offer. You can check prices here.
If your unsure whether your installer is choosing to fit a leading brand, jump over to our page covering the best combi boiler brands.
Which Are The Best Combi Boilers To Install?
You might be happy with any one brand on that list, but the decisions don't stop there.
Do you want a Compact boiler to fit in a kitchen cupboard, or prefer to save some cash and go with a standard sized boiler?
Will you go for the cheapest combi boiler installation, with the lowest warranty? Or, are you prepared to pay a little extra to get that additional peace of mind?
Once your boiler is spec'd to make sure it's powerful enough for your house, the next most important feature is warranty.
You'll see boilers being offered with as little as 1-year warranty, and we'd completely avoid them. Typically, on a £2,000 installation, you could be saving £300 or so by going with a boiler that has a ridiculously low warranty like this.
However, that means you'd be liable for all repairs (or a replacement if needed), after this period. Potentially, you'd need another cheap £1,700 installation, just a year down the road.
And, that's why we'd recommend paying that little bit extra. Ideally, go for a minimum of 5-years warranty. But remember, the price differential between 5 and 10-years warranty can be minimal too, and gives you extra peace of mind.
To get a price on a boiler with a 10-year warranty, you can use this clickable online form. It takes around 90 seconds and will give you fixed prices on-screen.
Or, check out our more detailed guide to the best combi boilers here.
Cash Savings With Your New Boiler
If your boiler is still "kind of" working, there's a good chance you're on the fence when it comes to repairing or replacing it.
One thing worth considering are the cash savings you'll get with a new boiler, as opposed to the constant outlay on repairs with your old one.
The Energy Saving Trust worked out, you could save anything up to £305 per year with a new A-rated boiler, if you've got an old one that's as low as G-rated.
That could work out to £25 per month in savings. Given boiler finance deals are available from most boiler fitters in the £12-17 per month range, depending on the rating of your boiler and repair costs, a new one could be a no brainer.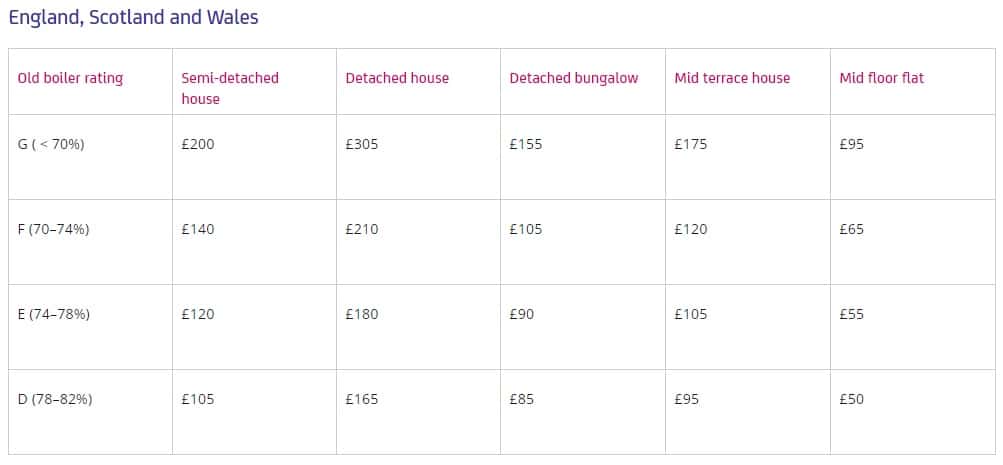 (Source)
What's Next?
There are plenty of decisions to be made before booking in your boiler replacement. Hopefully, our guide to combi boiler installation has covered everything you need to know to decide.
Still got questions about getting your new boiler fitted? Drop us a line via our contact page, and we'll get back to you as soon as we can.
Avoid Expensive Breakdown Costs
Boiler Replacement Promise: If it's under 7 years old and we can't repair it, we'll replace it.
Try
YourRepair
. From £9/mo
All plans include: annual boiler service, all parts and labour, unlimited support and 24hr helpline.