Boiler Installation: New Boiler Cost and Replacement Cost Compared (2021)
Our in-depth guide covering boiler installation costs will take you through everything you should know about buying a new boiler.
If you're looking for a new boiler, there's a good chance you're confused by all the options. After all, there are tonnes of national installers such as Help-Link and British Gas, local installers, and even online quote comparison websites like Heatable. So, which company do you choose?
This guide covers everything you need to know before buying a new boiler. In fact, we've even included a boiler replacement cost comparison guide (with ACTUAL quotes we received), showing back-to-back prices from the likes of British Gas, Heatable and Help-Link.
In a hurry and not enough time to read the full guide? No problem. The short version looks like this:
Heatable are the new kid on the block for online boiler installation quotes. What does that mean? Because of a streamlined sales channel and volumes, they get Worcester Bosch and Viessmann boilers — the best boiler brands we've reviewed — DIRT cheap. If you want a quality boiler fitted at a low price, this is where you should head.
Prices start from £1,649 and you can get a fixed quote online. Simply fill out their 90 second boiler survey (no personal details needed, so no sales calls), and your fixed price will appear on screen. For example, those with an apartment, might get a new boiler quote as low as we just did:

So, the four most common types of boilers are:
Oil boilers
Combination boilers
System boilers
Back boilers
After consulting a few local Gas Safe engineers, and taking into account our own prices, we've come up with some estimates of labour prices for boiler installation.
How Much Is The Installation Of New Boilers?
So, the big question is, how much does a new boiler cost, fitted? You're going to hate me, but the replacement cost of a boiler depends on SO many factors.
However, we've created a few estimates, to give you a gauge as to whether the quote you're being offered is reasonable or not. These are prices based on a reputable boiler brand in the 24kw-30kw range.
Work required
Boiler Type
Cost
Replace boiler, using the existing location
Regular
£1,900
Combination
£1,900
Replace boiler, moving to a new location
Regular
£2,350
Combination
£2,300
Central heating system upgrade to a combination boiler (including removal of hot water tanks)
Regular
£2,850
Back boiler
£3,200
Upgrade to a system boiler (retaining hot water tanks)
Back boiler
£2,700
Upgrade to a combination boiler
Back boiler
£3,200
New Boiler Cost – Boiler Installation Comparison
The prices we've mentioned above, are typical for your average local installer. Having worked in a plumbing merchant, there's no doubt in my mind that large national installers get a MUCH better deal on the purchase cost of the boiler itself.
But, due to their high overheads, the fitting costs relating to labour only, tend to be a lot higher. Below, there's a cost comparison to give you an idea of what you should expect, when comparing a boiler installed by a local company, with the larger firms.
For now, we've just included the most well known (British Gas), another large national (Help-Link), and Heatable.
1. British Gas: New Boiler Cost
British Gas are one of the biggest companies in the boiler replacement industry. They fit a tonne of boilers.
So, if you've already had a quote, there's a good chance it's come from British Gas. However, regardless of the national firm (British Gas, e.ON, AA and so on), it's unlikely that this is the way to get the cheapest quote.
In fact, looking at British Gas directly, even Help-Link (a national boiler installation company mentioned below) are cheaper. They (and I quote) claim to save on average, £1,081 when compared with a new boiler quote with British Gas.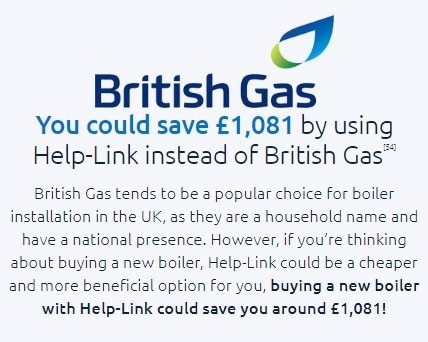 And, from my experience, you can expect to save a little more by using Heatable. Typically, we'd expect to see a saving of AT LEAST £1,000. The bigger and higher the price of the job, the more you're likely to save.
Searching through a few online forums also reveals that what we guess, is true. Here, someone had quotes ranging from £2,350, through to £7,000 from British Gas (source: https://forums.moneysavingexpert.com/showthread.php?t=5853164).
What we're comparing here is a like-for-like quote. Quotes will vary. Some quotes will include upgraded controls, boiler filters and more, others won't. And, it's important to take that into account.
So, are British Gas too expensive? Like all national companies, they have large overheads that have to be accounted for. A cute penguin for TV adverts might get your name out there, but TV adverts aren't cheap.
A local installer will usually be much cheaper than a large national installer like British Gas. As will quote comparison websites like Heatable.
2. Heatable: New Boiler Price
British Gas don't allow you to get an instant online quote. But, there are a few companies that do; Heatable are one of them. And, Heatable have really shaken up the boiler replacement industry.
The good thing about Heatable, is you can log on, right now, and get a fixed price for a new boiler on-screen. There aren't many companies offering that.
What kind of fuel does your boiler use?
Grab your fixed price online by 3PM, and get next-day boiler installation.
We went through their quote process, to see what the prices come out at. And to be fair, we're happy with what we saw.
After some research, we realised why all the boilers on offer are Worcester Bosch or Viessmann, and why they were so cheap; it's their volumes of work allowing for cheaper acquisition costs.
The new boiler cost we were looking for, was going to be suitable for a 3 bedroomed flat. As you go through the quote process, you'll see questions such as the type of flue, where the flue is located and how close it is to windows and doors.
For simplicity's sake, we made sure our answers meant there'd be no additional work, besides the boiler swap.
Once we completed the quote process, we're given lots of different boiler prices (about 10 in total). Obviously knowing boilers, we knew the Worcester 30I isn't just a good boiler, it's perfect for our property.

£1,995 is a great price for a new boiler, especially a Worcester. And, there was also the option for the equivalent boiler, in compact form (so, it would fit in a kitchen cupboard). That's a little more, but still a great deal.
As you scroll down, you'll start hitting more expensive and higher output boilers. For example, the 30I you'll see is the more powerful version of the 25I. Overall, the cost of a boiler replacement from Heatable, is nearing on being as cheap or cheaper as a local installer.
Have a look at the quote process, you can get a new boiler quote, without committing to putting in email addresses, phone numbers and so on; it takes about 3 minutes.
3. Help-Link: New Boiler Deals
Another place you can get a online boiler replacement quote, is Help-Link.
We went through Help-Link's online quote process, just as we did with Heatable. This isn't a fixed quote, and we think that's fair enough, sometimes a site visit is necessary.
Like the Heatable quote form, we picked all the simplest options, making this a straight boiler swap, rather than a full-on installation or central heating upgrade. And to be honest, I wasn't that impressed.

Help-Link quote us here over £2,000. And, whilst that might not seem like a big difference to the Heatable quote above, they're quoting us for an Ideal Logic 24kw boiler.

Now, if you've read many of my other posts, you'll know I rate high the Ideal Logic Plus range. But, as far as I can see, the Logic 24 HE, isn't the plus, and that means you'll only get a 2-year warranty. Typically, I'd be aiming for a 5-year warranty as a minimum.
You can grab 10-years upwards from Heatable on a tonne of boilers such as the Ideal Logic Plus, the Worcester Greenstar range, as well as others from Baxi, Vaillant and Potterton.
So, my opinion on the Help-Link boiler replacement is that it's expensive. The option for a Worcester equivalent was nearly £500 more, putting this boiler replacement price at over £2,500; essentially, it's the same job as the one we got a quote for on Heatable.
Best New Heating Boiler Deals
Said it before, will say it again. The price you will pay is dependant on who you choose to install.
Put simply? Get quotes until your heart is content. You can read dozens of articles like this one, trawl forums and more, but that's only going to give you an estimate.
The fact is, boiler costs do vary depending on property, the area you live in, type of boiler, warranty, additional works and more.
Get FIXED Boiler Installation Quote!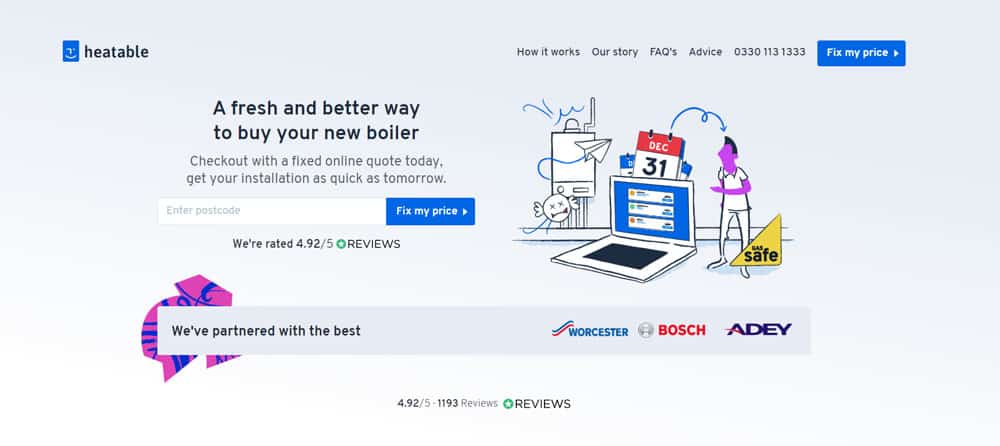 Personally, I think the best deals come from Heatable.
Nationals just have too many overheads to cover. And inevitably, that's going to be added onto your boiler quote. As we've highlighted above, these nationals can be £1,000 more expensive on many occasions.
As cheap as local boiler fitters are, there's no doubt that websites that offer an instant online quote facility, like Heatable, are hot on their heels. So, it's worth comparing local boiler fitters, with a Heatable quote too.
Finally: Do You Need Boiler Replacement?
Our advice is: not every appliance needs replacing. Sometimes, a repair is a more cost-effective solution. Typically, you'll want to start investigating a new boiler quote, if your boiler is out of warranty, and there's a repair bill looming of £500 or more.
Boilers are expensive to fix, and these fixes can be covered by warranties. And, that's not to mention the fact that there have been plenty of studies showing a new A-Rated boiler could save up to £305 per year in energy.
Between zero repair costs and energy savings, a boiler replacement can quickly pay for itself.
Check out on-screen boiler installation costs using this quick form (no contact details needed, takes less than a minute of your time).
New Boiler Installation FAQ
Which is the best boiler to buy in 2020 for your home?
Worcester Bosch are renowned for being one of the most reliable brands in the UK heating space, offering the best customer service. Their Greenstar range including the 25i and 30i combi boilers are one of the best boilers to buy in 2020.
Is British Gas boiler installation expensive?
Large national companies such as British Gas are generally more expensive than local companies installing boilers, or companies using an online business model such as Heatable. These online boiler installation companies can cut out salespeople and site visits, meaning they can supply and fit boilers much cheaper than they would be able to otherwise.
How long should a home boilers last?
You should expect your boiler to last 10-15 years. But it's worth considering a replacement before if your boiler is out of warranty and you're getting large and frequent repair bills.
How much does it cost to replace a boiler in your home?
Combi boiler installation for residential properties tends to start in the region of £1,800 for a small budget appliance. This can extend to £2,500 and beyond for properties needing a large boiler, and an appliance with a long 10-year warranty.
How long does it take to change a new boiler in your home?
Expect a simple boiler installation to take 1-3 days. A straight swap without any upgrades would take 1 day. But, if the gas mains need to be upgraded, or you're changing from a combi boiler or a system, the timescale could stretch to around 3 days.
Getting a Boiler for Free
There are strict criteria when it comes to getting a boiler for free. Typically, it's only pensioners that can get free boilers via the ECO (Energy Company Obligation) scheme. You can read our full guide to getting a free boiler here.
Conclusion on Boiler Installation
Looking to get an idea of what a new boiler will cost, and for a boiler replacement price estimate?
Spend a minute of your time using this clickable form, and get your fixed price on screen instantly.
And, if you have any questions, leave a comment below.
We'll get back to you as soon as possible.
Avoid Expensive Breakdown Costs
Boiler Replacement Promise: If it's under 7 years old and we can't repair it, we'll replace it.
Try YourRepair. From £9/mo
All plans include: annual boiler service, all parts and labour, unlimited support and 24hr helpline.