What Are Typical Vaillant Boilers Prices [and should you buy a Worcester instead]?
Welcome to our 10-minute guide to Vaillant boiler prices, and what they cost to install.
If you're looking for a new boiler, there's a good chance you're tossing up between a few brands. And, if you're like the majority of UK homeowners, you're trying to make a decision between Baxi, Glow-Worm, Potterton, Worcester Bosch and of course, Vaillant.
At my time working in a plumbing merchants, Vaillant and Ideal Boilers were similar in popularity, with Worcester Bosch being the clear leader.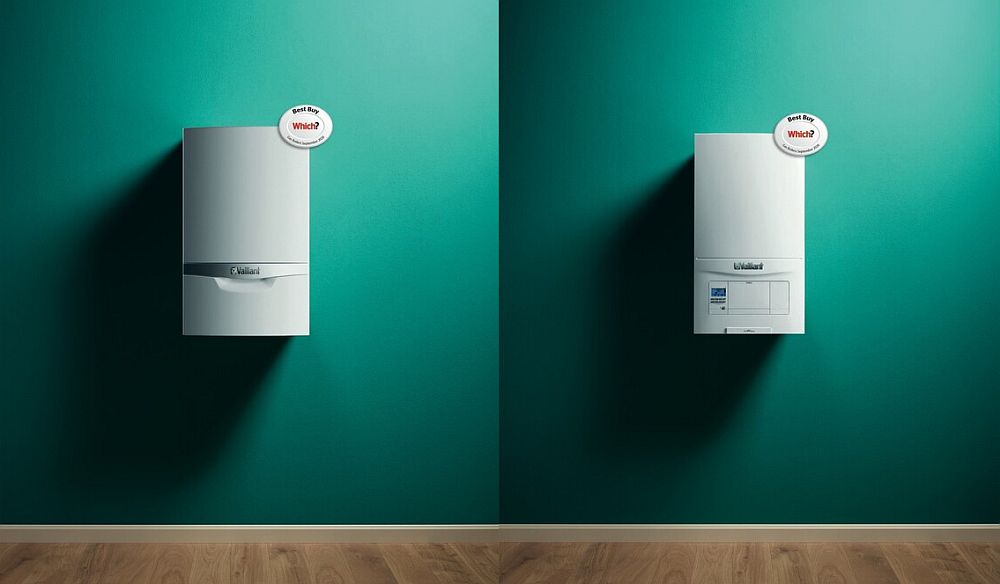 This is what they cost…
Want to get a fixed price for a new boiler in screen in less than 2 minutes? Use this clickable form via Heatable. They're an online comparison boiler installation company, so are able to offer extremely competitive prices on Worcester boilers.
Vaillant Boilers Prices
So, how much does a Vaillant boiler actually cost? I'm sure you've seen boilers as low as £500, that would be for a budget 24kw boiler brand, with a 2-year warranty at best. And, none of the boiler prices mentioned below are going to be able to compete with that.
Why? Much like Worcester Bosch, Vaillant are a premium boiler brand. They focus on efficiency (and therefore, energy savings), reliability, practicality and warranty. All those things come at a price.
Below we'll look at Vaillant EcoTec Plus boiler prices. This Vaillant range comes with a 5-year warranty as standard, and we'd not recommend installing a boiler with any less than this.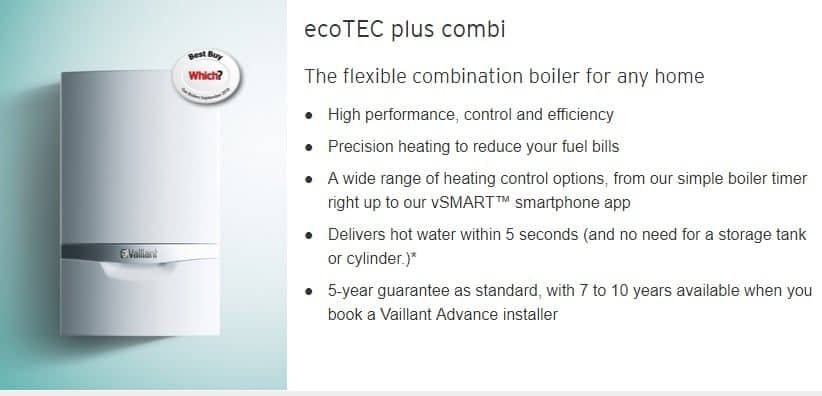 Although the cost of a Vaillant boiler with a 5, 7 or 10 year warranty is going to be more (£150-300) than a lesser brand offering just 2, it's worth the extra pound notes.
Around 50% of the installation cost is made up of the boiler itself; the rest is labour and parts. So, if you have to replace your boiler just 2-years down the line rather than 10, you're out of pocket in a big way.
There's the option to upgrade the Vaillant EcoTec Plus to a 7 or 10 year warranty when using a Vaillant Advance Installer. That's comparable to Worcester boilers, which come with a 10-year warranty. You can check prices for those here.
The EcoTec Plus is also comparable to a Worcester Bosch boiler we'll mention below. These prices don't include the cost of installation.
| | |
| --- | --- |
| Boiler | Cost |
| EcoTec Plus 25kw | £1,100 |
| EcoTec Plus 32kw | £1,250 |
| EcoTec Plus 35kw | £1,320 |
| EcoTec Plus 38kw | £1,400 |
What kind of fuel does your boiler use?
Grab your fixed price online by 3PM, and get next-day boiler installation.
How Vaillant Boiler Prices Compare To Worcester Bosch
As the Vaillant EcoTec Plus isn't a compact boiler, you won't be able to install it into a standard sized kitchen cupboard. And the same goes for the comparable range from Worcester; the Greenstar I.
| | |
| --- | --- |
| Boiler | Cost |
| Greenstar 25I | £950 |
| Greenstar 30I | £1,100 |
| 25SI Compact | £1,100 |
| 30SI Compact | £1,175 |
| 28CDI Compact | £1,150 |
| 32CDI Compact | £1,250 |
| 36CDI Compact | £1,400 |
| 29CDI | £1,200 |
| 34CDI | £1,300 |
| 38CDI | £1,400 |
As you can see from the chart above (taken from our Worcester boiler costs page), you'll get an equivalent output Worcester Bosch boiler, for around £100 less than current Vaillant boiler prices.
You can get a fixed price online on Heatable for a Worcester, and compare that with quotes from local installers on a Vaillant.
Vaillant Boiler Installation Costs
But, the cost of a Vaillant boiler, is only a small part of the puzzle. The majority of boiler installation costs are made up of labour, as well as materials.
For example, a typical installation is going to require copper fittings and copper pipe; that's a given. But, there are lots of other things that can affect the cost of installation.
Is a magnetic system filter being fitted (advisable)? This could add £150-250 onto the cost of your new Vaillant boiler.
Does the boiler need to be moved to a new location? This could add £350-750 to your quote.
The list goes on. We've detailed a range of things that can affect the cost of your new boiler here.
But you can get quotes from local installers on Vaillant boilers here, and a fixed price on a Worcester from Heatable here; compare the two to get the best deal.
How Much Do Labour And Materials Cost For Vaillant Boiler Installation?
As a rough guide, adding on around £1,000 for materials and labour won't steer you too far wrong.
That's going to correlate to a installation cost of around £2,100 for a Vaillant EcoTec Plus 24kw.
How Vaillant Boiler Installation Prices Compare With Worcester Bosch Prices
All told, you'd expect to pay anywhere from £2,100 (Vaillant EcoTec Plus 24kw), up to around £2,400 (Vaillant EcoTec Plus 38kw) including all materials and labour.
Based on our price guide, you'd expect Worcester Bosch prices fitted, to be around £100 cheaper. However, that's changed recently.
Heatable is a national boiler installation company who installs the best boiler brands like Worcester Bosch, Viessmann, Ideal. Because of their size, naturally, they get Worcester boilers well below what most installers can. And looking at the fixed prices online, that converts to installation prices around £200-300 cheaper than expected.
As example, we plugged in some details to get a Worcester 30I installed for as little £1,649 including VAT. No need for home visits, quotes, phone calls; the prices are all fixed and online.
Here's our quote (get yours in 90 seconds here):

Vaillant Boiler Reviews
There's no doubt that Vaillant are one of the leading boiler brands in the UK. But, like we do before buying any other product, checking out Vaillant reviews is always worthwhile.
Unfortunately, it's unlikely you're going to find 500+ on Amazon like you would a set of non-stick pans, but there are still some out there.
Some of the best, come from Expert Trades. And as you'll see from their overall review rating of the Vaillant EcoTec Plus, they our agree with our evaluation below. Whilst the brand offers an excellent range of products and customer support, Vaillant boiler prices aren't exactly the cheapest. In fact, on most occasions, you'll be able to get a Worcester Bosch boiler fitted for cheaper.

You can read all the reviews of the Vaillant EcoTec Plus on Expert Trades here.
Another place that's got a tonne of Vaillant reviews worth checking out, is Trust Pilot. Vaillant currently have over 14,600 reviews averaging 4.6 stars.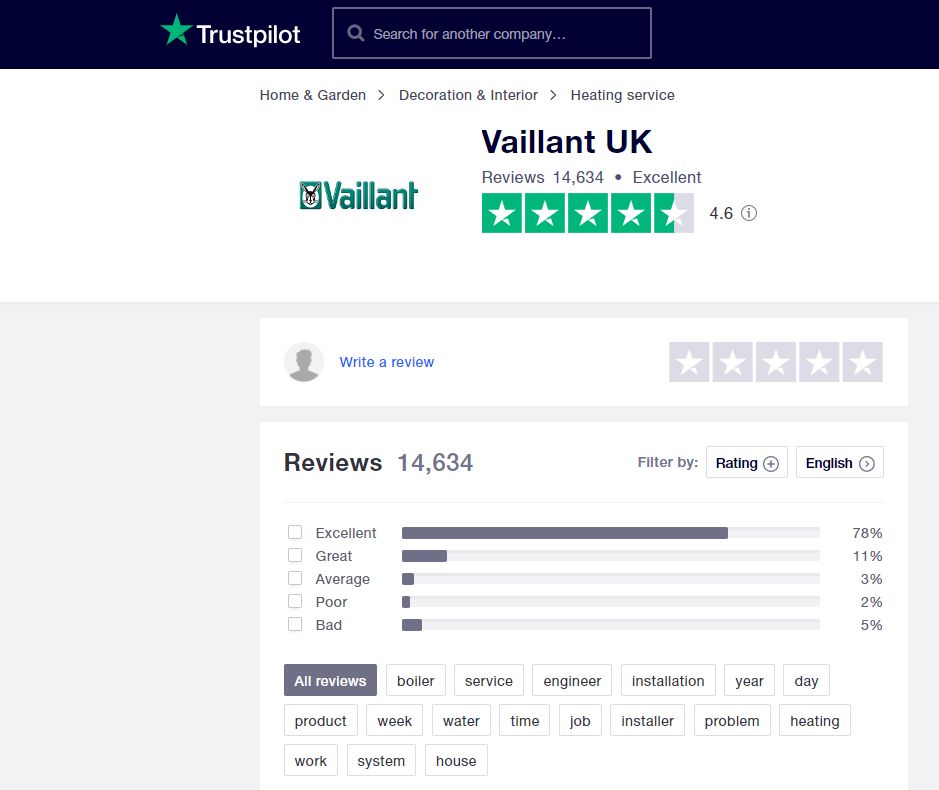 You can read all the reviews for Vaillant on Trust Pilot here.
Which Has Cheaper Installation Costs – Vaillant Boilers Or Worcester Bosch Boilers?
So, Vaillant boiler prices are similar to Worcester Bosch; £100 give or take, depending on where the boiler comes from.
However, due to the Worcester Bosch/Heatable connection, the actual installation prices for Worcester Bosch tend to be a lot cheaper.
Either way, there are two options for you below, and in both, you should be able to get finance on your new boiler. Typical finance packages sit in the £12-30 per month range.
Worcester Bosch Boilers
If you'd prefer a Worcester Bosch boiler, you can quickly check out prices by filling out a few details (takes around 2 minutes) on Heatable's website here.
Vaillant Boilers
If you're set on getting a Vaillant boiler fitted, we'd suggest comparing prices from local installers. You can contact 3 different Gas Safe installers to get the best deal on boiler installation here.
*Only Vaillant Advance Installers can provide the maximum warranty, so make sure you get quotes from these installers only.
Upgrade Or Repair Your Boiler
If you're on the fence about replacing your boiler, there are a few things to consider.
Boiler Efficiency Rating
The first, is what efficiency rating your boiler is. Modern boilers are A-rated, typically being 89% efficient or more. For instance, the EcoTec Plus is 89.3% efficient.
The oldest boilers can be lower than 70% in terms of efficiency (source). With heating bills making up around 55% of utilities, that's a lot of cash to be flushing down the drain.
Boiler Condition
Another thing to consider, is the overall condition of your boiler. We've written a guide covering average boiler repair costs, and in general, they're not cheap. If your boiler is deteriorating, it might be worth considering a replacement over a repair.
Typically, a replacement is going to be a good option if your boiler:
You can check prices for a boiler replacement here.
Anything less than this, and a repair is likely to be the better option.
What's Next?
Thanks for reading our 10-minute guide to Vaillant boiler prices, and how installation costs compare to big name brands like Worcester Bosch.
Still got questions?
Use our contact form and get in touch. Or read more boiler installation guides here.
Like what you've read?
Bookmark this page and pop back soon; we regularly post up reviews, quick boiler fixes and price guides.
Avoid Expensive Breakdown Costs
Boiler Replacement Promise: If it's under 7 years old and we can't repair it, we'll replace it.
Try YourRepair. From £9/mo
All plans include: annual boiler service, all parts and labour, unlimited support and 24hr helpline.