HeatingForce is reader-supported. When you buy through links on our site, we may earn an affiliate commission. Learn more
The 10 Best Wall-Mounted Electric Radiators
The modern radiator has come a long way since its inception. They have become sleeker, more efficient, and easier to use. Whereas traditional radiators are somewhat of an eyesore, modern wall-mounted radiators are the epitome of 21st-century class and décor. Indeed, the design of a radiator is nearly as important as its ability to heat up a room.
As such, this list will be taking a look at the ten best wall-mounted electric radiators on the market today in terms of looks, efficiency, reliability, and functionality.
Top Wall-Mounted Electric Radiators for Safe, Efficient Warming
Below, we review what we've found to be the best wall-mounted radiators for most people. We invite you to consider the virtues of each, then peruse our buyer's guide further down the page to pick the right unit for your home.
Price: £ | Dimensions: 11.6 cm x 103.2 cm x 43.7 cm | Heat modes: Comfort Mode, Eco Mode & Frost Protection | Power: 1500/2000/2500 watts | Material: Metal | Finish: White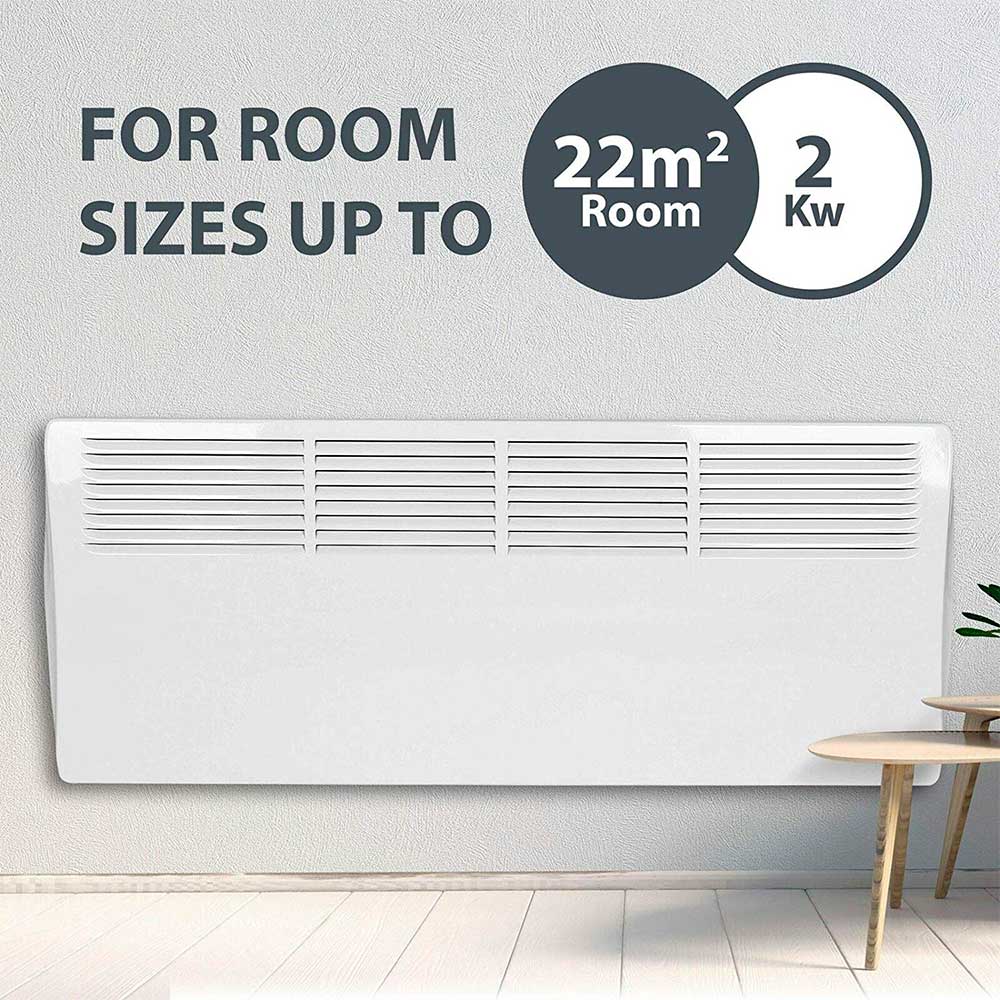 The Devola Classic is perfect for people on a budget who just want a heater that's easy to install and won't drain the bank. The heater features a programmable thermostat with up to four weeks of scheduling, ensuring you can maintain the perfect heat setting regardless of whether it's the middle of the working week or the weekend. Moreover, the Devola Classic features a splash-proof coating and eco mode to save energy and money.
The Devola Classic features a two-year warranty as well as two additional modes: comfort mode and frost protection. Because of the Devola Classic's splash-proof nature, it is completely safe to use in the bathroom. The Devola Classic ships with mounting brackets, a 1.5-metre power cable, and a UK power plug.
The real benefit of the Devola Classic is the programming behind it; specifically, it will turn off and on automatically to maintain a consistent temperature, ensuring a consistent temperature even if you're not around to adjust it.
Price: £ | Dimensions: 83 cm x 10.7 cm x 40 cm | Heat modes: 5 heat settings | Power: 1000/1500/2000/2400 watts | Material: Metal | Finish: White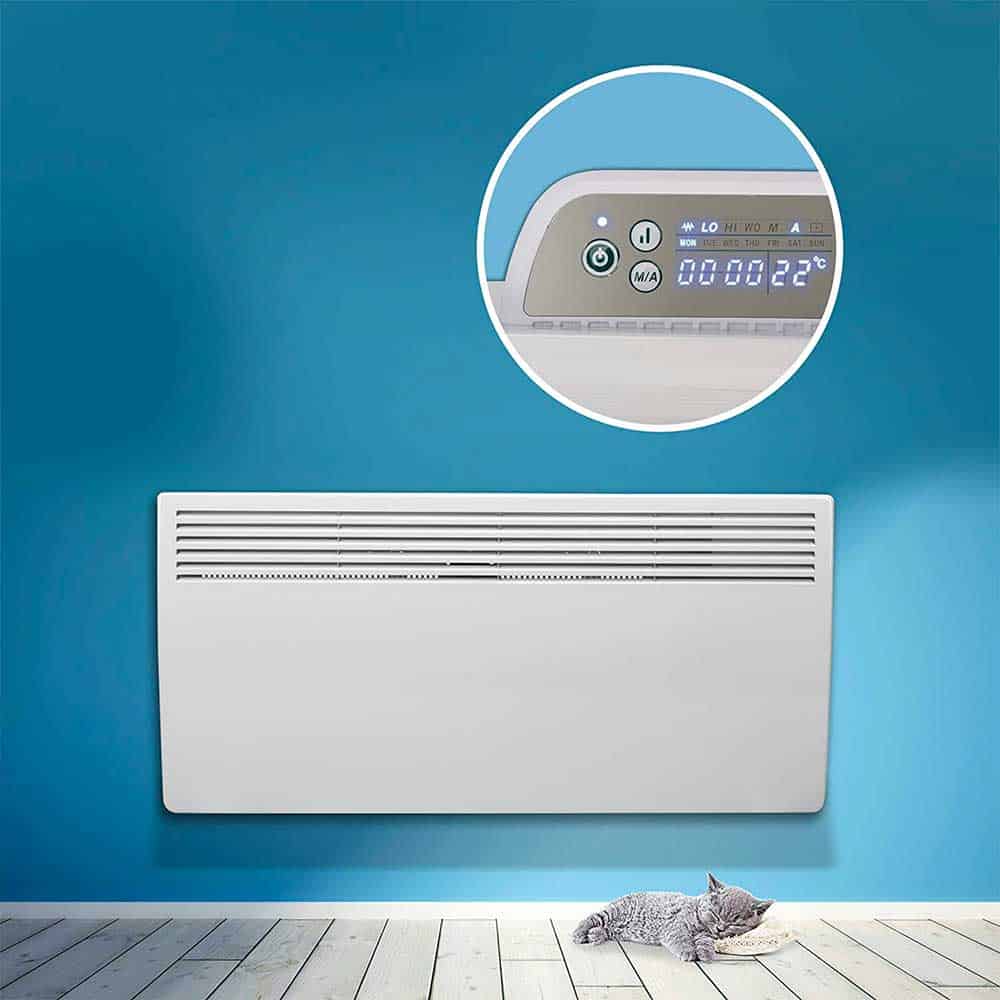 In all honesty, the Devola Eco is quite similar to the previous heater on this list. It is easy to install, although you might find the programming feature a little cumbersome. Despite the awkward learning curve, the programming shouldn't be a problem for most people once you've learned the ropes—it took us less than ten minutes to figure out how to program everything.
One potential downside is that it has a black cable, so if you're OCD and can't stand the thought of a black cable ruining your feng shui, you might want to look elsewhere. Aesthetics aside, the Devola Eco is a reliable machine that can easily heat up a 25 m² room in little time.
It might make a bit of noise, but it probably won't be a big deal for most people. Overall, the Devola Eco provides terrific value for money and offers a functional yet elegant design.
Price: ££ | Dimensions: 82 cm x 8 cm x 47 cm | Heat modes: 2 | Power: 2000 watts | Material: Metal | Finish: Black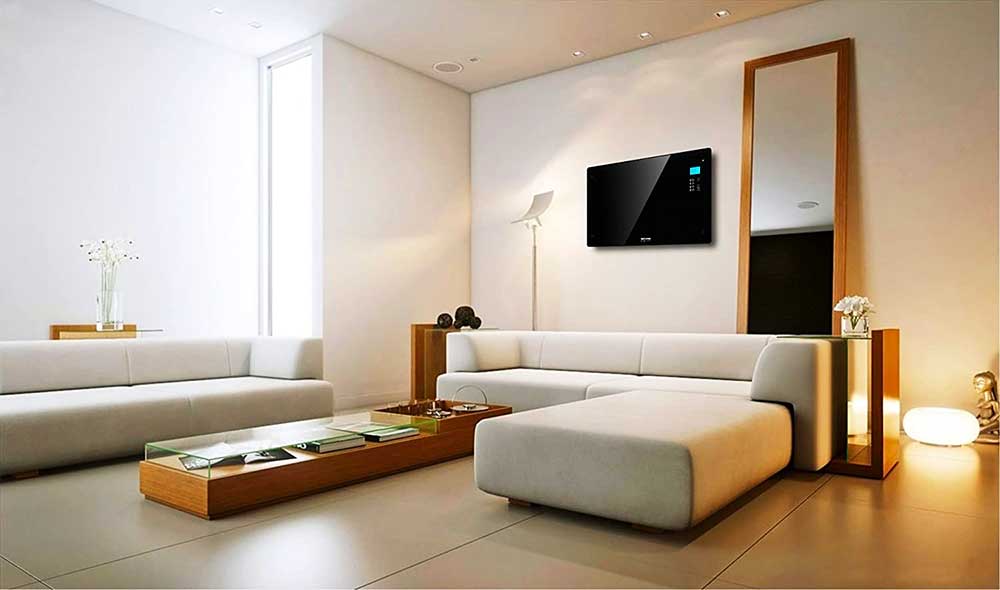 If you're looking for a black heater, Wärme has got you sorted. At just 8 cm thick, you'd be forgiven for mistaking it for a TV at first glance; indeed, this Wärme-designed masterpiece is thinner than the average flatscreen TV.
While a little pricier than the first two items on this list, it is easy to see where the money has gone. Performance-wise, of course, Wärme doesn't waver. It features 2,000 watts of power and doesn't require any maintenance or servicing. It also has low running costs and is IP22 waterproof. With a digital thermostat and "instant heat" mode, Wärme ties together both performance and minimalist design in one unique package.
Furthermore, Wärme makes this heater a breeze to set up and operate, meaning less time setting up and more time basking in the radiant glow of blissful warmth.
Price: ££ | Dimensions: 67 cm x 66.9 cm x 14 cm | Heat modes: 3 | Power: 1000/2000 watts | Material: Aluminium | Finish: White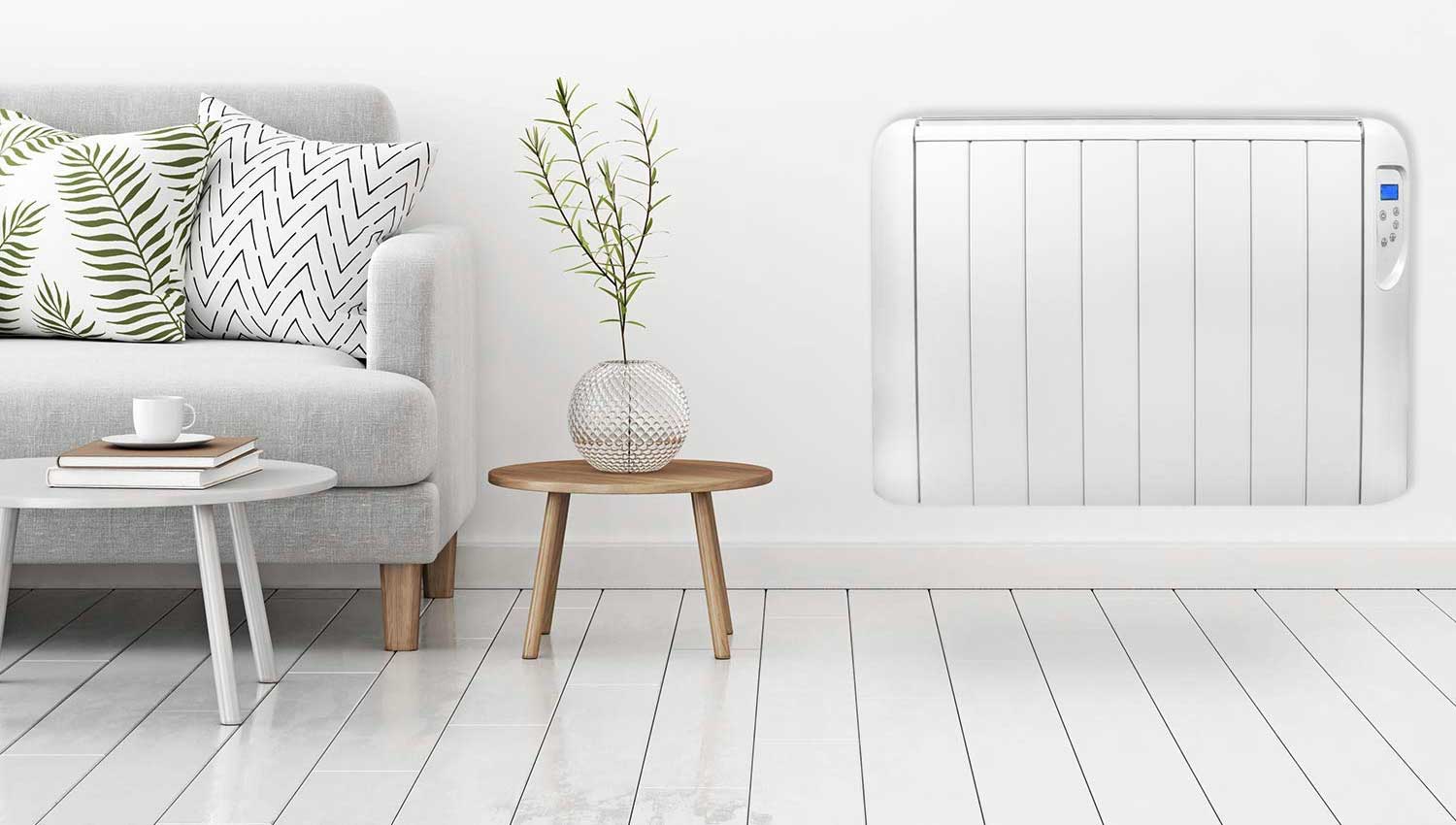 The Futura Eco is all about performance. It has a supremely accurate thermostat as well as a sophisticated daily and weekly timer, meaning you'll never have to be cold inside your house again. Featuring an aluminium design and energy-efficient dry thermal technology, the Futura Eco fast. While looks-wise the Futura Eco can't hold a candle to the Wärme Designer model, it is by no means ugly; in fact, one of Futura's showcase photos demonstrates that this heater would go very nicely with wooden floorboards.
While it has the standard two-year warranty and complimentary wall brackets, the Futura Eco also has a keypad lock, ensuring that the wandering hands of little ones don't play havoc with the thermostat. it features three modes of operation, including an anti-frost mode, and is really easy to install. It features nice editable preset programs and three heating modes. The heater doesn't cost a lot to run in its default mode, but an Eco mode will ensure your heater doesn't do a number on your electricity bill.
Price: ££ | Dimensions: 83 cm x 5.5 cm x 58 cm | Heat modes: 3 | Power: 600/900/1200/1500 watts | Material: Aluminium | Finish: White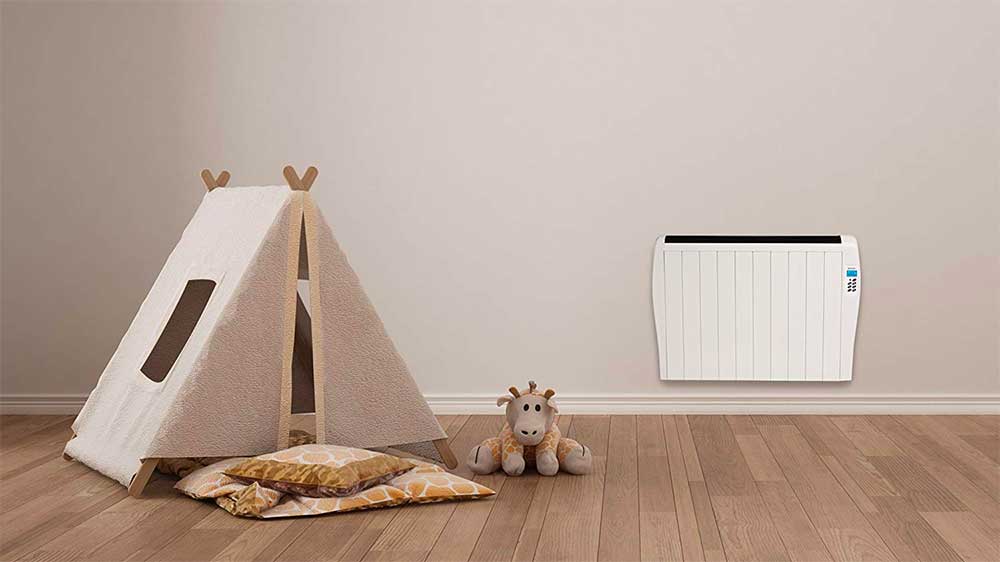 A lot of products bandy the word "premium" about like it's going out of style, but the Mylek Premium Aluminium Electric Panel Heater completely deserves its description.
Mylek has packed so many features into this heater that we're probably going to struggle to cram them all in; nevertheless, we'll give it our best attempt.
It features a long-range remote control
three heat settings, including frost protection, aluminium body, and heating element;
safety features, including tip-over protection, overheating protection, and a child lock;
a wall-mountable or freestanding option;
an intelligent thermostat for regulating temperatures accurately and consistently;
and a programmable timer that can be used hourly, daily, and weekly.
Installation is dead simple, and the quality is top-notch. The heat radiates from the front and uses convection heating at the top to ensure your room warms up in short order. The anti-frost countermeasure is ideal for sheds or other rooms that don't get a lot of usage, but still require a bit of assistance to ensure that frost and mould don't become an issue.
Price: Variable | Dimensions: 474mm  (400W) to 1394 mm (2000 Watts); all models are 370 mm high | Heat modes: 2 – normal and reduced-heat mode (anti-frost) | Power: 400/600/800/1000/1200/1400/2000 watts | Material: Metal | Finish: White/Black/Lava Grey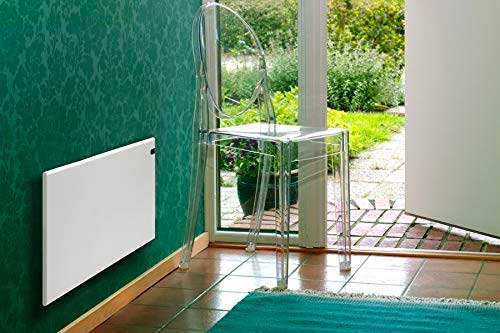 Adax is a Norwegian company that makes some outstanding heaters. Impeccably designed for optimal warmth and visual appeal, the Adax Neo has simple controls that look like they were shamelessly ripped off from the iPhone 4. Indeed, the slimline design is the definition of beauty through simplicity.
While all sizes are easy to install, it's difficult to assess the heating capability of each model in a meaningful way, so it's best to do your homework to ensure you purchase the right size for the room you're wanting to heat. It features all the usual trimmings that you'd expect amongst a list of the best heaters—such as a timer, child lock, and overheat protection—but it also has a novel feature: an anti-allergy switch.
Dimensions: 6 m² with a width of 474mm (400 watts); 7.5 m² with a width of  589 mm (600 watts); 10 m² with a width of 704 mm (800 watts); 12.5 m² with a width of 762 mm (1000 watts); 15 m² with a width of 934 mm (1200 watts); 1042 mm (1400 watts); 25 m² with a width of 1394 mm (2000 watts); all models are 370 mm high
Price: £££ | Dimensions: 78 cm x 8 cm x 47 cm | Heat modes: 2 | Power: 2000 watts | Finish: Black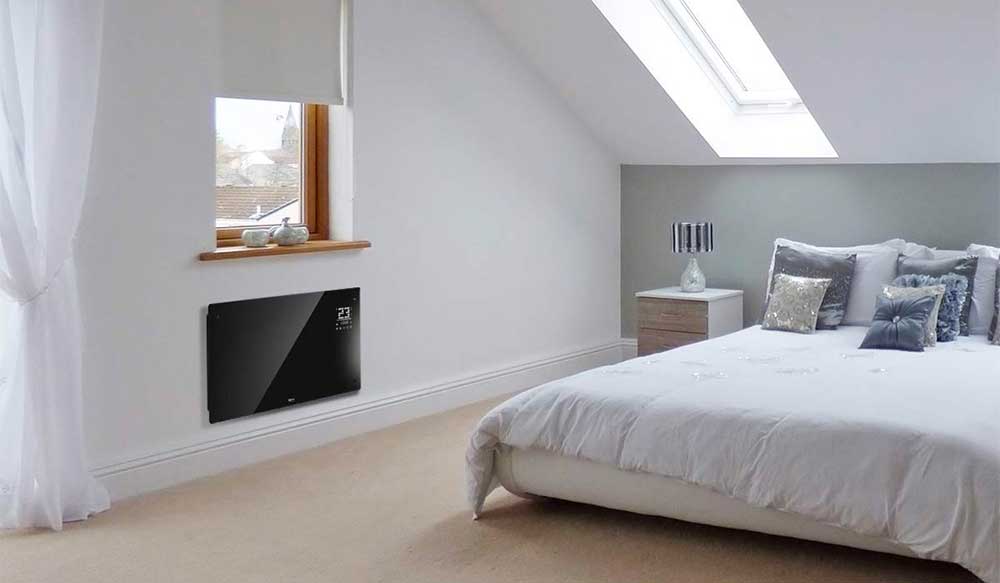 Wärme is back with another sleek design, this time having the ability to be controlled remotely from your smartphone. This particular model was even featured in a magazine called Architecture Art Design. The heater is particularly popular in Europe, and we can see why. Spec-wise, this heater is virtually identical to the other Wärme heater on this list, although the WiFi-enabled design is new. Pricewise, you're not paying much more for the WiFi functionality, so our advice would be to get this model if you can afford it.
In case you forgot or are just skimming the list, allow me to recap some of its most prominent features. It is waterproof, has low running costs, and requires no maintenance. Another discrete feature is the automatic child lock, which automatically locks itself once the temperature is set to prevent little kids messing with the thermostat. If you're wondering why you'd need WiFi on your heater, envision a scenario where you're driving home from holiday in winter. All you have to do is find a place to pull over and start the heater remotely (or have a passenger do it for you).
Price: Various | Dimensions: 565mm (400 watts) to 1403 mm (2000 watts); all models are 330 mm high | Heat modes: 2 | Power: 400/600/800/1000/1200/1400/2000 watts | Finish: White / Lava Grey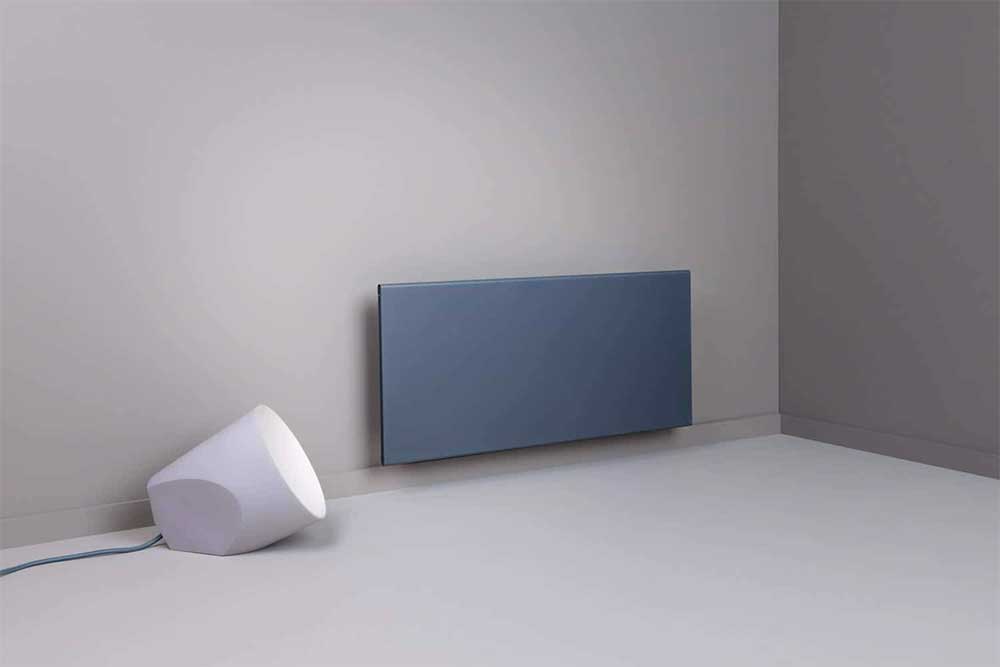 This is the second heater on this list from Adax; it's not hard to see why. This particular model is, like the previous entry on this list, WiFi-enabled. Upon use, the Adax Neo heats up a room instanously, but it doesn't do this at the expense of energy efficiency. On the contrary, it is compliant with EcoDesign Lot 20. In simple terms, it won't cost you an arm and a leg to operate.
Adax has been around a long time (since 1948, in fact), and they have learned a thing or two over the decades about usability and design. This particular heater operates nearly silently, and it can even detect when a window is open, saving power. Also, don't worry about being left out in the cold if you lose your smartphone, Adax ensures the inbuilt control panel is just as usable as the app the heater uses.
All these bells and whistles help to ensure that this WiFi version of the Adax Neo is one of the world's most efficient heaters available on the market. Unfortunately, this heater isn't compatible with Alexa, but this is a pretty minor bugbear all things considered.
Dimensions: 6 m² with a width of 565mm (400 watts); 7.5 m² with a width of 635 mm (600 watts); 10 m² with a width of 750 mm (800 watts); 12.5 m² with a width of 809 mm (1000 watts); 15 m² with a width of 934 mm (1200 watts); 1094 mm (1400 watts); 25 m² with a width of 1403 mm (2000 watts); all models are 330 mm high.
Price: £££ | Dimensions: Width: 486 mm wide (560 watts); 648 mm wide (840 watts); 810 mm wide (1120 watts); 972 mm wide (1400 watts); 1134 mm wide (1680 watts); 1296 mm wide (1960 watts) | Heat Modes: 2 | Watts: 560 watts / 840 watts / 1120 watts / 1400 watts / 1680 watts / 1960 watts | Finish: White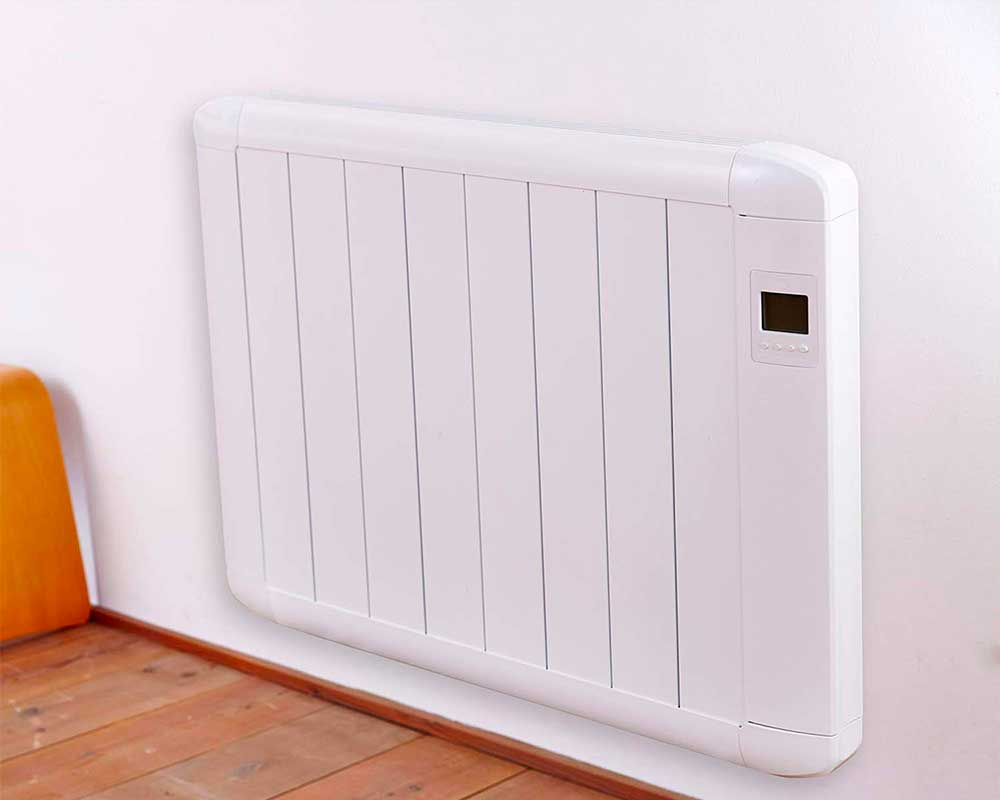 The Economy+ Electric Radiator comes in six power variants. Like other radiators from this list with different wattages, the units themselves will vary in width depending on the power input. Bigger is better. The Economy+ Electric Radiator is silica-filled and is made by hand right here in jolly old England. As such, you're paying a bit of a premium, but the Economy+ range is first rate and justifies the extra money (not to mention helping local industry).
Quality-wise, the Yorkshire production ensures that only the finest materials are used, ensuring a long and reliable life for your new heater. Each variant is maintenance-free and comes with free UK delivery, which is a lovely touch. You can mount to your wall with the supplied brackets and be up and running in as little as 15 minutes. Like other heaters mentioned on this list, it has a comfort mode that turns itself off and on to maintain a consistent level of heat; it does this by detecting the heat of the room.
Price: £££ | Dimensions: 78 cm x 8 cm x 47 cm | Heat modes: 2 | Power: 2000 watts | Finish: Black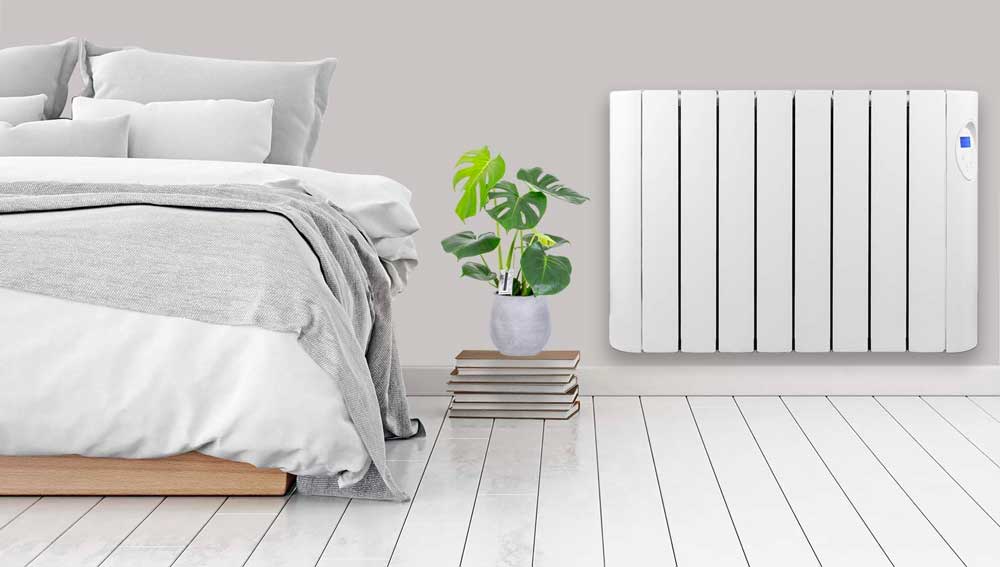 Another marvellous entry from Futura finishes out this list. From a purely engineering point of view, this one is an excellent case study. It contains "special mineral thermal fluid," according to the manufacturer, and we discovered that this particular unit was especially adept at heating up a room as well as distributing it in such a way that the heat didn't immediately leak out after the heater was switched off.
The pinstriped design is certainly striking, although it may clash with certain interiors. We think this is another design that would work well with floorboards and a modern interior; this heater would perhaps feel a bit incongruous in a rustic cabin (for example). It was only made available in December 2019, but despite its newness the radiator has already racked up 135 reviews as of writing, almost all of them positive.
This heater is perfect for a conservatory, and it warms a room very quickly for an oil-based radiator. The digital controller is of excellent quality and allows the user to maintain a constant temperature at all times.
Wall-mounted electric radiators buying guide
The array of wall-mounted electric heaters is dizzying just on our list alone–and shopping the broader market is positively overwhelming. But, you don't have to go it alone, use our tips below to help you winnow down the selection:
Pick the right size heater
Generally speaking, bigger heaters will require more energy consumption, while smaller heaters use less. However, larger heaters also tend to do a better job converting that power draw into heat, and thus we say they are more efficient.
With that in mind, it might seem counter intuitive for us to say you might not always need the biggest, most efficient heater. Instead, always opt for the heater that best suits its application.
A bathroom will likely do best with a smaller, wall-mounted heater. Even though this unit is likely not to be the most efficient on the market, the amount of power drawn to heat the small space of your bathroom will still be overall much smaller than a larger (and more efficient) option. It's perhaps obvious that the reverse is true: Don't pick a too-small heater for a large space, or else you'll be paying for it in the monthly bill.
Regardless, you can rest easier knowing that technological progress is such that even small heaters have great efficiency, so in most cases the difference is akin to split hairs.
RELATED READING: The 7 best towel rail heaters
Look for safety features
Even the best heater will wear out with time, so make sure it's got failsafe systems that will prevent a catastrophic breakdown that puts your home at risk. Look for automatic shutoffs, which monitor extreme temperature fluctuations and shut down the unit past a certain threshold. Similarly, tip-over switches will cut the power whenever the unit is knocked over, preventing your drapes, carpet or upholstery from going up in flames due to unintended contact with the heating element.
Make sure it's easy to control
Your heater can be the most efficient in the world sporting the latest safety features, but what good are they if you don't know how to use them? Worse yet, an interface that you understand conceptually, but doesn't lend itself to easy usage.
In short, always ensure that your chosen heater has been designed with the user in mind, otherwise it's less than useless–it's dangerous.
Be on the lookout for energy-saving features like a thermostat, remote control, timer, ability to program, among others. If you're buying a series of heaters, make sure it's a breeze to activate the ones you need when you need them, and deactivate the ones you don't. Modern home networking makes this possible, but you don't want an advanced IT degree to be a requirement to make sense of it all.
Consider how and where you'll mount the radiator
Radiator positioning is critical for safe and efficient usage. If you decide to mount your heater low to the ground and have young children, be sure your model has a child lock. If you're not sure if it has one, it's best to contact the manufacturer to check.
Keep an open mind, but be persistent in finding the best choice
We repeat: the consumer heater market is absolutely awash with options. It's easy to get overwhelmed, and just buy the first unit that sort of makes sense. Just remember that this is an investment you'll have to live with for many years to come, and thus a poor-fit heater will prove horribly inefficient, and cost you in the long-term. Don't forget the safety implications, either. And with technology improving at the rate it is, there are likely to be advanced features you hadn't considered that could really make your life a lot easier, more affordable, and far more comfortable.
It's definitely worth setting aside some time to truly consider your needs, then narrow down a few best options. Sleep on it, consult with a local expert, then make the final purchase decision when you're doubly sure. You'll definitely thank yourself for the diligence down the line.
How to make the most of your wall-mounted electric radiator
Read the instruction manual – Yes, it's boring and probably crawling with six other foreign languages, but your heater's user manual contains vital information on making the best of your new unit. Remember what we said about safety and efficiency? Consider it out the window if you don't bother to learn your radiator's settings beyond "on" and "off".
Experiment with heat settings to fit the room – Just like how it's important to pick the right sized unit for the room it will occupy, you'll want to further tailor the heat output via your radiator's settings. After all, the perfect temperature is the one you don't notice–it shouldn't feel overly hot or struggling to fill the room with heat. Don't forget there are settings beyond setting the temperature, some heaters allow you to customize how they disperse heat, which can make a huge difference.
Make use of the controls – Are we repeating ourselves here? Take advantage of the myriad ways to programme the way your radiator functions. If there's a timer, why not set it to only produce heat during the times you're at home to enjoy it? If there's a thermostat, you can let it give you objective measures of heating in the room, and have the device respond automatically to deviations from that comfortable norm. Got a remote control? Rejoice as enhanced comfort comes with the convenience of never having to leave the couch or bed. Several radiators offer these and many more control features as optional upgrades, and we suggest you consider them thoroughly in order to get the most out of your heater.
The Bottom Line
Wall-mounted heaters are a fantastic choice for the home or office (among other places), and this list offers you the best of the best. When deciding which electric radiator to buy, make sure you pick out the right size and colour (if applicable). Don't just consider price and power, as design and features are sometimes just as important (if not more so).
As mentioned earlier and often, safety is the utmost importance when considering the purchase of a wall-mounted heater. Ensure that you follow all instructions carefully, as improper use may lead to a dangerous situation. Thankfully, many wall-mounted heaters come with overheat protection, but careful vigilance during heater operation is always recommended.
Are you on the market for a new radiator? Where will you mount it, and which features are most essential to you? Reach out to us in the comments below.
Avoid Expensive Breakdown Costs
Boiler Replacement Promise: If it's under 7 years old and we can't repair it, we'll replace it.
Try
YourRepair
. From £9/mo
All plans include: annual boiler service, all parts and labour, unlimited support and 24hr helpline.