7 Best Small Electric Radiators For Your Home and Office
When you think of a radiator, you probably think of the monstrous, clangy contraption at your gram's house that takes forever to heat up. These days, however, there are plenty of small electric radiators which are designed to satisfy modern standards of comfort. The best part? They don't have to cost you dearly, up front or in the long-run.
Today, we'll be taking a look at the best small-sized radiator for your home or office.
We examine the top-rated units at a variety of price points, and discuss how well they fit their intended applications. Towards the bottom of the page, you'll also find a brief buyer's guide, which should help you better understand the world of small electric radiators and their myriad features.
Top-rated small electric radiators (for any budget)
No matter how much you have to spend on radiator shopping, there's an excellent option just for you out there. Of course, the crowded marketplace can be overwhelming, leading you to impulse purchases you may regret.
Before you pull the trigger, take a look at our top-recommended small electric radiators, each chosen to satisfy a unique range of customer needs.
If you've spent any amount of time comparing small electric radiators, Dimplex ought to already be on your shortlist. Indeed, their Cadiz line of portable oil-free radiators tops our list for its incredible flexibility, comfort, and value for money.
The stand-out feature here is undoubtedly Dimplex's TPT (twin panel technology) system. Whereas traditional convector radiators are fan-blown in a single direction and radiant heaters are omnidirectional, the Cadiz sports twin unidirectional heating panels, which you can toggle on and off completely independently of one another. This gives you unprecedented control over where the heat moves in the room, leading to greater comfort and enhanced efficiency.
Now, at 8.4kg, the 2000W Cadiz isn't the lightest unit on this list. However, Dimplex has packed a tonne of functionality into a surprisingly polite 25 x 61.4 x 60.5cm frame. In addition to the simple left/right TPT toggle, there's an attractive backlit blue LCD interface. Here, you have full control over the 24-hour timer and digital thermostat, which ranges from 5-35° operationally.
Even in the midst of a blackout, the Cadiz will retain memory of your programmed settings with its 2x AAA battery backup. Of course, if money is an issue, there's an option to get the Cadiz without this electronic climate control suite in favour of manual controls.
The Dimplex Cadiz is a freestanding unit which boasts superior mobility thanks to oversized castor glide wheels. There's a nice integrated handle at the top as well, so it's easy to grip when moving from room to room. Positioning the unit is simple, thanks to a generous 1.5m cable plus inbuilt cable tidy to prevent tripping. This oil-free heater warms any medium-sized room extremely quickly, and converts energy drawn to heat extremely efficiently.
Finally, the manufacturer guarantees your purchase with an amazing 5-year warranty.
The priciest radiator on our list by a fair margin, Futura nevertheless does much to justify its price tag. While there's no shortage of oil-filled radiators on the market, Future does it differently with a special mineral-based thermal fluid. This exclusive medium is able to heat up quickly while maintaining the exceptional heat retention property of traditional oil. In other words, the Futura heats up your room quickly, but doesn't gulp down excess energy to keep it toasty warm.
Generous heating isn't the only quality-of-life provision, either. The crystal-clear backlit LCD displays everything you need to control the automatic thermostat and 24/7 timer, yet glows a soft blue that won't disrupt your sleep. Indeed, the Futura is stealthy-quiet, and features no fans or moving parts that might clang obnoxiously.
Adding to the convenience is an array of three discrete heat settings: maximum power for maximum comfort, a cut-power eco mode, plus anti-frost maintenance for long periods of inactivity. We also appreciate that Futura supplies you with nine fully editable preset programmes to make control even easier.
Due to its wall-mounted, slim-line design, the Futura can fit anywhere in the house. At a manageable 10kg weight, it's super simple to install via the high-quality mounting hardware (included in the box). It protrudes just 8cm, and can even be sensibly placed underneath a window thanks to its open window detection system. If you've got kids, never fear!
Futura's small electric radiator features a keypad lock so idle young hands can't endanger the entire household.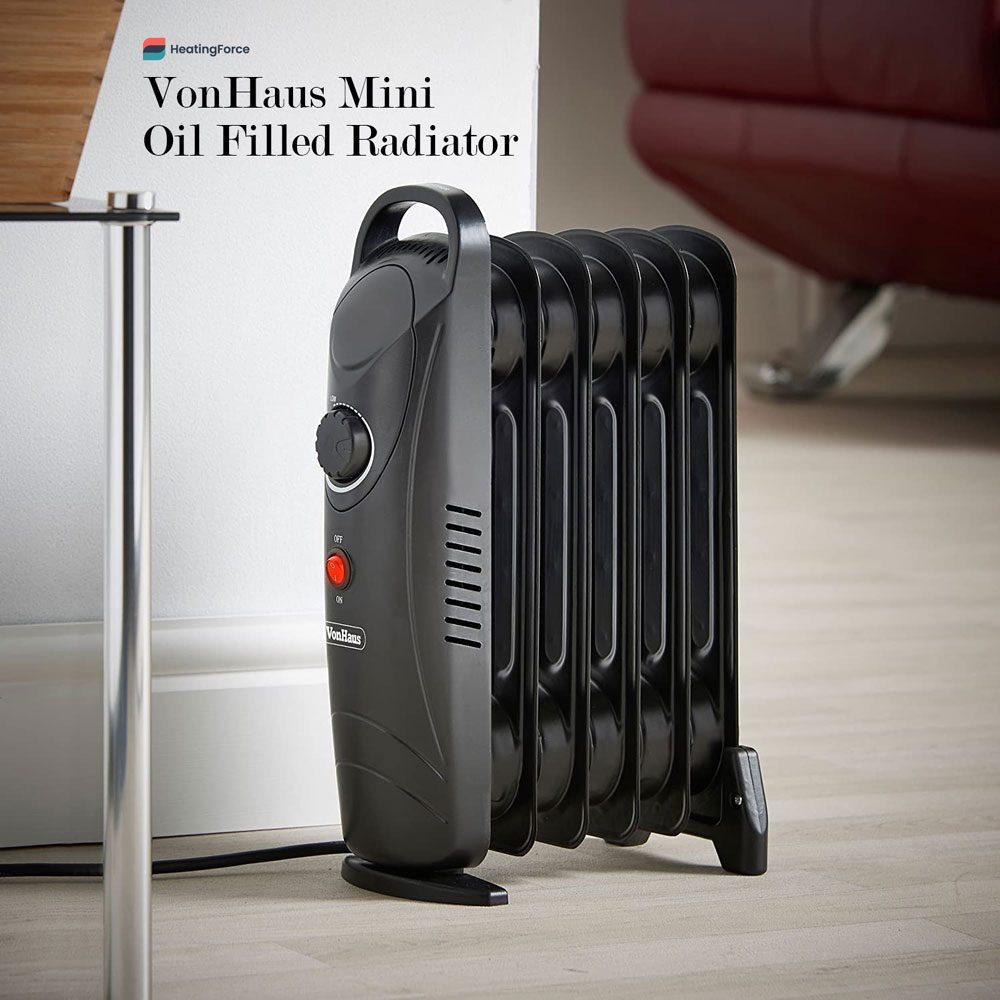 Swinging to the other end of the value spectrum, we present the Mini Oil Filled Radiator from Manchester-based VonHaus. For less than 30 quid, you get an unpretentious, properly petite electric heater that just works.
Indeed, the VonHaus Mini weighs in at just 3.84kg; and with its oversized carry handle, you'll find it fits almost anywhere in the home or office with utter ease. Don't mistake its diminutive frame for frail, however!
The VonHaus Mini sports robust metal fins framed by durable plastic. Apart from the Spartan thermostat knob, there are no moving parts to speak of. In other words, the Mini is a reliable, silent workhorse that encourages use wherever it is needed.
Worried about tripping over the Mini? Don't be; there's built-in overheat and tip-over protection to ensure a small mistake doesn't turn into a complete disaster. What's more, the 1.5m cable can be securely organized with the integrated cable tidy.
So, it's clear this is a highly mobile unit that can take a beating. Surely such a small, inexpensive unit will require compromises to heating performance? In fact, the 800W VonHaus radiates a generous amount of heat from its 6 oil-filled fins.
You wouldn't rely on the Mini to heat a massive room, but you'd be happy to have it along in your camper, conservatory, or any other intimate space.
More slim than small, the Netta Electric Panel Heater is nevertheless an unobtrusive radiator option for virtually any room in the house. Its 8cm girth is hardly its only selling point, however. Beneath that attractive, shatter-proof tempered glass lies a 1000W dragon of heat production that will comfortably heat any mid-sized room.
Indeed, the Netta truly lends itself to flexible usage, as it can be deployed free-standing or mounted on the wall with included hardware. For its power rating, you'll find the Electric Panel Heater easily manageable at just 6kg. Of course, beyond building a sturdy product, Netta encourages you to get robust usage out of your radiator with a 1-year warranty.
Further increasing the utility of this small electric radiator is the variable power settings. With full power, you'll experience incredibly fast, sustained warmth production; while eco mode cuts the output down to 500W, which will stave off chills and high power bills alike.
If you've got a worry that such a slim unit may present a fire hazard, rest easier knowing that Netta outfits its radiators with overheat protection to keep you safe.
If you're a regular reader of this site, you know how much we enjoy Adax radiators. It's not just because they're sleek and sexy–though they very much are with svelte Nordic styling projecting just 84mm from your wall. Adax makes incredible heaters that will not fail to make a functional or aesthetic impression on everyone in the room.
At 400W, the smallest Neo is just 37x48cm. However, it punches well above its weight with its specially treated aluminium heating element. This design not only allows for superior radiation from a thin chassis, it actually prevents the burn-off of dust and other allergens that causes irritation to sensitive breathers. As there are no moving parts, you'll never hear any obnoxious sounds to keep you up through restless nights.
This naturally convecting heater eschews fan-blown operation for a smarter design rooted in fancy physics–which is to say, you won't have to worry about cold spots or dry air. There are three operation modes for maximum comfort at home; more efficiency for the office; or simple anti-frost maintenance when it's not in use. You have exceptional control with a 24/7 timer/thermostat (operational up to 35°) and LCD temperature display.
Adaptive start and open-window detection add smart functionality that enable the Neo to respond efficiently to how you actually live. Deploy your Adax in free-standing mode, or mounted on the wall with included hardware. IP20 waterproofing makes this a good bet for bathrooms, though outside of zone 2 (in other words, don't splash water directly on it, but humidity is fine).
If this weren't all enough, Adax offers an amazing 5-year warranty to guarantee your satisfaction.
If you're on a tight budget but in need of effective warming, Donyer Power's 5-fin Oil Filled Radiator is an excellent choice. The 600W model can be had for less than a Score, which is an easy sell for heating small rooms. You can also upgrade to 800-1500W, but the price and floor space required both increase proportionally.
Beyond the purchase price, the 600W Donyer Power radiator is still a smart choice. It is such a bare-bones, simple radiator, there's hardly anything to break–as such long-term maintenance is a non-issue.
The oil which acts as thermal medium within those five fins is thoroughly sealed in, and you'll never have to refill it. There's no obnoxious lighting to keep you up at night, and the non-existent fan ensures the air remains breathable rather than furnace-dry.
If it seems we're primarily selling you on what this unit doesn't have, consider how little is actually needed from a small electric heater. You could easily upsell yourself with bells and whistles. But if you just need a durable, portable radiator with simple controls, Donyer Power is an amazing option. It doesn't skimp on the important things, and even features overheat and tip-over protection to keep you safe.
Returning for an encore on our list, Donyer Power's line of Convector Radiators continue to keep it simple–while opening the door to a bit more consumer choice. There are five units in the 2000 series, but they all share 2000W of convection heating as a baseline for operation.
Each features the same manual thermostat, plus two toggle switches for three heat settings (750W, 1250W, and 2000W). They're all freestanding, lightweight units with a wallflower aesthetic.
The biggest differences between the 2000BS and 2000C is the size: the latter will do marginally better in larger rooms, and sports a more streamlined design. Both models have variants equipped with a manual dial to control a 24-hour timer– the 2000BSTimer and 2000CTimer, respectively. The 2000CFan represents a third variant on the C series, which sports a powerful turbo fan to more effectively distribute convection warmth throughout the room.
To be sure, these are among the most basic of small electric radiators. But, it's nice to have the option to pick and choose which bells and whistles you want, rather than paying for things you'll never use. None of the Donyer Power 2000 Series breaks 4kg in weight, and as such are suitably portable for use anywhere in the home.
Despite their simplicity, these radiators all feature overheat protection–a vital provision for your safety as well as comfort.
Buying Guide for Electric Radiators
We get it. When searching for a small heater, you don't expect to pay much, or really get that much in return. Instead, you're just looking for something to quickly fill a gap in heating within your home or office. So, why should you be overly preoccupied with extensive comparison shopping?
We believe that your pound can always stretch further, and finding a great radiator isn't actually so involved when you know what you're looking for. Below, we offer a quick crash course on the most important features a small electric radiator must have. In the end, you'll have a much stronger idea of what you need, and will be able to make the most informed purchase decision.
Safety
Never settle for a cheaper heater which doesn't make some provision for safety. After all, the core purpose of any radiator is to produce lots of heat from a relatively small frame. A poor design can thus present a fire hazard.
First, you'll want to avoid radiators with exposed heating elements and electronics. These present the risk of contact burns and electrocution. What's more, their exposure to the elements may lead to accelerated corrosion or degradation, increasing the likelihood of a dangerous malfunction.
Second, be sure your unit has some form of overheat protection. Sometimes conditions are such that your thermostat may deem it necessary to overproduce heat, such as when a window is opened. You'll want some sort of fail-safe to prevent these automatic systems from drawing unsafe amounts of power. While open-window detection is primarily considered an efficiency feature, it has safety implications as well in this light.
Finally, consider the physical space your radiator will occupy.
Is there directional heating?
Does the unit stand free or hang on a wall?
How long is the cable?
All of these questions inform placement, and thus proximity to flammable material. What's more, a poorly placed radiator presents a tripping hazard, which can lead to fire as well. Cable tidies, rounded edges, and slim designs all contribute to a lower profile that is far less likely to catch on passers-by. Unsurprisingly, we also recommend that you seek out tip-over protection whenever possible. Keypad locks will prevent children or accidental bumps from programming unsafe settings, as well.
Ergonomics, weight, and mobility
One generally buys a small electric radiator because they anticipate moving it with some regularity. If this is indeed your intention, then you will obviously want to consider weight as a mitigating factor. Even the smallest radiators have some heft, and can weigh half a stone. You want to ensure it's easy to physically manipulate, or risk harm to the unit or yourself.
Castor wheels are the gold standard for mobility. If you can find a model which has integrated wheels, all the better. Wheels that you have to install can be a pain upfront, and may be less durable in the long-term (though they are easier to replace if they break). Bigger wheels glide better, though it's nice to have swivels on at least on end of the radiator for making turns.
If you don't have wheels, you'd better have some sort of handle–though both is best! Most small heaters provide at least some grip, but the best ergonomics are found in handles you can put your hand full through. Slight ridges in the frame, on the other hand, are less than ideal. After all, fingers can easily tire toting around a heavy metal radiator, leading to accidental drops and bangs.
If a heater features none of these mobility provisions, it shows a lack of thought towards the user experience on part of the designers. There may still be an effective heater in there somewhere, but we'd tend to doubt the careless design ethos stops with ergonomics, as well.
Controls
Even the simplest radiator will have some sort of temperature control. We recommend you strike above the baseline and get an automatic thermostat at the very least. A heater which detects and responds to changes in ambient temperature is simply going to serve you so much better than a unit which requires constant fiddling with to keep up.
We also appreciate when there are variable power settings. Even a simple toggle that cuts from 2000W to 1000W, for example, will help you keep your power bills low as you tailor your tool to the task. Better still are programmable timers, which you can set to shut down the heater when you don't need it. Smaller radiators rarely feature advanced, weekly timers, but even a basic 24-hour timer will save you a tonne of money.
While an LCD screen isn't strictly necessary, it makes it far more likely you'll get the best use from your radiator. Just be aware that an overly bright display may keep you up at night if you're a light sleeper. LCDs with auto-dimmers can mitigate this concern.
Most small electric radiators won't include a remote control, but they're nice to have. Similarly, Wi-Fi equipped "smart" radiators can be controlled via mobile app, and offer unprecedented control over the efficiency of your unit. Neither of these remote interfaces are necessary, but you'll definitely get better usage out of your radiator with them than without.
Convector vs radiant heat
If you've seen these terms thrown around and not understood them, allow us to demystify the various types of radiators. First, it's important to understand that a convector is a radiator, but with extra steps. The crucial difference is that a by complex physical means, a convector circulates warm air throughout the room, whilst radiant heat is able to permeate a still room.
In practice, however, the difference isn't quite so cut and dry. Many radiators produce both convector and radiant heat. Some convectors use a fan; some take advantage of the physics of rising heat instead. To complicate matters further, there are oil-filled radiators and oil-less radiators, either of which can be convectors, or not.
How to choose the right type of radiator
Confused yet? Don't worry about it too much. Instead, here's some simple logic that can help you sort through the messy jargon to determine the best fit for you:
Have you got allergies? Radiant heat will be better for you, as it doesn't circulate the air and kick up allergens. Oil-filled radiators in particular are great at producing warmth without drying out the air.
Need heat fast? Oil-filled radiators take a long time to heat up, so if you simply need quick heat for a room you'll visit for short periods only, consider your other options. Fan-blown convectors with ceramic or aluminium heating elements are excellent for near instantaneous heat. If you need to quickly defrost icy fingers and toes after a wintry walkabout, you'll appreciate not having to wait.
Looking for continuous usage? Let's bounce back to praising oil; there's simply no comparison in terms of efficiency. While oil-filled radiators take a long time to heat up, they're equally slow to lose this heat once it's built. That means the amount of electricity needed to maintain that temperature drops off dramatically after the warm-up period. Sadly, smaller radiators are by definition less efficient than their larger counterparts, as the ratio of surface area to volume is less favourable.
Light sleeper? You may prefer the silence of an oil-filled radiator. Equally, you may enjoy the white noise of a fan. It's all up to personal preference, of course, just make sure you take it into consideration.
Wattage
Finally, we come upon the subject of power. For heating small rooms, we wouldn't recommend that you purchase anything less than 400W. Anything less is better suited for personal heating under a desk or sink, for example.
On the upper end, 1000-2000W is going to be more than adequate in any application where you'd specifically want a smaller radiator. 2000W is actually bordering on too much, but typically these larger units feature power cuts and advanced temperature controls that allow for comfortable operation in less-than-cavernous rooms.
So in short, most people will be happy with between 400-1000W.
Wrapping up
So there you have it: the best small electric radiators across a variety of price points and intended applications. We strove to pick a wide array of well-reviewed heaters for the best efficiency and comfort for the money.
We've also provided a short buyer's guide for the purpose of informing your own comparison shopping, as well as justifying our own selections.
Are you in the market for a smaller radiator?
What are your requirements?
Do you have any experience with our recommended products?
Leave us a comment below!
Avoid Expensive Breakdown Costs
Boiler Replacement Promise: If it's under 7 years old and we can't repair it, we'll replace it.
Try YourRepair. From £8/mo
All plans include: annual boiler service, all parts and labour, unlimited support and 24hr helpline.