HeatingForce is reader-supported. When you buy through links on our site, we may earn an affiliate commission. Learn more
Best Flame Patio Heater (Reviews) On the Market in 2021
Arguably the cosiest of all heater types, flame heaters are also incredibly powerful. In my post below, I'll talk about how these heaters work, how to keep them safe, and whether or not they're environmentally friendly. I'll also list the best 7 heaters you can find online right now. Read on to find out more!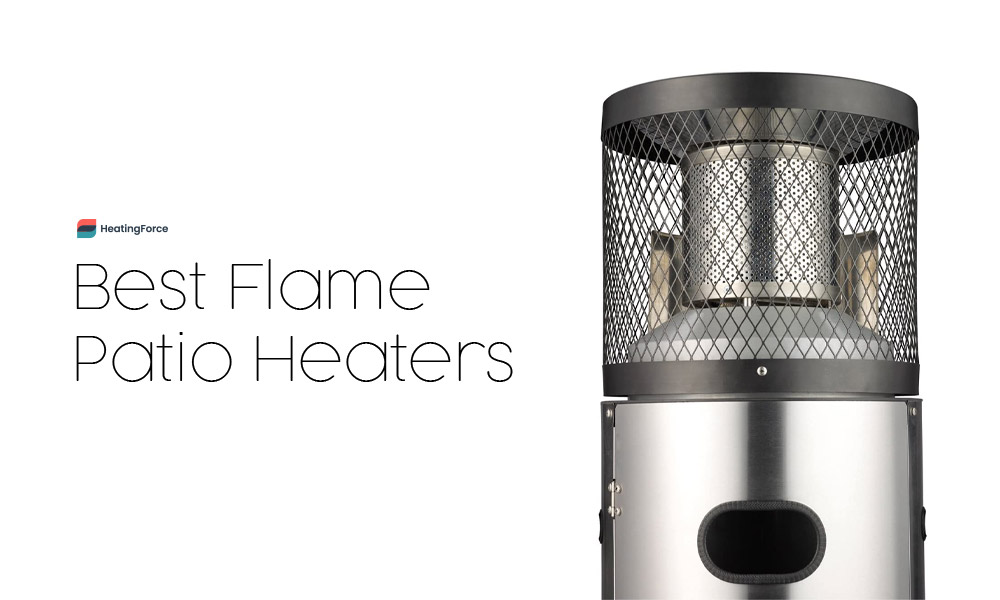 Are You Looking for a Patio Heater With an Open Flame?
Patio heaters come in a vast array of designs, power sources, and mounting options. They can hang off a wall, stand on the floor or top of a table. They can include chimneys and fire pits as well, both of which provide great heat to your garden or patio. Garden patio heaters come with one of the following power sources: electricity, propane, natural gas, or wood. Flame patio heaters are a pioneer in both domestic and commercial settings, and they typically run on gas.
Flame patio heaters heat your patio or garden with real fire, which shoots through a tube, while the heat gets reflected downward.
Of all the flame patio heaters on the market, propane-fueled variants are the most common. They are quite convenient since the propane tank is mounted to the heater unit itself, which makes it easy to move around.
The natural gas versions typically connect to the mains gas and require professional installation.
Here's how flame patio heaters work:
A gas canister is safely bracketed beneath the heating unit and connected with a hose
When the valve on the heating unit is opened by hand, the propane flows to the burners at the top
The ignition button, usually at the front of the unit, is then pressed manually.
Once the gas ignites, the flame shoots up through the heating tube, where it creates that 'flickering' effect that most users find so captivating.
When the flame arrives at the top of the tube, it hits the metal grille, which gets hot and then radiates the heat.
The heater's canopy, typically above the grille, directs the heat outward, to be felt metres away from the device.
Why Choose a Flame Patio Heater
Propane patio heaters are robust, easy to switch on, and produce heat quickly. They can easily be moved around from one spot to another on your patio, which is rather convenient. Electric heaters have some of the same advantages but can be expensive to operate, and you can only move them where there's an outlet. Also, most electric heaters have a weaker output.
That said, propane heaters aren't a "get-it-and-forget-it" type of device. Theirpropane tanksrequire replacement. A 13-kilogram gas bottle should provide you with 14-16 precious hours of warmth before you need to replace it with a new one. Most hardware stores and gas stations provide the service.
Keep in mind that flame patio heaters are not meant for enclosed areas. The ideal location for a flame heater is your open patio or a garden; if you have a closed gazebo or something similar, you're better off with an infrared electric heater.
What Are the Best Flame Patio Heaters?
The Gasdepot Real Flame Pyramid is a powerful, 13 kW heater. Thanks to its pyramid design, the device emits heat in a circular area and is perfect for both domestic and commercial use.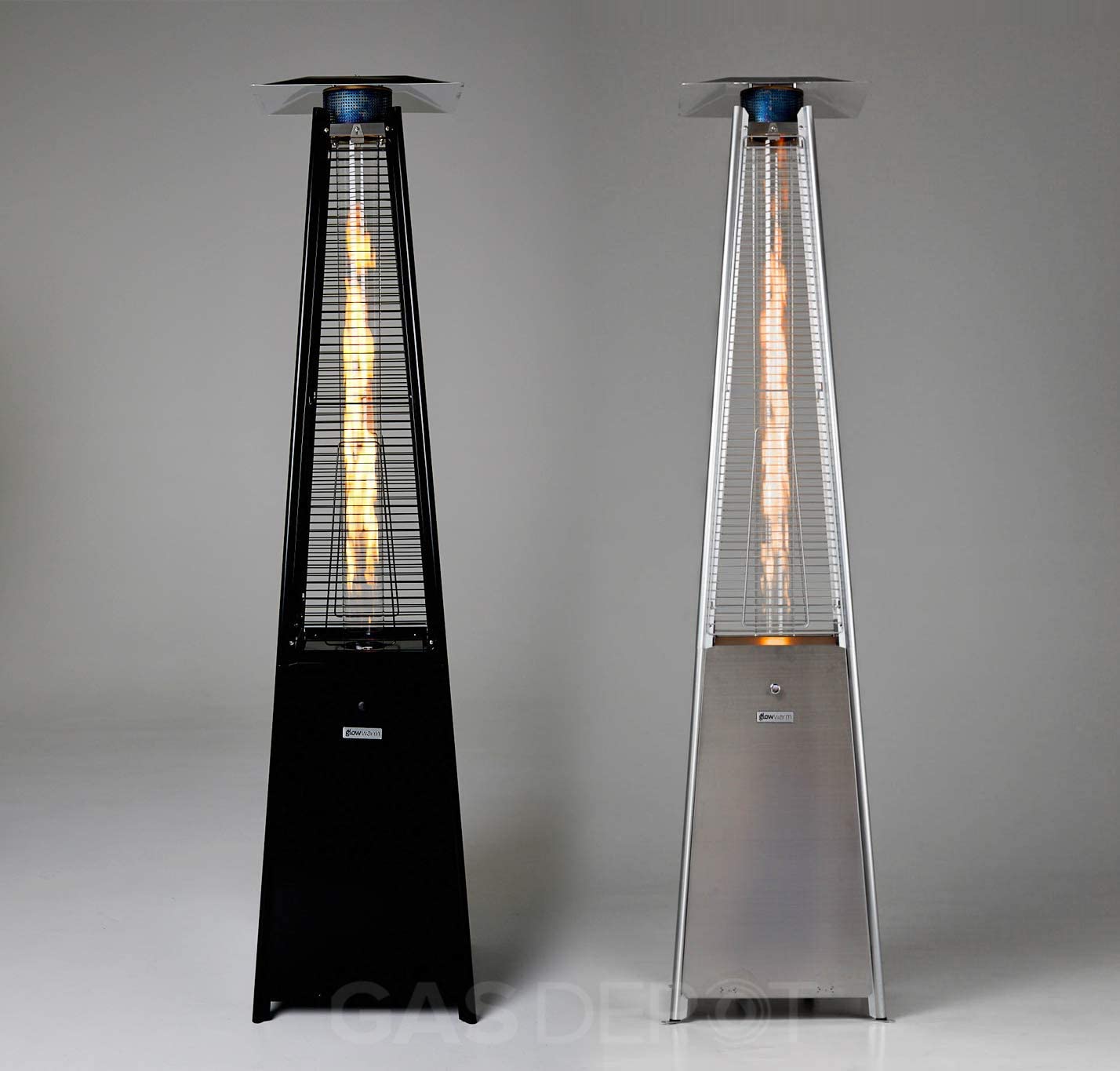 The Gasdepot Real Flame Pyramid will do its job all-year-round. Its intense heat output will keep you toasty in winter, and create a cosy ambience on cool, summer evenings. The heater runs on standard 27mm propane cylinders but can accommodate a 13kg propane gas bottle. The hose, and regulators, are included with your purchase.
Specifications:
Dimensions: 225 X 50 X 50 cm
Material: Stainless steel
Power source: propane
Output: 13kW
What do people say about it? The is some discord between reviewers regarding the ease of assembly. The manual is apparently a bit inadequate, which leads to some challenges. But seeing how it takes 45 min – 2 hours to put the unit together (prompting a tea-break for some reviewers), your DIY skills will also determine how hard you find it to assemble this heater.
Some buyers also pointed out that the glass enclosing the flame comprises 2 pieces that jiggle alarmingly when the heater is moved around. That said, the heater is sturdy and stable, with a strong, cosy fire.
Pros:
Provides a strong heat output
Creates a pleasant ambience
Cons:
Some difficulties with assembling the unit
Glass encasing the flames described as flimsy by some
To summarise
The Gasdepot Real Flame Pyramid is a sturdy heater, with strong output, and excellent consumer reviews. The classic pyramid design adds to the décor and ambience of your outdoor setting.
Another pyramid heater, the Dealourus provides 13kW of heat, which is sufficient for an area of 10 m2. To withstand high temperatures, the Dealourus flame patio heater's frame, burner, and heating grid are all made with stainless steel. Its composition lets this heater withstand extreme weather on your patio, too.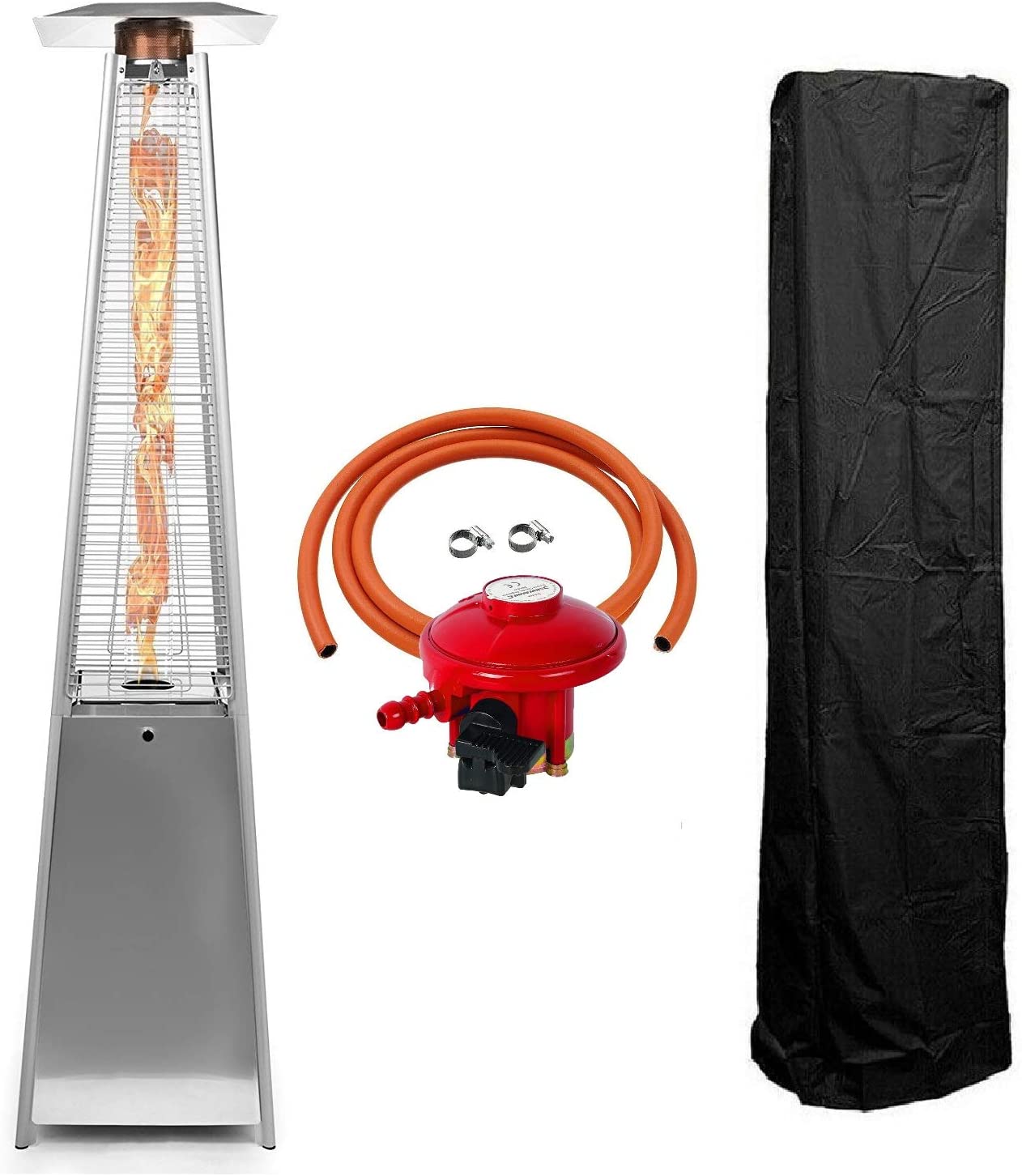 The ability to adjust the heat level lets you create the desired temperature and atmosphere on your patio. For convenience, the Dealourus comes with a set of wheels to let you easily move it around your patio.
It is CE-approved and has a tilt-over safety stop, as well as netting to keep probing fingers away from the flames.
Specifications:
Dimensions: 227 X 50 X 50 cm
Material: Bronzed stainless steel and glass
Power source: LPG/Propane/Butane
Output: 13kW
Safety: Tilt-over safety stop and a netting
What do people say about it? Many reviewers point out that the instruction manual for the Dealourus flame patio heater is not clear. It's lacking steps, and create a bit of a hassle for during assembly. Some parts have to be manipulated into place, and sharp metal edges can potentially cut your skin, so setting it up can be quite an intimidating job. That aside, folks who bought the Dealourus flame patio heater and survived the assembly are very pleased with the final product. The heater looks fantastic and provides a substantial amount of heat.
Pros:
Strong heat output
Sold with cover, hose, and regulator
Reliable safety mechanism, and netting
Heavy-duty stainless steel build
Cons:
Vague instruction manual
Challenging assembly according to some reviews
To summarise
The Dealourus is a powerful, sturdy flame patio heater with an attractive price point. The material is made with extreme weather in mind. The comes with all the standard safety features and has CE approval, which means it is up to European standards. Finally, you get a heater cover with your purchase.
The BU-KO pyramid gas heater is a popular choice with a heat output that's comparable to other such heaters, at 13kW.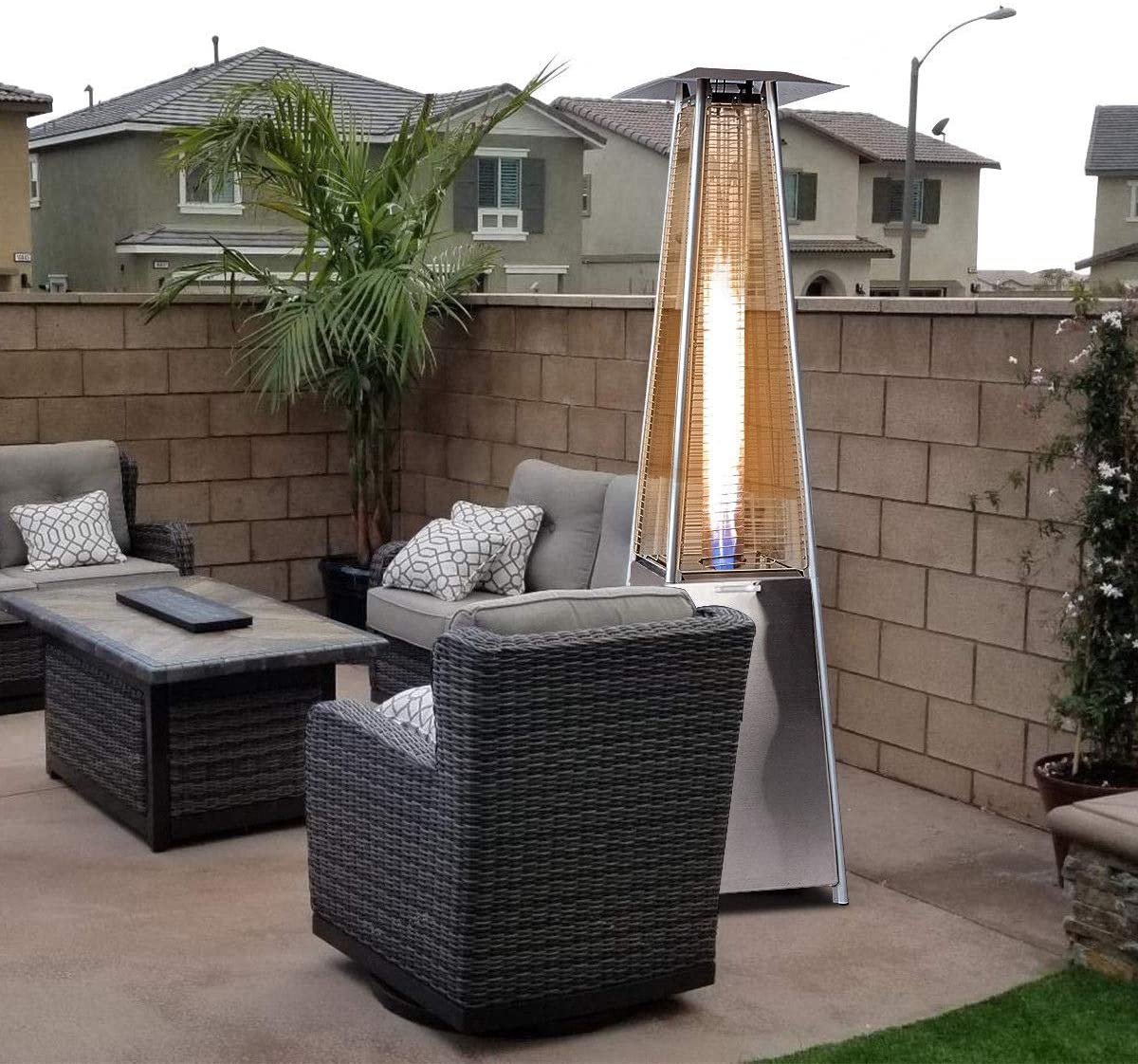 It's made of stainless steel and aluminium and displays a flame in a quartz glass tube. The BU-KO pyramid gas heater comes with an embedded Bluetooth speaker, so now there are absolutely no excuses to wrap up your outdoor party after sunset. According to the manufacturer, the BU-KO heater can withstand most weather and is CE-approved per European safety standards.
Specifications:
Measurements: 227 X 50 X 50 cm
Material: 201 Stainless steel, aluminium
Power source: LPG
Output: 13kW
Safety: Tilt-over safety stop
What do people say about it? Most reviews praise the gentle, easily adjusted heat, as well as the cosy background created by the flame.
The video link provided with assembly instruction simplifies the task of putting this heater together, though it still takes a while to have the whole thing set up. When the job is done, the heater stands firm and appears to be very robust. With the gas bottle mounted, the heater is very stable, even in high winds. The embedded Bluetooth speakers are a nice add-on but are not of the highest quality.
Pros:
Strong, yet gentle and comfortable heat
Embedded Bluetooth speakers
Includes hose and regulator
Includes cover
Assembly instructions video
Cons:
To summarise
The BU-KO patio heater is a very popular gas pyramid patio heater, with excellent consumer reviews. It costs roughly the same as similar designs but offers better quality and a few extra features that definitely make it worth the money. A step-by-step setup video guide takes the guesswork out of the assembly.
The GlowWarm patio heater features the popular canopy look and comes with a set of wheels to help you easily move it around your patio. The heater has an anti-tilt switch that instantly turns off the gas supply should the unit tip over. It has an ignition button powered by AA batteries, so you don't need to rely on matches or lighters to start the fire.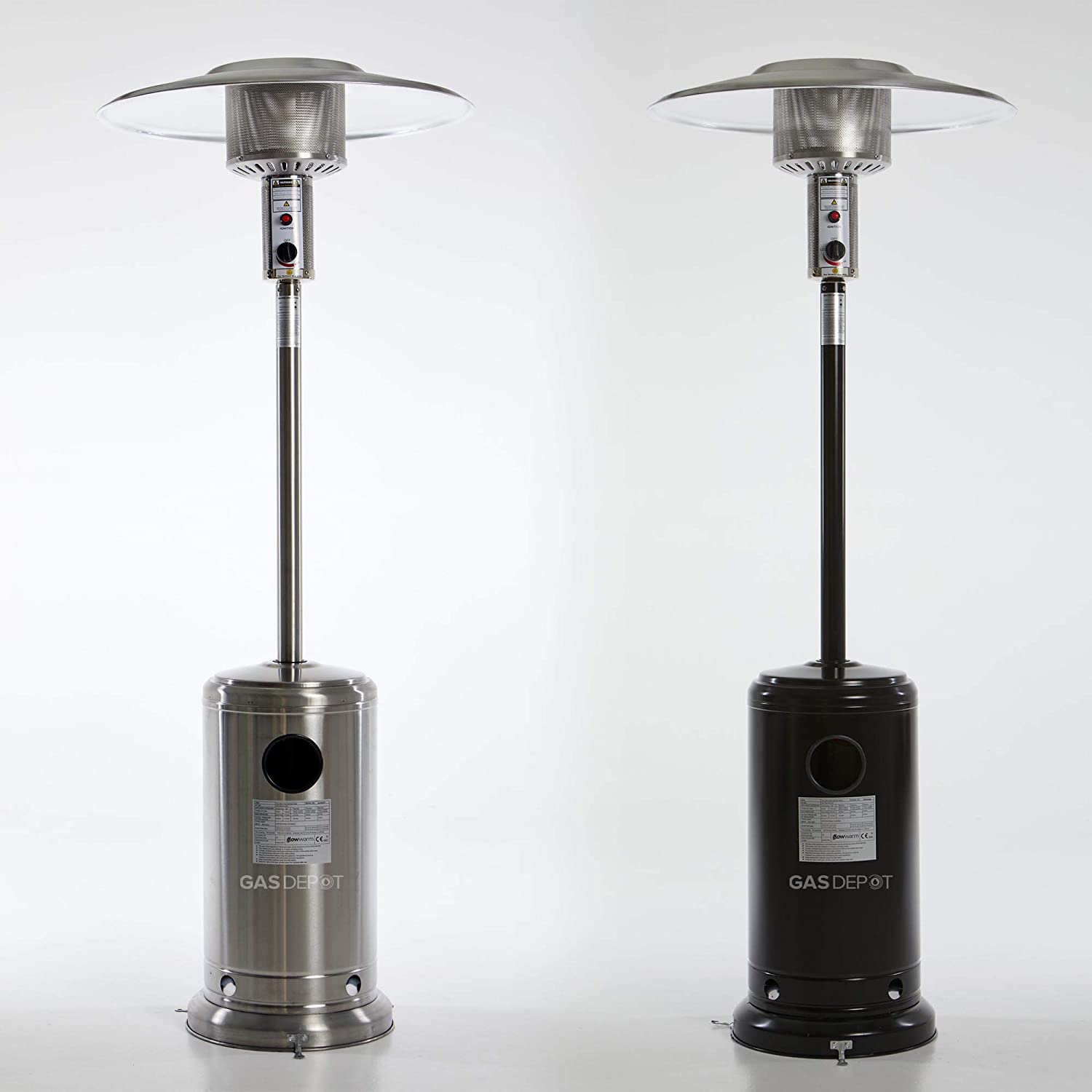 Specifications:
Dimensions: 224 cm H X 85 cm hood diameter
Material: Stainless steel
Power source: propane
Output: 13kW
Safety: anti-tilt switch
What do people say about it? Folks who purchased the GlowWarm real flame patio heater are generally content with the balance between price and quality. The GlowWarm creates a strong, yet comfortable heat on your patio area. It is easy to put together (the average assembly time is 45min). The batteries required for the ignition button are not mentioned in the instruction manual, which creates confusion for some people.
Pros:
Decent quality
Powerful heat output
Short assembly time
Includes hose and regulator
Includes cover
Cons: 
A confusing assembly manual
To summarise
GlowWarm's heating unit and hood ensure that the heat is distributed evenly to the surrounding area. What's more, the heater's design creates a sleek streetlight aesthetic. Crucially, GlowWarm is a powerful heater, with a sturdy base, and is relatively simple to put together. You also don't need to splurge on a separate heater cover, as it's included with your purchase.
At first glance, you may be forgiven for thinking that the Enders Polo 2.0 is just a base. But despite its deceptive, stumpy looks, the device is indeed a heater and delivers a max heat output of 6kW, that lasts 25 hours if you've got a full, 11-kg gas bottle.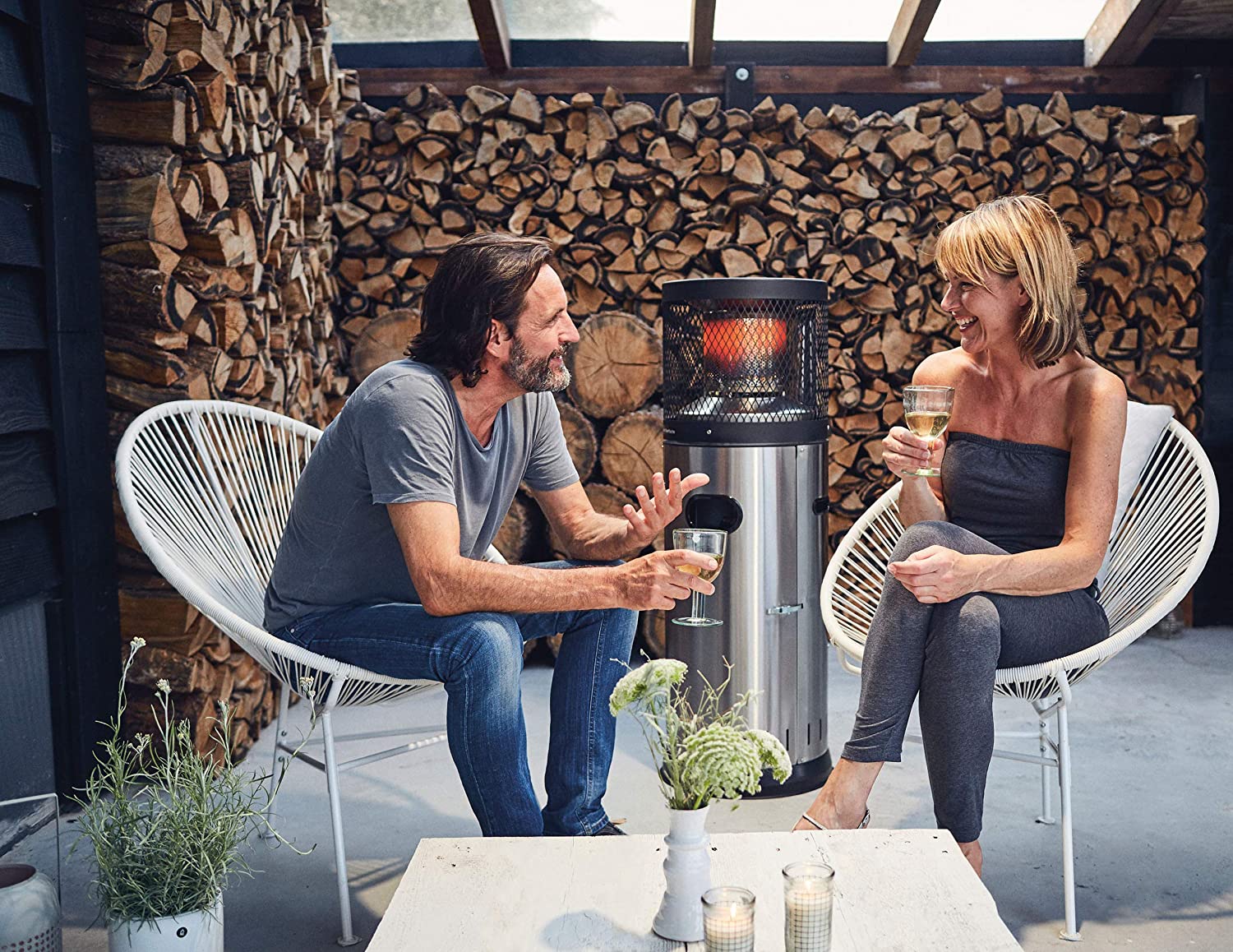 It emits heat precisely at the sitting height, making it a convenient and efficient choice. There is an integrated reflector that may be adjusted in height for more accurate alignment and orientation, too. The Enders Polo 2.0 has 2 heat levels: 3kW and 6kW.
For convenience, a draw bail latch makes it easy to open and close the gas cylinder, and the stand comes with a set of wheels. A handle helps you move the heater around on the patio.
With a thermoelectric flame failure safety device and anti-tilt system, this heater certainly lives up to high safety standards.
Specifications:
Dimensions: 115 x 42 x 42cm
Weight: 13 kg
Material: brushed stainless steel
Power source: propane gas 13kg
Output: 6kW
Safety: thermoelectric flame failure safety and an anti-tilt switch
What do people say about it? The general consensus is that the Enders Polo is a brilliant, sturdy flame patio heater, with decent heat output. The assembly can be a bit of a hassle (isn't it always?), and the instruction manual lacks some critical information (they usually do). But on the plus side, this heater is made with high-quality material (stainless steel), and it gives off strong, yet pleasant heat.
Pros:
Heat is emitted at the sitting level.
Better efficiency = longer burn hours
Cons: 
No flickering flame to enjoy.
Not sold with the regulator.
To summarise
The Enders Polo 2.0 has a rather singular design, which gives it its best feature – seat-level heat. This heater is also quite efficient, giving you 25 hours of warmth at the highest output setting from a single bottle of gas. Finally, with a stainless steel frame, you needn't worry about wear and tear.
My last pick on this list is a bit unique. Unlike its bulky floor-standing counterparts, this one is relatively tiny. In fact, it fits on your table, and you don't need any gas bottles, hoses, or regulators to keep it burning. You also needn't worry about harmful fumes, so you can safely use this heater indoors.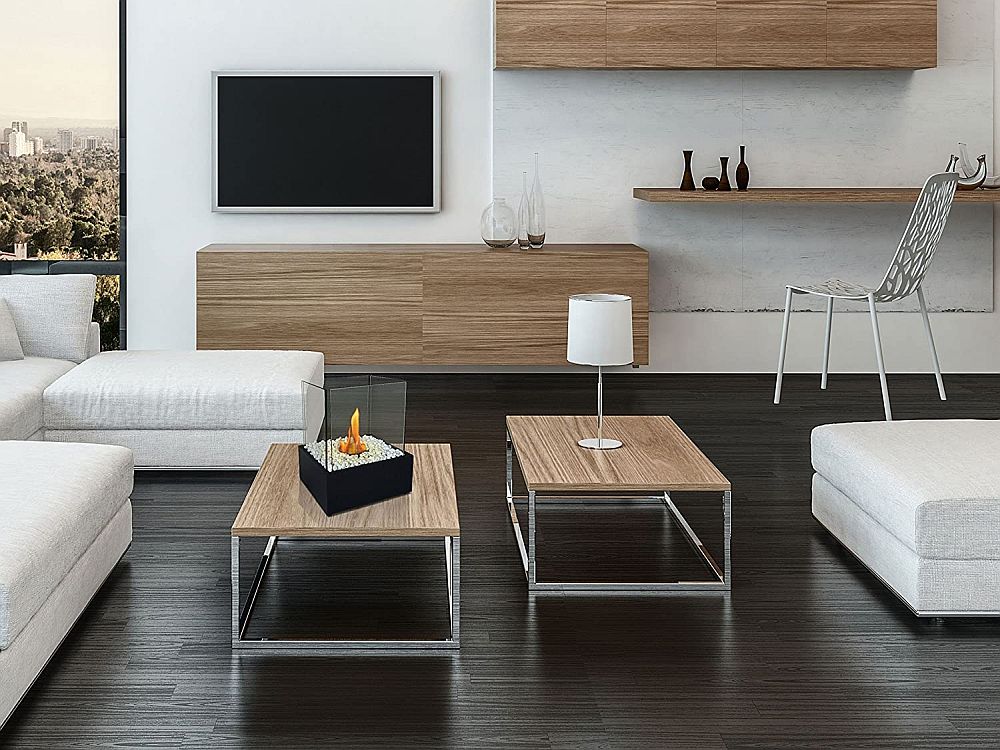 The Purline Nympha Square fireplace is a tabletop real flame patio heater designed for smaller gatherings.
This miniature fire pit runs on natural alcohol (ethanol), which only releases water vapour as it burns. This liquid fuel is of vegetable origin and is clean and harmless to the environment. It's obtained through a natural process of fermenting plants, such as sugar cane, beet, and by distilling the starch contained in wheat and maize. 1 litre offers roughly 3-4 hours of burning.
Specifications:
Dimensions: 24.5 x 20.5 x 29 cm.
Weight: 3.5kg
Material: Metal/tempered glass
Power source: Bioethanol
What do people say about it? The consensus is that Pureliny Nympha is more about the atmosphere than the heat itself. It provides some warmth, though less than its gas-fired peers. That said, the mini-firepit adds a cosy look to your dining table.
Some reviewers point out the need to be careful during refuelling. As with any other bioethanol heater, it's imperative to let the device cool off completely before adding any fuel.
Pros:
Fits on a table
Uses an environmentally friendly fuel
Cons:
Provides only a small amount of heat
No way to adjust the heat
Refuelling may take a while, as the unit must cool off first
To summarise
If you're looking for ambience more than heat, this little portable fire pit may be the right choice. It still produces heat and acts as a source of warm, comfortable light at your dining or coffee table. You can safely use this device indoors, just be sure to follow the safety instructions and never leave it unattended.
Flame Patio Heater FAQs
Are Flame Patio Heaters Safe to Use?
The quick answer is, yes, they are. Patio heaters, especially those from quality brands, have a safety mechanism called an anti-tilt safety stop. This device automatically shuts off the gas supply if the heater is tilted.
However, even with its flames extinguished, a falling 30-something kilogram heater can certainly damage nearby items, or even people and pets. So it's better to be on the safe side and ensure that your flame patio heater is firmly anchored. Of course, a heater gets hot, so don't let kids and pets run around or climb, and let the device cool before moving it around or putting on a cover.
Patio heaters are designed to be used outdoors, or in semi-open, well-vented spaces to avoid a build-up of carbon monoxide, nitric oxide, and nitrogen dioxide. Without ventilation, these gases can be fatal, so never use a gas patio heater indoors (also a significant fire hazard), in a garage, or a similar enclosed place.
Also, never place anything immediately above or below the patio heater to avoid overheating. Always follow the safety guidelines and use your common sense.
Are Flame Patio Heaters Water-Resistant?
Avoid leaving your flame patio heater unprotected out in the rain. If you're storing it outdoors, buy your heater a durable cover (make sure the heater is turned off and has time tocool before you cover it).
During heavy precipitation, consider moving your heater to a safe, covered location, and keep the device upright.
Are Flame Patio Heaters Environmentally Friendly?
If you are curious about the impact your future patio heater has on the environment, you are not alone. Most people are becoming more and more aware of their carbon footprint.
Of course, running a heating unit in an open-air setting is never efficient. The heat escapes too quickly. And, regardless of which fuel you burn, you're sending CO2 into the atmosphere.
Wood is a low-carbon alternative to natural gas, but only if every tree we burn gets replaced by another, thus recycling the CO2. Globally, this is not the case at all. And, given that most electricity in the UK doesn't come from renewable sources, we can't call electric heaters a 'green' alternative either.
So, if you're using an outdoor heater, try to limit its use to when you genuinely need it.
Slashing your heater's output and running time will reduce your fuel consumption, slash your carbon footprint, and help you save money.
Final Thoughts
I hope that my list of the top flame patio heaters will help find the right device.
If you've used any of the heaters I listed above, or any other you'd like to tell us about, please leave our readers a comment below.
Avoid Expensive Breakdown Costs
Boiler Replacement Promise: If it's under 7 years old and we can't repair it, we'll replace it.
Try
YourRepair
. From £9/mo
All plans include: annual boiler service, all parts and labour, unlimited support and 24hr helpline.