HeatingForce is reader-supported. When you buy through links on our site, we may earn an affiliate commission. Learn more
Best Wall Mounted Patio Heater (Reviews) on the Market in 2021
Most patio heaters roughly fall into 2 categories: freestanding and wall-mounted. Today, we will talk about the pros and cons of the latter. I will walk you through some frequently asked questions, and introduce you to the best 6 wall-mounted heaters available online today.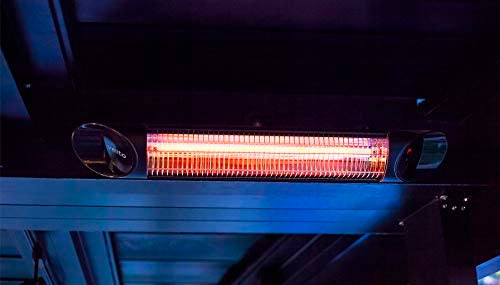 What Is a Wall-Mounted Patio Heater?
Wall-mounted patio heaters are hardwired into the wall and typically hang off a bracket. They come in different sizes and designs. Some provide you with a warm and mild glow, while others blast intense waves of heat. Many wall-mounted patio heaters feature remote controls and a variety of settings, making it easier for you to adjust them to the desired output and angle.
Is a Wall Mounted Patio Heater Right for Me?
A wall-mounted patio heater is an excellent choice if you want to save up floor space. They also help you avoid the inconvenience and hazard of having a cord anyone can trip over. If you have small children or pets, a wall-mounted heater is the most convenient and safest choice.
Wall-mounted heaters are also more discreet than their floor-standing peers. That's because you can hang them right where you need them, like over a dining table, yet still keep them somewhat out of sight.
What Fuel Do Wall-Mounted Patio Heaters Use?
Most wall-mounted patio heaters are run on electricity. I imagine the difficulty of supplying a wall-mounted unit with gas makes such variants less popular (or non-existent).
The most common wall-mounted patio heaters are a mix of electric units using either convection or infrared radiation to transmit heat.
Convection heaters
Convection heaters simply heat the air inside them, then push it out. The warmer air becomes less dense than, the colder air around it and rises up. The cooler air below then gets drawn into the heater, and the cycle continues as the surrounding area gets heated.
Convection heaters are not the best option for an open outdoor patio. Convection, as I mentioned, diffuses hot air to the coldest adjacent area. If you're in an open space, the hot air will promptly rise up and vanish, leaving you cold, frustrated and with a big hole in your wallet. That said, in an enclosed space with some wind screening, such as a gazebo, convection heaters do work rather well.
Infrared heaters
Infrared heaters, on the other hand, project heat wherever you aim them, and as such, they can be a better option for open patios and gardens.
Whichever type you prefer is up to you. Just keep in mind, that since convection heaters heat, and dry the air around them,people who have sensitive skin and dry sinuses might find them irritating.
The Absolute Best Wall-Mounted Patio Heaters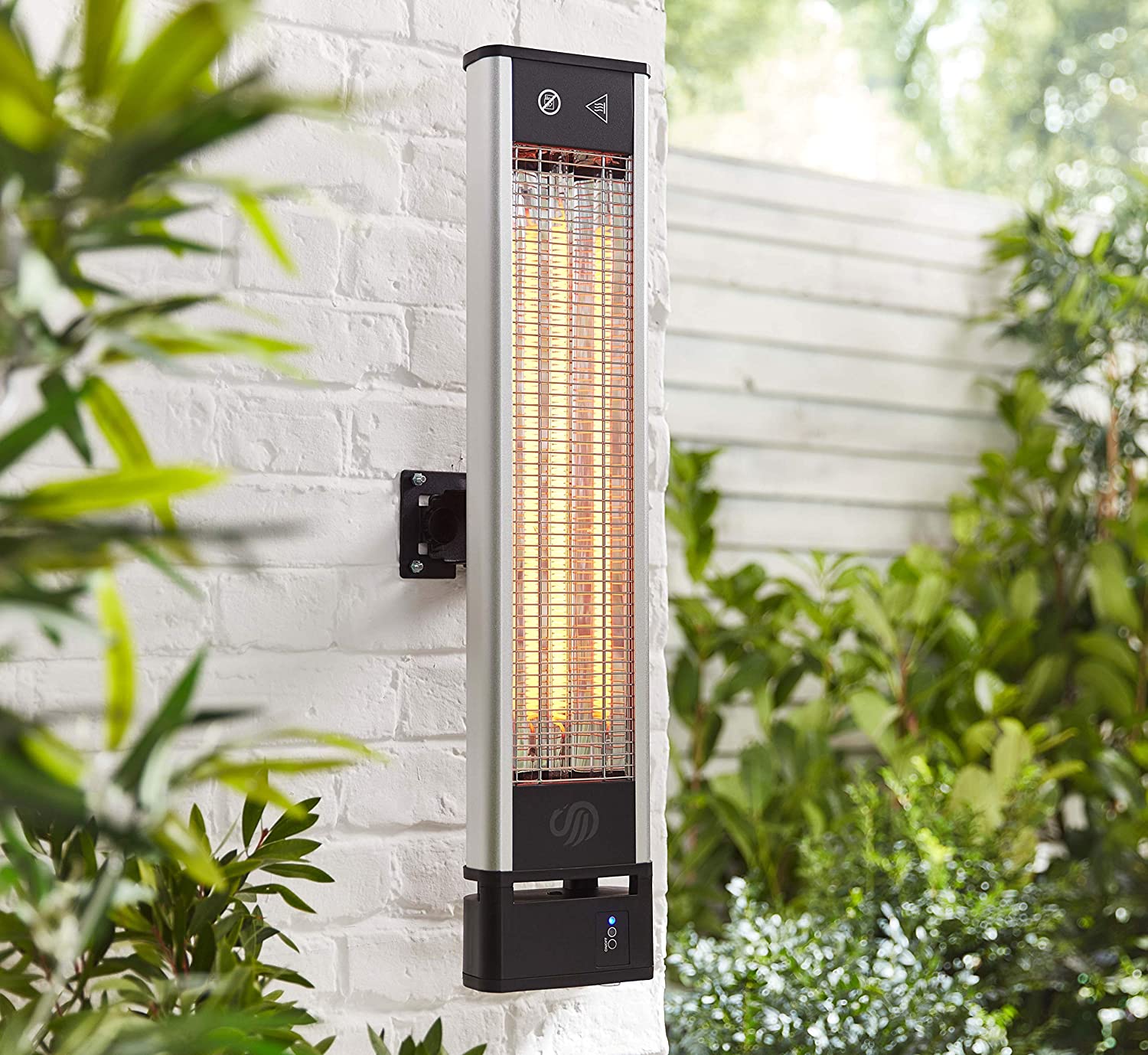 The Swan Al Fresco wall-mounted heater is a convection unit. It is designed with a high-efficient carbon fibre heating element, and an aluminium reflector to create optimal heating output. It is made in a simple, industrial aesthetic that will not disturb your patio décor. The remote control enables you to mount it high enough to keep away from probing fingers. It has an output of 1800kw.
Specifications:
Dimensions: 86 x 21 x 16cm.
Weight: 3.86 Kg.
Cord length: 1.8 metre
Material: Aluminium
Water resistance rating: IP44 – protected against objects larger than 1mm, and from water splashing from all directions.
What do people say about it? Most reviews conclude that the Swan Al Fresco wall-mounted heater works well, is easy to assemble, and has a sound heat output.
Pros:
Easy to mount.
Quickly starts to produce heat.
Cons:
There is no way to adjust the angle.
To summarise
The Swan Al Fresco is a reasonably priced convection heater that works as advertised.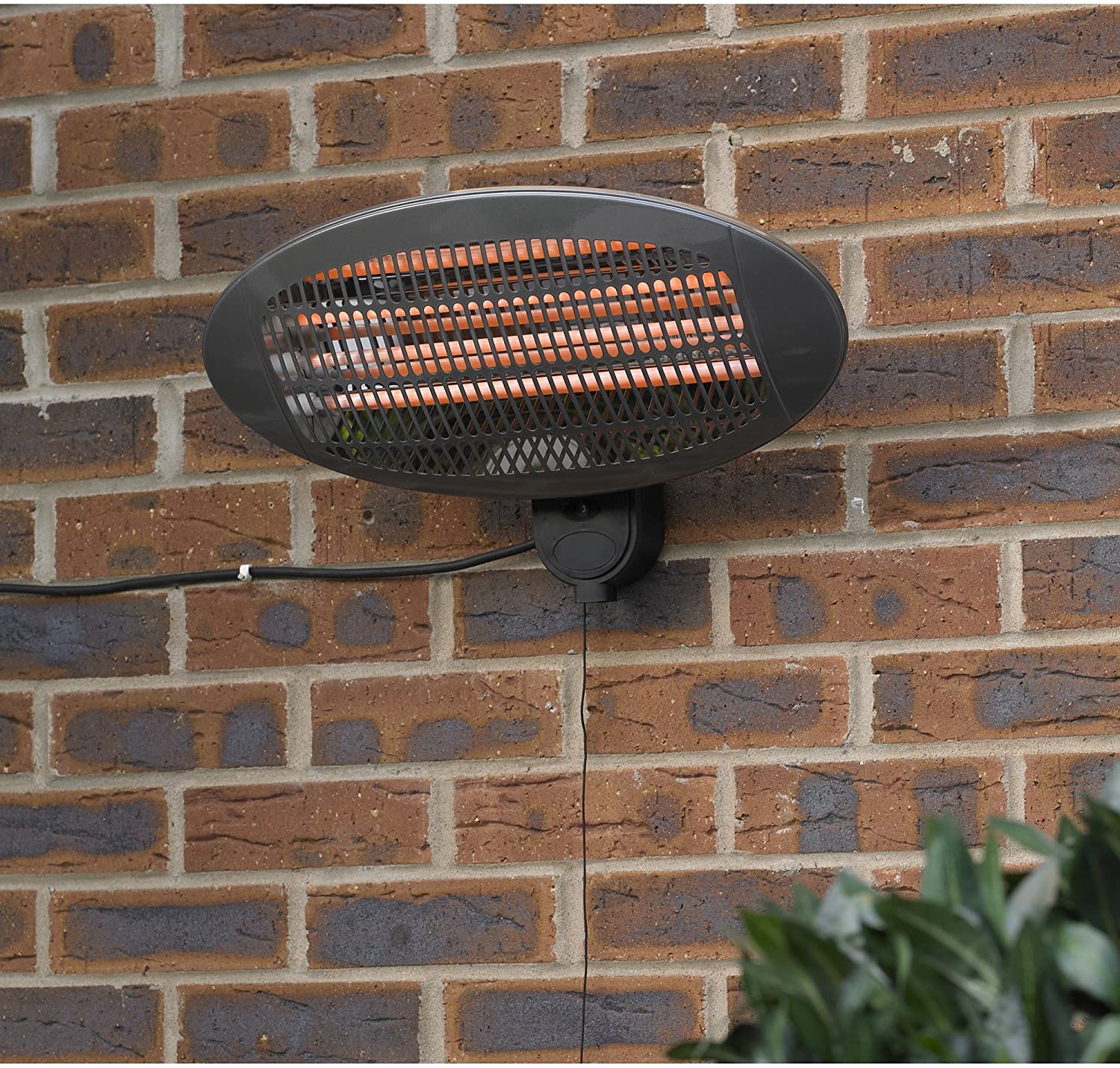 The Kingfisher model is a 2000w convection heater with a heating element that can be adjusted at an up and down angle, within a range of 45 degrees. It is protected against overheating and has an anti-tilt switch. The heater gets mounted with 4 screws on the back bracket, with a slide function for taking it down and putting it back up quickly.
Specifications
Dimensions: 50.5 x 16.5 x 25.2 cm
Weight: 2.4 kg
Cord length: 2.5 metre
Water resistance rating: IPX4 – resistant to water splashes in any direction
What do people say about it? The Kingfisher gets mixed reviews, even though most folks agree that it does the job well. It emits ample heat, but you have to be directly in front of it to feel it. The installation is easy, and the cord length is suitable. As far as being able to withstand the rage of the elements, a few reviewers also mentioned that they kept their Kingfisher mounted to an outdoor wall all year, with no resulting deterioration or other issues.
Pros:
It is easy to take off the bracket.
Cons:
It gets too hot to touch.
To summarise
The Kingfisher wall-mounted heater comes with some essential safety measures that few of its similarly priced peers have. What's more, it is easy to install and remove from the bracket. It's splash-proof and has an impressively usable cord length of 2,5 meters.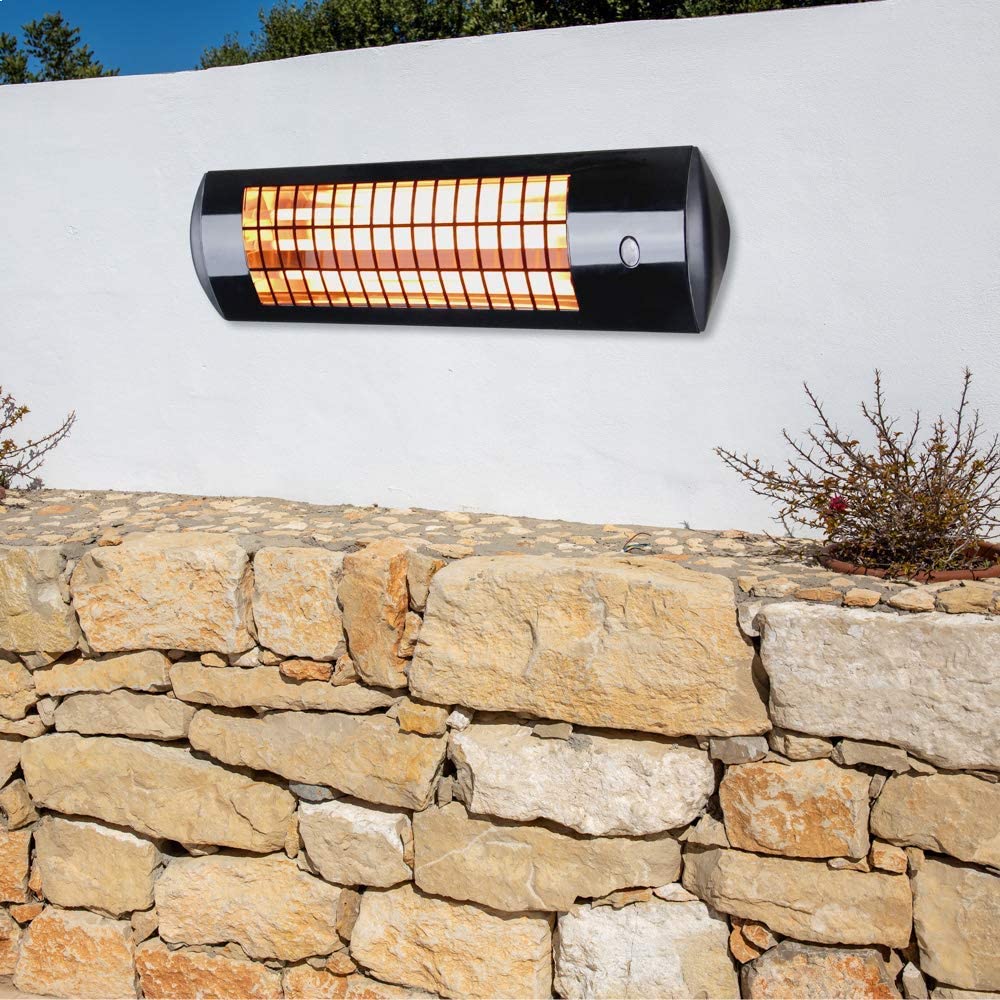 Firefly is a well-known brand making infrared patio heaters with heat resistant quartz tubes for quick, direct, radiant heating. It has 3 heat settings: 600w, 1200w, and 1800w. Apart from basking you in direct heat, the Firefly's orange light also fills your space with a warm, pleasant ambience.
Specifications:
Dimensions: 58 x 16 x 17 cm
Cord length: 1.3 metres
Water resistance rating: IPX4 – resistant to water splashes in any direction
What do people say about it? The quality of the mounting, which can potentially be dangerous if not up to standards, is disputed by some customers. And, a few of the reviewers reported the unit getting hot enough that the paint on its display had melted. That said, most folks are very pleased with both the heat output (even on the low setting) and the quick installation.
Pros:
Cons:
No remote control.
The heater seems to lack an overheat protection device.
To summarise
The Heatlab will keep you warm, and you don't need much know-how to install it. That's essentially what got it on my list, and believe me, these 2 advantages already place the Firefly far ahead of the pack.
But, since I'm giving a fair, balanced review, I can't omit this unit's flaws either. The biggest one is its alleged tendency to self-destruct when left on for too long. Whether or not you want to trust the negative reviews is up to you. But, you've been warned.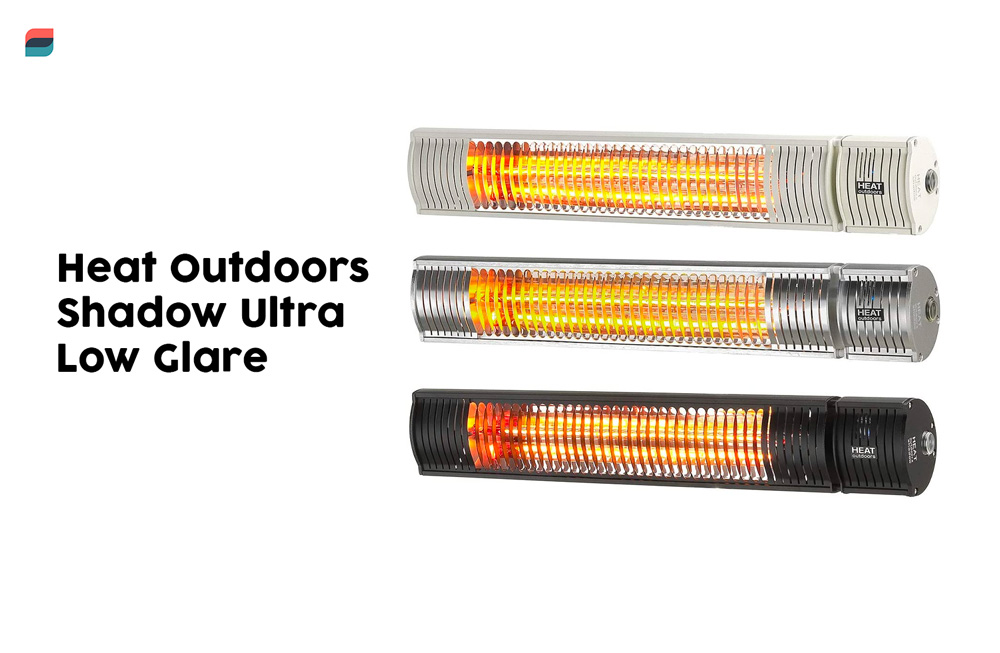 The Shadow Ultra Low Glare infrared patio heater comes in 3 different colours: white, silver, and black, and also a remote-controlled version. It is designed with a large element lamp and a highly focused parabolic reflector. The latter, combined with a 1500kw output, will blanket you with ample warmth.
The device is 100% waterproof, with an impressive rating of IP65, and made from anodised aluminium which aids its corrosion resistance. It is equipped with an L-bracket for mounting and a hinge for positioning.
Specifications:
Dimensions: 13 x 55.5 x 10.5 cm
Weight: 2.5 kg
Cord length: 1.8 metres
Water-resistance: IP65 – protected against water projected from a nozzle
What do people say about it? With higher prices, buyers are bound to have equally higher expectations. That said, the vast majority of reviewers seem satisfied with the Shadow Ultra GlowGlare. Most agree that this is a quality heating unit, which performs very well. It is easy to install and hangs sturdily in the bracket while radiating a pleasant, warm glow.
Pros:
Quality material.
2-year warranty.
Cons:
To summarise
The Shadow Ultra Glow Glare has all the features you may want from a wall-mounted patio heater. It is adjustable, has different heat settings, and it is totally waterproof. Remote control is a must-have for a wall-mounted unit, so make sure you order the remote-controlled version.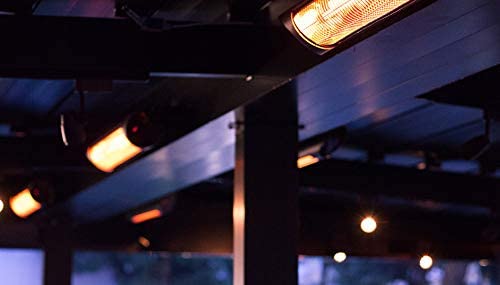 The Veito Blade 2500 infrared heater can be either wall- or ceiling-mounted. It has 4 different heat levels – 1000kw, 1500kw, 2000kw, and 2500kw – which you can adjust with the remote control.
The heating unit can be tilted at a 45-degree angle, and as a safety measure, there is both a tilt-over-stop, as well as an overheat protection feature. With these safety devices, you can rest assured that the heater will shut itself off should it exceed the temperature limits. For your convenience and to help you slash energy use, the heater also comes with a timer function.
Specifications:
Dimensions: 9 x 90 x 13cm
Weight: 2.2 kg
Material: Aluminium
Cord length: approximately 2 metres
Water-resistance: IP55 – protected against water projected from a nozzle from any direction.
What do people say about it? Most reviewers claim that the Blade 2500 is an excellent device with powerful heat output. The highest output, at 2000w, is actually too strong for most users. The assembling is easy, and the heating instant and powerful – you can feel it 3 metres away.
But it's not all rosy. The remote control gets slammed for not making any sense. (Apparently, the heater turns on immediately when it's plugged in, and while there is an OFF button on the remote, the ON button is nowhere to be seen). There is also no way of knowing which heat level the unit is working on, as both the remote control and the heater itself lack a display.
Pros:
It has all the features you need – different heat settings, adjustable angles, remote control, safety measures, and different mounting options
Cons:
Remote control is poorly designed
The power cord is too short
To summarise
It is an excellent product that mostly gets satisfactory reviews from buyers. The heat output is strong, and most folks say they have not yet needed the highest level. It has all the features you want from a wall-mounted patio heater, and you can mount it to the ceiling too. Apart from the curious remote control, the Veito Blade 2500 seems to offer great value for your money.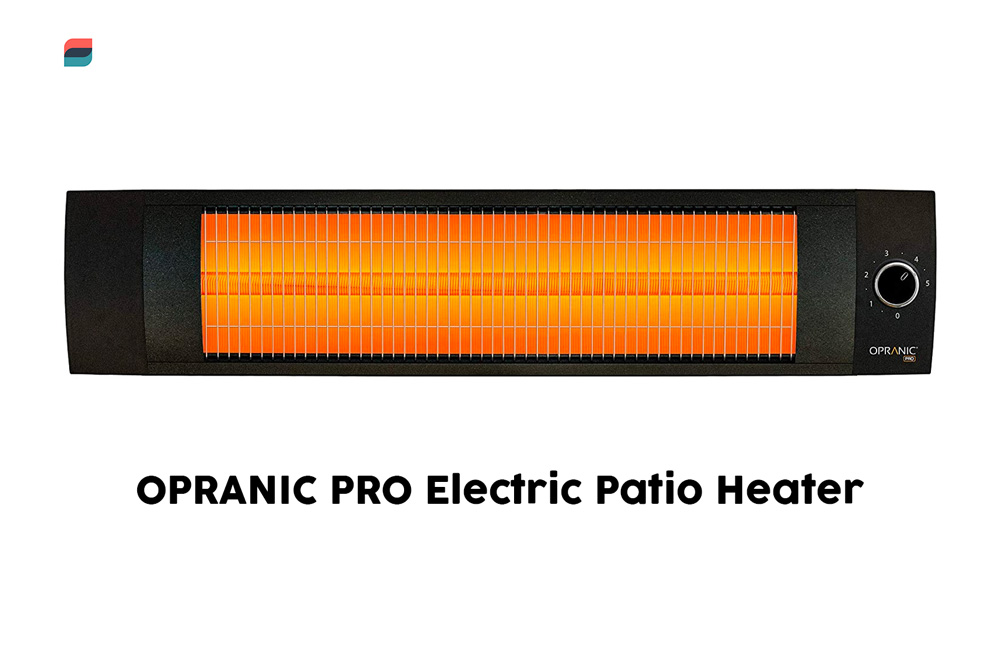 The Opranic Pro Lava infrared heater has thermostat control with 5 heat settings, 1.5kW being the highest. The aluminium housing is rustproof, and you can mount it on either walls or the ceiling, horizontally as well as vertically. A 2000w remote-controlled version is available too.
This wall-mounted patio heater is IPX4 certified, which makes it splash-proof.
Specifications:
Dimensions: 84.7 x 8.2 x 18.5 cm
Weight: 3.68 kg
Material: Aluminium
Cord length: 1.8 metres
Water-resistance: IPX4 – resistant to water splashes in any direction
Warranty: 2-years
What do people say about it? Overall, the sentiment is somewhat optimistic. The Opranic boasts powerful and immediate heat output and is made of quality parts. It is well worth the money, despite leaning more to the expensive side. One customer mentions that even the mounting bracket screws are made of stainless steel (OK, so the public standards for these things are meagre nowadays). It also gets some points for being quick to mount and assemble.
Pros:
Different mounting options
Adjustable, reliable heat output
Cons:
Safety features are not mentioned in detail
To summarise
This wall-mounted infrared heater scores relatively high in my books (and, more importantly, the consumers'). The thermostat's a handy enough doodah, the heat output is excellent, and the mounting is quality-made. If you desire more robust heat output or remote-control, the Opranic Pro has these 'premium' versions as well.
Wall Mounted Patio Heater FAQ
Are Wall-Mounted Patio Heaters Safe?
As I mentioned earlier, one of the most significant advantages of a wall-mounted heater is that there is doesn't create a tripping hazard on the floor. Even the unit itself is safely bracketed to the wall, away from your children's fingers, which makes accidents far less likely.
Wall-mounted electric heaters also have numerous safety features that make them both safe and reliable. Wall-mounted heaters can, for the most part, be left unattended safely.
Still, take precautions where possible. Be careful not to mount your heater too close to a patio awning, or any ornaments, and follow installation instructions closely. Mounting your patio heater too close to a ceiling or even on a wooden wall can pose a fire hazard or create damage over time.
Like any electrical device meant for outdoor use, patio heaters have a degree of water resistance. Per the International Protection Code, this quality is called `Ingress Protection (IP)`, and it determines the protection electrical devices have against foreign bodies and liquids. For instance, if you recall, IP65 and IP55 mean 'withstands water projected from a nozzle', while IPX4 is merely 'splash-resistant'. Pay attention to these ratings, and be sure to protect your outdoor appliances from the elements despite these ratings.
What Are the Pros of Wall-Mounted Patio Heaters?
A wall-mounted heater is much more discreet than their floor-standing counterparts or portable options.
It can be placed precisely where you need it – over a dining table, on the wall above your workbench, or even at your feet (be careful).
There is no electric cord to trip over or unit to bump into, potentially creating a fire hazard.
Wall-mounted heaters often produce infrared heat, which is considerably more cost-efficient and has a lower carbon footprint.
What Are the Cons of Wall-Mounted Patio Heaters?
Wall-mounted heaters are limited in portability compared to their freestanding peers, which can be moved in your garden or patio.
Final Thoughts
Wall-mounted heaters offer a comfortable, discreet way to heat your patio. I hope that my list of heaters, and the accompanying guide, will help you find a fitting model.
If you feel that I've missed anything, or you have an experience you'd like to share, please let our readers and us a comment below.
Avoid Expensive Breakdown Costs
Boiler Replacement Promise: If it's under 7 years old and we can't repair it, we'll replace it.
Try
YourRepair
. From £9/mo
All plans include: annual boiler service, all parts and labour, unlimited support and 24hr helpline.