The Baxi Platinum is a combi boiler that's been getting a lot of attention recently for one reason; warranty.
Fact: even the best boilers break. When they do, homeowners want the peace of mind that they are going to be fixed with little or no expensive.
The Baxi Platinum gives homeowners exactly that, with a whopping 10-year warranty. And, with prices a little below that of the equivalent Worcester combis, it represents excellent value for money.
Before we go any further, check out our boiler installation cost guide.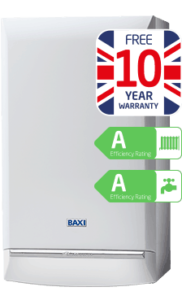 Baxi Platinum Price
There's no doubt that most people naturally gravitate towards a Worcester when looking for a new boiler. But, why? Brands such as Baxi, Ideal and Vaillant all offer products of similar quality and either with higher warranties, or a lower price.
A typical Baxi Platinum combi installation is going to be around £200 less than the equivalent Worcester. This assumes that the installation cost includes materials such as flue, flue extensions, controls and a system filter.
You can get exact prices/quotes from up to 3 installers here.
Boiler Size
There's one big question we are asked; will it fit in a kitchen cupboard? And, the answer is no.
Baxi designed the Platinum HE combi with output in mind, and not size. The dimensions mean it's just slightly too big.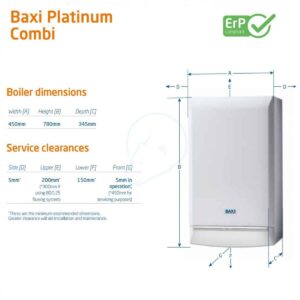 Flow Rate
Baxi have made sure the Platinum range really stands out. Not only are they excellent value for money, they are extremely powerful. The larger 33kw and 40kw boilers have a 0.5L higher flow rate than the equivlent Worcester.
| | | | |
| --- | --- | --- | --- |
| Model | Heating Output | Hot Water Output | Flow Rate (lpm) |
| Platinum 24HE | 24kw | 24kw | 9.8 |
| Platinum 28HE | 24kw | 28kw | 11.5 |
| Platinum 33HE | 28kw | 33kw | 13.5 |
| Platinum 40HE | 32kw | 40kw | 16.4 |
Warranty
As we've already mentioned, the Baxi Platinum comes with an impressive 10-year warranty. The terms and conditions of the warranty can be found here.
Remember, like most boiler manufacturers, Baxi stipulate that the boiler be serviced annually by a Gas Safe engineer.
Suitable Property Size
| | |
| --- | --- |
| Model | Property |
| Platinum 24kw Combi | Smaller properties with 5-6 radiators and 1 bathroom |
| Platinum 28kw Combi | Small properties with 5-8 radiators and 1 bathroom |
| Platinum 33kw Combi | Mid-range properties with 3-4 bedrooms and up to 10 radiators |
| Platinum 40kw Combi | Large properties with up to 15 radiators and the ability to power 2 showers at once |
It's worth noting that this table is simply a guideline. Different properties have different heating and hot water demands. My advice would be to consult with a qualified Gas Safe engineer before making a purchase. They will be able to assess your property and calculate which boiler is going to be best suited.
Efficiency
Like most new boilers from leading brands, the Platinum combi is incredibly efficient. This ERP A-rated boiler works at over 90% efficiency.
Alternatives
Naturally, Worcester have a full line-up of boilers that rival the Platinum combi. We've covered Worcester combi boilers in detail here.
As a quick guide, the Worcester 25I would be a suitable alternative to the 24kw Platinum, and the 30I an alternative to the 28kw Platinum. As we mentioned earlier though, they are slightly more expensive.
An option many people are considering is the Ideal Vogue. We've covered the Ideal Vogue in detail here. This is really something of personal preference, as they both have 10-year warranties and the price is similar too. For instance, a C40 Vogue and a 40kw Platinum are both around the £1,200 mark.
If you're looking for a cheaper alternative, still with a good warranty, it's worth considering the Baxi Duo Tec and Ideal Logic Plus. Both boilers weigh in with a decent warranty of 7 years. More importantly, they are over £250 cheaper from most plumbing merchants.
Baxi Platinum Review Verdict
In terms of boilers with a 10-year warranty, there's nothing in it between the Ideal Vogue and the Baxi Platinum.
For those that are looking for something a little cheaper and don't see the 3-year extra warranty being worth £250, the Ideal Logic Plus and Baxi Duo Tec are certainly where I'd be focusing my attention.
You can get exact quotes from up to 3 installers here.
Hopefully this review has given an overview of the Platinum combi, but also some of the alternatives out there as well.
In this article