Ideal Vogue Combi Boiler Review [Versus The Worcester 32CDI Compact]
Ideal Boilers are becoming well known for producing premium products at extremely reasonable prices. They now manufacture over 20,000 boilers per month.
The Ideal Vogue has become so popular, installers are choosing to fit them in their own homes.
We'll start this Vogue combi boiler review by introducing a few features.

Here's What You Need to Know
Ideal boilers have three different combi boiler ranges.
Logic – 2-year warranty.
Logic Plus – 7-year warranty.
Vogue – 10-year warranty (when fitted with an Ideal system filter)
The C26 and C40 have an efficiency rating of 91.1% and the C32 has a rating of 91%. That's similar to the Logic Plus range, as well as most of the Worcester Bosch boiler range. This also means that like the Logic Plus, it has an energy efficiency grade of A and is ErP compliant.
Jump over to BOXT. Being part owned by Bosch, the installation prices here for a 32CDI Compact, are comparable to that of the Ideal Vogue. And, there are Ideal boilers on their site, so you can compare prices directly in a matter of minutes (no personal details needed) using their clickable form.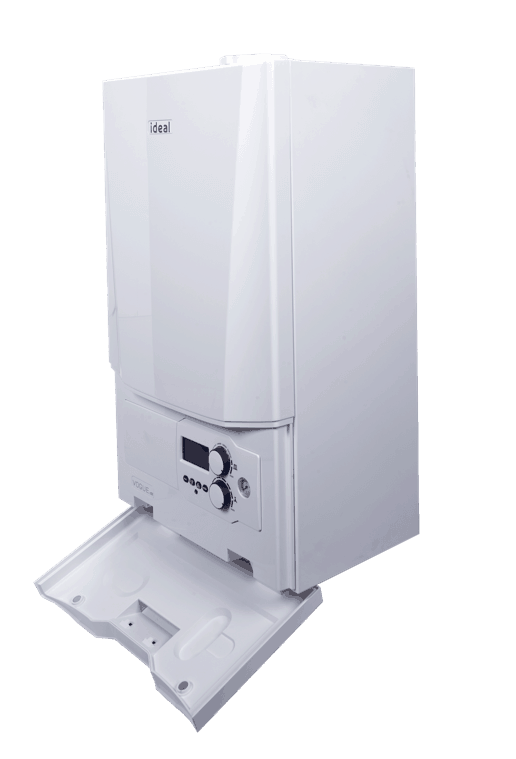 Price Compared To The Worcester Bosch 32CDI Compact
To get a true bearing on what the Ideal Vogue Combi is like for value for money, it makes sense to put it directly in comparison with a Worcester Bosch equivalent.
Worcester Bosch make a 32CDI compact that like the Vogue, is incredibly small (and likely to fit into most kitchen cupboards). This is a comparison to the Vogue C32.
Both of these boilers have a 32kw domestic hot water output.
What They Cost
Ideal Vogue C32: £1,000
Worcester Bosch 32CDI Compact: £1,150-£1,200
Prices do fluctuate, but it's fair to say the Worcester (boiler only) is likely to be around £150 more expensive than the Vogue.
That said, with Bosch owning part of BOXT and supplying them with boilers extremely cheap, the overall installation price of a 32CDI is comparable to the Ideal Vogue. You can get a price on screen using their clickable form here.
Other Cost Considerations
Worcester Bosch's warranty is certainly not simple. Their standard warranty on all boilers is just 5 years (that's up to 10 years with BOXT).
The only boiler in Worcester's range that can get the 10-year warranty is the CDI range. You'll need to the Worcester Bosch magnetic system filter, as well as their own brand controls. This gives an additional 2 years.
To get the additional 3 years (10-year warranty in total), you'll need to ensure you use a Worcester Accredited Installer.
Expect to pay £150-250 extra for Worcester own brand controls and system filter (this depends on your flue setup and the size of the filter).
Additionally, Ideal Boilers (not just the Vogue) are known for being much easier to swap than any other boiler. In general, this can time. And that's likely turn into big savings when it comes to overall boiler installation costs.
Expect to pay approximately £250-350 extra for the Worcester 32CDI Compact from a local installer in comparison to the Ideal Vogue C32 after paying for the boiler, flue, filter, controls and fitting.
Additional features
Auto by-pass valve and built in filling loop.
A service reminder display.
Easy to access cleaning point.
Faults are logged and displayed via text
Frost protection built-in as standard to help reduces issues in the colder months and reduce likelihood of a boiler breakdown.
Backlit display with easy to see pressure gauge.
Never miss a boiler service with their newly built-in service indicator.
Reduced mechanical parts for extra reliability (using top brand components such as Honeywell)
Compatible with a huge range of additional controls.
Frost protection technology built in that reduces the probability of a breakdown.
Suitable Property Size
The Ideal Vogue combi C32 tops the Logic Plus 30kw by a tiny margin. Like the Logic Plus, the Vogue will have no problems heating a 3-4-bedroom property with 1-2 bathrooms, with reasonable demand for hot water.
Any property smaller than this should opt for the Vogue C26. And properties larger than 3-4 bedrooms should consider the Ideal Vogue C40 combi.
Please always speak to a heating engineer before choosing a boiler. It really does depend on the hot water demand in your property, but also the number of radiators and towel rails.
Suitable Installation Area
The Ideal Vogue is slightly larger than the Logic Plus (which is 400mm wide) at 450mm wide.
This is the one area the 32CDI Compact is slightly better (if you intend to put it in a kitchen cupboard) as it is less than 400mm.
Check out this spec sheet from Ideal Boilers if you plan to install this in a small area.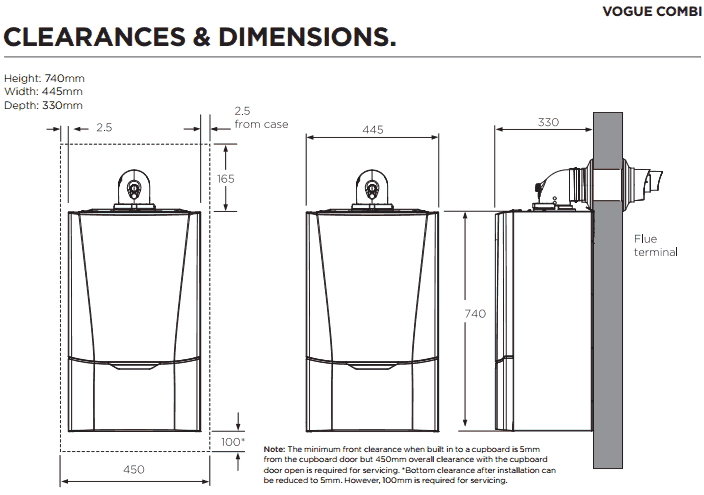 Warranty
You'll be getting a 10-year standard warranty with the any Ideal Vogue boiler. That's comparable to Worcester. The difference is, the Ideal Vogue is one of Ideal's premium boilers. It's unlikely you'll get an Ideal Vogue fitted for less than a Worcester if you use BOXT. Due to their connection to Bosch, they offer rock bottom prices.
Controls and Accessories
24 Hour Mechanical Timer
The obvious choice for the Vogue C32 is the 24 hour mechanical timer. Simple to use, with 7 day functionality.
Radio Frequency Programmer
The RF thermostat is certainly becoming a popular choice.
For a start, this adds 3% efficiency to the boiler according to Ideal.
There's no need to use different controls for the heating and hot water, as users can do it all from this single dash.
Outdoor Sensor
It's certainly worth looking into an outdoor sensor. This tracks the temperature of the air outside, and adjusts the heating to suit. On most properties, this converts into a 2% efficiency increase.
Specification
Looking for the technical specs for the Ideal Vogue?
For the Vogue C32 combi, the most important specifications are:
32kw domestic hot water output
26kw central heating output
1L per minute flow rate
Verdict
Worcester Bosch certainly has a few competitors hot on their heels.
Price wise, the CDI Compact from BOXT, is going to be similar in price to a Vogue fitted by a local installer. You can get a fixed price for Worcester boiler installation online here.
For those looking for a solid alternative to the Worcester CDI Compact range, the Ideal Vogue combi should certainly be first on the list.
If the prices mentioned seem to be slightly over budget. Check out the Ideal Logic Plus review we wrote here.
Unsure of which boiler is suitable for you? Let the experts help you out with free boiler advice and quotes.