HeatingForce is reader-supported. When you buy through links on our site, we may earn an affiliate commission. Learn more
Best Thermostatic Power Shower for the Money (Review) in 2021
Welcome to our 10-minute review of the best power showers available in the UK. This review is going to cover EVERYTHING you need to know to make a purchase.
From the top brands producing the highest quality units, as well as some recommendations of what I think are the best power showers, based on sales when I worked at a bathroom and heating merchant.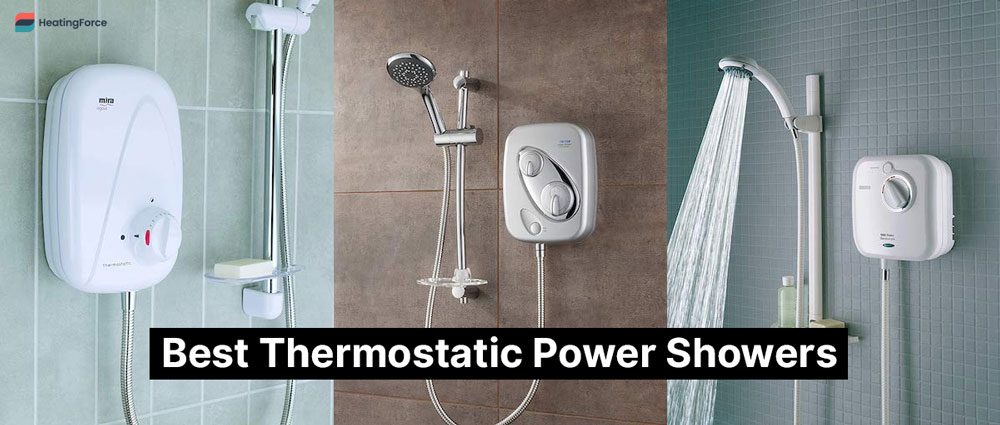 Power Showers vs Electric Showers
There's some slight confusion online about the difference between a power shower and an electric shower. Mainly, because the power units also use electricity.
What is a power shower?
A power shower takes water from hot and cold feeds. It then boosts the pressure using an electric pump to create a more powerful spray. So, power showers DO use electric, but they're not the same as traditional electric showers.
What are thermostatic power showers?
A thermostatic power shower utilises the above (hot and cold water feeds, as well as a pump), but has the thermostatic mixing valve to reduce the chance of sudden temperature fluctuations. These fluctuations in temperature come from a sudden drop in water pressure (i.e. another appliance is being used such as a washing machine).
And did you know it also stops scalding and freezing?
What is an electric shower?
A traditional electric shower doesn't take water from both hot/cold feeds; it only requires a cold water feed. Using an integral element, it heats water at source. That means water doesn't need to be heated by your combi boiler.
Best power showers in 2020
So below, we're going to cover our top picks for the best power showers that use electric pump systems. We're focusing on thermostatic power showers that use an electric pump to boost pressure and flow rate.
First up, we've got the Triton Thermostatic power shower.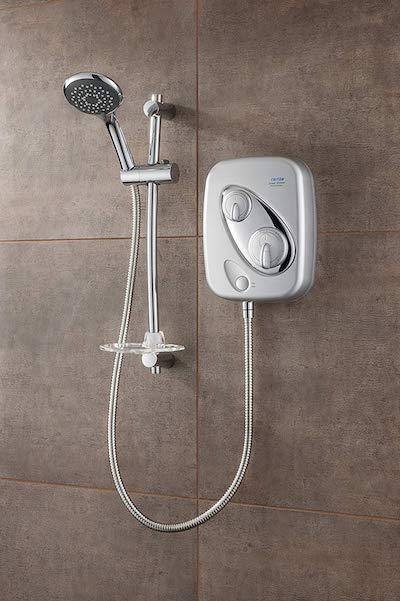 If you're like me, you'll be digging through a tonne of reviews online, before making a decision on exactly which one to buy. And when you do, you'll be pleasantly surprised with the Triton. It's got one of the highest volume of reviews online, and for good reason, because it's:
Cheap
Manufactured by one of the most popular brands in the UK
Great for properties with incredibly low water pressure
Warranty
You'll find a lot of cheap power showers being offered with ZERO warranty. And, that gives you an indication of what these companies think of their own products. That's not the case with Triton. They're a bathroom brand that's well known for having some of the most durable products on the market.
Complete with your purchase of the Triton Thermostatic power shower, you'll get a 1-year manufacturer's warranty.
Flow Rate
Like all electric power showers, the Triton has a built-in electric pump that helps to combat poor flow rates on units that are connected to low pressure systems.
Once you've got the Triton installed, you'll be getting a flow rate of around 14 litres per minute. That compares to a traditional tap, that produces around 9 litres per minute.
Design And Ease Of Use
Let's face it, the design of most electric power showers is pretty-basic. There's nothing special about the Triton, but it's fairly slimline in comparison to many of the cheaper alternatives.
It utilises a simple push button start, and you've got a numbered dial on the front of the unit to adjust temperature.
Temperature Control
The thermostatic mixing valve on the Triton is able to regulate temperature effectively. If you do experience a sudden drop in water pressure, you won't be subjected to freezing or scalding water. The TMV on the Triton is able to regulate temperature to within 2 degrees of whatever you've currently got it set at.
Basically, the fluctuation in temperature is going to be unnoticeable, thanks to the built-in thermostatic mixing valve.
And, there's even a temperature stop, to ensure that you don't accidentally turn your shower up too high.
Durability
You want your shower to last, and there are certain precautions that many brands don't take. And, that means their showers aren't reliable.
One of those things is an auto-shutdown. If the water supply falls too low, the pump in your power shower is going to work overtime. Eventually, it's going to burn out, and you'll need a costly replacement.
The auto-shutdown feature recognises when pressure gets too low, and turns off the shower, so the pump isn't being overworked.
Price
There are, certainly, cheap products out there that are slightly less expensive than the Triton, but not by much. Triton sell their products in such high volume, that many other top manufacturers struggle to compete on price. And, because there are so many online suppliers, you can usually find the Triton for WELL below the RRP.
What's Included
You'll get a shower head included in the purchase price, and that's got 5 different spray settings to choose from. That's going to be connected to a stainless steel hose, that's anti-kink and it's been reinforced to improve durability.
And, to fix it all together in your bathroom, you'll also get a flexible riser rail kit.
Who Should Buy The Triton?
If you're looking for a basic looking but well-priced product from a leading manufacturer; this is the one for you.
You'll get durability, flexibility in terms of installation area, and a great flow rate of around 14 litres per minute. And as we've mentioned, there's a tonne of companies offering up the Triton well below the RRP.
Looking for a direct alternative to the Triton? The Mira Vigour is exactly that. Everything from price through to flow rate is similar, so it really just comes down to the design you prefer.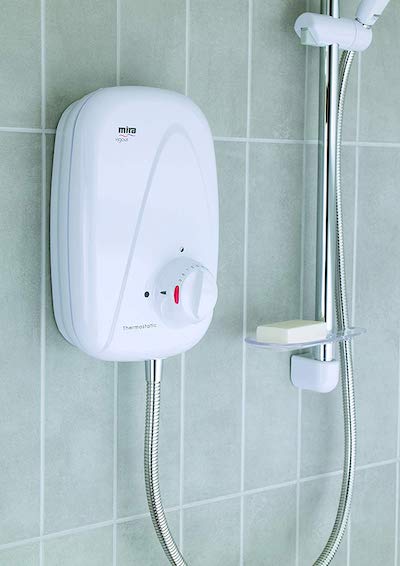 Warranty
Like Triton, you'll get a solid 1-year warranty on your Vigour from Mira. However, what Triton don't offer currently, is any additional protection.
Mira offer a range of different warranty packages, allowing you to extend the warranty on your shower for an EXTRA 1-3 years.
Flow Rate
Just as you get with the Triton TMV shower, you'll get a high flow rate of 14 litres per minute from the Mira Vigour.
Design And Ease Of Use
The design does differ in comparison to the Triton. The Mira Vigour is more minimalist; they've cut back the size of their controls.
Temperature Control
But, like the Triton you'll have simple to use controls allowing you to adjust temperature. And you'll have a built-in "safe" maximum temperature, that comes factory set.
Using the temperature dials, you'll be able to get hot water up to 65 degrees.
Durability
There's no need to prime the Mira Vigour, but there are removable filters that are designed to be maintained. This is their way of prolonging the life of your shower.
Throughout the UK there are low, moderate and hard water areas. The harder the water, the more minerals it contains. And, it's these minerals that lead to limescale build-up. This can block up a power shower, leading to expensive repair bills, or even a replacement.
By integrating these removable filters, limescale is reduced and any debris in water is caught, rather than blocking up the shower.
Price
As we've mentioned, this is a direct competitor to the Triton. The current RRP of the Mira Vigour is around £250.
Like the Triton, there are a lot of sellers offering the Mira. And, that means there's a price war; it's rare that you'll pay the full RRP.
However, it's worth comparing the deals DIRECTLY with the Triton. It's much more likely that you'll find the Triton cheaper than the Mira, even though that actual-RRP is the same.
What's Included
You'll get your electric power shower, a showerhead with 4 levels of adjustment (that's 1 less than the Triton, by the way), installation instructions and a riser kit.
Who Should Buy The Mira Vigour?
This is a direct competitor to the Triton mentioned above, so that's what you should be comparing it against.
At my time working in a plumbing/bathroom merchants, we sold a tonne of both. They're both reliable, are priced similarly, and have the same flow rate.
We'd recommend both and that means, it comes down to the design you prefer.
If you've purchased bathroom products in the past, there's a good chance you already know about the Bristan brand. Bristan are one of the leading shower, tap and bathroom accessory manufacturers in the UK.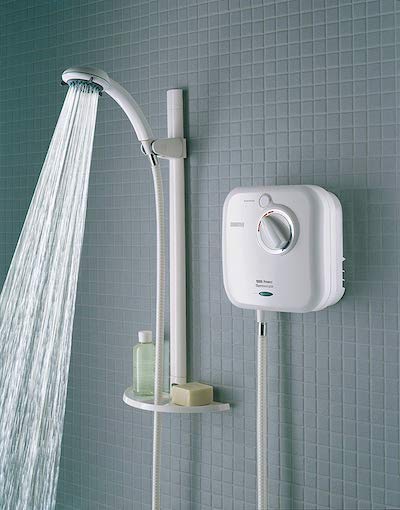 And, the Hydropower 1500 power shower is one of their most popular. For good reason too, it's similar in quality to both the Triton and Mira, yet the RRP sits well below both.
Warranty
As we've mentioned above, the warranty on offer from a manufacturer gives you a good indication of how reliable they think their products are. After all, they don't want to be footing the bill, so won't offer a warranty at all if their products are not durable (i.e. cheap brands).
And, even though the Bristan Hydropower is cheaper than the Triton and Mira, the standard warranty is better. You'll get 1-year for the Triton/Mira. For the Bristan Hydropower? You'll get 2-years for parts, and 1-year for labour.
Flow Rate
The biggest downfall of the Hydropower is it's flow rate. The Mira and Triton both get 14 litres per minute. You'll get just 10 litres per minute with the Bristan; so it's definitely not the most powerful out there.
The question is, does it matter? Power showers are designed to be used in low pressure water systems; they'd probably struggle to deliver 2-3 litres per minute (9 litres per minute is about the average for a tap).
So, although the flow rate isn't the "best in class", it's above what's provided to most shower units throughout the UK.
Design And Ease Of Use
This is one of the minimalist power showers you can get. And that makes it perfect for most bathrooms but in specific, those that struggle for space. So, if you're in a small bath, or tiny shower enclosure, then this is going to help make that enclosure feel a little bigger than it is compared with other power showers on the market.
You'll get Bristan's updated riser rail, a vast improvement on the three showers the Hydropower replaces (New Team N1000XT, NT1000XT Power Shower and Showerforce SF 1000 XM).
As with the Mira and Triton, there are simple push button controls, including one for ECO (improved water efficiency). And, a nice touch is the fact that the Hydropower has rear pipe entry, meaning there are less ugly fittings exposed in comparison to other units available in the UK.
Temperature Control
You'll get the standard dial for temperature control, but being thermostatic, you're protected if there's a sudden fluctuation in water pressure. The thermostatic valve in the Bristan Hydropower is one of the best; it will be able to regulate the temperature between -1-+1 degree of the temperature original set.
Durability
The warranty here speaks for itself. It's the biggest warranty on offer from our "best power shower" list; 2-years for parts and 1-year for labour. So, you can be sure this is going to last.
Price
If you're looking for a cheap power shower, this is also where the Bristan comes up trumps. Its RRP is well below the Mira and Triton.
But, unlike the Mira and Triton, it's unlikely you'll be finding deals much below the RRP. The Hydropower is already competitively priced, so it doesn't seem like retailers have much margin to move on price.
What's Included
You'll get a shower head that's got 3 spray settings to adjust. That's bolted to the wall with their upgraded riser rail, which looks more stylish than previous modesl. And, you'll get all the installation instructions and fittings needed to get this fitted.
Who Should Buy The Bristan Hydropower?
In my opinion, all things told, this is the best power shower on this list.
It offers excellent savings when compared with both the Mira and Triton. And, whilst the 10 litres per minute flow rate looks low (compared with the 14 of the Mira and Triton), that's still a higher flow rate than the majority of properties will have in the UK.
If you're looking for a cheap power shower from a leading brand, that's durable, has excellent online reviews and a big warranty, the Bristan Hydropower is definitely the one for you.
Power showers companies
So, those are our recommendations for the top selling electric power showers available in the UK. But, what if you're not seeing a design you like, with a suitable flow rate?
There's a lot of companies offering cheap power showers. The problem? They're exactly that; cheap. Cheap power showers tend to have not just low, but inconsistent flow rates. And, there's a good chance they're not going look as good or have the reliability factor that you'll get from leading manufacturers.
Below we've curated a list of the top power shower brands available in the UK. So, if a unit on the list above doesn't stand out, you won't go far wrong by buying a power shower from these companies.
Best brand for consumers
Triton
Bristan
Mira
Creda
Aqualisa
Power shower installation costs
So, you've bought your new shower unit. Now what? You need to get it installed. The cost to install it is likely to be in the region of £150-250. That's going to be the price excluding the shower itself, and any additional parts (pipework and additional fittings).
The price differential comes into play depending on where in the UK you are, and the complexity of the install. For instance, if this is a new bathroom without pipework, that's going to take more time (and cost more) than swapping out an existing unit with one that bolts straight onto the existing cold/hot water feeds.
Conclusion
Thanks for reading our 10-minute review of the best power showers available in the UK. Still got questions about a new shower for your bathroom? Or, have a shower that's not mentioned on this list and have an opinion you'd like to share?
We'd love to hear from you. Write a comment below and we'll get back to you as soon as possible.
Avoid Expensive Breakdown Costs
Boiler Replacement Promise: If it's under 7 years old and we can't repair it, we'll replace it.
Try
YourRepair
. From £9/mo
All plans include: annual boiler service, all parts and labour, unlimited support and 24hr helpline.