The Best Combi Boilers to Install in 2020 [On A Budget]
This guide is split into sections:
Best combi boilers for 2019
Our best combi boiler pick for 2019
Our big fat warranty guide (Worcester, Ideal and Baxi)
Picking The Best Combi Boiler
As a homeowner. There's one thing you need to focus on when choosing a combi and it's this.
Warranty.
More specifically. How you get that warranty (it's not as simple as it seems).
You'll see from our warranty guide, we rate leading brands such as Baxi, Ideal Boilers and Worcester Bosch.
We know a lot of the decision making process comes down to price, especially when you throw in budget boiler brands into the mix.
However, something worth considering, is that Bosch have now invested in an online boiler installation platform. They  (presumably) supply the boilers at preferential rates, meaning the overall installation cost from their platform is ridiculously low, when compared with other premium combi boiler brands.
To see what I mean, you can jump online and get a fixed price in around 2 minutes. Here's the one we just got:
The Best Combi Boiler Brands
As we've said, the focus should be on warranty. Typically, we'd want to see a minimum of 5-year warranty on any boiler installation, but remember, there are plenty of boilers on offer with 7-years upwards.
Deciding on which is the best combi boiler is up for debate, and one installer's opinion is going to differ from the next. However, here are two brands that are certainly worth mentioning.
Worcester Bosch
Worcester Bosch are one of the best combi boilers money can buy, and they're by far the most popular in the UK. At my time spent working in a plumbing merchant, we'd sell at least two Worcester boilers, for every one of every other brand combined.
They're efficient, reliable and recommended by most installers. More importantly, they're available with a warranty of up to 10-years, which is huge!
The main let down, used to be the price, which typically was at the higher end.
However, Bosch now own a share in a boiler installation company, BOXT. Naturally, BOXT are getting Worcester combi boilers extremely cheap, and that saving is being past on the end consumer, you!
It's easy to get a fixed price on-screen (without putting in any personal details or annoying call backs), by filling out this on-screen form.
Ideal Boilers
Ideal combi boilers are typically cheaper than Worcester's from your average installer, but that doesn't mean quality is compromised.
Something like the Ideal Logic Plus with a 7-year warranty, will be comparable in price to the Worcester 25i or 30i, when installed by BOXT. And that's simply because BOXT push the Worcester boilers at volume, so are able to offer them at preferential rates, complete with an extra 3-years warranty.
You can compare prices between Worcester and Ideal boilers back to back using this quick on-screen form.
Boiler Sizing
1-2 Bed Properties
| Brand | Model | Warranty | Price (installed) |
| --- | --- | --- | --- |
| Worcester Bosch | Greenstar 25i | 5-8 years | £2,000 (or from £1,795 with BOXT) |
| Worcester Bosch | 28, 32 and 36CDI Compact | 5-10 years | £2,050-2,350 |
| Ideal Boilers | Logic+ 24 | 7 years | £1,750 |
| Ideal Boilers | Vogue 26 | 10 years when fitted with an Ideal system filter | £1,900 |
| Ideal Boilers | I-Mini 24kw | 2 years | £1,650 |
| Baxi | Duo-Tec 24 | 7 years | £1,700 |
3 Bed Properties
| Brand | Model | Warranty | Price (installed) |
| --- | --- | --- | --- |
| Worcester Bosch | Greenstar 30i | 5-10 years | £2,100 (usually cheaper via BOXT) |
| Worcester Bosch | Greenstar 34CDI | 5-10 years | £2,100-2,400 |
| Ideal Boilers | Logic+ 30 | 7 years | £1,850 |
| Ideal Boilers | Vogue 32 | 10 years when fitted with an Ideal system filter | £2,100 |
| Baxi | Duo-Tec 28 | 7 years | £1,850 |
4 Bed Properties
| Brand | Model | Warranty | Price (installed) |
| --- | --- | --- | --- |
| Worcester Bosch | Greenstar 42CDI | 5-10 years | £2,750 (usually cheaper via BOXT) |
| Ideal Boilers | Vogue 40 | 10 years | £2,400 |
| Ideal Boilers | Logic+ 35 | 7 years | £2,200 |
| Baxi | Duo Tec 33 | 7 years | £2,100 |
*Installation prices are estimates. Worcester boiler prices represent estimates for local installers, but tend to be much cheaper from BOXT, given they're part owned by Bosch.
See our boiler installation guide if you are having your boiler replaced.
The Best Combi Boiler for 2019
Worcester Greenstar I Range
Let's face it…when you think boiler, you think Worcester Bosch.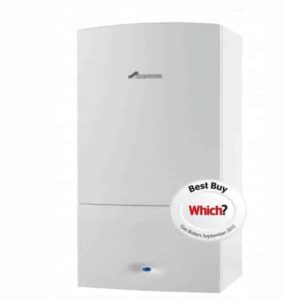 At my time working at a local plumbing merchant, we were knocking out so many Worcester boilers, we'd get a full lorry load delivered every month, and "top-ups" daily; that was just one branch.
So, why do we think it's the best combi boiler, and should you install one?
It's efficient
The most popular models in the range, are the 25i and 30i combi boilers. But, there's also a range of system and regular I boilers too.
When they're running almost flat out, they'll be giving around 87.7% efficiency, or up to 99.4% when running at around 30% of their maximum output.
In comparison to an old boiler, that's going to be saving you BIG money on your gas bills.
Installation isn't as expensive as you think
Worcester boilers are typically known as a premium brand, with a price tag to match. Well, that was until Bosch changed all that, by investing in boiler installation platform, BOXT.
Now, I don't know the actual terms of the agreement. However, it looks to me that they're supplying BOXT with Worcester boilers well below RRP.
A normal Worcester installation from a local engineer is likely to be £200 more expensive than the equivalent from Ideal's range. That only rises (considerably) when you choose a national installer, running TV ads and the likes.
But, compare that with BOXT. We'd expect a 25i to sit in the £1,900-£2,000 range. Yet, on a 25i, here's the quote we just got (you can get yours within 90 seconds here):
The warranty is huge
You can get up to 10 years warranty on the Greenstar I range; there are very few boilers, or boiler manufacturers, offering this level of warranty.
Like we mention in most boiler reviews, the best combi boilers have a long warranty. Why? The warranty being offered by a manufacturer is essentially, them telling you how good they think their boiler really is.
Short warranty = "It's probably going to break, and we don't want to pay to fix it"
Long warranty = "This boiler has longevity, so we have the confidence we won't have to pay to fix it"
Even if they're wrong, there's one person that doesn't have to pay for those repairs; YOU!
It won't self-destruct in winter
In the first year of this site being launched, we were averaging around 400-500 visits a day. Breaking into the second year, that started rising…then the temperature dropped below zero, for like 5 days straight.
At its peak, the site got over 19,000 visitors in a single day. My guestimate is most of these homeowners were searching how to fix a frozen condensate pipe; it's a common boiler problem in winter.
That's why Worcester have introduced preventative measures, such as the CondenseSure. This protects your boiler down to a stated -15.
So, unless you're waving from the Arctic, you shouldn't have issues with your condensate pipe freezing with a Greenstar I.
But, we don't like this ☹
There's no rose without a thorn, and in my opinion, that's the case here. I like compact boilers. You've got more flexibility on the installation space you can use.
If you're not planning to move your boiler, and it lives in an airing cupboard or is wall-hung, you're all good with the Greenstar I.
However, if you want to tuck your boiler away in a small space (such as a kitchen cupboard), this isn't the boiler for you; it's too big.
But, where there's a will, there's a way. If you need a compact Worcester boiler, you can head for the SI Compact instead.
OK, so, should you install the Greenstar I?
Yes, but which one?
Each property is unique. Your property might have a longer heating run, more radiators, or even better insulation than the average. There's not a one-size-fits-all.
The best thing to do?
Grab a cuppa', put aside around 90 seconds of your day and fill out this clickable multiple choice questionnaire over at BOXT.
You won't need any personal details (postcode, phone number etc), and you'll have a fixed price as well as your recommended boiler at the end, for your efforts!
Our Big Fat Warranty Guide
I'm going to tell you right now. Warranties are confusing, even from the best boiler manufacturers. We've already mentioned accredited installer networks. And that usually gives a buyer access to extra warranty.
Some manufacturers will then charge for additional warranty.
Always double check warranties before purchasing. Top boiler manufacturers regularly run promotions (including extended warranties), so they do change from time to time.
Warranty terms and conditions are always extensive. However, these are the most important things you'll want to consider to meet the T&Cs of your warranty:
Register your warranty within 30 days
Installation has to be by a Gas Safe engineer
Some brands may require you use an installer from their network to gain access to additional warranty
Annual servicing from a Gas Safe engineer
And here are common things in T&Cs from most manufacturers that void a warranty:
Scale build up (typical in hard water areas, combat this issue by installing a lime scale inhibitor)
Sludge build up in a system (combat this issue by installing a magnetic system filter and having it cleaned out with every service)
Worcester Bosch's Warranty
Most Worcester installers hype the 10-year warranty on offer, but not all Worcester boilers come with a 10-year warranty as standard. There are companies like BOXT that offer 10-years on all products, as they have a special relationship with Worcester.
You'll get up to 10-years warranty on the CDI range (using an accredited installer).
A Gas Safe engineer in the Worcester Bosch accredited installer network will allow you to get that little bit more in terms of warranty on other ranges too.
| | | | |
| --- | --- | --- | --- |
| Installation details | CDI Range | I Range | SI Range |
| Worcester boiler only | 5 years | 5 years | 5 years |
| With accredited installer | 7 years | 7 years | 7 years |
| Worcester boiler, and branded magnetic system filter | 6 years | 6 years | 6 years |
| With accredited installer | 8 years | 8 years | 8 years |
| Worcester boiler, filter branded controls | 7 years | 6 years | 7 years |
| With accredited installer | 10 years | 8 years | 9 years |
Straight up, Worcester branded parts are not cheap. To get their extended warranty, you have to buy them!
The Worcester system filter will more than £130.
An equivalent from Adey (they specialise in filters and chemicals) will cost around £100.00.
The Worcester Wave timer will cost around £225.
Whereas the Nest (company owned by Google) Smart Thermostat will cost less than £200.
The finer details of the Worcester Bosch boiler warranty can be found here.
Ideal Warranty Guide
Ideal's warranty is, well, Ideal. It's just so simple.
Right now, they do have an installer network, but they recognise that Gas Safe set the standard for installers, and not their network (i.e. you can use any Gas Safe registered installer to get their warranty).
Here is what their warranty looks like.
| | |
| --- | --- |
| Product | Warranty |
| Ideal Instinct | 2 years |
| Ideal Logic | 2 years |
| Ideal Logic Plus | 7 years |
| Ideal Vogue | 10 years |
The make sure you don't break their T&Cs. Have a quick look here.
Baxi Warranty Guide
| | |
| --- | --- |
| Product | Warranty |
| Duo-Tec | 7 years |
| Platinum Combi | 10 years |
Baxi do have an installer network, but any Gas Safe registered engineer can be the installer.
"The installer must be registered with Gas Safe and complete the Benchmark commissioning checklist in full at the time the boiler is installed. This checklist must be made available to us if we ask and is found at the back of the installation instructions."
Baxi's warranty T&Cs are here.
If you want advice on choosing a boiler, please leave a comment.
What's Next?
Hopefully our guide to the best combi boilers gives you all the information you need to know to make a decision on which brand to buy.
Still confused? Skip over to our boiler installation cost guide. Or, drop us a line through our contact form, and we'll do our best to help you out.