The Best Electric Fireplace For Your Home and Budget (2023 Reviews)
Whether you're looking to rejuvenate a non-functional hearth, or you just want to spice up the décor of your sitting room or conservatory, you should consider an electric fireplace.
Not only are they capable of recreating the warmth and cosiness of real flames, they do so much more. With wall-mounted or freestanding deployments and all manner of mood lighting effects, you can create a focal point that truly livens up any room in a way that is unique to your tastes.
Cosy up any room with an electric fireplace
Today, we present 8 of the best electric fireplaces, each suited to different aesthetics and price points–all excellent sources of energy-efficiency heat production. Further down the page, you'll find a helpful short guide which you can use to inform your own comparison shopping.
Nothing beats warming your bones in front of the fire. Thankfully, it's no longer a requirement to haul in heaps of firewood or pipe in natural gas to enjoy this experience in your home or flat. Instead, you can select a high-quality electric fireplace to cast warmth and ambiance over your favourite gathering place.
Best Electric Fires (Reviewed)
Based on our research, these are the best electric fires on the market.
The Castleton is the very archetype of a fireplace, providing an elegant focal point for any room it adorns. Made of robust, yet surprisingly lightweight MDF, it stands tall at 825cm and presents an impressive aspect at 1000cm wide and 279cm deep. It provides wonderful framing for a wall-mounted television (as well as a plug), and won't damage the electronics, with forward-facing heat production.
And heat you'll have aplenty; the Castleton boasts an impressive 2000W of power. Aided by a fan, you'll have a fair impression of an indoor bonfire within a mere 5 minutes at full blast. Of course, you can cut the power to 1000W, and dial in the most comfortable temperature by modifying the thermostat.
For greater efficiency, there's open window detection and adaptive start functionality. These are smart features which cut the power when there's a sudden temperature drop, and "learn" when to start heating up to reach a programmed temperature, respectively.
If that sounds like a lot to manage, it's actually all housed within the wondrous remote control shared by all Endeavour Fires units. Integrated into the remote is a sensor, back-lit LCD screen, thermostat sensor, and controls to adjust the flame effects and lighting.
Moreover, there are 13 distinct mood lights to choose from, and you can set a dimmer or even cycle through them as needed. The flame is realistic, and the light effects create an inviting, cosy atmosphere.
CONCLUSION
We'll level with you here: this list is going to feature quite a few fireplaces from Endeavour Fires. T
he Castleton, however, works a treat to represent its brand such that you'll be pleased to see essentially the same guts deployed in different configurations. That way, you can truly choose the best fires for your home aesthetic and personal budget.
The Opti-Myst Sacramento from heating industry giant Dimplex provides by far the most luxurious flame effect on the market. What you see doesn't just emulate a 3D flame using optical illusions; it actually makes use of a fine vapour mist and special bulbs that dances and swirls just like real fire and smoke. The difference really is dramatic!
But how does it work? Inside the Sacramento is a small water tank outfitted with an ultrasonic transducer. When you activate the Opti-Myst effect, the transducer vibrates to such a frequency that the water is turned to a mist, which catches the light in an organic fashion.
You can run the Opti-Myst system between 8-10 hours before refilling the tank, which is extremely simple to accomplish. What's more, no heat is generated in the vaporization process, so the flames are cool to the touch and extremely safe.
The lighting bulbs are similarly easy to replace, and readily available on Dimplex's website.
For added authenticity, there's a gorgeous coal bed effect beneath the flames. What's more, the Sacramento inset design slots into your existing fireplace without the need for specialist installation. The Sacramento is at once modern yet traditional and, with its sleek chrome finish, sure to offer up a handsome centrepiece for your cosiest living space.
The Sacramento packs a 2000W heating element, which can be used independently of the flame effect for the perfect ambiance. Control your electric fireplace's thermostat and lighting from a place of comfort with the handy remote control.
CONCLUSION
Dimplex's SCR20 Sacramento stands out thanks to its incredible Opti-Myst flame effect.
Besides providing an anchor for your home décor, it is a competent electric heater. Not only does the Sacramento create superior ambience and comfort, it's extremely safe, boasting an BEAB Approval.
Have you ever wanted your sitting room to share the same air of elegance you might find in a high-rise lounge? The Runswick E120R Wall Mounted Electric Fire may do just the trick.
It shares all the same mechanics as the Castleton in terms of heat output (1000W and 2000W) and utility via the incredible Endeavour Fires remote. However, the overall aesthetic couldn't be a further departure!
Whereas most electric fireplaces resemble a traditional hearth, the Runswick delights in abstraction. Being a wall-mounted unit, the mantel and plinth appear to float in air, housing an eclectic array of flame and lighting effects between.
True to form for Endeavour Fires, there are 13 different coloured mood lights, plus 5 brightness levels for both the flame and the lights. Put them on a dimmer to end the evening, or else cycle them through for an eye-catching display throughout.
However, the piece de resistance is the array of physical effects. Upon arrival, you'll enjoy opening the box of resin logs, white pebbles, and glass effects crystals which further disperse the flame and mood lighting in a dazzling visual array.
Taken together, the Runswick makes a dramatic statement whilst extending a thoroughly welcoming warmth.
CONCLUSION
Upon ordering the Runswick E120R, two packages containing the MDF suit and fire itself will be swiftly despatched to your home. All total, it's about 30kg and a bit cumbersome to manage. But assembly is easy, with straightforward, Plain-English instructions.
Allow for 200mm clearing off the floor, and mind the 1.7m plug length adequately reaches your mains. Just as with the Castleton and all other Endeavour Fires products, there's a 1-year warranty, and each meets with Lot 20 efficiency standards.
Next up from Endeavour Fires is the Egton, which more closely resembles an amenity from Star Trek than your gram's cottage. But if a curved, tempered glass fireplace is the touch of modern elegance your room needs, you won't be disappointed by the Egton.
Once again, you have total control over your Endeavour Fires unit with the LCD-clad remote. Herein lies all the smart functionality the Egton is famous for, including 7-day programming, window detection, adaptive start, and more.
You still have the full range of 13 mood lighting effects to choose from, though they project behind the Egton and onto your wall for a fuller ambiance. The flame itself dances vividly upon the artificial logs, which present a 3D shimmer effect.
It won't just look like a gas fire; it'll feel like one too, with up to 2000W of power. You can go from frigid to a Spanish holiday in August in less than 5 minutes, thanks in part to the fan-blown heating apparatus. Y
ou won't need to fear your power bill either, as the Egton is Lot 20 compliant. Indeed, five hours of daily use will yield a yearly power bill of less than £4.
CONCLUSION
Installation is simple, but be aware that the mounting bracket comes pre-attached into the back of the Egton by two little screws. You'll need to first detach the bracket, mount it on the wall, then mount the fireplace itself.
At 19.4kg in the box, it's not too bad a job, either. Rest easier knowing your Endeavour Fires hardware is guaranteed for a full year.
We weren't kidding when we said this list would be dominated by Endeavour Fires! But with products like the Danby Electric Fireplace Suite, it's not hard to see why. In most respects, this is a similar unit to the Castleton in how it strikes a more classical pose. However, the Danby feels a bit friendlier, eschewing hard-layered right angles in favour of an elegantly arched façade.
Despite a less severe aspect overall, the Danby is overall a bit larger than the Castleton at 1221 x 876 x 288cm. Its heat output is identical to its kindred on this list, at 2000W with a power-cut option to 1000W. Making a triumphant return, too, is the amazing Endeavour Fires patented remote, which handles all automated thermostatic and timer programming.
Be aware that the Danby is quite heavy out of the box. Indeed, two boxes are necessary to transport all 49kg of MDF and heater that comprise this electric fireplace. Once it arrives, however, you won't have too hard a time.
If you've successfully conquered an Ikea build, this will be a piece of cake. It's especially nice that you won't have to worry about wall-mounting, as Danby sits politely on the floor.
CONCLUSION
We particularly like how subtly the mood lighting plays off the arch on the Danby Electric Fireplace Suite.
Once again, you have 13 cyclable, dimmable colours, plus 5 levels of brightness for both flame and effect. As with all Endeavour Fires we've reviewed thus far, the heating can operate independently from the light works, and vice versa.
Now for a change of pace, we present the Firebox from Wärme. Solidly on the upper end both in terms of price and size, this designer electric fireplace looks amazing in almost any home.
It's wall mountable, with a generous array of 8 LED mood lighting colour effects to add some pop to your room's toasty focal point. However, it works equally well integrated into your television cabinet; the heat issues from the front of the unit, and doesn't require excessive clearance above or below the unit.
Unique to Wärme is the 3D fire and flame effect, (called "Haze Flame Technology") which you can further customise across 12 different colours. Better yet, you can adjust the glow of the bed itself with an additional 9 colour options.
Whatever configuration you choose, you'll enjoy watching it play out over the Firebox's massive 50" façade–who even needs a TV?
At 2000W, the Firebox belches like a dragon, yet is as quiet as a purring kitten. Indeed, it's about as safe as the family pet as well, with overheat protection built in. What's more, it remains cool to the touch, so you'll never have to worry about singed fingers.
Finally, you can adjust the thermostat and lighting effects from the comfort of your bed or recliner thanks to the included remote control. Clearly, Wärme seeks to lavish its customers with superior workmanship and design, backed by a generous 2-year warranty.
We're not quite done with Endeavour Fires–not until we've touched upon the excellent Holbeck Wall Mounted Electric Fire. This is a slightly less expensive alternative to the Wärme Firebox, but wants for nothing in terms of design and quality.
The Holbeck's sleek, minimalist façade features tempered glass which resists shattering and remains cool to the touch. The gorgeous array of mood lighting and vivid flame effects make a triumphant return.
Fully controllable by the Endeavour Fires LCD remote, you can programme the Holbeck for efficient, comfortable operation throughout the week. Indeed, this model is Lot 20 compliant, and you can look forward to absolutely miniscule power bills.
Beyond its quiet elegance, the Holbeck is dead simple to install. It even meshes well with your TV, providing an extra outlet for it to plug into. You'll need about 400mm clearance with the floor for safe operation, and you'll want to budget wall space enough to accommodate a 1270 x 550 x 140cm fireplace.
CONCLUSION
If you ever have any issues with your Endeavour Fires electric fireplaces, rest easier knowing their UK-based team is at the ready to provide support. What's more, there's a year guarantee to assuage all fears for workmanship errors, as well.
Agena from Galleon Fires represents a distinct corner turned in our list. Rather than approximating the entire hearth or taking up the space of a wall-mounted fireplace, the Agena is a more modest–more flexible offering.
Indeed, if you need to fill an existing fireplace with something other than solid fuel or gas, this may be just want you've been looking for.
Weighing just 11.8kg and standing on four sturdy legs, the Agena is easy to position anywhere in the home. Even at just 425 x 280 x 540cm, however, Galleon presents no less a focal point for your room. Agena features a striking black cast iron effect finish, and metal housing to exude confident workmanship and design.
Whilst there is a certain earthiness to the Agena, it nevertheless has all the modern features needed to pamper its owner. The flame is convincingly jolly, and the resin logs are a solid stand-in for the real thing–you can leave the wood-chopping to the lumberjacks this winter!
You have perfect control over the thermostat and flame brightness with the included remote control. But unlike "fancier" units, you also have manual control built into the Agena–perfect if you're the type to lose the remote from time to time (we've been there).
CONCLUSION
Agena provides instant, fan-assisted heat across two power settings (900W and 1800W) sufficient to warm any room. There's a thermal cut-off to protect against overheating, plus a 1-year warranty to guarantee your purchase against defects.
What's more, we're always happy to recommend products from a UK-based company such as Galleon, just to keep it local and guilt-free.
It's a cliché to say something is last but not least, but we really mean it with VonHaus. The charm of this Panoramic Electric Stove Heater is immediately apparent, with its 3-sided display windows framing the vivid LED log fire within.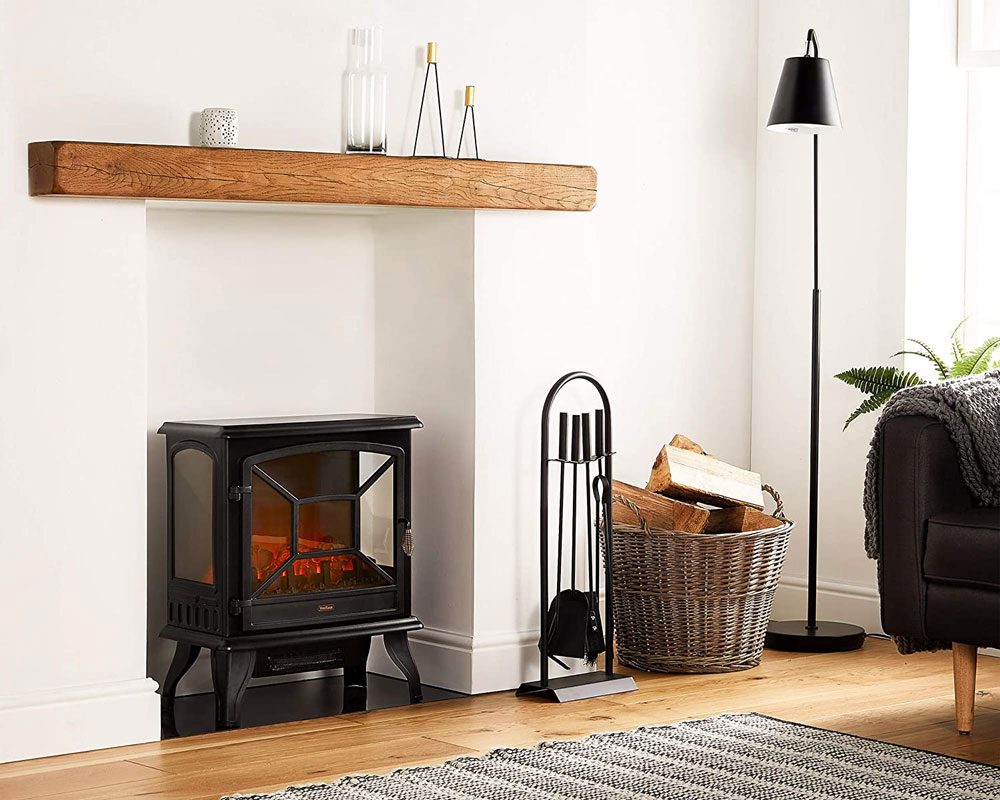 They're not just pretty either -­- made from tempered glass, these windows can withstand all manner of bumps and knocks without fear of shattering.
Now, of all the electric fireplaces reviewed thus far, we can say that VonHaus may be the choice for anyone in search of classical stylings. Sitting atop four sturdy metal legs (which constitute the only assembly required), the overall dimensions are 580 x 330 x 570cm–making the VonHaus compact enough to fit any nook or cranny in the house.
And at just 8.3kg, you won't have to worry about your back going out whilst carrying it from place to place with the attractive chrome handles.
Mechanically, the VonHaus is a simple beast; 1800W of fan-blown heat is plenty to instantly heat up even large-sized rooms. It doesn't have a remote control, which may be a knock against it for some.
Though, there's something to be said for Spartan simplicity: fewer things to break, and less room for operator error for safer, more comfortable usage. In case something does go wrong, there's an automatic thermal cut-off to safeguard your home. You can easily toggle the unit on and off, or adjust the thermostat with the simple controls upon the VonHaus.
CONCLUSION
In short, if you're looking for something built like a tank which produces ample heat from an unpretentiously classy frame, the VonHaus Panoramic Electric Stove Heater deserves your attention. Plus, there's an excellent 2-year warranty on this UK-made electric fireplace, so you can truly buy in confidence.
What makes a great electric fireplace? A quick buyer's guide
It's all well and good to take the recommendations of others into consideration. Ultimately, you'll still want to spend time comparison shopping for the best electric fireplace. Of course, there are so many brands and models out there, it can be extremely overwhelming.
To help you avoid making hasty purchase decisions that you may not be strictly satisfied with in the long-run, we've compiled this short buyer's guide. Our goal is to share some of the search criteria we used to narrow down the competitive field, thereby informing our recommendations above.
Luxurious stylings
Let's face it, you're not buying an electric fireplace simply to stay warm. After all, you could buy a basic heater to do that. But who's ever heard of gathering around the oil-filled radiator to join in merriment? You need a fireplace for that; and in lieu of solid fuel or gas systems, an electric fireplace must properly set the mood in addition to casting warmth.
The flame itself is a big part of this. We searched for brands which put extra effort into making the hearth resemble a proper roaring fire. 3D effects are nice, especially in conjunction with a convincing log bed. Resin logs look the best, while mere picture images may sap some of the magic out.
Other additions include pebbles or glass crystals, which provide myriad surfaces for the light to play off of and create more brilliance.
Workmanship and design are essential to instilling a sense of luxury, as well. After all, a traditional fireplace is a monolithic thing; you literally sit family heirlooms upon the mantel for posterity. Your electric fireplace should feel similarly solid, as though it will faithfully withstand the test of time so that it may continue to serve the warmth you need.
Just because a fireplace is made of MDF, doesn't mean it needs to feel (or worse, look) flimsy. Clever construction will join inexpensive materials in a reliable fashion.
Mood lighting
This is really an extension of our conversation on luxury. You may not feel mood lighting is strictly necessary from a fireplace which already casts a glow from the flame. But much like how the image on your TV screen pops better with appropriate wall effects, so too will the fiery contents of your artificial hearth benefit from good mood lighting.
LEDs are energy efficient and brilliant, but you'll want to ensure they're not too brilliant. You want to invoke a warm glow you can fall asleep in front of–not piercing neon lights which keep you up. That's not to say mood lighting must necessarily serve a rustic aesthetic.
Gentle purples and blues in the bed or about the flame can lend your room a loungey chic that is nevertheless extremely inviting. Indeed, many fireplaces integrate directly into home entertainment systems. You'll want to ensure you get a vivid pop of colour, without interfering with the cosiness of theatre lighting.
The more control you have over your lighting effects, the happier you'll be with them. You'll appreciate being able to use the flame, heat, and mood lighting independently of one another–it may be summer, but you can still enjoy the warm glow of a cool fireplace.
Being able to cycle through colours is a nice feature, as are dimmer switches which simulate the gradual dying down of the fire. Perhaps most important of all, you'll want to control the brightness to match the mood.
Warranties
The truth of purchasing a fireplace online is that it must be shipped to you. Such large devices may arrive damaged, so ensure you choose to buy from a reputable company which will guarantee delivery at the very least. After all, how much control have you got over how the post handles your precious cargo?
But beyond that, a warranty is a must-have feature. True, electric fireplaces are not the most complex machines. But there are nevertheless myriad systems which may burn out or break. Imagine a plug with a poor solder; a fan which doesn't spin; or entire arrays of LED mood lights which flicker fickly or fail to illuminate anything at all.
Sure, you may be able to purchase replacement parts and DIY a repair. But a good manufacturer warranty will just handle the problem for you. Obviously, it helps to select UK-based companies (as shipping a 50kg fireplace repair off to Hong Kong, for example, may not be economically attractive).
Exceptional heating
It may sound daft, but you've got to make sure your fireplace isn't just pretty–it's got a job to do, and an important one at that. Fireplaces tend to warm larger spaces like sitting rooms, and thus you'll need to select one which has ample wattage.
Fan-blown systems can augment the reach of your fireplace's heat distribution, though at the cost of some silence in operation. (If you're like us, though, you enjoy a bit of white noise adding to the relaxing ambiance of a fire).
Don't neglect thermostatic control, either. On and off are not sufficient temperature controls–you'll want a dial built onto the unit at the very least. Automatic sensors are much more useful though, as they'll respond duly to temperature changes for continuous comfort.
Open-window detection takes this a step further, and shuts of the unit temporarily when it detects a sudden drop in temperature. It sounds counterproductive, but it's a clever thing for protecting your heat bill against gluttonous heaters overcompensating for an open door.
Finally, always look for some form of overheat protection. Whether a circuit's gone wrong; your fireplace has suffered physical damage; or in the aforementioned scenario of a thermostat struggling to cope with an open window; there are numerous ways in which a heater may surpass safe operating levels. A thermal cut-off kills the power, so you don't have to worry about contact burns or worse–a true fire hazard.
Electric Fireplace: Conclusion
You deserve a bit of luxury in your heating. There's just nothing more primally comforting than a roaring fire. And, in case you live in a property where open flame isn't an option, an electric fireplace is the way to go.
Today, we've spent a good deal of time analysing the best electric fires on the market–each serving a different aesthetic and budget. You've also gotten a few key tips on how to conduct the most informed comparison shopping.
Which of our top electric heaters most appeals to you? Do you have any requirements we didn't touch upon? Leave us your thoughts in a comment below.
Avoid Expensive Breakdown Costs
Boiler Replacement Promise: If it's under 7 years old and we can't repair it, we'll replace it.
Try YourRepair. From £8/mo
All plans include: annual boiler service, all parts and labour, unlimited support and 24hr helpline.