HeatingForce is reader-supported. When you buy through links on our site, we may earn an affiliate commission. Learn more
Boiler Installation Nottingham: Get A New Boiler Or Boiler Replacement in Nottingham
Buying a new boiler in Nottingham is a stressful time. It can be expensive, inconvenient, and uncomfortable if you have to face days or even weeks without heating and hot water.
In this guide, we will share all the advice you need to help you buy a replacement boiler quickly and affordably while ensuring you are getting the best boiler for you.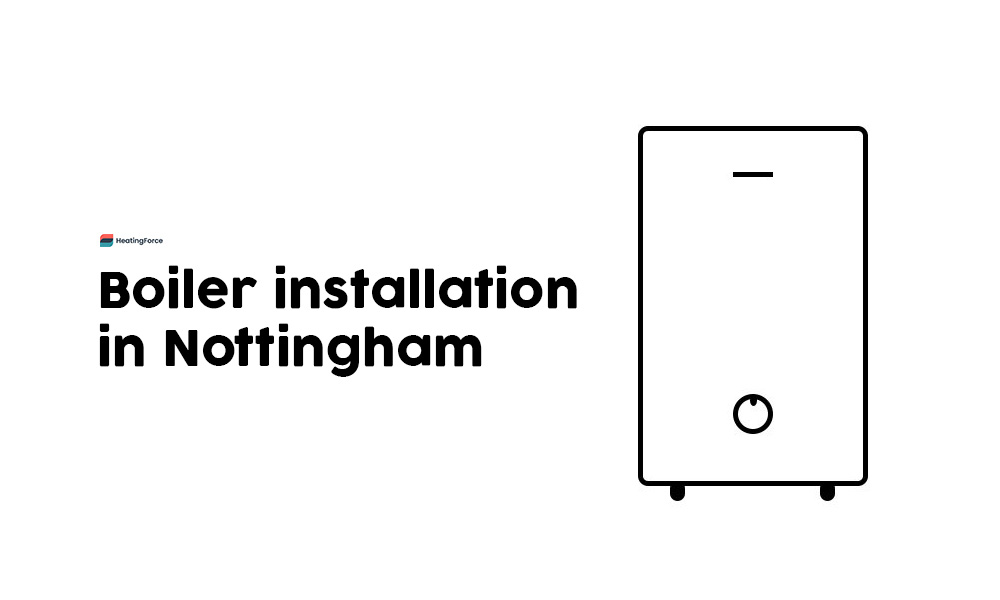 Buying a new boiler is just a fact of life. It is something we all have to go through a few times in our lives. But it can be stressful and expensive and the hassle of haggling with local tradespeople is too much for some people.
If you have tried to seek out articles online, you will know that there are lots of all-purpose guides out there but precious little local information.
That is why we have created this guide exclusively for people who live in Nottingham and the East Midlands. It is packed full of essential information and local tips to help you make an informed choice about your new boiler and save a big chunk of money too.
Buying a Boiler in Nottingham
Nottingham is the UK's 15th largest city with a population of around 300,000 people. It sits at the heart of the East Midlands, a region that is home to 4.8 million people across cities and towns that include Leicester, Derby, Chesterfield, and Lincoln.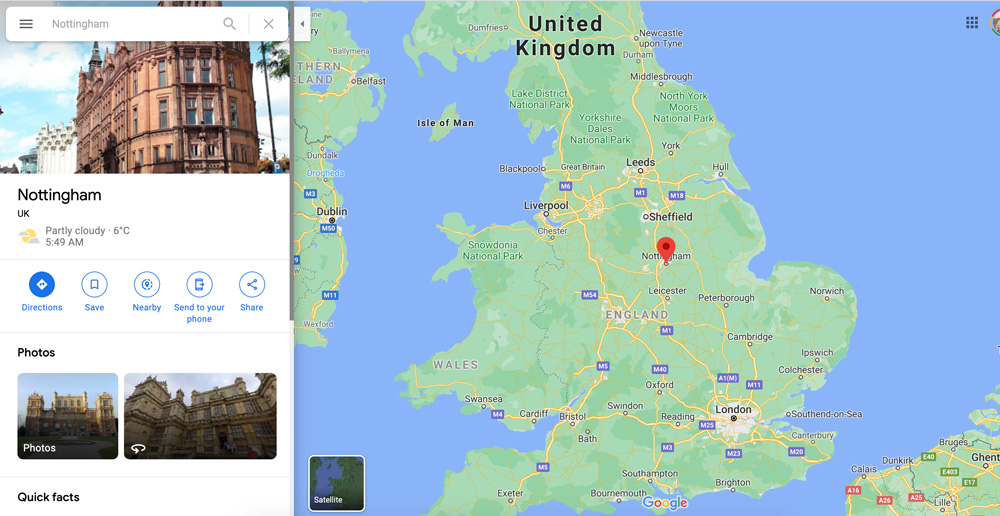 Living in such an urban and populous environment has its advantages and disadvantages when it comes to buying a new boiler.
If you are on the lookout for a replacement boiler unit, there are plenty of retail outlets you can choose from. There are a lot of local installation companies in the region too, but this is where the problems come in.
The UK has a chronic shortage of qualified plumbers and gas engineers and this is as true in Nottingham as anywhere else in the country.
While there are plenty of them around, demand for their services is high and this can mean that you have to wait a long time for them to install your boiler and pay a premium when they do.
This is far from ideal but, as we will explain in the following section, there are other options out there.
Who should you use to install your new boiler in Nottingham?
The question of who you should get to install a new boiler is one we get asked all the time. It is a tricky one because there are a lot of options and lots of variables that need to be weighed up.
The most important bit of advice we can give is; quotes, quotes, quotes.
Most sites will recommend you get three quotes before getting any work done on your property. We would say that three is the absolute minimum and, ideally, you should be looking to get as many as possible. That way, you can get a better idea of what the going rate in Nottingham is and stand the best chance of finding a great deal.
There are three principal types of installation company you can choose from. We would advise you to get at least one quote from each type to enable you to compare and contrast them:
National Installation Companies
The UK has a number of different nationwide installation companies. British Gas is the one most people know. These companies operate right across the UK, including in Nottingham and maintain a high profile through TV and newspaper adverts.
But advertising campaigns like this are expensive and they add to these companies already high overheads. Invariably these costs will be passed on to their customers.
In our experience, choosing a national installer means paying a higher price for your installation. This may not always be the case though which is why it is worth getting a quote.
Local Heating and Gas Installers
As we have already discussed, local installation companies in Nottingham are in high demand and availability can be an issue. Their prices are usually much lower than national installation companies and you can often save as much as several hundred pounds.
But an issue you might encounter is quality. These small businesses and independent traders can deliver very different levels of service which is why it is important to do some research before choosing one.
Word of mouth is how most local installers drive business but we would advise you not to just accept one person's recommendation but rather seek out multiple recommendations and get an itemised quote before choosing your installer.
Online Installation Companies
The gas installation industry has been shaken up considerably in recent years by the arrival of new online installation companies.
These companies usually operate across the whole country which means they can get prices from suppliers. But their online model means low overheads and as a result, considerable cost savings which they can pass on to their customers.
A lot of people overlook online installation companies but they can offer the best deals around on a replacement boiler installation.
Our pick of the online installers at the moment is Warmzilla.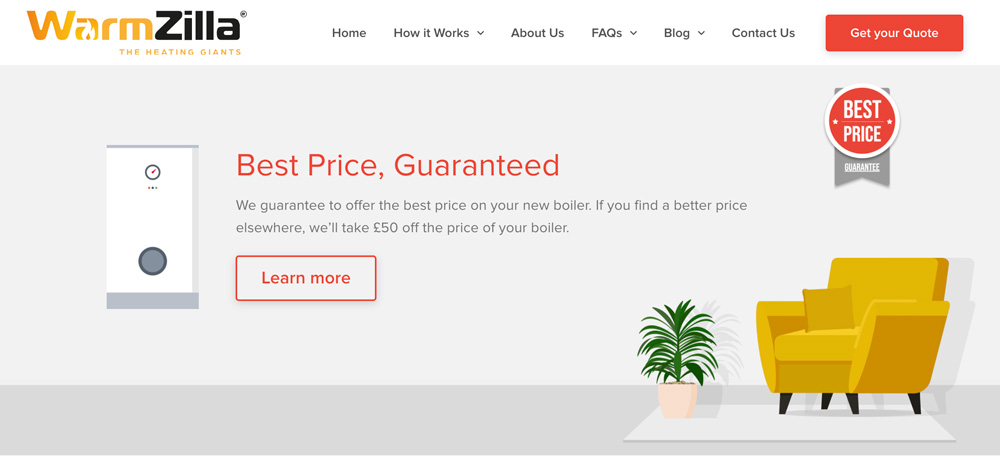 They have been around for a while and have built an impressive reputation of the back of great service and low prices.
Warmzilla will always have various special deals available including 0% APR finance deals on some models and extended warranties. It can install boilers across the UK and has a large number of installers based in Nottingham and the East Midlands area.
We always advise people to get a FREE quote from Warmzilla before buying a replacement boiler.
It only takes two minutes and all you have to do is fill in a few details (no personal information) on their website. Warmzilla will then recommend a range of boilers to suit your property and give you a fixed-price quote.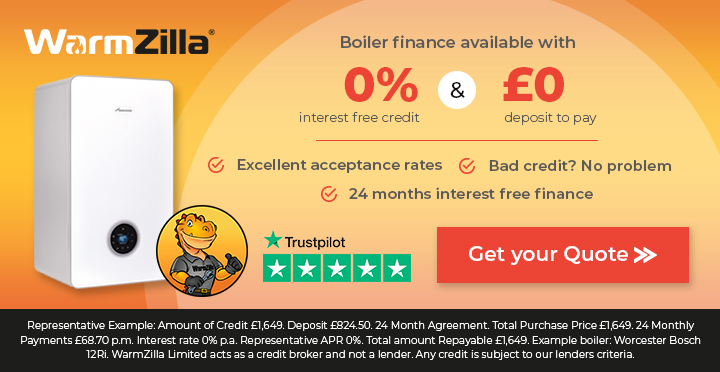 We always suggest getting multiple quotes but we would strongly suggest that at least one of those quotes comes from Warmzilla – you won't regret it.
What type of boiler should you choose?
Choosing the right type of boiler is just as important as getting the right installer. Over time, it can save you a lot of money if you get the right boiler upfront.
A lot of people leave this decision to their installer, but this approach is not without risk. A lot of installers get certain makes and models at a discount from their supplier and, while this may increase their profits, it doesn't necessarily mean you are getting the right boiler for your property.
There are lots of different factors that can determine the right boiler and it is a good idea to do some research and know some key facts before you start your search and begin getting quotes.
The first consideration is what fuel you need your boiler to run on.
There are a number of different options out there including:
Gas
LPG
Oil
Electricity
Renewable energy sources
What kind of fuel does your boiler use?
Grab your fixed price online, ask for next-day boiler installation.
Most of the people in Nottingham and the East Midlands live in urban areas where the vast majority of properties have access to mains gas. This is the cheapest and easiest fuel to choose and also gives you the widest choice of boilers.
The next question is what type of gas boiler you need. Again, there are a number of different types of boiler you can choose from. These include:
Combi Boiler
Regular Boiler
System Boiler
Compact Boiler
Getting the right type of boiler is important
A combi boiler is ideal if you live in a flat, an apartment, or a small house, as most people in the Nottingham area will.
If you have a larger home or a property with a water tank in the roof and an airing cupboard, you will need a regular boiler unless you want to change your system, which will add to the cost.
System boilers are usually used in commercial buildings so it is unlikely you will want one of those.
Compact boilers are a smaller version of a combi boiler and ideal for small properties where space is really tight.
What size boiler should you choose?
When we talk about the size of your new boiler, we are actually referring to its power capacity rather than the physical size of the unit. It is really important that you get the size of your new boiler right.
If your new boiler is not powerful enough, it will struggle to provide you with enough hot water and to get your radiators up to temperature.
If, on the other hand, it is too powerful, you will find your utility bills are increasing unnecessarily.
Getting the right-sized boiler is a little tricky as it can depend on things like how many radiators you have and how much hot water you use. A lot of people will get their installer to decide on the right-sized boiler for their property but it is a good idea for you to know what size you are looking for too if you want to make an informed decision.
To help you with this, we have compiled the following data. This assumes that you are looking for a combi boiler, which the majority of people in Nottingham and the East Midlands will be.
ALSO READ: Boilers on finance, best deals on the market
Combi boilers are available in three main size ranges:
24kW – 27kW
28kW – 34kW
35kW – 42kW
Basing our calculations on these three ranges, we can give a broad estimate of the size of the boiler you will need for your property:
| | | | |
| --- | --- | --- | --- |
| Property Type | Radiators | Bathrooms | Boiler Size |
| Apartments, 1 & 2 bed houses | 10 or fewer | 1 | 24kW-27kW |
| Medium size 2-4 bed homes | 10-15 | 2 | 28kW-34kW |
| Larger Properties | 15-20 | 2+ | 35kW-42kW |
This estimate does assume an average hot water consumption. If you use more than average, you will need a more powerful boiler.
You can ask your engineer's advice too, but they may well charge you for the call out. Another option to get a more precise idea of what size you need is to use an online calculator.
The Warmzilla website actually offers one of the best. By filling in the details in their online form, they will be able to tell you exactly what size of boiler you need and will recommend you some of the best models at superb prices.
Nottingham Boiler Replacement: How much does it cost?
We know that the information you really want to know is how much a replacement boiler is going to cost you. As with most things when it comes to boilers, this is not an exact science and there are a lot of variables involved.
We will address two of the biggest of these in the following two sections but if we assume that you live in an average-sized Nottingham property, are planning to buy a 24kW combi gas boiler, you can expect to have to pay something in the region of £2,000.
It could easily be less. On Warmzilla right now, your options would include a high-spec Worcester Bosch boiler that is available for a mere £1,649.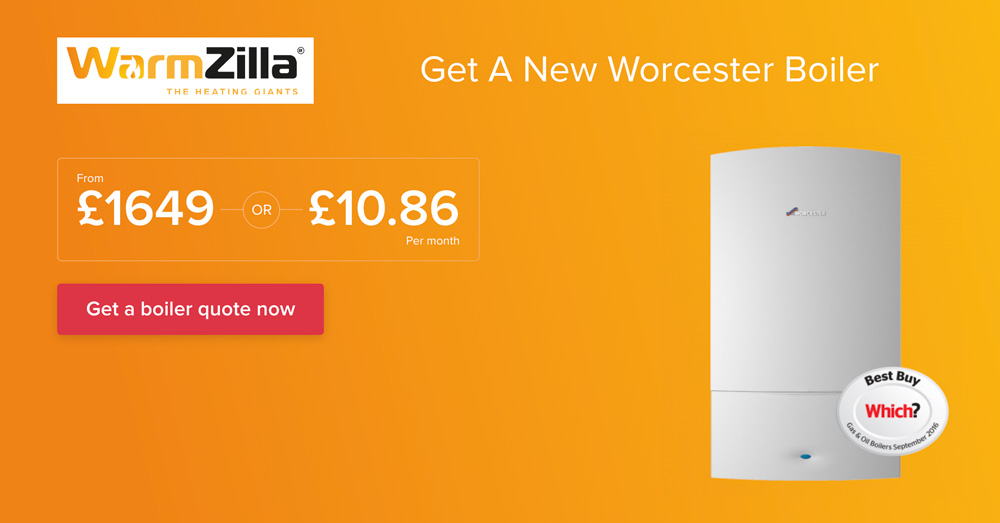 You could spend more if you want to. More high-spec boilers are available. There are also cheaper boilers available too but we would urge caution with these. Cheap boilers are made with cheap components and have short warranties. They are likely to go wrong faster and ultimately you can expect to spend more money fixing them. Over their lifespan, getting a cheap boiler is likely to be a false economy.
Moving The Location of Your Boiler
One of the biggest factors that influence the price of your boiler installation is whether or not you need to move your boiler to a different location in your property.
If you do need to move it, the price of your installation will increase. How much it will go up depends on various things including, most importantly, the labour costs.
If you need a lot of new pipework installing, that is going to increase the price quite significantly. Other things that could push up the cost up include stuff like installing new flues and any work that is needed on external walls or the roof of your property and the cost of materials.
We know you want us to suggest a possible figure, so we would estimate that you can expect moving a boiler to add something between £350-750 to your overall bill. If you find a good local installer or use an online installation company like Warmzilla, you might be able to get it done for less.
Do I need to buy any extras?
Another factor that can push up the price of a replacement boiler is extras. Some installers will include extras as part of their quote. Others may add the price of any extras onto their bill. This is why it is vital you always get an itemised quote.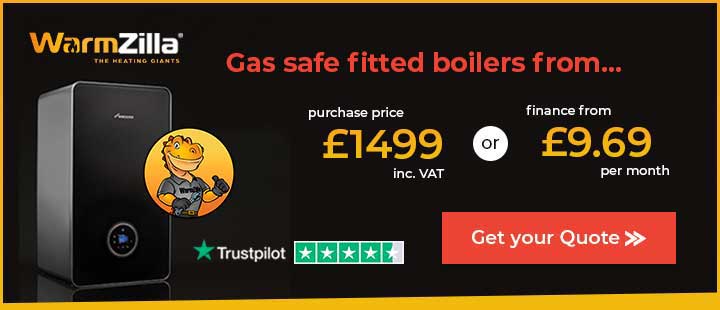 It is easy to dismiss extras as unnecessary but actually, some can extend the life of your new boiler and ultimately save you money in the long run.
It is well worth ensuring that you do get certain extras included. Some of the ones you would be well-advised to consider adding are:
A Magnetic filter – this useful filter collects up any metallic debris that can build up in your heating system. This can develop into sludge and have a negative impact on your boiler's performance. It can even cause serious damage components. A magnetic filter helps to prevent this and is well worth having.
A scale filter – Nottingham sits slap-bang in the middle of the UK's hard water region and this means that limescale is a real problem for people living there. It can build up on your boiler components and clog up entire heating systems. A scale filter helps to prevent this and also extends the life of your boiler.
Hot / Power Flush – If you have an older heating system, it is likely that it already has some muck and sludge in the system. When you are spending money on a new boiler, it is a good idea to get this cleaned out to stop it causing problems in the future. A hot flush or a power flush will do this but be careful. Power flushing an older heating system can cause damage to joints and older pipework so you should always check with your engineer before proceeding.
If your installation company suggests any other extras, our advice would be to do some research to see what they are and whether they are worth the money. If you have any questions about any of these extras, we are always happy to try and answer them.
Summary
For people who live in Nottingham or across the East Midlands, this essential guide to buying a replacement boiler hopefully contains all the information you need to make the right decisions and save some money.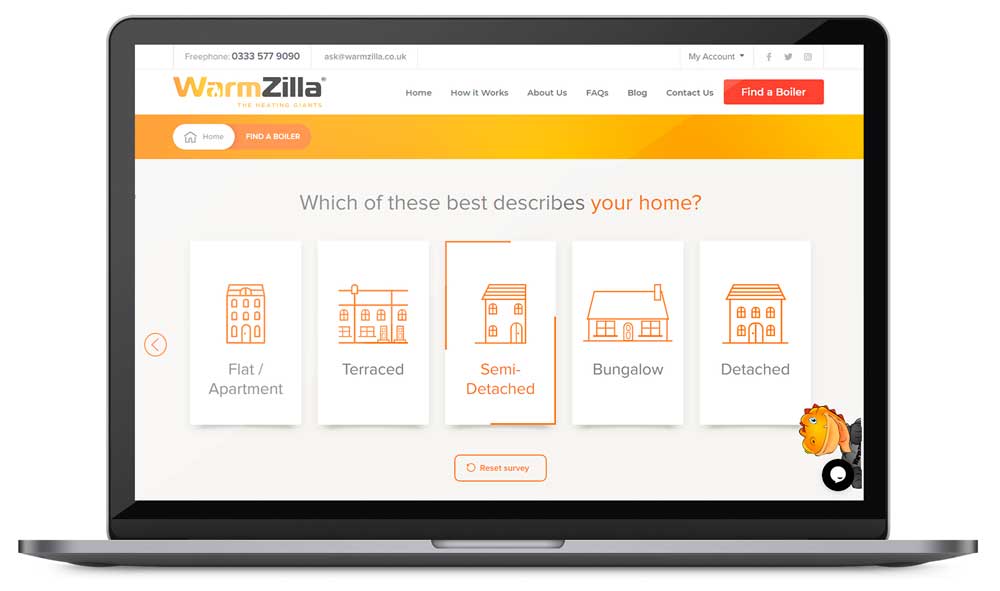 We have outlined how you can choose the right boiler for your property, telling you about different types and giving you a size guide. We have also given you some advice on what extras you need and the cost of moving a boiler.
In addition, we have also explained how to get the best possible price for installing a replacement boiler and outlined the three different types of installation companies there are on the market at the moment. In particular, we have recommended you get a quote from online installation company Warmzilla, which offers some of the best prices around on a huge range of high-quality boilers.
If you have any questions about buying a new boiler in Nottingham, please do feel free to leave them in the comment box below. We always answer any questions or comments we receive.
Avoid Expensive Breakdown Costs
Boiler Replacement Promise: If it's under 7 years old and we can't repair it, we'll replace it.
Try
YourRepair
. From £9/mo
All plans include: annual boiler service, all parts and labour, unlimited support and 24hr helpline.