Boilers On Finance: Best Pay Monthly Boiler Schemes (2021)
Looking to get a boiler on finance? We've done the research to help you get the best monthly packages available.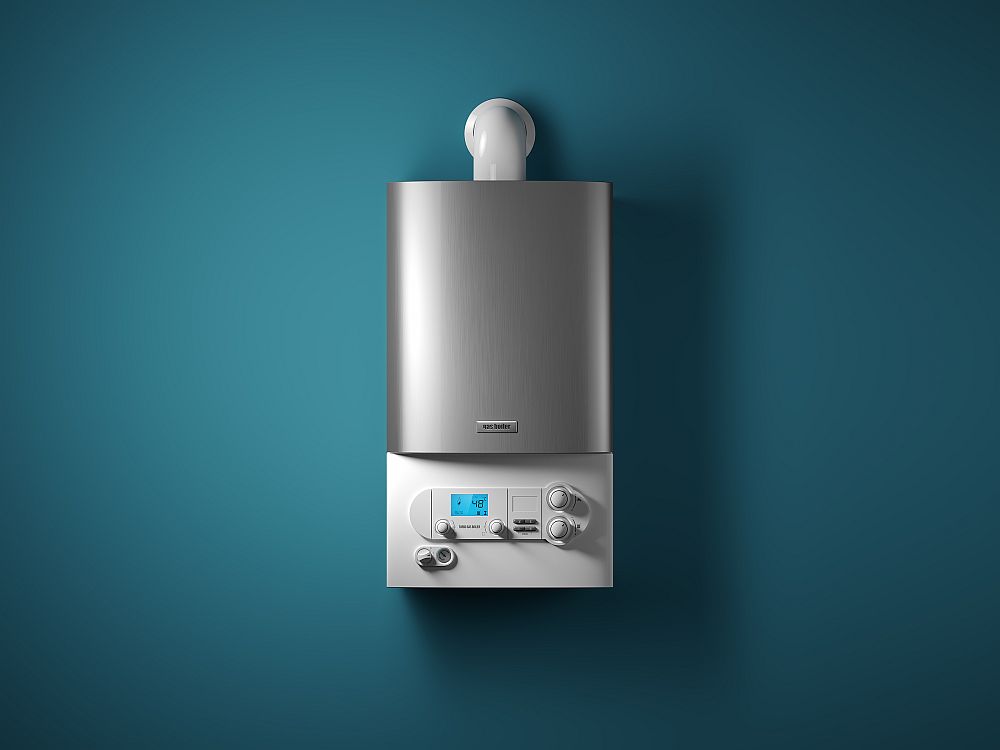 This tutorial will cover everything from expected monthly repayments, through to APR rates, and even tricks (some) companies use to cover the cost of their so-called "0% APR" deals.
The Short Version: Choose Heatable Boiler Replacement Finance for Best Value
If you're looking for boilers on finance, one place worth mentioning is Heatable.
Heatable are a boiler replacement company. And the great thing about being the new kid on the block is having a great partnership with Worcester Bosch allowing Heatable to supply these boilers at incredible rates.
Worcester Bosch installations start at £1,785 at 9.9% APR over 3, 5, or 10 year repayments. Or, get 0% interest for 2 years on select boilers.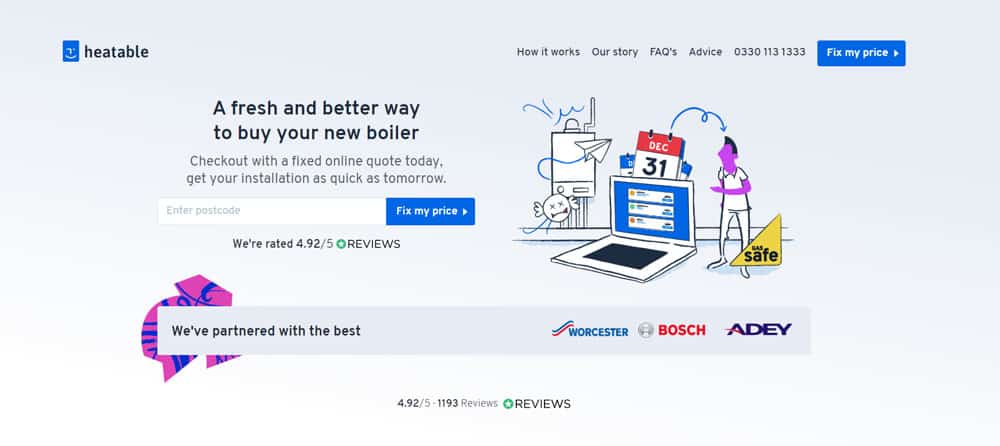 However, it's worth noting that the amount of deposit you put down, will affect the monthly repayments, and the overall repayments including interest. So, although you can get £0 deposit boiler finance from Heatable, it's worth trying to get as much deposit together as possible.
We've created a detailed guide to Heatable boilers, and here's an example of a boiler finance package that's currently listed on their homepage:
Boilers on Finance: Monthly Payment Schemes Explained
Now, let's jump into the different boiler finance packages on the market.
Most boiler finance companies build-in all or some of the features below, to suit your financial position.
APR Rates: Interest-Free and Upwards
Jump on a few top boiler websites, and you'll see that typical rates are around 12.9% APR.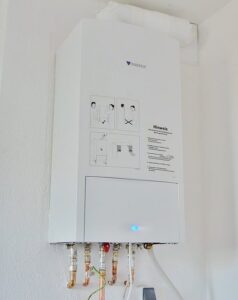 Now, I'm not going to screenshot and upload those rates – I don't want to get sued.
There are better and worse options out there. Obviously, 0% is ideal, but something around 10% with zero interest is highly competitive. The highest APR rate I found was 21.9% — which is a tonne, by the way.
What if the rate is too high?
If you don't have the cash, can't find a deal in the 0% APR – 12.9% APR range, I'd seriously consider a loan from a high street bank. You should be able to get one below 10%.
Also, bear in mind that the difference between say 10% and 20% APR, could add on around 1 year of repayments on a 10-year boiler finance deal.
You can get a price on the screen including APR rates here.
Monthly Repayments (From £12.94 Per Month)
Once you've found a reasonable provider that offers boilers on finance, you'll need to set your monthly repayment.
If the APR is anything above 0% interest, you want to pay it off as soon as possible (unless you have higher APR debts such as credit cards, in which case, pay those off first).
Obviously the lower the monthly repayment for your boiler finance deal, the longer it will take to pay off. So, £10 per month or less might sound good, but that's going to take 10+ years to pay off.
Repayment Term (From 3-10 Years)
So, the repayment period in mind, try and set a monthly repayment that's affordable, but pays off the boiler as soon as possible.
Typically, you'll find that almost all companies offering boilers on finance will have options from 36-120 months — sometimes less, sometimes more.
Payment Holidays
For most people, this is an important one. If you're looking for boiler finance and you don't have the cash to pay for a new boiler upfront, that's understandable. It's a big investment and usually one that needs to be made unexpectedly.
That's why most boiler finance deals can have a deferred initial payment option built-in. Basically, you won't have to pay anything for the first 1-3 months.
That gives you the opportunity to sort out your finances in time for the first payment. But, you'll be able to get your boiler replacement straight away.
Boilers On Finance If You Have Bad Credit
So, you could be looking at payments from £12.94 per month and deals as low as 9.9% APR (i.e. interest-free).

But, that assumes you've got good credit.
Boiler finance for people with bad credit rating
What you should expect is a higher interest rate in comparison to someone with a good credit rating. But, there are some companies offering great deals. You can use this boilers on finance calculator here, to determine the overall cost and APR for your new boiler.
Basically, it's unlikely that you'll be getting an interest free boiler on finance.
Where To Find Boiler Finance Deals
Even local installers have started offering boilers in finance. As many use similar finance providers as the large boiler installers, they can offer competitive finance deals (interest free, under £15ish per month etc) too.
It used to be that a local installer would be able to offer a lower installation price than a large national. That was until Heatable teamed up with Worcester Bosch. Essentially, they fit Worcester boilers on finance at stupidly low prices. You can get a finance quote and determine the APR you'll be paying by using this clickable form.
Comparing Boiler Finance Quotes So You Don't Pay More Than You Should
Don't get completely bogged down by the APR rate.
If the installation cost is high, the interest-free rate really makes no difference.

Basically, you could get a 0% boiler finance deal, and pay more monthly and over the whole repayment period than another consumer that's paying 9.9%.
So, you'll want an itemised quote for your boiler installation.
That way, you'll be able to see which quote is best (based on price alone), but also compare things such as:
The boiler being installed. Is it a cheap boiler, or high-quality one like Worcester Bosch?
Is the installer also fitting a magnetic boiler filter and scale reducer to protect your investment?
Does the cost include an initial hot flush, to ensure any heating sludge is out of your heating system before the new boiler is installed?
Need a new boiler? Get a FREE fixed quote with finance options.
Pay close attention to the itemised finance quote
One installer might seem incredibly cheap, but once you break down the quote, there's a good chance you'll see why.
To get you started, you can get an itemised boiler finance price on screen here, in less than 2 minutes, and without putting in any personal details.
A Word On Boiler Warranties
Now, this is an important one.
Hopefully, you've taken my advice and are choosing a replacement boiler that comes from the list of brands above.
But, within those brand's model line-up, there are boilers with low warranties.
A low warranty is 2-years. We always advise people to get a replacement that has at least 5-years, with 7-years being preferable.
There are even warranties on offer up to 10-years. Heatable offer 10-years as part of their boiler finance deals.
But, to get these warranties, you'll usually need your installer to be an accredited installer for that brand (for instance, a Worcester Accredited Installer can offer warranties of up to 10 years).
So, make sure you research the terms and conditions of the manufacturer's warranty. If it needs an accredited installer for that specific brand – make sure your installer has that accreditation.
How Boiler Finance Can Actually SAVE You Money
There's a certain group of people that can benefit from boiler finance deals a lot more than others; those that have an appliance that's out of warranty.
If you have a new (ish) boiler that's still under warranty, you've got two things on your side:
A manufacturer that should replace any parts when they malfunction
An efficient boiler that's low on energy bills
For those with an older boiler, you have neither of those things, and that means you're losing money daily.
Here's how much…
Energy Efficiency
New boilers are nearly all, A-rated. And that means they're efficient.
If you've got an extremely inefficient boiler (an old G-rated one for instance) and a large property, you're losing a tonne on energy bills.
According to the Energy Saving Trust, this could be setting you back up to £320 per year.
That's up to £26.67 per month that you're losing out on.
Boiler Repair Costs
So, you've got a boiler that's out of warranty? That's bad news.
Boilers tend to malfunction more and more, the older they get. That's the #1 reason manufacturers set their warranty the way they do – they don't want to pay to fix your boiler, they want you to buy a new one.
Unfortunately for us, that means any repairs need to be paid for out of our own pockets.
I've created a quick-fire guide to boiler repair costs here.
As you can see, an average repair, you'll be lucky if it's less than £300.
Choosing The Right Boiler Brand For Your Home
Now you understand a few of the basics when it comes to getting boilers on finance, you'll need to start thinking about the boiler brand you want.
Maybe you've already chosen?
Stop right there.
You need to get a Gas Safe engineer to come and spec your property. The boiler installed isn't necessarily the most suitable for your property (technology changes over time).
What kind of fuel does your boiler use?
Grab your fixed price online by 3PM, and get next-day boiler installation.
Boiler brands offer a range of options including:
Multiple fuel types (LPG, Gas, Oil, Electric)
Different KW outputs for different sized properties
Compact boilers that are suitable for smaller installations (a typical example would be a kitchen cupboard)
The list goes on…
When a boiler engineer visits to offer a quote for boiler finance, they need to consider:
Property size
Number of bathrooms
Number and size of radiators
Overall hot water and heating demand
They'll then offer you a few suggestions on the best brand to install, and the model.
My suggestion is, take their advice if they plan to fit one of the following brands:
Baxi
Grant (Oil)
Ideal Boilers
Potterton
Vaillant
Viessmann
Worcester Bosch
There's not much debating to be done here.
Most top-quality boiler engineers will agree that those are the brands to be installing. If you want a Worcester boiler on finance, you can get prices on screen here.
What's Next?
Thanks for reading our 5-minute guide to getting a new boiler on finance.
Ready to get your boiler finance quote? Click here and get it on the screen within 30 seconds.
Hopefully, this guide has given you enough information to decide on whether to explore boiler finance deals further or to simply save up the cash and pay for your boiler upfront.
Still confused about your boiler finance options?
Or, not sure a recent boiler quote you've had is a rip-off?
No Problem.
Put together as many details as you can and leave a comment below –  we'll get back to you as soon as possible.
Avoid Expensive Breakdown Costs
Boiler Replacement Promise: If it's under 7 years old and we can't repair it, we'll replace it.
Try YourRepair. From £9/mo
All plans include: annual boiler service, all parts and labour, unlimited support and 24hr helpline.