The Best Compact Power Flush Machine For The Money
If you're looking to expand the plumbing services you're offering, power flushing is a great way to go.
Below we're going to cover whether you need to make this relatively large investment, what we think is the best power flush machine for the money, and why.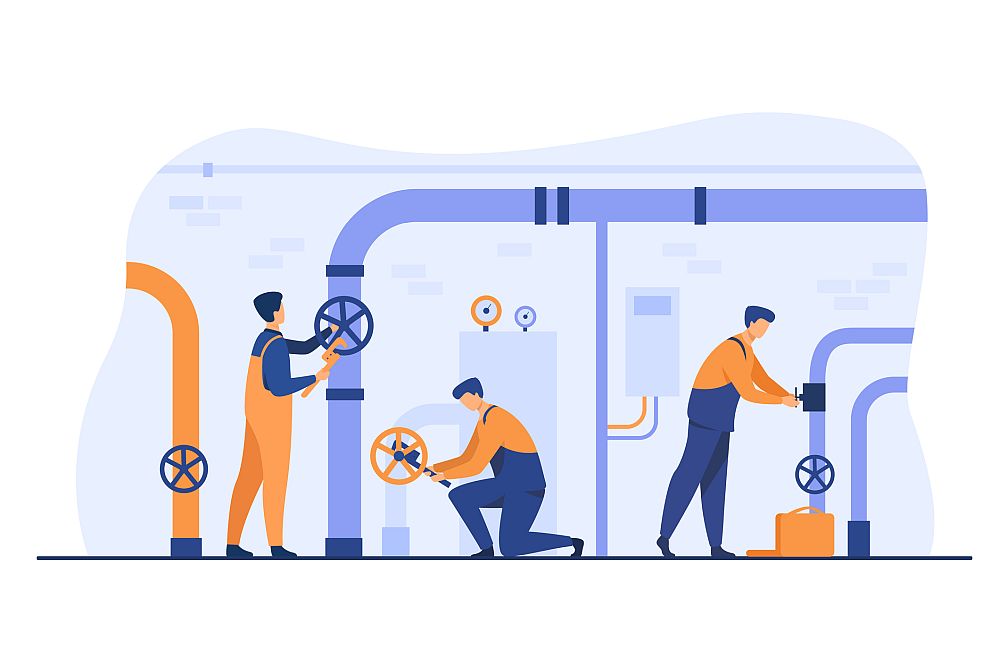 Do You Need to Buy a Power Flush Machine?
First up, let's decide if you need to buy a power flush machine, or if the better option is to hire one instead.
Power flushing machines aren't cheap. You'll be investing anywhere from £500 for a compact unit, up to £1,500 for some of the larger machines on the market.
So, you need to ask yourself, how many power flushes per year do you expect to complete? If you're only expecting to do one or two per year, it might be worth hiring one instead.
Doing more than that? Investing in a new power flushing machine is going to be the way to go.
Hire Costs
Power flushing as a service is reasonably profitable, so you should be able to build-in the cost to hire a machine. If you're planning on hiring rather than buying, get down to your local hire shop and check prices.
Typically, we'd expect to pay £50-75 per day including VAT for hire.
The Best Brands
Like any plumbing or heating specific tool, each engineer tends to swear by a certain brand.
However, if you stick to the following well known brands, you won't be going too far wrong:
ADEY
Kamco
Fernox
Anton
Norstrom
The question is, which one is the best?
MagnaCleanse: Best Power Flush Machine
One of the most popular power flush machines on the market today is the MagnaCleanse, produced by well-known heating brand, ADEY.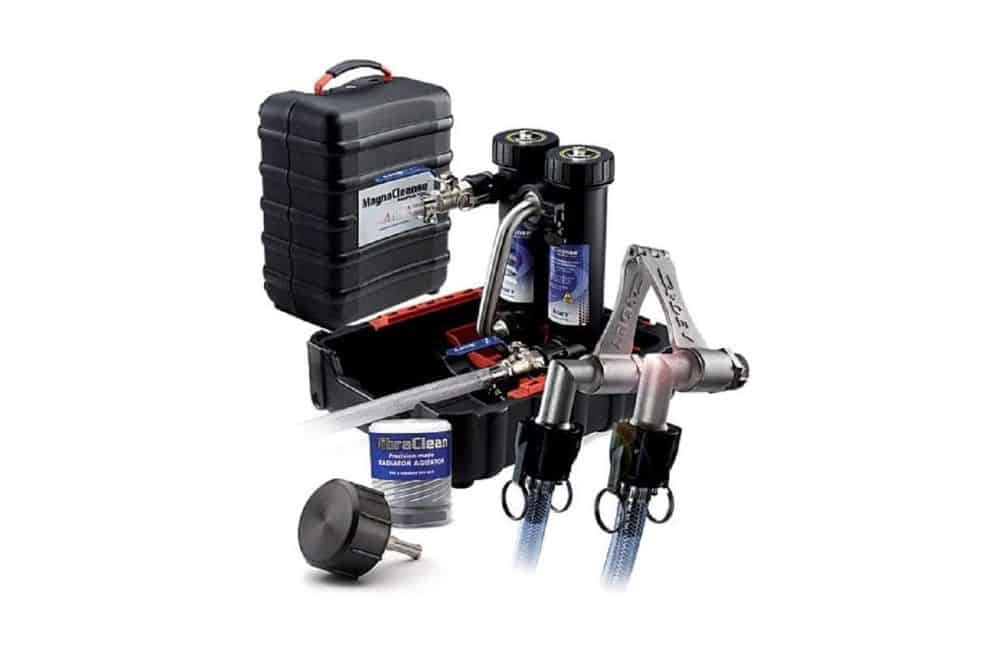 Below we'll cover how it works, and why we think it's the best power flush machine on the market today.
How It Works
There are bigger and more powerful machines out there. The problem is, it's not a good idea to be over pressurising an old system, for the sake of a quick clean. This is going to lead to leaks, and that's never a good thing…
The MagnaCleanse doesn't have a built-in pump, meaning it doesn't build-up pressure in old heating pipes, reducing the chance of leaks when compared with more powerful flushing machines. But it still gets the job done.
Basically, you'll need a working boiler with a solid central heating pump in order for the MagnaCleanse to do its job correctly.
Check out this video from Plumber Parts, showing how it works, and how to use it:
Zero Running Costs
You'll not need to budget in any running costs for the MagnaCleanse, because there isn't any!
Low Price
As we mentioned above, one of the main reasons not to buy a power flushing machine is the cost. If you're only flushing systems a few times a year for your customers, investing £1,000 or more in a machine makes little sense.
The better option would be to rent a machine from your local hire shop at around £50-75 per day including VAT.
Convinced a purchase is the right route forward? Price is where the MagnaCleanse beats its competitors, hands down.
You'll be able to pick up a MagnaCleanse flushing machine for around £500, rather than £1,500!
Compact Size
You'll notice that traditional power flush machines are normally:
Neither of those things makes them easy to move around or to stash safely in your van. Essentially, you're going to need to strap it down to keep it safe when moving from job to job.
As you can see from the MagnaCleanse, it's small, and it's boxed; as compact as you like. And, that's going to mean it's easy to move from the job to your van, secure in your van, and remove when you get home. We like that!
Lightweight
As we've mentioned, traditional power flushing machines are bulky; up to 30kg in some cases.
The MagnaCleanse from ADEY weighs in at just 17kg. So, it's not just compact, it's lightweight too!
Quick & Easy To Use
Time is money, and that's something ADEY has recognised. So, you won't be wasting 4 hours or more using a typical power flushing machine.
Instead, you'll be completing your flushing jobs in around half that time. Time saved, means you can book in more jobs, give customers a better price than the average engineer, but still bank more per day than usual; win-win-win.
In Summary
It's lightweight, compact, and is over half the price when compared to many other machines on the market.
It doesn't put unnecessary pressure on a heating system (meaning less chance of leaks), and you'll have jobs completed in around 2 hours, meaning you'll be able to complete more power flushing jobs per day than with a traditional machine.
And combined, that's why we think the MagnaCleanse is the best power flush machine to buy.
What You'll Need Alongside The MagnaCleanse
Now you've purchased your power flush machine, you'll need to think about what else you'll need to get the job done.
Naturally, you're going to need a heating system cleaner to run your power flush. ADEY have produced a specific cleaner to help make the flushing process as quick as possible, being the Rapid Flush MC5, and you'll need inhibitor like the MC1 to dose the system afterward.
If your customer hasn't got them fitted already, obviously we'd be suggesting a magnetic filter, and further protection in the form of a scale reducer for those in hard water areas.
What's Next?
Thanks for reading our guide to power flush machines.
Got questions? Or, want to share your experience with a MagnaClease (or another machine from that matter)?
Drop us a line via our contact page, we'd love to hear from you!
Avoid Expensive Breakdown Costs
Boiler Replacement Promise: If it's under 7 years old and we can't repair it, we'll replace it.
Try YourRepair. From £9/mo
All plans include: annual boiler service, all parts and labour, unlimited support and 24hr helpline.