I've developed this new boiler installation cost guide using research (I work at a plumbing merchants), as well as help from my brother and cousin (both Gas Safe engineers).
Before we go any further, it's always worth getting 2-3 boiler replacement quotes from Gas Safe boiler engineers.
New Boiler Installation Costs
So, the four most common types of boilers are: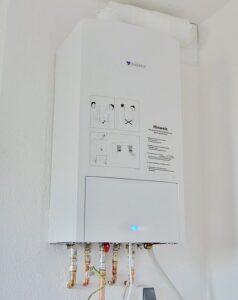 Oil boilers
Combination boilers
System boilers
Back boilers
After consulting a few local Gas Safe engineers, and taking into account our own prices, we've come up with some estimates of labour prices for boiler installation.
Here is what we have based our figures on:
30kw Ideal Logic Plus Combi boiler with a 7 year warranty
Magnetic system filter installation
Basic controls and room thermostat
Hot flush
Boiler Replacement Cost Guide
Work required
Boiler Type
Cost
Replace boiler, using the existing location
Regular
£1,700
Combination
£1,750
Replace boiler, moving to a new location
Regular
£1,950
Combination
£2,000
Central heating system upgrade to a combination boiler (including removal of hot water tanks)

Regular
£2,750
Back boiler
£2,850
Upgrade to a system boiler (retaining hot water tanks)
Back boiler
£2,400
Upgrade to a combination boiler
Back boiler
£2,700
How do these prices compare to British Gas?
Many of the people we offer new boiler installation quotes to have already had one, usually by British Gas.
Typically, a like-for-like quote (exactly the same fittings, controls and boiler) will be £700-1,000 cheaper than British Gas.
What type of boiler do you have?
Before you can get an accurate price for a new boiler, you'll need to figure out which type of boiler you have.
As an example, a cheap combi boiler is around £600, whereas oil boilers will cost £1000 and beyond
Combination boiler (Combi)
The most popular and efficient boiler on the market.
You will NOT have a hot water cylinder.
Combi boiler installation costs are usually similar to System and Regular boiler prices (boiler only).
Heating and hot water are provided through the same boiler unit (i.e. there are no storage tanks).
Oil Boiler
It's likely you'll have an oil boiler if you are not connected to mains gas (or mains gas was not connected when the last boiler was installed).
Oil boiler installation costs are usually the highest.
System boiler
You WILL have a hot water storage tank (or cylinder).
They are fitted in larger properties where a combination boiler would not be able to heat enough water on demand.
Regular boiler
If you have a hot water storage tank, a cold water storage tank (usually in a loft) and a boiler. It's likely yours is regular (or "heat only").
These are usually fitted in larger properties (2-3+ bathrooms).
13 Factors That Increase Boiler Replacement Costs
Here's the scenario.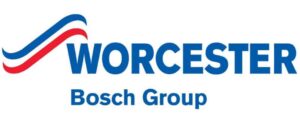 You get an online estimate.
After a home survey, the boiler replacement cost quote increases.
The work goes ahead, the engineer finds "more problems", and adds to the final bill.
And, I feel your pain.
#1 – Hotflush, Or PowerFlush
As a minimum, when installing a new boiler, you'll need a hot flush.
It breaks down and removes the build up of sludge in the system.
A hot flush is usually enough to get rid of this build up. A power flush is much more intense.
There are two big problems with power flushes (especially for old systems).
They put an immense amount of pressure on soldered joints, and sometimes leaks occur.
For the cost of a powerflush, it usually makes a lot more sense to add more energy efficient (and more aesthetically pleasing) radiators.
The Additional Cost
A hot flush should be included. However, a powerflush is likely to add £250-300 onto the price of your new boiler.
#2 – Premium Boilers
Worcester Bosch is the perfect example.
And, the like-for-like equivalent boiler from another brand (such as Ideal), is going to be £150-400 cheaper.
The Additional Cost
Expect to pay £150-400 in addition to a boiler installation quote, for premium boilers.
#3 – Type of boiler
Combi boiler prices are the cheapest.
Systems are slightly more expensive, and oil boilers are the most expensive.
The Additional Cost
Prices here can spike; big time.
A premium oil boiler could be as much as £1,500 more than a fairly basic combi boiler.
#4 – Scale inhibitor
"Hard water" contains particles that will see a build up of lime scale. To combat this, a scale inhibitor is fitted.
This is not needed in all areas. You can see a list of hard water areas here.
The Additional Cost
The price of a scale reducer, as part of your new boiler package, shouldn't add more than £100 to the total price.
#5 – Magnetic Boiler Filter
Check this is included in the quote. See this as the oil for your car; it protects your boiler.
For Worcester Bosch boilers, a Worcester branded filter will actually add a years warranty.
So, that shows how important they are.
The Additional Cost
Budget filters can be found for as little as £50, with something like the Worcester system filter being priced at well over £100.
Expect to pay £150-250 extra for a boiler filter to be fitted.
#6 – Extended Warranties
Worcester Bosch boilers come with a standard 5 year guarantee (this can be increased to 10 in some cases).
Ideal boilers offer boilers with a 2, 7 and 10 year guarantee.
The Additional Cost
The bump up from a 7-year to 10-year warranty should cost £100-200.
That's why we like Ideal, you can simply jump from the Logic (2-year) to the Logic Plus (-7-year), and the warranty is automatically included.
#7 – Heating System Upgrades
Base installation costs are usually derived from a straight swap (removal of old boiler, and installation of a new one in the same place).
An upgrade (such as swapping a heat only for a combination boiler) or moving the boiler to a new location, will incur extra costs.
The Additional Cost
Depending on the complexity of the central heating system upgrade, the additional price will sit in the £500-1,250 range.
#8 – Existing Heating Controls, Or New Ones?
Boiler controls cost money.
You'll have a mechanical timer and a room thermostat. If you don't have controls (or need new ones). It will cost.
The Additional Cost
Basic controls can be under £100. But high-tech setups are available that cost up to £400.
#9 – Gas Main Location
The Gas Safe engineer will need to run copper pipe from the gas main, to your system.
We find around 1/5 properties exceeds the threshold in terms of distance and difficulty.
The Additional Cost
An swkward gas main location could add up to £100 to the installation quote.
#10 – Moving A Boiler To A New Location
This is going to take time, and will cost in materials.
The Additional Cost
£350-750.
We've got a more detailed guide on the cost of moving a boiler here.
#11 – Upgrading Gas Mains For A New Boiler
Due to new Gas Safe regulations, many gas runs need to be re-piped.
The Additional Cost
This could be a 1-hour or 2-day job. Expect to pay £100-400.
#12 – Type Of Flue
Most installation quotes will be inclusive of a standard horizontal flue.
But, you may need a vertical flue (more expensive), a couple of extensions, and a flashing kit.
The Additional Cost
Expect to pay £50-80 extra for a vertical flue over a horizontal. And, you could be looking at a further £50-100 for 1-2 flue extensions.
What's Next?
Looking to get an idea of what a new boiler will cost, and for a boiler replacement price estimate?
Compare 2-3 quotes from Gas Safe boiler engineers here.
And, if you have any questions, leave a comment below.
We'll get back to you as soon as possible.
In this article