Welcome to our in-depth guide covering boiler installation costs.
If you're looking for a new boiler, there's a good chance you're confused by all the options.
After all, there are tonnes of national installers such as Help-Link and British Gas, local installers, and even online quote comparison websites like BOXT.
Which company do you choose?
This guide covers everything you need to know before buying a new boiler. In fact, we've even included a replacement cost comparison guide (with ACTUAL quotes we received), showing back-to-back prices from the likes of British Gas, BOXT and Help-Link.
New Boiler Installation Costs
So, the four most common types of boilers are: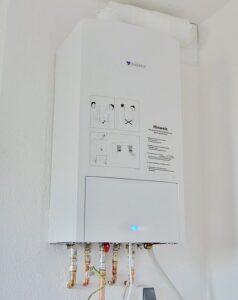 After consulting a few local Gas Safe engineers, and taking into account our own prices, we've come up with some estimates of labour prices for boiler installation.
Here is what we have based our figures on:
30kw Ideal Logic Plus Combi boiler with a 7 year warranty
Magnetic system filter installation
Basic controls and room thermostat
Hot flush
Boiler Replacement Cost Guide
How Much Does A New Boiler Cost?
So, the big question is, how much does a new boiler cost, fitted?
You're going to hate me, but the replacement cost of a boiler depends on SO many factors. In fact, we've listed 13 factors that can affect the cost of a boiler replacement below.
However, we've created a few estimates, to give you a gauge as to whether the quote you're being offered is reasonable or not. These are prices based on a reputable boiler brand in the 24kw-30kw range.
Work required
Boiler Type
Cost
Replace boiler, using the existing location
Regular
£1,700
Combination
£1,750
Replace boiler, moving to a new location
Regular
£1,950
Combination
£2,000
Central heating system upgrade to a combination boiler (including removal of hot water tanks)

Regular
£2,750
Back boiler
£2,850
Upgrade to a system boiler (retaining hot water tanks)
Back boiler
£2,400
Upgrade to a combination boiler
Back boiler
£2,700
Boiler Replacement Cost Comparison
The prices we've mentioned above, are typical for your average local installer. Having worked in a plumbing merchant, there's no doubt in my mind that large national installers get a MUCH better deal on the purchase cost of the boiler itself.
But, due to their high overheads, the fitting costs relating to labour only, tend to be a lot higher. Below, there's a cost comparison to give you an idea of what you should expect, when comparing a local boiler installation company, with the larger firms.
For now, we've just included the most well known (British Gas), another large national (Help-Link), and a new kid on the block (that offer surprisingly competitive prices), BOXT.
Boiler Replacement Costs From British Gas
British Gas are one of the biggest companies in the boiler replacement industry. They fit a tonne of boilers. So, if you've already had a quote for a new boiler, there's a good chance it's come from British Gas.
However, regardless of the national firm (British Gas, e.ON, AA and so on), it's unlikely that this is the way to get the cheapest quote.
In fact, looking at British Gas directly, even Help-Link (a national boiler installation company mentioned below) are cheaper. They (and I quote) claim to save on average, £1,081 when compared with a new boiler quote with British Gas.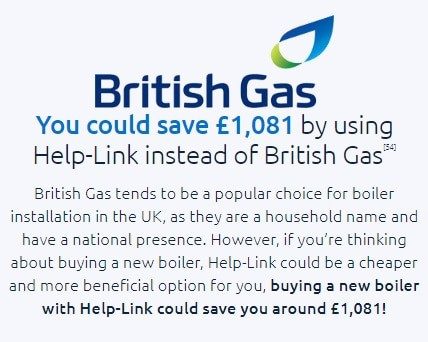 And, from my experience, you can expect to save a little more with a local installer. Typically, we'd expect to see a saving of AT LEAST £1,000. The bigger and higher the price of the job, the more you're likely to save.
Searching through a few online forums also reveals that what we guess, is true. Here, someone had quotes ranging from £2,350, through to £7,000 from British Gas.
What we're comparing here is a like-for-like quote. Quotes will vary. Some quotes will include upgraded controls, boiler filters and more, others won't. And, it's important to take that into account.
So, are British Gas too expensive? Like all national companies, they have large overheads that have to be accounted for. A cute penguin for TV adverts might get your name out there, but TV adverts aren't cheap.
A local installer will usually be much cheaper than a large national installer like British Gas. As will quote comparison websites like BOXT.
Boiler Replacement Costs From BOXT
British Gas don't allow you to get an instant online quote for a new boiler. But, there are a few companies that do; BOXT are one of them.
And, BOXT have really shaken up the boiler replacement industry. The good thing about BOXT, is you can log on, right now, and get a fixed quote for a new boiler. There aren't many companies offering that.
We went through their quote process, to see what the prices come out at. And to be fair, we're happy with what we saw.
After some research, we realised why all the boilers on offer are Worcester Bosch, and why they were so cheap; Worcester Bosch own 25% of the company, so obviously give their BOXT installers a preferential rate.
The new boiler cost we were looking for, was going to be suitable for a 3 bedroomed flat. As you go through the quote process, you'll see questions such as the type of flue, where the flue is located and how close it is to windows and doors.
For simplicity's sake, we made sure our answers meant there'd be no additional work, besides the boiler swap.
Once we completed the quote process, we're given lots of different boiler prices (about 10 in total). Obviously knowing boilers, we knew the Worcester 25I isn't just a good boiler, it's perfect for our property.

£1,695 is a great price for a new boiler, especially a Worcester. And, there was also the option for the equivalent boiler, in compact form (so, it would fit in a kitchen cupboard). That's a little more, but still a great deal.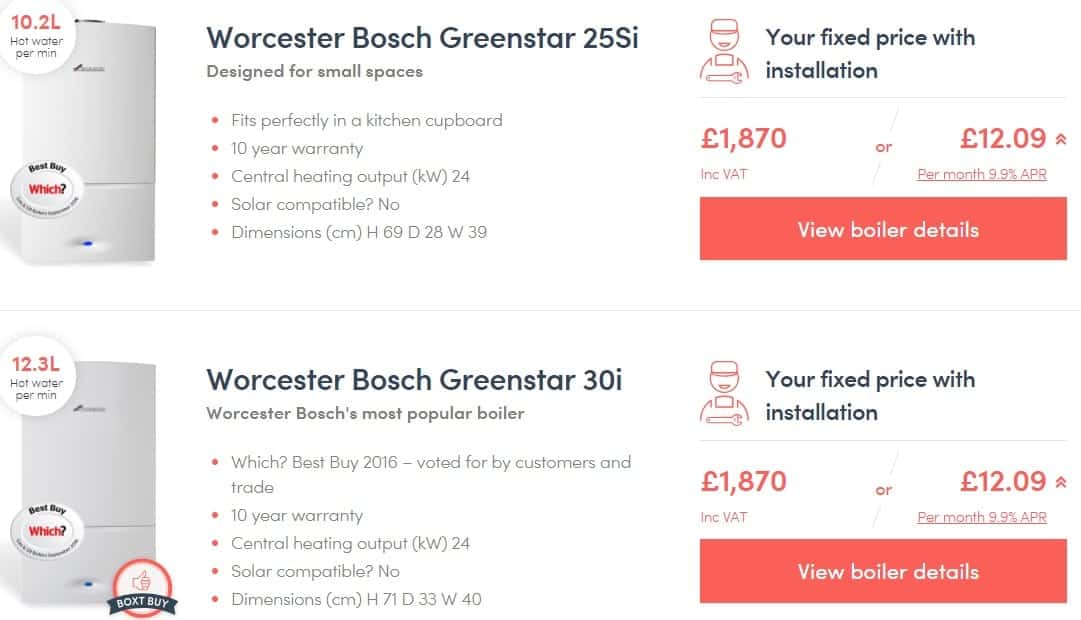 As you scroll down, you'll start hitting more expensive and higher output boilers. For example, the 30I you see above, is the more powerful version of the 25I.
Overall, the cost of a boiler replacement from BOXT, is nearing on being as cheap as a local installer.
Have a look at the quote process, you can get a new boiler quote, without committing to putting in email addresses, phone numbers and so on; it takes about 3 minutes.
Check out our guide to BOXT here.
Boiler Replacement Costs From Help-Link
Another place you can get a online boiler replacement quote, is Help-Link. Ironically, it's the ex-bosses of Help-Link, that went ahead and started BOXT.
But anyway, we went through their online quote process, just as we did with BOXT. This isn't a fixed quote, and we think that's fair enough, sometimes a site visit is necessary.
Like the BOXT quote form, we picked all the simplest options, making this a straight boiler swap, rather than a full-on installation or central heating upgrade. And to be honest, I wasn't that impressed.

Help-Link quote us here, over £2,000. And, whilst that might not seem like a big difference to the BOXT quote above, they're quoting us for a Ideal Logic 24kw boiler.

Now, if you've read many of my other posts, you'll know I rate the Ideal Logic Plus range. But, as far as I can see, the Logic 24 HE, isn't the plus, and that means you'll only get a 2-year warranty. Typically, I'd be aiming for a 5-year warranty as a minimum.
You can grab 7-years upwards from a tonne of boilers such as the Ideal Logic Plus, the Worcester Greenstar range, as well as others from Baxi, Vaillant and Potterton.
So, my opinion on the Help-Link boiler replacement, is that it's expensive. The option for a Worcester equivalent was £406 more, putting this boiler replacement price at over £2,500; essentially, it's the same job as the one we got a quote for on BOXT.
Where Should You Get Your New Boiler Quote From?
Put simply?
Get quotes until your heart is content. You can read dozens of articles like this one, trawl forums and more, but that's only going to give you an estimate.
The fact is, costs do vary depending on property, the area you live in, type of boiler, warranty, additional works and more.
Personally, I think the best deals come from local installers.You can get quotes from local boiler fitters here.
Nationals just have too many overheads to cover. And inevitably, that's going to be added onto your boiler quote.
As we've highlighted above, these nationals can be £1,000 more expensive on many occasions.
As cheap as local boiler fitters are, there's no doubt that websites that offer an instant online quote facility, like BOXT, are hot on their heels. It's worth comparing local boiler fitters, with a BOXT quote too.
What type of boiler do you have?
Before you can get an accurate price for a new boiler, you'll need to figure out which type of boiler you have.
As an example, a cheap combi boiler is around £600, whereas oil boilers will cost £1000 and beyond
Combination boiler (Combi)
The most popular and efficient boiler on the market.
You will NOT have a hot water cylinder.
Combi boiler installation costs are usually similar to System and Regular boiler prices (boiler only).
Heating and hot water are provided through the same boiler unit (i.e. there are no storage tanks).
Oil Boiler
It's likely you'll have an oil boiler if you are not connected to mains gas (or mains gas was not connected when the last boiler was installed).
Oil boiler installation costs are usually the highest.
System boiler
You WILL have a hot water storage tank (or cylinder).
They are fitted in larger properties where a combination boiler would not be able to heat enough water on demand.
Regular boiler
If you have a hot water storage tank, a cold water storage tank (usually in a loft) and a boiler. It's likely yours is regular (or "heat only").
These are usually fitted in larger properties (2-3+ bathrooms).
13 Factors That Increase Boiler Replacement Costs
Here's the scenario.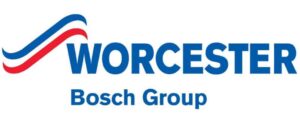 You get an online estimate.
After a home survey, the boiler replacement cost quote increases.
The work goes ahead, the engineer finds "more problems", and adds to the final bill.
And, I feel your pain.
#1 – Hotflush, Or PowerFlush
As a minimum, when installing a new boiler, you'll need a hot flush.
It breaks down and removes the build up of sludge in the system.
A hot flush is usually enough to get rid of this build up. A power flush is much more intense.
There are two big problems with power flushes (especially for old systems).
They put an immense amount of pressure on soldered joints, and sometimes leaks occur.
For the cost of a powerflush, it usually makes a lot more sense to add more energy efficient (and more aesthetically pleasing) radiators.
The Additional Cost
A hot flush should be included. However, a powerflush is likely to add £250-300 onto the price of your new boiler.
#2 – Premium Boilers
Worcester Bosch is the perfect example.
And, the like-for-like equivalent boiler from another brand (such as Ideal), is going to be £150-400 cheaper.
The Additional Cost
Expect to pay £150-400 in addition to a boiler installation quote, for premium boilers.
#3 – Type of boiler
Combi boiler prices are the cheapest.
Systems are slightly more expensive, and oil boilers are the most expensive.
The Additional Cost
Prices here can spike; big time.
A premium oil boiler could be as much as £1,500 more than a fairly basic combi boiler.
#4 – Scale inhibitor
"Hard water" contains particles that will see a build up of lime scale. To combat this, a scale inhibitor is fitted.
This is not needed in all areas. You can see a list of hard water areas here.
The Additional Cost
The price of a scale reducer, as part of your new boiler package, shouldn't add more than £100 to the total price.
#5 – Magnetic Boiler Filter
Check this is included in the quote. See this as the oil for your car; it protects your boiler.
For Worcester Bosch boilers, a Worcester branded filter will actually add a years warranty.
So, that shows how important they are.
The Additional Cost
Budget filters can be found for as little as £50, with something like the Worcester system filter being priced at well over £100.
Expect to pay £150-250 extra for a boiler filter to be fitted.
#6 – Extended Warranties
Worcester Bosch boilers come with a standard 5 year guarantee (this can be increased to 10 in some cases).
Ideal boilers offer boilers with a 2, 7 and 10 year guarantee.
The Additional Cost
The bump up from a 7-year to 10-year warranty should cost £100-200.
That's why we like Ideal, you can simply jump from the Logic (2-year) to the Logic Plus (-7-year), and the warranty is automatically included.
#7 – Heating System Upgrades
Base installation costs are usually derived from a straight swap (removal of old boiler, and installation of a new one in the same place).
An upgrade (such as swapping a heat only for a combination boiler) or moving the boiler to a new location, will incur extra costs.
The Additional Cost
Depending on the complexity of the central heating system upgrade, the additional price will sit in the £500-1,250 range.
#8 – Existing Heating Controls, Or New Ones?
Boiler controls cost money.
You'll have a mechanical timer and a room thermostat. If you don't have controls (or need new ones). It will cost.
The Additional Cost
Basic controls can be under £100. But high-tech setups are available that cost up to £400.
#9 – Gas Main Location
The Gas Safe engineer will need to run copper pipe from the gas main, to your system.
We find around 1/5 properties exceeds the threshold in terms of distance and difficulty.
The Additional Cost
An swkward gas main location could add up to £100 to the installation quote.
#10 – Moving A Boiler To A New Location
This is going to take time, and will cost in materials.
The Additional Cost
£350-750.
We've got a more detailed guide on the cost of moving a boiler here.
#11 – Upgrading Gas Mains For A New Boiler
Due to new Gas Safe regulations, many gas runs need to be re-piped.
The Additional Cost
This could be a 1-hour or 2-day job. Expect to pay £100-400.
#12 – Type Of Flue
Most installation quotes will be inclusive of a standard horizontal flue.
But, you may need a vertical flue (more expensive), a couple of extensions, and a flashing kit.
The Additional Cost
Expect to pay £50-80 extra for a vertical flue over a horizontal. And, you could be looking at a further £50-100 for 1-2 flue extensions.
#13 – Labour Costs For Boiler Installation
Here's another thing to consider when you're comparing boiler prices. Whether you're looking for a new gas combi, LPG or oil boiler, labour rates will make up a large chunk of the overall boiler installation cost.
And, like all jobs, the labour rates for Gas Safe registered boiler installers throughout the UK, varies a great deal.
The Additional Cost
For instance, London could be 25% higher in terms of labour, than places in Scotland. So, when comparing quotes and using the estimates mentioned in this article, bear in mind the potential differential in labour rates, based on the cost of living in your area.
Which Is The Best Boiler To Buy?
As you can see, the cost of a boiler installation or replacement can vary. And, the prices you get quoted aren't just going to fluctuate based on the installer you use. The type, size and brand of boiler is going to have a huge impact too.
Minimum Warranty
We'd suggest heading for a warranty of at least 5-years. Most quality boilers will come with a minimum of 2-years, with some of the best boiler brands offering up to 10-years on selected products.
You WILL pay a little extra for a boiler installation that includes a long warranty. However, the extra £100 or so that you spend, is going to be money well spent. As soon as your boiler is out of warranty, you're responsible for all repair bills. And with boilers costing more than £500 to fix, that warranty is going to pay for itself.
With most boiler manufacturers, to get their maximum warranty, you'll need to check that the installer is accredited by the manufacturer. For instance, if you want a Worcester boiler fitted, you'll want to use a Worcester Acreddited Installer, to get the maximum warranty possible.
The Best Boilers To Install
We'd recommend sticking to only the best boiler brands available. We like quality combi, oil and LPG brands such as:
Grant
Worcester Bosch
Ideal Boilers
Vaillant
Baxi
Potterton
These are the brands that are known for a mixture of excellent value for money, reliability, efficiency, and availability of parts.
The Boiler Models We Like
If you've read any of our other posts, you'll know we like Ideal Logic Plus boilers. And, do make sure it's the Plus model. The Ideal Logic Plus comes with a 7-year warranty, whereas the standard Logic only comes with two.
The best thing about the Ideal Logic Plus, is it rivals Worcester Bosch in terms of reliability, warranty and ease of installer. BUT, you tend to see savings of around 15% on an Ideal Logic Plus, when directly compared to a Worcester equivalent.
And, unlike many other manufacturers, the Ideal Logic Plus is already compact, and will fit in the average kitchen cupboard. Most manufacturers have a higher end and higher priced compact boiler to suit this purpose.
How To Get The Cheapest Boiler Installation Quote
The boiler installation industry is moving forward. And, that means you don't HAVE to pay for your boiler upfront.
Your options are:
Finance
Payment on completion
And, in terms of the company you use, you can use:
A local installer
Online quote comparison websites
A national company
But, to get the cheapest boiler installation quote possible, here's what we suggest:
Local Installer (Payment On Completion)
There is no such thing as 0% interest. Well, there is, but it's not a "free" loan. Somebody is paying for that finance service, and that somebody is you.
The best and cheapest boiler replacement prices you're going to get, come from competitive local installers, and payment on completion.
But, don't just get one quote. Ideally, you want to be getting around 3 quotes. And, that's not just to determine which installer is offering the best price. Each itemised quote will be different, so you'll want to compare the:
Power output of the boiler (in KW)
Brand, and the warranty on offer
Filters and chemicals included in the replacement cost
And, once you've decided on an installer, head over to the Gas Safe Register to check their registration. An installer fitting gas boilers, is only qualified to fit your new appliance if they have that accreditation.
Finally: Do You Need To Replace Your Boiler?
Not every appliance needs replacing. Sometimes, a repair is a more cost-effective solution.
Typically, you'll want to start investigating a new boiler quote, if your boiler is out of warranty, and there's a repair bill looming of £500 or more.
Boilers are expensive to fix, and these fixes can be covered by warranties. And, that's not to mention the fact that there have been plenty of studies showing a new A-Rated boiler could save up to £305 per year in energy. Between zero repair costs and energy savings, a boiler replacement can quickly pay for itself.
What's Next?
Looking to get an idea of what a new boiler will cost, and for a boiler replacement price estimate?
Compare 2-3 quotes from Gas Safe boiler engineers here.
And, if you have any questions, leave a comment below.
We'll get back to you as soon as possible.
In this article