How Much A Boiler Service Cost Will Be in 2021 [Detailed Guide]
Welcome to our 5-minute guide to boiler service costs. Our guide below covers not just expected costs, but what to need from your service, and what you can do to prolong the life of your boiler.
Boilers aren't cheap. That's just fact. If yours breaks due to poor maintenance, you could be looking at prices more than £2,000 to get a new one fitted. And let's face it. That's a cheap boiler.
If you have a large property or an oil boiler, the installation cost could spiral well beyond £4,000.
The good thing? These high installation costs can be avoided by regularly servicing your boiler.
Not prepared to invest in ongoing repairs and regularly servicing for a boiler that's old and unreliable? This
boiler price calculator
shows you the exact price you'll pay for a replacement.
How Much Does A Boiler Service Cost?
A boiler service should cost between £70 and £90.
Why The Cost Of A Boiler Service May Vary
This price will vary depending on whereabouts in the country you are. For instance, those in London will be looking towards the higher end of this price bracket.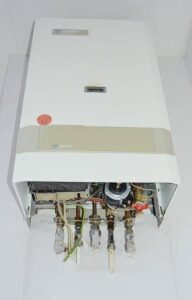 But, if you have other gas appliances, you can have them bundled in your with boiler service cost, to reduce the overall price. A service of a boiler, gas fire and hob is likely to be in the £100-£125 range.
A boiler service should cost £70-90 (depending on where in the country you are), and that includes cleaning out a magnetic system filter (if you have one).
These prices are further increased when you go for a well-known national boiler servicing company. National firms charge rates for services in the region of £110-135, just for a boiler service.
Your service package will include a full inspection as well as flue gas tests. However, if there are problems with your boiler, the cost of parts and labour to fix your boiler won't be included in the price.
Does A One-Off Boiler Service Cost More?
It's always adviseable to get your boiler looked over at least once every 12 months. However, if you're looking for a one-off boiler service, you should expect to pay anymore than if you have your boiler maintained annually.
So, you should be expecting to pay £70-90 from a local heating company for a one-off. And a one-off is better than no service at all!
How Often Should I Have My Boiler Serviced?
We recommend getting your boiler serviced every 12 months.
In fact, most boiler manufacturers won't honour their warranty unless your boiler has been serviced by a Gas Safe Engineer every 12 months.
So, if you've got a reasonably new boiler, you'll want to ensure not only that you get a regular service, you'll need to get a receipt (i.e. proof).
Most Gas Safe heating engineers will be able to provide a receipt, description of works (including flue gas tests) that can be passed onto a boiler manufacturer if you need them to honour a warranty for whatever reason.
Where Can I Find A Gas Engineer To Complete My Boiler Service?
If you want the cheapest boiler service cost possible, then you'll want to search locally for a boiler engineer.
You can find local Gas Safe Engineers on the Gas Safe Register. The Gas Safe register is essentially, the new "CORGI".
Any professional tradesmen that works on gas appliances (such as your boiler), needs to have Gas Safe registration. So, if you've had a quote from a local heating engineer, take their Gas Safe number and you can ensure it checks out by referring to the above register.
What Should Be Included In The Service Cost
Before booking in a heating engineer, you need to know what to expect. Once you know what you expect, you can ensure you're not getting ripped off.
Always ask your boiler engineer for a description of works. You want to see exactly what they've done as part of the boiler service. And if they've ran tests, you want to see the results of those tests.
Landlords will (by law) need a Gas Safety Certificate on completion of the service. This isn't necessary for homeowners, although you can request one.
Once a boiler service is completed, Landlords will get the following information on their boiler service certificate:
Details of flue and flue gas tests
Gas Safe number, engineer's name, company name and address
Issues uncovered from the inspection and advice on what to do next
Results from the flue test
Details of any issues that are cause for immediate safety concerns
Details of additional gas appliances checked (i.e. fire or hob)
Extras To Be Included In Your Boiler Service Cost
It's wise to ask for the following. Make sure you do so in advance, as it may affect the cost of the boiler service.
A quick inspection of all internal boiler parts
Check boiler pressure loss, and inspect heating system for leaks if there is
Parts Inspection
Many boiler repairs come about because an appliance hasn't been checked properly. Boiler engineers don't have to check all parts in a boiler. But, by doing so, you may be able to prevent a large repair bill and prolong the life of your boiler.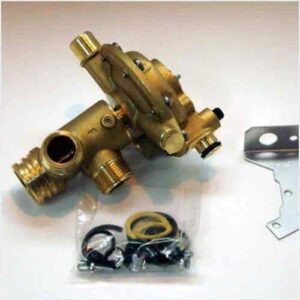 Checking parts included in the list below, will be prevention, rather than cure:
Heat exchanger
Pump
Fan
Gas valve
Boiler Pressure Check
You want your boiler service engineer to check for drops in pressure, and boiler leaks.
Leaks kill boilers quickly. If you have a leak, you want it found and fixed instantly.
Do Worcester, Baxi, Vaillant & Others Brands Boiler Service Cost Vary?
Most boilers take a similar time to service. So, you shouldn't be paying any more because of owning a certain brand, or model.
Many boiler manufacturers have a dedicated installation and a local service team. So, if you'd prefer an heating engineer that specialises in a particular boiler, then you can head directly for their service teams.
However, it's worth noting that the boiler service cost from manufacturer's own teams is likely to expensive. And if it's not, they usually try and bundle their service with extended warranties and boiler cover that you might not actually need.
You can find details of a local service engineer below.
What Can You Do To Protect Your Boiler In Between Boiler Services?
Your boiler service is one way of keeping your boiler in great shape.
But, if you have a qualified engineer servicing your boiler, it's worth asking for the following:
Hot Flush
Your heating engineer will dose the system with chemicals, and then flush them through with the heating on. This gets rid of most of heating sludge; the cause of many boiler breakdowns.
Magnetic System Filter
With the system flushed, they'll want to add central heating inhibitor. This breaks down heating sludge, ready to be caught by a magnetic system filter.
Quality brands such as BoilerMag, Fernox and Magnaclean all supply inhibitor, and system filters.
Scale Reducer
Finally, check to see if you're in a "hard water" area. If you are, there's a high chance of limescale build-up destroying expensive boiler components.
And, a high quality scale reducer (a limescale filter) will help rid the system of this limescale.
What's Next?
Thanks for reading our guide to boiler servicing costs.
Thinking about a replacement boiler? Use this boiler calculator to determine what size boiler you need, and get an on-screen price in less than 2 minutes.
Avoid Expensive Breakdown Costs
Boiler Replacement Promise: If it's under 7 years old and we can't repair it, we'll replace it.
Try YourRepair. From £9/mo
All plans include: annual boiler service, all parts and labour, unlimited support and 24hr helpline.