When people think of boilers, there's usually one brand that pops into their head; Worcester Bosch.
Worcester combi boilers are by far the most popular brand in the UK. And, their success has led to the company employing over 2,000 people.
Part of the reason is the fact all their combis are A rated for efficiency, and come with a 5-year warranty as standard.
On many Worcester products, this can be extended to 8 years using an accredited installer, and a Worcester system filter and clock.

Which Worcester Combi Boiler Do You Need?
Buying a combi boiler is confusing. Different Worcester boilers will suit different properties. The type of combi boiler a property will require depends on factors such as:
Number of bedrooms
Number of bathrooms
Number of radiators
Demand for hot water (i.e. the number of taps and showers on at the same time)
Please only use this table as a guide. A qualified Gas Engineer will be able to work out the correct boiler for your property, and should be consulted before making a purchase. You can consult a Worcester Accredited engineer and get up to 3 quotes here.
We've also included links to the relevant Worcester boiler reviews.
Model
Heating Output (kw)
Flow Rate for hot water (lpm)
Suitable Property
25I
24kw
10.2
Smaller properties  with 1-3 bedrooms and 1 bathroom.
Read our 25I review here.
30I
24kw
12.3
Medium-large properties with 3-4 bedrooms and 1 bathroom.

Read our 30I review here.

25SI Compact
24kw
10.2
Smaller properties  with 1-3 bedrooms and 1 bathroom.

The Compact is usually used when installation needs to take place in a small area, such as a kitchen cupboard.

30SI Compact
24kw
12.3
Medium-large properties with 3-4 bedrooms and 1 bathroom.

The Compact is usually used when installation needs to take place in a small area, such as a kitchen cupboard.

28CDI Compact
24kw
14.7
Medium-large properties with 3-4 bedrooms and 1 bathroom.
32CDI Compact
24kw
13.1
Medium-large properties with 3-4 bedrooms and 1-2 bathrooms.

Read our take on the 32CDI Compact here.

36CDI Compact
24kw
14.7
Medium-large properties with 3-5 bedrooms and 1-2 bathrooms.
29CDI
30kw
12.3
Medium-large properties with 3-5 bedrooms and 1-2 bathrooms.
34CDI
30kw
14.3
Medium-large properties with 4-5 bedrooms and 2 bathrooms.
38CDI
30kw
16.4
Large properties with 4-6 bedrooms and 2 bathrooms.
42CDI
30kw
17.2
Large properties with 5-6 bedrooms and 2-3 bathrooms.
Types of Worcester Combi Boilers
Worcester have created several ranges of combi boiler to suit several types of properties. Within these ranges, they have boilers with different central heating and hot water outputs.
Below is a guide to what each of the 4 ranges are suitable for.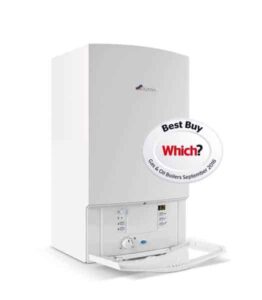 Worcester Greenstar I
The Greenstar I is the most popular range in the Worcester line-up. Typically, properties using a 25I or 30I don't have a particularly high demand for hot water or central heating output. For instance, typical 3-4-bedroom semi-detached houses with just 1 bathroom.
Worcester Greenstar SI Compact
As you can see from the heating and hot water output in the table above, the 25SI and 30SI match the 25I and 30I.
Essentially, they are used on boiler installations where efficient use of space is paramount. For example, a 25I might be installed in a garage, whereas a 25SI is going to be the top choice when it comes to boiler installation in a kitchen cupboard.
Worcester offer both Gas & LPG SI boilers.
Worcester Greenstar CDI Compact
When the power of the SI just doesn't cut it, but the installation area is still extremely small, the Greenstar CDI Compact is going to best option. There are three sizes including the 28CDI Compact, 32CDI Compact and the 36CDI Compact.
Like the SI, the CDI Compact is available in 2 setups; natural gas and LPG.
Worcester Greentstar CDI Classic
If you're looking for a Worcester combi at the top-end with exceptional heating and hot water output, the CDI Classic is where you'll want to focus your attention.
Worcester offers a 29CDI, 34CDI, 38CDI and 42CDI; so, there's a range of options depending on the size of your property.
Typically, these boilers are either used in large houses where the demand for hot water is extremely high (i.e. lots of radiators, or multiple bathrooms).
Again, natural gas and LPG models are available.
Worcester Combi Boiler Alternatives
Worcester have always had competition from a range of brands. Some of the most popular include Baxi and Vaillant. Of course, there are budget brands out there such as Glow-Worm and Vokera. The budget brands tend to appeal to a different market.
A boiler brand that is hot on the heels of Worcester right now is Ideal. Ideal Boilers give customers a similar (and in many cases, longer) warranties, and they usually blow Worcester boiler prices out of the water.
Installation of an Ideal boiler can be anywhere from £100-400 cheaper than the equivalent Worcester combi.
Currently, Ideal Boilers offer 3 ranges:
Logic (or, Instinct) inclusive of a 2-year warranty
Logic Plus, inclusive of a 7-year warranty
Ideal Vogue, inclusive of a 10-year warranty
Before installing a Worcester boiler, speak to your local Gas Engineer and try to get two quotes. They'll also be able to advise which boiler is better suited to your property.
Worcester Combi Boiler Prices
Worcester are by no means the cheapest brand available. Worcester boiler prices will vary anywhere from £800-2,000 for a combi. This price is without installation.
Typically, boiler prices including installation will start at around £1750 and be as high as £3,500.
This assumes getting a quote from a local plumber, rather than getting a price from national boiler installers such as British Gas. Typically, their prices are anywhere upwards of £500 more expensive than a local installer.
Remember, the price of a Worcester boiler isn't all that needs to be accounted for. Most heating systems will need a new filter, clock, flue, flue extensions and a full system drain down and flush. All of this adds lots of time, and increases the price of the installation.
Worcester Boiler Service Cost
With anything mechanical, the cost of a service is something worth taking into consideration. Luckily, most combi boilers cost the same to service. The cost of a Worcester service should be in the region of £65-90.
The cost of the boiler service will depend on a few things:
Access
Type of boiler
Location
Finding Cheap Worcester Combi Boilers
The plumbing and heating industry is one of the few industries left that has not been standardised by the internet.
Part of the reason for this, is that when someone has a leak, or needs a broken boiler fitted, they want it done yesterday, not tomorrow. That means that next day delivery is rarely good enough.
Most plumbers and gas engineers get most of their boilers from plumbing merchants. And, if you want to find cheap Worcester combi boilers, I'd suggest doing the same.
Merchants can see the prices advertised online and typically, there are two things that they want to be able to price match on, as a bare minimum; boilers and copper pipe.
Getting a cheap Worcester combi isn't the only reason I'd advise visiting a merchant. There's one problem a lot of people don't consider when buying boilers online; returning faulty items.
If a Gas Engineer is booked in to fit a boiler that you've purchased, and it's faulty; you'll be liable for their time (and that costs money).
If they (or you) purchase the boiler locally, they'll be able to swap it within the hour and be back on track to finish the job.
What's Next?
Hopefully this article has given an overview of the different Worcester combi boilers, prices, alternatives and where to find them at the cheapest possible price.
Remember, always consult a qualified Gas Engineer before making a purchase.
In this article