Since the end of 2015, combi boiler manufacturers have been working in line with the ErP guidelines set by the EU; to make boilers more efficient. This is one of the reasons the Vaillant ecoTEC Plus 832 combi was released.
The ecoTEC Plus range from Vaillant incorporates a few different models, suitable for a range of properties.
ecoTEC plus 825
ecoTEC plus 832
ecoTEC plus 835
ecoTEC plus 838
Before we go any further, take a peek at our new boiler cost guide.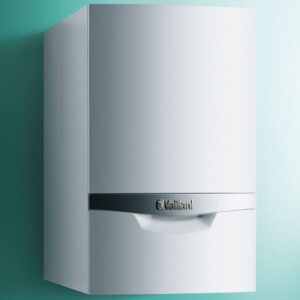 >> Get Free Boiler Installations Quotes Here <<<
What Happened to the ecoTEC 831?
One of the biggest sellers for Vaillant was the 831. Instead of upgrading the 831, Vaillant chose to replace this model altogether; it's now been discontinued.
The 832 is the new replacement which is not just more energy efficient, but offers various advantages including increased output for hot water, as well as the flow rate being slightly higher.
ecoTEC 832 Output
The improvements are marginal, but every little helps. The 831 and 832 both share a 24kw hot water output. However, the domestic hot water output increases from 31kw to 32kw. It's a tiny difference, but if you regularly fill a bath, it's noticeable.
Other improvements include an increased flow rate of 0.3 litres per minute, from 12.7 up to the new 13 litres per minute.
Suitable Property Size
Due to the increase flow, hot water output and heating output, the Vaillant ecoTEC 832 is suitable for properties that have a high demand for heating and hot water. This means it won't have any trouble supplying an averaged sized 3-4 bedroomed property. This assumes 1-2 bathrooms.
Properties larger than this, or those with exceptionally high hot water demand (2 showers running at once) are going to need something a little more powerful. In the Vaillant range, the options are limited to the 835 or 838.
Vaillant 832 Features
Most boilers nowadays are A-rated, just like the Vaillant 832. This means that owners will enjoy and efficiency rate of 89.4% which makes this ErP compliant.
An important feature is the Quiet Mark compliancy. Appliances are tested to be within a certain noise tolerance and the Vaillant 832 passes with flying colours. Particularly useful if a family member works odd hours and a normal boiler is likely to wake you up.
ecoTEC Plus 832 Warranty
Like all premium boilers, the ecoTEC Plus 832 comes with a long 7-year warranty.
Vaillant 832 Price & Alternatives
The Vaillant 832 is currently priced approximately £1,200 (boiler only – prices will fluctuate). That does make it slightly expensive.
We've covered the best combi boilers here. But for now let's use Ideal Boilers as an alternative, we'll look at 2 options.
The Logic Plus 30 has a slightly lower hot water and heating output and flow rate; almost unnoticeable. All Ideal Logic Plus boilers come with a 7-year warranty and the 30C is priced at £800.
If you'd prefer an increased hot water, heating and flow rate over the 832, the Logic Plus 35 offers all three. Again, a 7-year warranty and priced at just under £1,000; a £200 saving on the 832.
The Logic Plus range is a compact boiler. So, they will fit a standard sized kitchen cupboard; great if your home is open plan.
Worcester also offer a couple of alternatives. Compared with the 832 ecoTEC Plus and Logic 30+, the Worcester 30I is a good option (will not fit in a kitchen cupboard), priced at around £1,050. This is more than the Logic Plus 35 (which includes much more in terms of power).
Finally, if you're looking for a Compact Worcester combi boiler, you have the option of the 30SI Compact, priced at £1,050, or the 32CDI Compact.
ecoTEC Plus 832 Review Verdict
If you're not leaning towards any brand, the Ideal Logic Plus tends to offer the best in terms of straight up value for money and output. It offers more power straight up (if you go for the 35 Logic Plus) and still comes in cheaper than the Vaillant and Worcester equivalents.
As usual, always speak to a Gas Engineer before deciding. They will be able to advise on the perfect boiler for your property.
In this article