HeatingForce is reader-supported. When you buy through links on our site, we may earn an affiliate commission. Learn more
Worcester Greenstar 30 CDi Classic System, or 30i System?
If you're looking at the Worcester 30 CDi Classic system and aren't sure whether it's the right boiler for you, this review has all the information you need to make a decision.
Below we'll cover:
If this is the most suitable boiler for your house
How the 30 CDi differs from the 30i
Expected installation costs
Warranty
Online reviews
Interesting features
Review verdict: should you buy a 30 CDi Classic System?
What is a System Boiler?
You'll need a system boiler if your central heating setup uses a hot water cylinder, unless you want to upgrade to a combi, and save some space.
A system boiler doesn't use a cold feed tank (usually located in a loft space), as it takes water directly from the mains. If you have a cold feed, you'll need a regular boiler (also known as conventional, heat only or traditional boilers).
If you're unsure which boiler you have, you can check our guide to the different types of boilers here.
Is The 30 CDi Classic Big Enough For Your House?
The 30 CDi Greenstar Classic has a 30kw heating output. For a combi, that's typical for a 3-4 bedroomed house, and nothing more.
But, a combi heats hot water on demand, whereas your system boiler stores water in a cylinder. Ultimately, that means you don't have to have as much kw output as you would for a combi, even in the same sized house.
The 30 CDi Classic is going to be suitable for reasonably large properties, with 4-5 bedrooms. For it to be suitable, you'll have a large heating run, and up to 15 radiators.
To ensure the CDi Classic 30kw is the right boiler for your house, you can use this boiler size calculator.
Click a few multiple choices questions about your property, and you'll get the most suitable boiler on-screen.
The 30 CDi Classic, Or The 30i System?
Both the CDi Classic and the I System range from Worcester, are system boilers. So, both would be a direct replacement for your current boiler.
What's the difference between the two? Dimensions.
If you're looking to fit your boiler into a tight installation area (such as a kitchen cupboard), you'll need the 30i System, NOT the 30 CDi Classic.
The dimensions of the 30 CDi Classic, are 760 x 440 x 360, so it's best suited to large installation areas like a garage, airing cupboard, or wall-hung somewhere in your property.
The 30i System is much smaller, being 690 x 390 x 280, meaning it's suitable for compact installation spaces.
If you don't currently have your boiler installed in a compact space, but want to relocate it there, it's likely to cost somewhere between £150-350, depending where you're moving it from.
You can compare prices for moving your boiler, and the difference in price between the CDi Classic and the 30i system here.
READER DEAL: Use coupon code WZ-200 at checkout for an additional £200 discount on all orders.
Warranty
We regularly bang on about the importance of boiler warranties, and for good reason.
There are lots of brands offering their boiler models with just 1-2 years warranty. In our opinion, that doesn't give us the confidence to make a purchase, even if it's slightly cheaper than a Worcester.
Typically, you'll be looking in excess of £2,600 for a boiler installation of this kind. You could reduce that to £2,300 or less with a boiler with a short warranty, but I certainly wouldn't take that risk.
Why? If it breaks after the 2 year warranty mentioned above, you'll be footing that bill all over again.
We prefer specific models and manufacturers offering warranties in excess of 5-years. Both Worcester boilers mentioned here fit that bill, as you'll be able to get up to 10-years warranty when using a company like WarmZilla.
Typically, the warranty is a little shorter (8-years). But, WarmZilla have a connection to Worcester Bosch, meaning they get favourable warranties, and prices to match.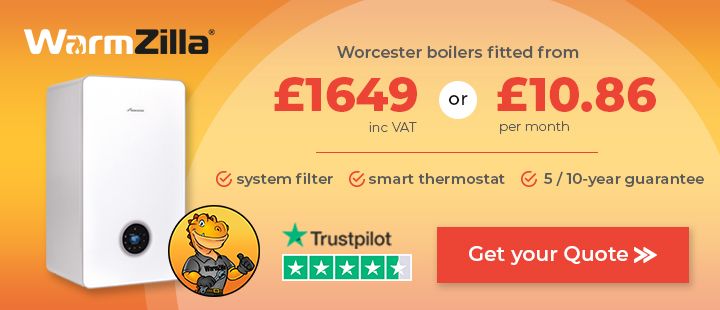 READER DEAL: Use coupon code WZ-200 at checkout for an additional £200 discount on all orders.
Worcester 30 CDi Installation Costs
As we've already mentioned, you should expect to pay in the region of £2,600 to get a 30 CDi fitted in your property.
Like any installation, the price will vary depending on the details of your installation. For instance, if you need the flue or boiler in a new location, the cost will increase slightly.
We used this this price calculator, and got a figure of £2,610 for a basic installation, with a 10 year warranty:
As you can see from the prices above, there's nothing in it between the 30i Compact, and the 30 CDi System.
Worcester Bosch Reviews
It's not exactly easy to find specific product reviews for boilers.
But, before you purchase a new boiler, you'll find a range of different reviews online from customers that have bought from the brand in the past. And, that's going to give you an idea of everything from product quality, warranty and even customer support.
You can check out Worcester Bosch reviews on Trust Pilot here – they're currently rated as "Excellent".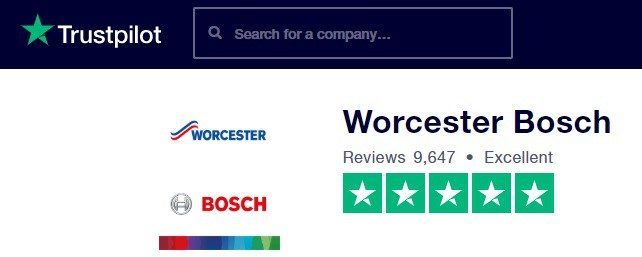 They've also received the Which? Best Buy award, for the 9th year in a row.
Interesting Features 
Frost Protection
One important feature integrated into the Worcester boiler range, is the Condensesure Siphon.
Put simply, this is a feature designed to stop boilers freezing up during the cold months of the year. Not only is that going to protect your boiler, it's also going to protect you from expensive repair bills.
It's tested above and beyond conditions we're likely to experience in the UK. The Condensesure Siphon will protect your boiler at down to -15°C for up to 48 hours!
Energy Savings
We all like free cash.
A report by the Energy Saving Trust found that newer A-rated boilers like this one, could save homeowners up to £305 per year on their energy bills.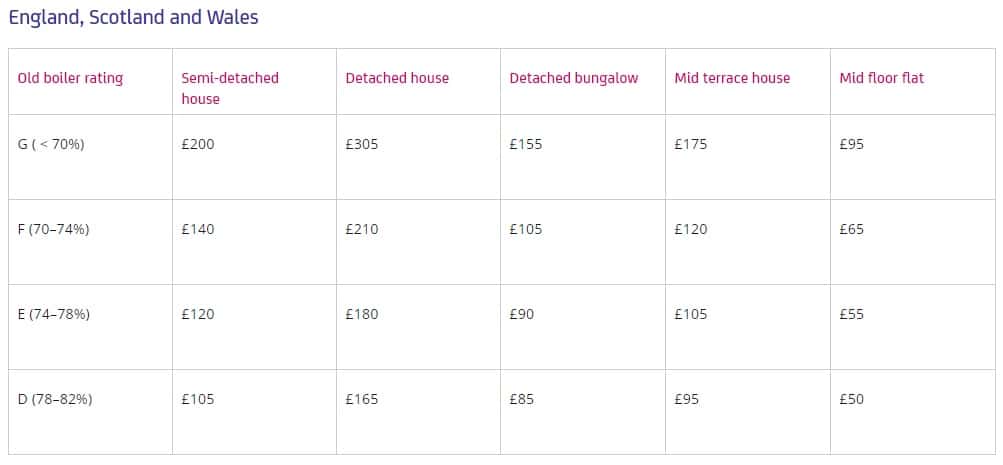 (Source)
It's a combination of eco-friendly components that allow this to happen. In the case of most Worcester boilers, part of that energy saving comes from the pump, which uses a ridiculously low amount of energy.
Should You Buy The Worcester 30 CDi Classic System?
The Classic 30 CDi isn't the cheapest boiler on the market, but it offers one of the longest warranties from a leading brand. We give it a thumbs up.
The only instance we'd be avoiding the Classic System, is if you're aiming to hide your boiler away in a kitchen cupboard. If this is the case, the 30i System is going to be much more suitable.
You can get and compare prices for both here.
READER DEAL: Use coupon code WZ-200 at checkout for an additional £200 discount on all orders.
What's Next?
Thanks for reading our 30 CDi Classic System review. Hopefully that gives you enough information to make a decision on which boiler is going to be your next.
Got questions? Drop us a line via our contact form, and we'll get back to you as soon as possible.
Avoid Expensive Breakdown Costs
Boiler Replacement Promise: If it's under 7 years old and we can't repair it, we'll replace it.
Try
YourRepair
. From £9/mo
All plans include: annual boiler service, all parts and labour, unlimited support and 24hr helpline.