HeatingForce is reader-supported. When you buy through links on our site, we may earn an affiliate commission. Learn more
Worcester Bosch Greenstar 32CDi Compact (Combi Boiler Review)
In this in-depth review of the Worcester Bosch 32CDi Compact combi boiler we'll be discussing prices, the types of properties it's suitable for, and how it compares to the other CDi Compacts.
Want to get a fixed price on screen for a 32CDI Compact? Use this clickable form (no personal details required), and get a price within 90 seconds.
What Is A CDi Compact?
The Greenstar CDi Compact range from Worcester, is a set of boilers designed to fit in small spaces, such as kitchen cupboards. You won't get this with their most popular boilers, such as the 25i and 30i, as they are slightly bigger.
The dimensions of all three CDi Compact boilers are 690 x 390 x 280. So, if you're trying to save space, or simply don't want a wall hung boiler, the CDi Compact could be for you.
32CDi Compact Prices
There ARE other brands besides Worcester Bosch that are worth a mention: Baxi, Ideal and Vaillant for instance. In general, prices are there or thereabouts when compared directly to Worcester. If anything, you'll find that a boiler from Ideal is likely to be slightly cheaper.
However, that's only when comparing local installer prices. It's worth jumping over to WarmZilla, who are a new kid on the block boiler comparison site. Naturally, because they work with the biggest boiler manufacturers on the market, they get preferential rates on Worcester boilers, including the 32CDi Compact.
Meaning? You'll get a quality boiler cheaper than equivalent brands, and at the same price as lesser brands.
So, we quickly filled out this form (in about 90 seconds) to see exactly what the prices were.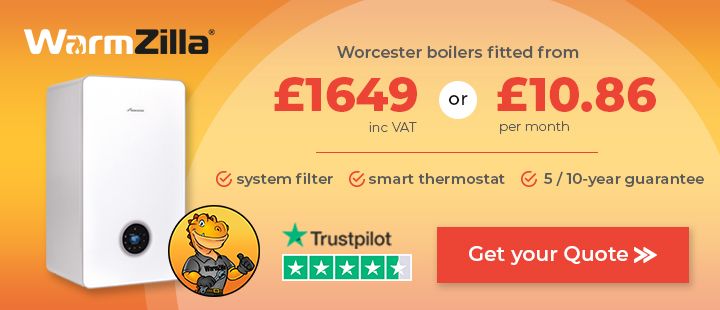 READER DEAL: Use coupon code WZ-200 at checkout for an additional £200 discount on all orders.
With WarmZilla you'll get a long warranty, Bosch filter and smart thermostat included in the price. And there are cheaper options if you don't want a Compact boiler, or if the CDi is actually too big for your property in terms of output.
Typically, (and without naming names) we'd expect this installation to be in the region of £3,200-3,500 from a national installer, so the above is an exceptional deal.
The CDi Compact Range
There are three boilers in the range, including the:
28CDi Compact
32CDi Compact
36CDi Compact
Across that range, you'll get a boiler to suit most properties, from small-large, with 1-2 bathrooms.
Essentially, the difference lies in the hot water and flow rate, because central heating output is 24kw on all 3 boilers. You'll get just 10l/min from the 28CDi (small properties), 11.9l/min from the 32CDi (medium properties) and 12.9l/min from the 36CDi (large properties).
Is The 32CDi Compact The Right Size boiler For You?
Put simply, this isn't a one size fits all approach. A 32CDi Compact boiler might be suitable for one 3-bedroom property, where another could get away with a 28CDi. And, that's going to be determined by hot water demand.
The easiest thing to do is fill out this on screen clickable form. In around 90 seconds, you'll have fixed prices on the most suitable boiler for your property.
Features
Winter Protection
One of the most common boiler faults, is a frozen condensate pipe. It's simple to fix, but that doesn't mean that it doesn't cause headaches. It's going to mean boiler downtime in the coldest parts of the year, and an emergency repair bill.
Worcester know this is a big issue, so the 32CDi Compact comes complete with their CondenseSure siphon, offering weather protection down to -15°C for up to 48 hours, which is more than adequate for the UK.
Condensed flue gases on most boilers drip from a small white pipe outside your property, these can freeze and cause a blockage. The CondenseSure, basically, builds up a pool of these condensed gases, releasing them in short sharp bursts, meaning there's little chance of them freezing over.
Problem solved!
Warranty
The Worcester Bosch warranty can be confusing. It varies depending on the boiler, whether you use an accredited Worcester installer, and own brand parts such as filters and controls.
To avoid confusion, you can get a 10-year warranty on a 32CDi Compact from WarmZilla. That's a standard warranty they're able to offer on all their boilers, and the biggest selling point for the 32CDi.
Why? At the end of the day, even a cheap boiler is going to set you back around £2,000. And, some lesser brands are going to offer warranties in the 2-5 year range (or even lower in some cases). I'm not sure about you, but I don't want to be footing expensive repair bills for my £2k+ installation just a couple of years down the line.
Protect yourself with a long warranty.
Efficiency
Regardless of whether you choose the Greenstar 32CDi Compact, or a boiler from another brand, it's going to end up costing somewhere in the region of £2,000, which is never a good thing.
However, there is a silver lining. The 32CDi is A-rated. Depending on the rating of your current boiler, this could equate to fuel savings in the £100s per year. As an example, when it's running at about 30% capacity, it's 99.5% efficient. Older boilers on the other hand, can be as low as 60% efficient!
Essentially, over a few years, the boiler could end up paying for itself.
Controls
The Worcester 32CDi is flexible when it comes to controls. For instance, you can go for cheap thermostats, or a more expensive smart thermostat such as the Worcester Wave or Nest learning thermostat.
At time of writing, WarmZilla include a smart thermostat as part of your installation package, which you can check out here.
Boiler Protection
If you decide the 32CDi is for you, make sure you get a system flush (cleans existing debris from the heating system) and a magnetic boiler filter included in the price. The magnetic filter will catch rust from pipes, radiators and towel rails, protecting your boiler from breaking, and your bank from expensive repair bills.
Like the thermostat, WarmZilla currently include a quality filter with all installations.
32CDi Review Verdict
So, that's about it. The question is, should you buy a 32CDi Compact, or be looking elsewhere?
If you're choosing to go to a local installer, they might not be that competitive on price, so something like an Ideal boiler might be cheaper.
However, if you go with WarmZilla, due to their connection with most boiler manufacturers (and Worcester Bosch, too), they're going to be able to offer preferential rates meaning you get a Worcester boiler fitted at the same price (or lower) than equivalent brands.
And, that's where we'd be putting our money.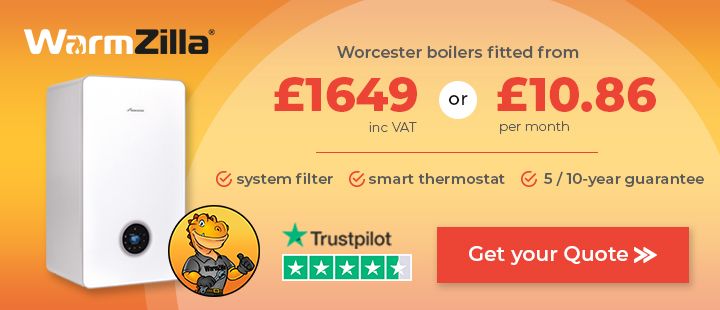 READER DEAL: Use coupon code WZ-200 at checkout for an additional £200 discount on all orders.
What's Next?
Thanks for reading our Worcester 32CDi Compact boiler review.
Not sure on boiler types and prices? Jump over to our guide to new boiler costs.
Got questions about buying your new boiler? Drop us a line via our contact form.
Avoid Expensive Breakdown Costs
Boiler Replacement Promise: If it's under 7 years old and we can't repair it, we'll replace it.
Try
YourRepair
. From £9/mo
All plans include: annual boiler service, all parts and labour, unlimited support and 24hr helpline.