7 Best Free Standing Electric Radiators (Reviews) in 2023
In most homes, a free standing radiator is indispensable. Even if your central heat system is highly expensive, there's an excellent chance of cold spots still appearing in certain rooms of the house. To combat those unwanted chills, you'll need a radiator light enough to move, but powerful enough to erase all memory of frost. But which should you choose?
Today's buyer's guide helps you determine just that.
We'll start with a presentation of what our research reveals to be the overall best-rated free standing heaters on the market. We'll speak to their power, durability, efficiency, mobility, and flexibility among other considerations in each mini-review.
Further down the page, you'll find a section designed to help you consider your need for a heater in abstract, so that you may make the most informed buying decision possible.
Best free standing electric radiators for any home or budget
Don't let analysis paralysis in a crowded marketplace stop you from getting the home heating you need. Below, we review the seven best free standing electric radiators across a wide spectrum of price points and features.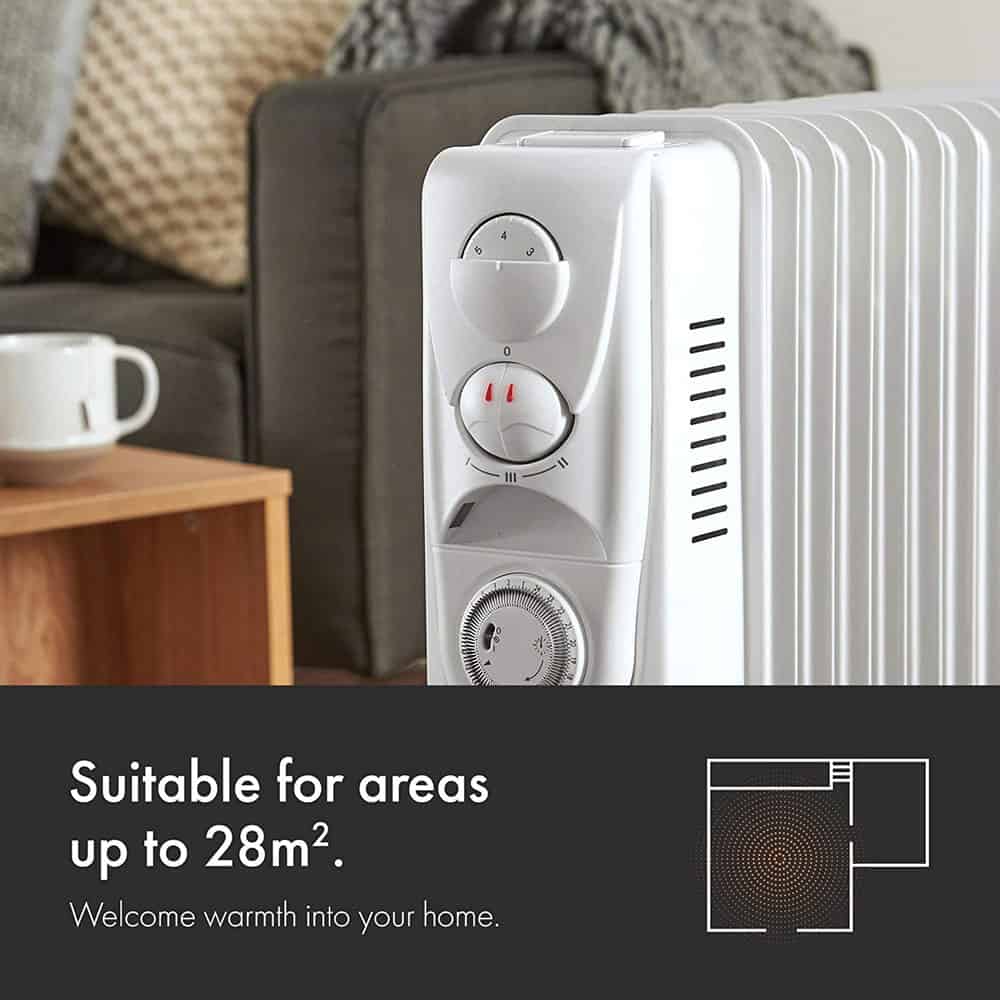 Manchester-based VonHaus is a household name, and its 2500W Oil Filled Radiator is a big reason why. One of the most popular free standing electric radiators on the market, this simply named unit is well suited to even the largest rooms with 2500W of warming power. Its 11 oil-filled fins freely circulate heat throughout the unit, allowing for remarkably even heat production throughout the room.
While you won't find any fancy advanced features, there's something to be said for simplicity. Starting from the bottom of the panel, there's a manual dial that makes it easy to programme start-up and shut-off up for up to 24 hours. Next, you'll find a no-nonsense toggle that allows you to select from 1000W, 1500W, or 2500W to perfectly suit the size of your room. At the top sits the unassuming but highly accurate adjustable thermostat to maintain the perfect temperature. Also on board are two critical safety features: tip over and overheat protection.
At 10.9kg, the VonHaus is quite easy to move from room to room, especially with its four sturdy castor wheels and ergonomic carry handle. Positioning is convenient as well, thanks to a generous 1.5m cable and inbuilt tidy. Indeed, that's precisely what the Oil Filled Radiator is for; it lacks advanced efficiency systems to recommend in a central, round-the-clock heating role. Instead, you'll use it for spot-heating your home wherever the action is–or wherever it goes.
To be sure, there are newer, quieter, and more advanced heaters available for purchase. But for less than 60 quid, you get a solid, flexible workhorse of an electric radiator. VonHaus even offers a 2-year warranty to ensure your full satisfaction. If you're looking for a heating solution that just works, you could do much worse than the VonHaus.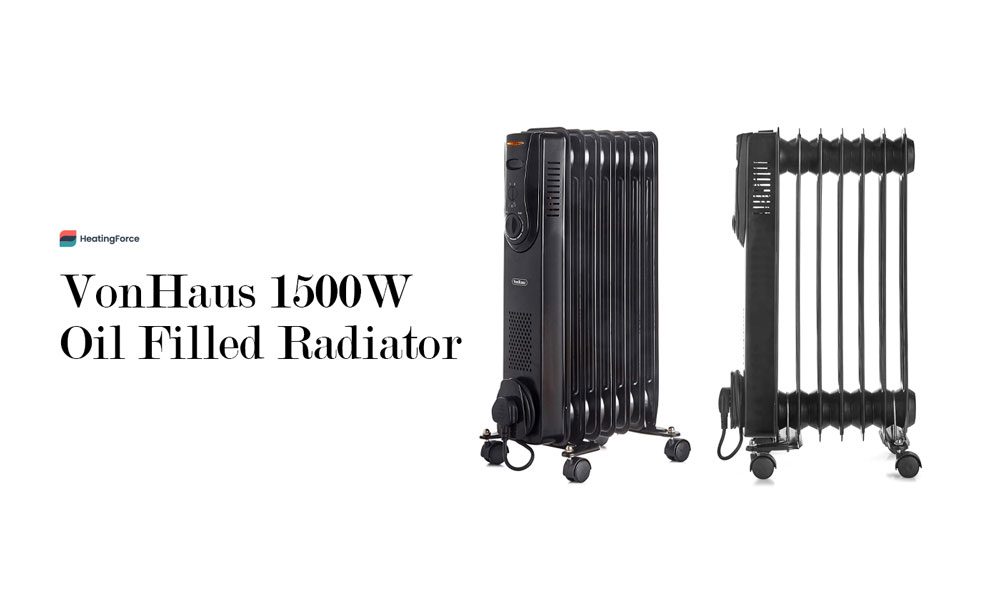 Have we sold you on VonHaus, but you're on a budget? Consider the 1500W, 7-fin variant of the flagship Oil Filled Radiator. It is in almost every meaningful way identical to its larger counterpart, just more compact both in terms of functionality and price (at 20£ less).
You still get the same three-dial manual control panel, featuring the simple 24-hour timer, triple heat setting toggle (600W, 900W, and 1500W), plus fully adjustable thermostat. Though the 1500W VonHaus is smaller, it doesn't skimp on the safety features either. Rest easier knowing that should your freestanding electric radiator get tipped over or start to overheat, there's an automatic cutoff to protect your home and family.
Comparing the two side by side, you'll find the 1500W much tidier at 33 x 24 x 60cm (versus 48 x 24 x 60cm). And while we've stressed the point that this unit is smaller, it's still amply powerful to effectively heat rooms up to 20m2.
At just 7.42kg, it's never been easy to get signature VonHaus heating anywhere in the home; just an easy pull upon the four castor wheels by the sturdy inbuilt handle, and you're there. And yes, there's still a full-length 1.5m cable along with onboard tidy for optimal room placement.
Overall, you're paying very little for a robust heating system in VonHaus's 1500W Oil Filled Radiator. If you don't need the extra horsepower of the 2500W, there's really no reason not to save the extra 20£. This is an exceptional unit through and through.
Still scoffing at our budget recommendation as an extravagance? Donyer Power has a range of Convector Radiators that allow you to mix and match on the specific bells and whistles you need. No paying extra for functionality you'll never use!
There are two base units, the somewhat clumsily named 2000BSStandard and 2000CStandard. The difference in nomenclature refers simply to power rating; the 2000C is a bit larger, and better suited to larger rooms with its maximum 2000W output.
Both models have an upgrade variant featuring a simple mechanical timer for programming up to 24 hours in advance. However, the 2000C line pulls ahead once again with a third variant. The 2000CFan drops the timer in favour of a turbofan toggle, which more effectively circulates the warm air throughout the room.
No matter which unit you choose, you'll get a manual dial to adjust how powerful the wind blows. Toggle switches to select any of three heat modes (750W, 1250W, and 2000W) also come standard across Donyer Power's line of Convector Radiators. We appreciate that these electric heaters are deployable freestanding or wall-mounted (though there is no mounting hardware in the box). They're all exceedingly lightweight despite their power, at a maximum of 3.76kg, and can easily tote anywhere thanks to the dual integrated carry handles.
At this point, we've catered our list towards the budget-minded consumer. However, if you don't mind spending a bit more, the Dimplex Cadiz series represents a meaningful step up. There are two models available (2000W and 3000), though both offer the same incredible feature set.
Topping the list of these is the TPT system, which stands for Twin Panel Technology. The Cadiz actually houses two separate heating panels, each of which can be toggled on or off independently. This allows you to fully shape the directionality of your heat for maximum comfort and efficiency, which is especially useful in a highly mobile, free standing electric radiator.
Indeed, Dimplex makes it easy to cart the Cadiz around with two standard castors and two oversized glider wheels. The 2000W version weighs in at just 8.4kg, while the 3000W is 11.1kg.
Positioning is similarly convenient with a full-length plug and built-in cable tidy. Once you've found your ideal spot in the house, you can control your Cadiz from afar with the included remote control.
Another wonderful feature of the Cadiz is its bright backlit LCD display, which tilts up at an angle favourable to viewing by a standing adult. Here, you'll access a handle 24-hour timer, which retains your preferences even in case of a blackout thanks to the included AAA battery backup.
There's also the automatic thermostat, which operates between 5° and 35° in increments of a single degree. Altogether, Dimplex offers a highly flexible, extremely efficient, and blazing fast oil-free radiator with the Cadiz.
If you've ever wished for a mythical creature heating your home, the De'Longhi Dragon 4 2500W is a pretty good stand-in for the real thing.
The first thing you'll notice about the Dragon 4 is that it eschews traditional oil-filled fins for something better. These unique heat chimneys super-charge the convection process, drawing the cold air from below into the heat chamber, then jetting it out through the vents atop the radiator. This pushes warm air more evenly through the room without the need for a fan, which will dry the air out.
Of course, the Dragon 4 also produces generous amounts of radiant heat through the breadth of these diathermic oil-filled heat chimneys. At 2500W, this model is good for rooms up to an amazing 75m2! Of course, if you've got a smaller space, De'Longhi provides you with three discrete heat settings at 1100W, 1400W, and 2500W.
The rest is taken care of by the highly accurate thermostat. You can also programme the Dragon 4 on a 24-hour schedule with the easy manual dial for optimal efficiency.
Safety is a priority as well, with an automatic thermal cut-off to protect against dangerous overheating.Did we mention that the Dragon 4, for all its (non-literal) fire-breathing, is completely silent?
In terms of build quality, there's nothing left to ask for; De'Longhi is well-known for their elegant designs and exceptional manufacturing. The four integrated castor wheels each glide across the floor, and are plenty sturdy for long-term usage.
To be sure, the Dragon 4 is fairly hefty at 17.5kg. But, the integrated carry handle makes it easy to grasp securely whilst moving it about. If this isn't enough to instil confidence, De'Longhi offers an unprecedented 10-year warranty.
The sibling rivalry continues on our list, this time with the smaller Dragon 4 models from De'Longhi. After all, many apartment dwellers have little need for the cavern-filling heating from the largest Dragon 4. Instead, here we have 1500W and 2000W models, good for 45m2 and 60m2, respectively.
The smaller Dragon 4 models come standard with the same incredible heat-chimney design. In fact, they are in almost every meaningful way identical to their larger counterpart.
We list them separately for visibility's sake, and to specifically point out that the smaller units are much more manageable at 11.5kg and 15.1kg.
We often speak of fitting the tool to the task. So if you want the elegant power of the Dragon 4 without feeling you're wasting it on anything less than a massive space, these are a great bet. The 1500W in particular is considerably easier to move around, yet still heats a respectable space–all for quite a bit less money.
Rounding out our list is the Oil Filled Electric Heater from Netta. At 2500W, you've got plenty of power under the hood to evenly heat a room up to 28m2.
This 11-fin design works a treat to evenly disperse warmth through the air. The oil within, meanwhile, has excellent retentive properties and hangs onto heat for long after the power's been cut.
The Netta offers two power settings, one rated for energy efficiency and the other for all-out comfort production. There's a simple twist-dial, as well, for programming the thermostat to your ideal temperature. Just below that is the dead-simple manual timer, with which you can set your freestanding radiator's 24-hour heating cycle. Rest easier knowing there's overheat protection on board, as well.
It is built rock-solid, offering sensible quality of life provisions like a 1.5m cable and built-in tidy. What's more, four robust castors plus integrated carry handle make hefting the Netta's 11.3kg around a breeze.
This model is neither the heaviest nor the lightest radiator on our list, nor the slimmest or most glamourous. However, you get efficient, quiet performance for under 60 quid, deftly occupying its price niche.
Buyer's guide to freestanding electric radiators
Our list above represents the merest tip of the iceberg in terms of parsing the wide electric radiator market. If you're looking to do your own comparison shopping beyond our recommendations, be prepared to fight analysis paralysis. Towards this end, we've compiled another list of the most important factors and features you need to keep in mind when shopping around.
Upfront vs. long-term savings
With radiators, there's often a trade-off between how much (or little) you spend on your unit, and how efficiently it runs long-term. And doesn't that stand to reason? A more expensive freestanding electric heater will sport better design and more advanced materials. Thus, they will make better usage of the power they draw against your meter.
So, generally, we recommend you spend a little more to pay a lot less in the long run. If this isn't an option for you, however, it's still important to rank efficiency as a top priority–even whilst shopping among low-end models.
Matching the heater to your room
There are a few options to consider about the room your heater will occupy. The most basic relationship between the two concerns room size and wattage.
Generally speaking, 2500W is good for large-sized rooms, while 1000W-1500W will serve most mid-sized spaces well. A larger, more powerful electric heater can still work well in a small room, but you'll want to make sure it has variable heat toggles for lower-wattage output.
Arguably as important as size is insulation. With great insulation, you can probably get away with picking a smaller, less efficient heater. Otherwise, you'll probably want to pick a model with advanced programming and/or design that cranks up the efficiency rating.
An alternative strategy is to simply accept that your room won't retain heat, and elect a freestanding radiator which heats up quickly. That way, you can cut it on only when you're in the room, without having to wait for a slow burn to kick in.
How about floor space? Modern heaters pack a lot of power into relatively small frames, but any freestanding electric radiator will still have a considerable footprint. You'll want to make sure you have enough room not only to best position your radiator for optimal warmth, but for safety and aesthetics as well.
After all, a poorly positioned unit could present a tripping and even a fire hazard. Don't forget that many models of radiator offer many colour variants to best fit your personal style, either.
ALSO READ: What are the best conservatory heaters?
Safety provisions
We've just touched on how improper heater positioning could lead to tip-overs or contact burns, but there's more to consider. Radiators with rounded fins and components, for example, reduce the risk of clothing or curtains catching on the unit. Cable tidies not only improve the way your radiator looks, but makes it less likely you'll take a tumble when passing your heater by.
But more important are the various integrated safety features common to most free standing heaters. These include overheat protection, which immediately cuts the power when it detects the radiator has surpassed an unsafe level of heat. Tip-over detection is equally vital for preventing hot fins or heating elements making unsafe contact with anything but the air.
It might not seem like it, but open-window detection and anti-frost systems can also be considered safety features. The former prevents your heater from overcompensating to unsafe levels when the temperature suddenly drops. The latter ensures your unit sees no damage during cold winter stretches, and is available when you need it most.
Finally, child locks can be actual lifesavers if you have children. Most heaters with manual dials won't have this functionality, which is a fair reason to upgrade to an LCD display when there's the option.
Accessibility
How easy your radiator is to use determines the quality of use you'll get out of it. You might have a heater which boasts the most sophisticated automated scheduling system. But, if you can't figure out how to use it, you've paid extra for unnecessary bells and whistles. Likewise, you may miss out on real energy savings if you don't take advantage of your heater's advanced features.
Spend some time reading reviews from users who complain about a poor manual. It might not matter too much if your heater has only a few manual dials, but anything more complicated begs clear, concise instructions to guide you.
If you see the freestanding electric radiator of your dreams comes with inadequate documentation, it doesn't have to be a deal-breaker. Just commit yourself to spending some extra time to decrypt the manual when you buy it. The time you spend will pay dividends in energy savings down the road.
More quality of life upgrades may include remote controls, LCD backlighting, and battery backups for your timer settings. You might also enjoy purchasing a unit which features smart-home functionality, so that you can control the heat production in your home from the convenience of a smartphone app.
Mobility
It may seem obvious, but lighter heaters are much nicer to move from room to room than heavier ones. In either case, you really want to ensure castor wheels are integrated into the build of your freestanding radiator. Even better are models which don't require you to assemble the wheels upon purchase–this can be quite the job with heavier heaters!
Look for carry handles or ergonomic grips, so that you have a good handle on your hefty boy every step of the way. Finally, ensure the unit you choose features a full-length cable; you'd be surprised just how limiting even 30cm less can be for positioning your heater.
Final thoughts
There's no lack of reliable freestanding electric radiators on the market (and even more dreadfully poor ones). It has been the goal of this article to walk you through some of your best purchase options at a variety of price points, and we hope the message has landed!
Even if you're dead-set on purchasing one of our recommended heaters, we nevertheless advise you to read though our buyer's guide. Doing so will help you to fully consider your needs and how well your chosen unit is equipped to address them.
Do you have any questions about any of our selections? Where and how will you use your freestanding radiator? Leave us a comment below!
Avoid Expensive Breakdown Costs
Boiler Replacement Promise: If it's under 7 years old and we can't repair it, we'll replace it.
Try YourRepair. From £8/mo
All plans include: annual boiler service, all parts and labour, unlimited support and 24hr helpline.