HeatingForce is reader-supported. When you buy through links on our site, we may earn an affiliate commission. Learn more
The Best Heat Only Boilers, Prices And More [2021 Buyer's Guide]
Welcome to our 10-minute guide covering heat only boilers.
In this guide, we're going to explain exactly what heat only boilers are, purchase prices, the cost of installation, as well as recommendations for the best brands producing heat only ranges.
What Is A Heat Only Boiler?
A heat only boiler is known by a few names, including "traditional" but more commonly, "conventional".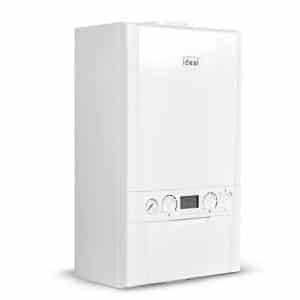 If your property uses a heat only boiler, the central heating system will be linked to both a hot water storage tank (or cylinder), and this is fed by a cold-water storage tank.
How Do Heat Only Units Differ From System Boilers?
System boilers work in a similar manner. They too, have a hot water storage cylinder. However, a system boiler doesn't require a cold-water feed tank. This would usually be located in your loft.
So, if you see a cylinder but not a cold-water storage tank, you need to go and check out our guide to system boilers; that's the type of boiler you have.
Why Would A Property Have A Heat Only Boiler, Not A Combi?
Regular, conventional and heat only boilers are typically, part of an old central heating system install. Newer setups will usually be converted to a system boiler.
But, there is a place for both system and heat only boilers. The BIG downside is they take up room. A combi doesn't require a storage tank of any kind, and that's a huge space saver.
But, thanks to your water storage facility, heat only boilers don't need to heat hot water on demand like a combi does. That means, you have hot water "on-tap".
Using 2 or more taps/showers at once? There's a good chance a combi won't be able to deliver that level of hot water.
So, if you're in a property that needs high hot water output, you'll be looking at a system or heat only boiler, not a combi.
Ready to get your boiler installed? Get a fixed price on screen using this clickable form (no personal details required), in less than 90 seconds.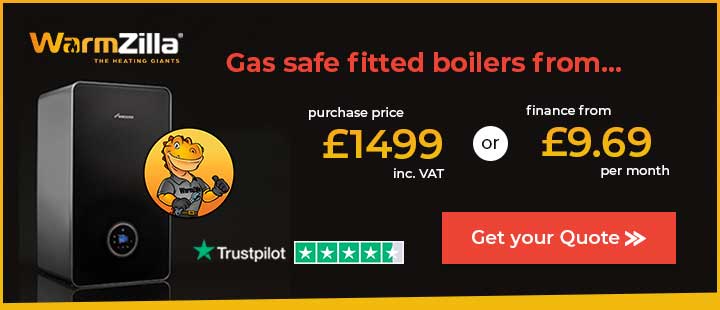 Heat Only Boiler Installation Costs
You'll see combi boiler deals (supply and installation) from as little as £1,750. But, don't expect to be paying that amount for a heat only boiler installation. The fact is, there are more materials involved in a conventional boiler installation, compared with a combi.
For a start, there's the cylinder; that can cost hundreds of pounds, plus labour to fit it. And, the same goes for the cold-water feed tank.
Typically, the cost of heat only installations relates to the size boiler and cylinder you require. Typical installation costs will start from around £2,500.
Want to find out exactly how much a heat only boiler for your property is going to cost? You can use this boiler price calculator on WarmZilla.
You'll be able to get an on-screen price within 2 minutes. Generally, these prices are extremely competitive, as WarmZilla is a company focused on technology to keep boiler prices down, so they offer Worcester boilers are incredibly competitive prices.
What KW Heat Only Boiler And Cylinder Do You Need?
A small installation is a 24kw boiler, and a tank in the 150L range. Anything above this (which is likely for any property bigger than a 2-bedroom semi), is going to increase the cost of the installation.
To get a handle on what your installation should cost, we've created two guides here:
Hot Water Cylinder Sizing
But, take those guides as a ball park. Properties vary (even when they're the same size) in terms of their heating and hot water demand. And, you don't want to buy a boiler that doesn't supply sufficient output.
Any Gas Safe boiler fitter will be able to spec a boiler and cylinder that's perfectly suited to your property. They can consider square footage, radiator BTU, number of rooms, how many taps and showers there are, and beyond.
To avoid buying the wrong boiler, simply use this clickable form.
Which Heat Only Boiler Should You Buy?
Jump onto any online plumbing merchant, and you'll see a tonne of brands producing heat only boilers. The question is, which ones are the best?
There's plenty of false economy in the heating industry. So, it's worth being wary of cheap brands, particularly when they're offering a low warranty.
The overall installation cost (supply and fit) is made up only partly of the boiler itself (around 35%). So, saving 10-20% on a boiler, makes little difference when it comes to the overall installation cost.
We'd usually advise investing in the best boiler possible, which will reduce long-term repair costs, not to mention the fact it's more likely to be more efficient than a cheaper equivalent.
The boiler fitter that specs your property will be able to offer some recommendations, but here's a few of our favourites.
The Best Heat Only Boilers
There's little point suggesting an actual boiler, the Ideal Logic+ 18kw for instance. Even with a rough idea on property size, it's hard to determine the exact KW boiler you need.
However, what I can do is offer up some recommendations, based on the best sellers at my time working in an independent plumbing merchant.
Worcester Greenstar RI
Worcester Bosch are a brand that need no introduction. And, if you're in the market for a heat only boiler, you'll want to be heading for their Greenstar RI range.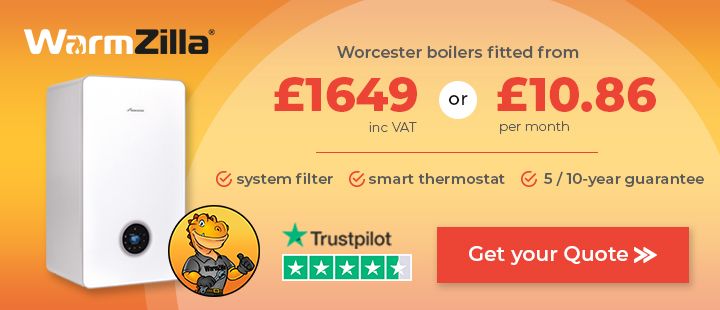 The Worcester Bosch warranty is the most confusing of all. For a start, it constantly changes alongside their promotions.
Expect to get a 5-year warranty as standard with the Greenstar RI. But, speak to a Worcester Accredited engineer to determine if there's more of a warranty on offer. Sometimes warranty can be extended by using a Worcester Accredited engineer, and fitting Worcester branded parts (such as heating controls and boiler filters).
As an example, WarmZilla can offer a warranty up to 10 years, and their boiler installation costs are extremely competitive. Use their clickable form to find out what deals are currently on offer.
Ideal Logic+ Heat Only
Ideal Boilers are a British manufacturer producing top quality boilers, at low prices. Compared to the Vaillant and Worcester Bosch alternatives on this list; they're DIRT cheap.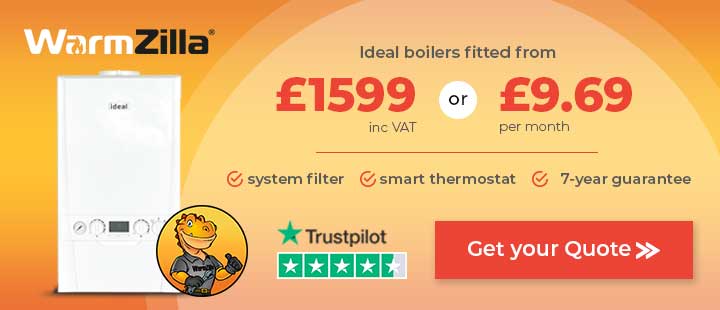 It's important with the Logic range, you choose the Plus. The features and efficiency are similar to the standard Logic, but the warranty is where the big difference lies.
With the Logic Heat you'll only get 2-years. With the Logic Heat Plus? You'll get a full 7-years, and the price differential is small – it's worth it.
That said, on both the Logic and Logic Plus, you'll get a 10-year warranty on the heat exchanger; one of the most expensive boiler parts.
Vaillant EcoTec
The Vaillant EcoTec is better known for being a combi boiler. But, Vaillant also produce a range of heat only boilers in this range. If your fitter is suggesting a Vaillant EcoTec, we'd be inclined to listen to them.
With the EcoTec, you'll pay a little more than you would compared with an Ideal Logic Plus. But, there's plenty of choice with 12, 15, 18, 28, 30 and 38kW outputs, from there 412, 415, 418, 424, 430 and 435 models.
Vaillant will give you a basic 5-year warranty on the EcoTec. This can be extended to 7-years, but it HAS to be fitted by a Vaillant Accredited Engineer.
What's Next?
Thanks for reading our 10-minute review of heat only boilers.
We regularly post up reviews, guides and advice on heating, plumbing and bathrooms. Bookmark our blog and pop back soon.
Want an online price for your heat only boiler? Use this form and get yours within 2 minutes.
Or, if you have a question, leave a comment below and we'll get back to you as soon as possible.
Avoid Expensive Breakdown Costs
Boiler Replacement Promise: If it's under 7 years old and we can't repair it, we'll replace it.
Try
YourRepair
. From £9/mo
All plans include: annual boiler service, all parts and labour, unlimited support and 24hr helpline.