HeatingForce is reader-supported. When you buy through links on our site, we may earn an affiliate commission. Learn more
Boiler Installation Milton Keynes – Get a New Boiler or Boiler Replacement
If you live in Milton Keynes or the surrounding area and need to buy a replacement boiler, this is the essential guide you have been looking for. We have compiled all the key information you need along with some essential local tips. Once you have read this guide, you can go about buying your new boiler with confidence and hopefully save a decent sum of money too.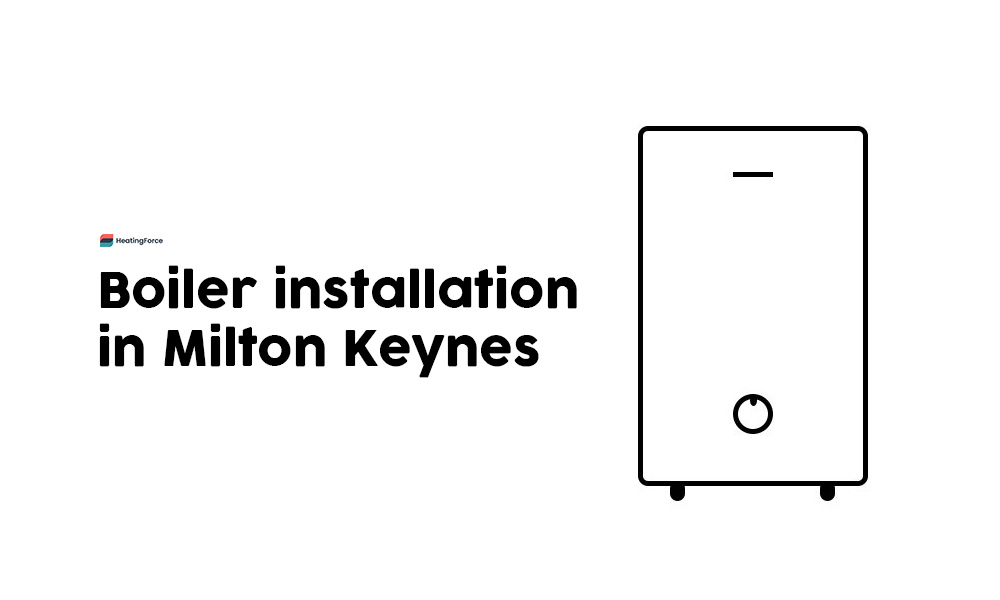 Having to buy a replacement boiler is stressful. They always seem to go wrong at the worst possible moment and leave you scrambling around to find a boiler and an installer in a hurry.
It is easy to panic and end up making some bad decisions or spending money that you don't need to. This guide has been designed to help people in Milton Keynes avoid this.
Our essential guide to replacing your boiler in Milton Keynes is not like other online guides. They are usually full of general and often contradictory advice. This guide is full of local information and all the key information you need.
So, if you need to buy a replacement boiler in Milton Keynes or the surrounding area, it should prove to be essential reading and leave you better informed to make the right decision and save some money too.
Buying a Boiler in Milton Keynes
Milton Keynes is a famous new town and has grown exponentially. It now has a population of almost 250,000 people. It sits at the heart of the Buckinghamshire commuter belt with towns like Luton, Bedford, Hitchin, and Stevenage all within easy reach.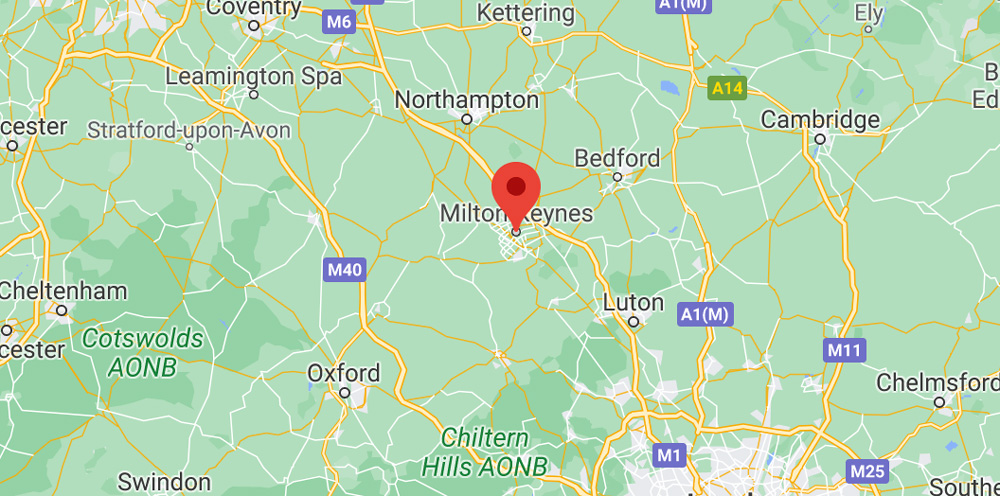 The area as a whole has a population of well over half a million people and with the recent rush of people to move out of London, this is likely to grow significantly over the next few years.
When it comes to buying a replacement boiler, this significant population growth can be problematic. It's true that Milton Keynes and the surrounding area has no shortage of retail outlets where you can shop for a new boiler.
But it is also putting pressure on local tradespeople and, like many other parts of the UK, they are often struggling to cope with demand. For consumers, this means finding an available boiler installer can be difficult and prices are likely to be higher as well.
This is why it is vitally important to do your homework and make sure you are getting the right boiler from the right installer at the right price. That is what this guide to buying a new boiler in Milton Keynes is all about.
Who should you use to install a new boiler in Milton Keynes?
The key thing to remember when getting a replacement boiler installed in Milton Keynes is to get quotes. Most sites will say you should get three quotes but our advice is to get as many as you can. The more quotes you get, the better you can understand what the market rates are in the Milton Keynes area and also the higher your chances of finding a great deal.
There are three different types of boiler installation company you can get quotes from and all have their advantages and disadvantages. It is a good idea to familiarise yourself with the different types of companies there are out there before getting quotes. So, here is a brief overview of the three main types of boiler installation company you can expect to encounter:
National Installation Companies
This type of installation company operates all over the UK. A good example of this business model is British Gas. They can negotiate great prices with suppliers but they also have high overheads, not least because they spend big on TV advertising and newspaper marketing campaigns that make you aware of them.
Unfortunately, these high overheads usually mean higher prices for their customers. They do sometimes have special offers and good deals but generally speaking, you can expect quotes from national installation companies to be among the highest you will encounter.
Local Heating and Gas Installers
As we have discussed, local installation companies are likely to be in high demand and this can drive up their prices. However, you can still expect your local installers to be cheaper than a national one, perhaps by as much as several hundred pounds.
Another potential issue with local companies can be over the quality of their work. Some are much better than others and often you only have word of mouth to rely on to find out about this. That is why we usually recommend you get at least three or four recommendations before opting for a local tradesperson.
Online Installation Companies
Online boiler installation companies are a relatively new addition to the market but they have really shaken things up thanks to their modern business model.
This allows them to operate nationwide and bargain good prices with suppliers. But their low overheads mean they can pass on terrific savings to their customers. Often, these can be considerably lower than even local tradespeople can offer.
There are several online installers out there at the moment but the best on the market in our view is Warmzilla.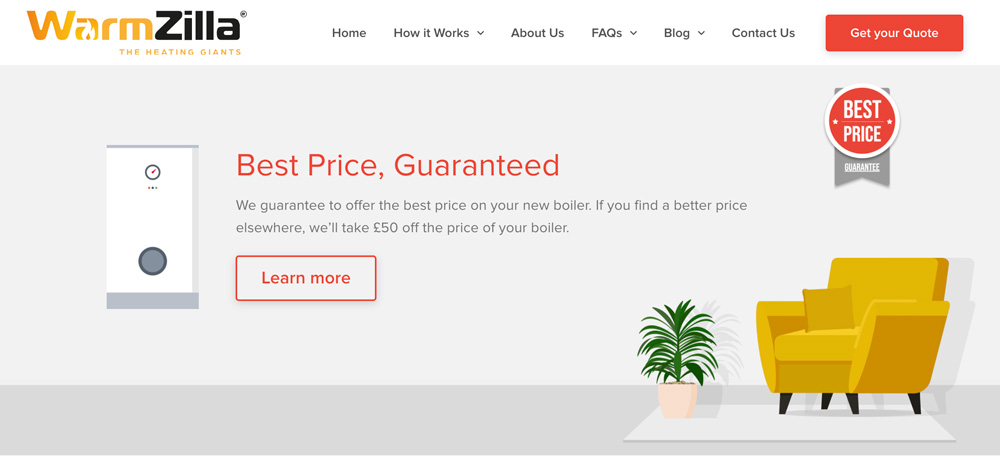 Warmzilla has been around for a while now and it has built up a big reputation for low prices and exceptional customer service. They offer a wide range of boilers from all the big-name manufacturers and they come at a price that is seriously competitive.
There are always plenty of special offers on their site too, such as extended warranties and Warmzilla even has a range of financing options including 0% APR on some models. Warmzilla's network of installers means it is frequently able to get your new boiler installed as quickly as the following day.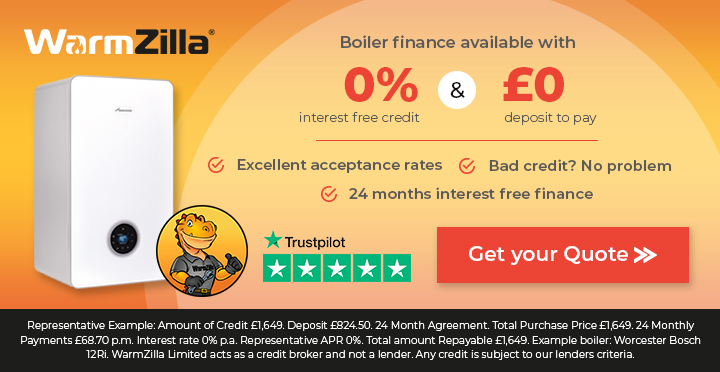 It is important to get a variety of different quotes but we strongly recommend you make sure one of your quotes is from Warmzilla.
All you have to do is head over to their website and fill in their simple online form. It only takes a couple of minutes and you don't have to give them any personal information. Warmzilla will then generate a fixed-price quote for a selection of boilers to suit your property. If you see one you like, the price quoted is guaranteed.
What type of boiler do you need?
As well as deciding on the right installation company, you also need to make sure you are getting the right boiler for your property too.
There are a number of variables you have to consider in this and often people will just let their installer choose for them. But this is an approach that is fraught with risk.
Installers often have a preferred brand or model that they stick to come what may. Some also negotiate discounted prices on certain models to enable them to boost their profit margin. For their customers, this can mean they are not always getting the right boiler for their property or the best value one either.
It is, therefore, a good idea for you to have a clear idea in your mind about what type of boiler you want before going out to get quotes installers. There are a number of things you need to consider.
First, you need to know the type of fuel your boiler uses. There are various different options available:
Gas
LPG
Oil
Electricity
Renewable energy sources
What kind of fuel does your boiler use?
Grab your fixed price online, ask for next-day boiler installation.
Milton Keynes is primarily an urban area and most properties will be connected to the mains gas network. If this is the case, you will probably want to go with a gas boiler since this gives you the widest choice of boilers and the lowest utility bills.
The next question is what type of gas boiler you want to choose. Again, there are various different types available including:
Combi Boiler
Regular Boiler
System Boiler
Compact Boiler
For the majority of people in the Milton Keynes area, who live in a smaller house, a flat, or an apartment, a combi boiler will be the best choice.
But, if you have a water tank in your roof and an airing cupboard and are keen to keep both, a regular boiler will be the right choice for you.
System boilers are usually fitted in commercial properties these days and a compact boiler is only necessary if you live in a very small property and need to fit a combi boiler in a very tight space.
What size boiler do you need?
When we talk about boiler size, we are referring to the power capacity of your new boiler rather than its physical size. It is an important thing to get right.
If you buy a boiler that is too small, it will struggle to provide sufficient hot water or to get your radiators up to the desired temperature.
If you buy one that is too big, you will see your utility bills going up and up without any obvious benefit.
Getting the right size of boiler is therefore crucial, but it isn't easy. A lot of people will leave this to their installer too. But it is well-worth understanding what size boiler you need in your property to ensure that the one you end up with is appropriate for your property.
Combi boilers come in three principle size ranges:
24kW – 27kW
28kW – 34kW
35kW – 42kW
Using these size ranges, we can give you a rough estimate of what size boiler will be right for your property. As you can see, this calculation is dependent on the number of radiators and bathrooms you have. It also assumes that you use an average amount of hot water.
| | | | |
| --- | --- | --- | --- |
| Property Type | Radiators | Bathrooms | Boiler Size |
| Apartments, 1 & 2 bed houses | 10 or fewer | 1 | 24kW-27kW |
| Medium size 2-4 bed homes | 10-15 | 2 | 28kW-34kW |
| Larger Properties | 15-20 | 2+ | 35kW-42kW |
If you want some more precise recommendations and don't fancy waiting for your installer to visit and the potential cost of a call out, you can always try an online boiler size calculator.
There are several of these around but our pick of the bunch is on the Warmzilla website. Just fill in their online form with all the details about your property (nothing personal is required). Warmzilla will then generates a list of suitable boilers that are the perfect size for your property.
Milton Keynes boiler replacement: How much does it cost?
The key matter for most readers will be just how much your replacement boiler is likely to cost. This is a complicated calculation too because there are a lot of different factors that can affect the bill.
In the next two sections, we will discuss two of the main things that can drive your bill up; moving a boiler and extras.
But here and now, let's try and give you a ballpark estimate for an average new boiler in Milton Keynes.
We will have to make a few assumptions. We will assume that you live in an average-sized Milton Keynes property and are looking to install a 24kW combi gas boiler. We will also assume that you use an average amount of hot water.
On that basis, the cost for a replacement boiler is likely to be in the region of £2,000.
You could spend less if you shop around. On Warmzilla right now, there is an excellent Worcester Bosch combi boiler from just £1,649.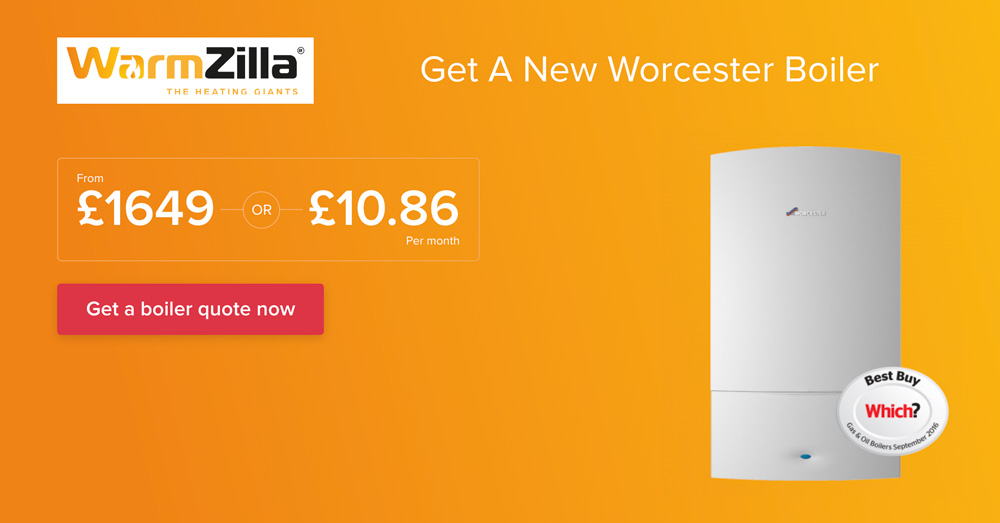 You could spend more if you want to. There are plenty of more expensive boilers on the market too. You can also find boilers that are cheaper but be wary of these. They are frequently made with cheap components and offer short warranties. This inevitably means they will go wrong sooner rather than later and in the long run, the total cost of keeping this type of boiler running is likely to outweigh any upfront savings you might make.
Moving Your Boiler
A big factor in the overall cost of your new boiler is likely to be whether or not you need to move it. Installing a replacement boiler is a fairly straightforward job on its own and should take no more than a day. But if you are moving it to another place in your property, it is a different story and the price can start to stack up.
Moving a boiler means you need new pipework, a new flue and any associated work on your external walls or your roof. You may well also need decorative work inside your property. All of this adds up, with labour costs and materials all needing to be taken into consideration.
On average, if you are looking to move a boiler in Milton Keynes or the surrounding area, you can expect it to add something in the region of £350 – £750 onto your bill.
It is possible that a local engineer or an online installation firm like Warmzilla might be able to do the job for less. But equally, if your boiler move is a major one, it could cost even more.
What Extras Do You Need?
The other big factor in the size of your overall bill for a replacement boiler is likely to be extras.
There are plenty of extras that can come with a new boiler. But some installers will include them in their quote while others will try to add the cost on. You don't want to fall into a trap here so be sure to request an itemised quote every time.
It is understandable why you might think extras are unnecessary but in actual fact, some extras are very worth getting and can extend the lifespan of your new boiler.
Three extras that definitely well worth investing in are:
Magnetic filter – A magnetic filter fits into your new boiler and hoovers up any metallic debris that is floating around. This debris can create sludge which clogs up your boiler, affect performance, and even damage components. It is well worth getting a magnetic filter installed but be sure to get it cleaned every year as part of your boiler service.
Scale filter – Milton Keynes is slap bang in the middle of a very hard water area and this means that limescale can be a big problem. It can build up on your boiler components and damage them or even stop your boiler from working altogether. A scale filter can help to prevent these limescale build-ups and, in the long run, it can reduce repair bills and extend the life of your boiler. Highly recommended in Milton Keynes.
Hot / Power Flush – If you have an older heating system, it is likely to have some sludge and debris in it. A hot flush or a power flush is a simple way to clear all this sludge out and help your boiler to perform at its peak. Just be aware that power flushes can be risky with older systems. They are very strong and can damage joints and older pipework. Have a discussion with your installer before proceeding and make sure your central heating system can cope with a power flush before going ahead.
If your installer offers you any other extras, we would suggest you do some research to see whether you think they are really worth getting before proceeding. If you are still unsure, leave us a message using the comment box below and we will try to give you the benefit of our expertise.
Summary
If you find yourself needing a replacement boiler in Milton Keynes or the surrounding area, there is no need to panic. In this guide, we have given you all the information you need to make a sensible and informed decision.
We have explained the different types of boilers you can buy and have shown you how to choose the best size of boiler for your property. In addition, we have recommended some key extras for you to get and explained why moving your boiler will push your final bill up.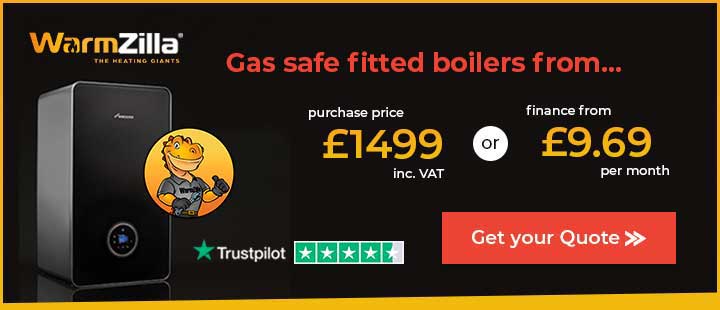 Most importantly, we have explained where you can buy a boiler from, discussing the pros and cons of national, local, and online boiler installation companies.
We have also recommended that you should get a quote from Warmzilla, which is our top online boiler installer and which offers some of the lowest prices available on an amazing range of high-quality boilers.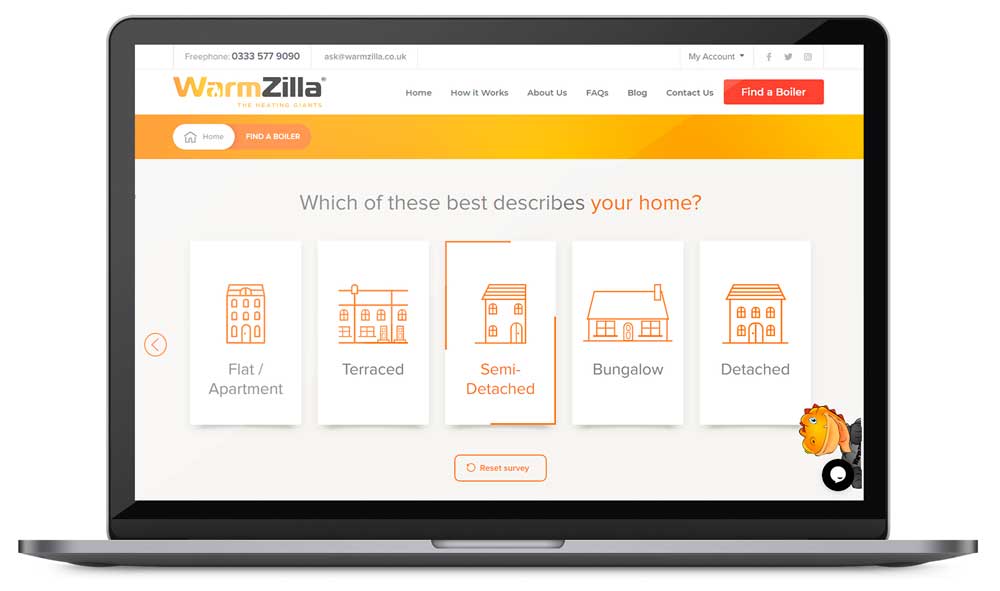 If you have any questions about anything we have discussed in this guide or if you think we have missed something, do get in touch with us using the comment box below.
We always endeavour to reply to every question and comment we get asked as quickly as possible.
Avoid Expensive Breakdown Costs
Boiler Replacement Promise: If it's under 7 years old and we can't repair it, we'll replace it.
Try
YourRepair
. From £9/mo
All plans include: annual boiler service, all parts and labour, unlimited support and 24hr helpline.