Glow-worm Energy 30C Review, Prices And Alternatives
Your boiler is on its way out and you need a replacement. Good chance, you're tossing up between multiple brands, price points and models.
Confused? Don't be…
In our 5-minute review of the Glow-worm Energy 30C, we'll cover everything you need to know to make that all important purchase decision.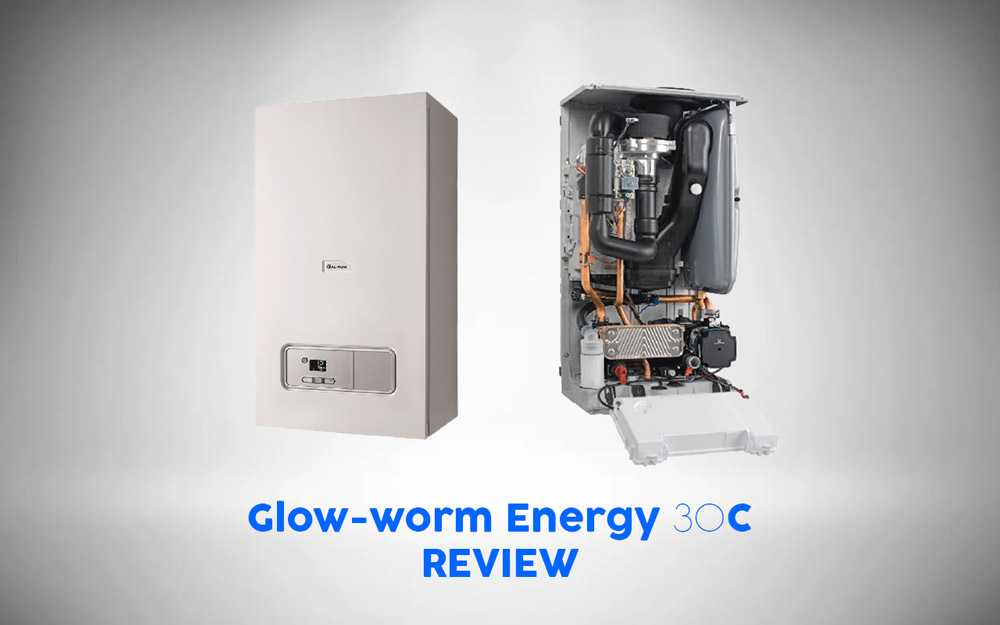 Glow-worm: The Brand
Straight up, Glow-worm are a well known brand, so that's a good start.
Problem? Most merchants and installers don't exactly hold them in high regard.
Whilst their customer support is top-notch, typically, product quality isn't.
And, there's a good reason for that, the brand is designed to be "budget". It's an arm of Vaillant (well known, and the main competition to Worcester and the likes), so naturally, Vaillant boilers are going to be better – better is generally what we'd advise.
Short-story-long, if you want a top notch boiler at a reasonable price, brands such as Worcester, Vaillant and Ideal is where we'd be heading. You can get on-screen prices for them here.
Glow-worm Energy 30C Prices
Let's jump straight onto price, you can then start to compare the Energy 30C to any other boiler prices you've already found.
If you stick "Glow-Worm Energy 30C" into Google, you'll see prices sitting at around £850, that's just for the boiler. You'll be paying extra for the flue, flue extensions, filter, thermostat and of course, installation.
So, what's the total cost likely to be?
From a local installer, we'd peg a reasonable estimate, including everything mentioned above, at around £1,850; reasonable for a 30kw boiler.
Done deal, then, right?
Wrong.
We just used this on-screen calculator to get prices on Ideal and Worcester, as those are both brands we rate.
You're going to get a longer warranty (more on that below), a better known brand and quite frankly, a better overall installation package (smart thermostat etc) for basically the same price:

But, if you've found a Glow-worm supplied and fitted for much cheaper than the price above, keep reading, as it does have some pretty-cool features…if cool is such a thing with boilers.
Is The Energy 30C The Right Size Boiler For You?
Typically, a 30kw boiler like the Glow-worm Energy 30C is going to suitable for an average 3 bedroom house, or a small 4 bed. That's going to assume reasonable (but not excessive) hot water and heating demand. If you're not running two showers at the same time, you're in the clear.
However, it's not a one-size-fits-all approach when spec'ing boilers. The Energy 30C might be the perfect size for one 3 bed, but too small for another.
The best thing to do to determine exactly what size boiler you need is to use this quick-fire calculator. After ticking a few boxes covering details about your property, hot water and heating demand, you'll get the most suitable boilers for your property listed at the top of the screen.
"Cool" Features
Long Warranty
We're a sucker for a healthy warranty, so that's where we'll start. The warranty on the Glow-worm Energy 30C is going to suffice, standing 7-years tall.
If you've read any other boiler reviews on this site, you'll hear us banging on about warranty plenty. And that's because it's REALLY important.
Even if you manage to get your self the deal of the century, you're still likely to be closing on a £2,000 bill for any 30kw boiler installation. And, some boiler manufacturers will happily bank your cash, and only give you a miniscule 2-year warranty in exchange; you want 5-years as a minimum.
Comparing the Energy 30C directly to the Worcester equivalent here (Greenstar 30i), you're losing out on 3-years warranty. Because with Heatable, you'll get 10-years warranty inclusive, not 7.
Cash Savings
This isn't exclusive to the Energy 30C, but it is A-rated (as most new boilers are). If you've got a boiler that's over 10 years old, you could be looking at saving £100 or more per year, which helps partway to covering the upfront cost.
Part of this efficiency comes from the Grundfos (quality brand) modulating pump; it's energy consumption is extremely low in comparison to similar pumps.
Here's a cool chart that will give you an idea of what you could be saving by replacing your old boiler with an new one, courtesy of the Energy Saving Trust: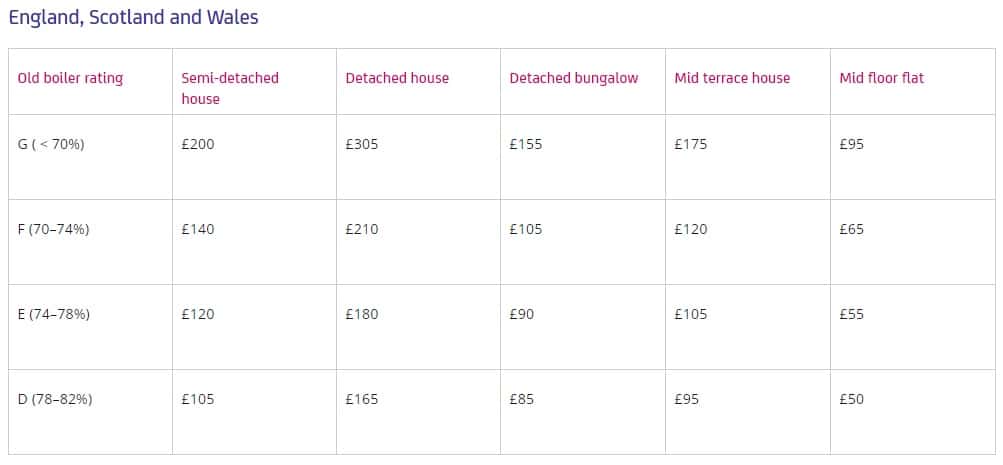 (Source)
Quiet Mark
If your old boiler sounds closer to a steam train than a household appliance, you're in luck. Almost ANY replacement is going to be a welcome improvement.
But not all new boilers are Quiet Mark approved, whereas the Energy 30C is. Big thumbs up…
Compact Design
It's rare that Glow-worm boilers trump Worcester, but on design they do. The Glow-worm Energy 30C is compact. Essentially, that means if you want to, you can fit it in a small space such as a kitchen cupboard, rather than having it wall-hung in your kitchen.
The 30i from Worcester is too big to fit in a standard kitchen cupboard, so you'd be looking at something like the 32CDi Compact instead, which is going to drop your bank balance by a further £300 or so.
Review Verdict
We could go on, and dig through the Glow-worm brochure and compare each spec back to back with equivalents from Worcester and other leading brands (unlikely to be very entertaining). But, the above covers all the most important points.
In our opinion, unless you can find a local installer that can supply and fit the Energy 30C at a hugely discounted rate (including a filter and thermostat), we'd be heading for Heatable, and buying a Worcester.
There, you'll get the 30i with a juicy 10-year warranty, magnetic system filter, smart thermostat and installation for well below £2,000; which is an exceptional deal for such a trusted brand; job done!
What kind of fuel does your boiler use?
Grab your fixed price online by 3PM, and get next-day boiler installation.
What's Next?
Got questions about Glow-worm boilers, or getting your new boiler fitted?
Drop us a line via our contact form and we'll do our best to help you out.
Avoid Expensive Breakdown Costs
Boiler Replacement Promise: If it's under 7 years old and we can't repair it, we'll replace it.
Try YourRepair. From £9/mo
All plans include: annual boiler service, all parts and labour, unlimited support and 24hr helpline.