The 8 Best Dehumidifiers (Reviews) For Home Use
Dehumidifiers are one of those products that many people have heard of but don't actually know what they do. Dehumidifiers are capable of preventing snoring, preventing static build-up, relieving allergies, preventing dry skin, and even restricting the spread of viral infections.
Moreover, dehumidifiers can prevent humid air from damaging your wooden furniture and interior, since dry air tends to loosen joints in a wooden floor; doors can fluctuate in size, potentially making them difficult to open and close; and chairs can start to feel the impact of humid air, causing them to wobble.
In a rush? These are the best dehumidifiers for the money:
What is the best dehumidifier for my needs?
"But don't dehumidifiers cost hundreds of pounds? I don't really want to spend all that money on one of these things," I hear you say.
Well, fear not—you can actually pick up a dehumidifier for as little as £40!
With no further ado, let's take a look at eight of the best dehumidifiers, starting with models designed for smaller rooms and then finishing with models designed for larger rooms.
Best Dehumidifiers (Reviews) for Small Rooms
Price: £ | Dimensions: 22 cm x 16 cm x 30 cm | Capacity: 1,500 ml | Watts: 40 | Finish: White and Blue
The Pro Breeze® 1500 ml Dehumidifier advertises itself as effective at fighting damp, mould, and moisture in your home, kitchen, bedroom, caravan, office, and garage.
Given that it is capable of removing 500 ml of moisture in a given day, that means its 1,500 ml capacity will last three days before needing to be drained.
If you are worried about yet another noisy product injecting monotonous din into your living area, you have got nothing to worry about with the Pro Breeze Pro Breeze® 1500 ml. The patented thermoelectric Peltier technology means there's no need for a suppressor, and the auto shut-off feature is yet another fine addition to this well-priced dehumidifier.
The auto shut-off feature simply stops the dehumidifier when it has reached capacity, conveniently letting you know that you need to drain it before you can resume using it. E
mptying the water tank couldn't be simpler; once you are done emptying it, simply slot it back in to ensure your air is just the way it should be.
Price: £ | Dimensions: 29.8 cm x 16.4 cm x 16.2 cm | Capacity: 1,000 ml | Watts: 40 | Finish: White
We really love the design on the Flashvin Dehumidifier 1000ml Portable Mini Dehumidifier. The rounded-prism shape of this dehumidifier gives it a stylish, modern visage. At just 1.3 kg, it is easy to move around as necessary. Flashvin take their quality assurance very seriously, so there's no need to worry in this regard.
If you are worried about damp and mould in your household, this little guy will put your mind at ease in short order.
As with the Pro Breeze® 1500 ml Dehumidifier, the Flashvin Dehumidifier 1000ml Portable Mini Dehumidifier is refreshingly quiet; moreover, Flashvin has paid special attention to the energy efficiency with this model, helping to ensure that your electricity bill won't give you an electric shock.
At 1,000 ml, the capacity is only two-thirds that of the first item on this list, and you'll expect to accumulate around 450 ml in a day, meaning you'll need to refill after two days of use. All in all, though, we can't recommend this beautiful little unit enough.
Price: ££ / £££ | Dimensions: Various (20,000 ml model is 35 cm x 24.5 cm x 51 cm) | Capacity: 8,000 ml / 12,000 ml / 20,000 ml / 25,000 ml  | Watts: Various | Finish: White / Black / Grey / Black & White (depending on model)
We have included all four models of the Inventor EVA-II PRO collection here, ranging from 8 litres to 20 litres, so we'll try to speak about each variant briefly. We think it's important to give you a range of sizing options, especially considering the breadth of sizes that the Inventor EVA-II PRO offers.
The larger units are best suited to larger rooms, but we'll keep them all here for the sake of easy comparison. All models come with a two-year warranty.
Price: ££ | Dimensions: 30 cm x 25 cm x 46.3 cm | Capacity: 10,000 ml / 12,000 ml | Watts: 160 watts | Finish: Blue / Green / Silver / White / Black
First things first: the Meaco MeacoDry Dehumidifier is how I would imagine Apple making a dehumidifier, especially in the late 1990s. For the sight-impaired, please allow me to describe this thing with words alone. For starters, imagine a white popcorn maker that's had it's top lopped off two-thirds of the way up.
Its white exterior is adorned with a control panel that comes in one of five selectable colours (listed above). If you are looking for something minimalist that you would have to really try to injure yourself with, it's impossible to look past this marvel in engineering simplicity.
With ultra-quiet operating volume and gorgeous design that's both elegant and functional, the Meaco MeacoDry Dehumidifier makes no compromises on performance or portability, packing 10 or 12 litres into a precisely machined form factor. Meaco has also run some efficiency tests, estimating 2.45 p per hour based on 15.2p/kWh.
Once again, I cannot emphasise enough how nice this thing looks. It will literally blend right in to your decor regardless of your home's interior design. 
Best Dehumidifier (Reviews) for Large Rooms
Price: ££ | Dimensions: 18.8 cm x 49.3 cm x 31 cm | Capacity: 12,000 ml | Watts: 190 watts | Finish: White / Blue
Capable of removing 12 litres of excess moisture within 24 hours, De'Longhi can add another string to its bow with its DEX12 Dehumidifier. Understanding the importance of portability, they've added a super convenient carry handle to ensure that you'll have no difficulty moving it from room to room.
It comes in a choice of white or navy blue and ships with an anti-dust filter to help eradicate allergens. Furthermore, it has a 'dry clothes' function that will really cut down on laundry-drying times, which is just the ticket for those of you who have miserable weather but don't have the space or budget to invest in a laundry dryer.
One recommendation we can give for people who may want to keep this on all day is to set the unit at 50%, but you can also tweak it from 40% to 60% to get the sweet spot that suits your tastes. It's not uncommon to suck out about 20% humidity within just a few hours, ensuring you can get to that perfect comfort level in a very reasonable amount of time.
Price: ££ | Dimensions: 36 cm x 23 cm x 58 cm | Capacity: 5,500 ml | Watts: 420 watts | Finish: White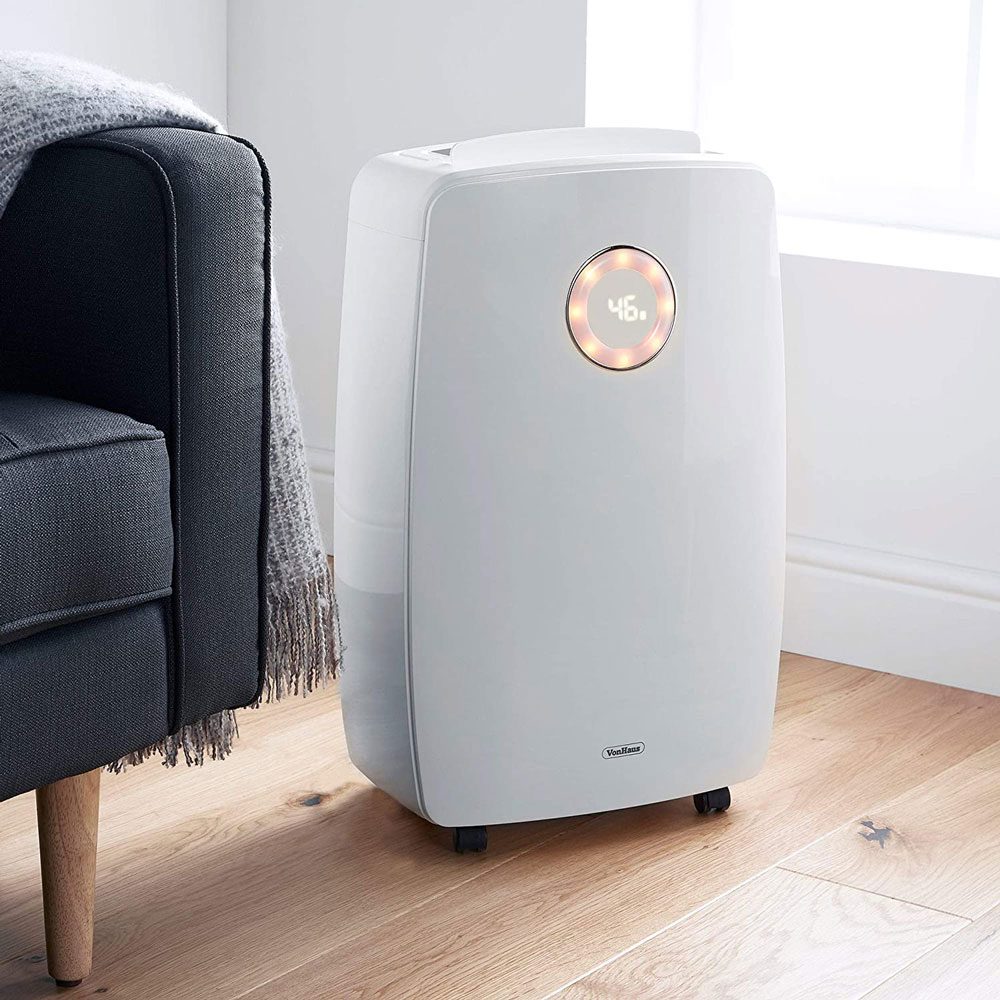 There is a reason VonHaus consistently gets into these best-of lists. The modern design and impeccable engineering in their products shows that making top-tier electrical appliances is their passion. It really does come through in their products; you can tell they care about making their appliances the best they possibly can.
You'd think all of this sophistication would come with a high-end price tag, but their pricing is actually very reasonable considering the sheer excellence of this particular product.
Honestly, despite this being a mid-range item, you could make a strong argument that this is the best-value dehumidifier on this list, as the design and quality of this particular unit is remarkable.
We really love the sharp-looking temperature gauge on the control panel, which means you'll get precise control over both climate and humidity. You essentially get full climate control in whichever room you like, which means you can live in perpetual comfort for as long as you can resist the urge to peel yourself off the sofa.
Price: £££ | Dimensions: 36.5 cm x 22 cm x 50 cm | Capacity: 16,000 ml | Watts: 2,000 watts | Finish: White
Let's get the one negatives out of the way.
It's a bit on the dear side.

It only has a 2.3 L tank capacity
That out of the way, the Dimplex DXDH16N Dehumidifier is an excellent dehumidifier. It has an auto shut-off feature and is capable of reducing moisture like nobody's business. Sure, this might not be the quietest unit or have the fanciest display, but the astonishing brute power of this unit is quite remarkable, thanks mostly to its 2,000 watts of mains power.
Looks-wise, it's certainly unique. It's quite stable, to be sure, but the auto shut-off feature will kick in if something goes awry. You'll probably need it at some point, especially given its suboptimal 2.3 L tank capacity. It's efficient, effective, and easy to use. If these are three adjectives that gel with your buying needs, you've found your product.
The Dimplex DXDH16N Dehumidifier is the master of big spaces; don't leave a large room to a dehumidifier that's not designed for the job at hand.
Price: £££ | Dimensions: 28.9 cm x 17 cm x 47 cm | Capacity: 2,000 ml | Watts: 520 watts | Finish: White
De'Longhi is back for more. The DNC65 Dehumidifier is the prime example of why you shouldn't obsess over specs. This room can really fill a room—seriously! Capable of sucking the moisture out of the air in a room up to 55 cubic metres, this heavy-duty dehumidifier is quantifiably industrial in terms of its coverage.
Its 2 L capacity is nothing to write home about, but its ability to perform at three different power outputs makes it the perfect candidate for a multitude of dehumidification scenarios. There's no need for refrigerant gas, and it contains a separate ioniser and clothes-frying function. But the features don't stop there, my friend!
The DNC56 has a swing function to optimise air distribution and can handle a wide range of operating temperatures: from 1°C–35°C. Since you'll be dishing out a few hundred quid on this, you'll be pleased to know you'll be receiving a 2-year warranty to help you sleep at night (just in case the humidifier alone doesn't do the trick).
Dehumidifiers Buying Guide
How to find the best dehumidifiers insofar as value, efficiency, and quality are concerned
When it comes to value, especially for dehumidifiers, one should look past the upfront cost and technical specs. A cheap dehumidifier might look good on the surface, but cheap things tend to cost you more in the long run, and this couldn't be truer when it comes to dehumidifier.
The size of the dehumidifier, your source of power, and the intensity applied in dehumidifying the air are the major efficiency determinants. However, energy efficiency cannot be determined from these factors alone.
One thing of unique importance for dehumidifiers is the size of the tank. A dehumidifier with a large demoisturising rate becomes a hindrance if the tank with which water is captured is insufficient in size.  Determining how frequently you want to use your dehumidifier is of paramount importance in this regard.
Light users will be inconvenienced far less in this aspect, so please keep this in mind when selecting your dehumidifier.
Size and weight of the dehumidifier
If portability is of great concern to you, you may want to pay careful attention to the various dimensions and weights of your candidate dehumidifier. Each page has a list of size and weight, so bear this in mind when making your selection; additionally, pay careful attention to things like form factor and whether or not a dehumidifier has a carrying handle or not.
Capacity
Capacity with dehumidifiers is a bit tricky. Capacity should not be conflated with how much water can be sucked out of the air in a given 24 hours; indeed, capacity in this context refers to the size of the tank.
We've provided helpful guidelines throughout this article to help you deduce how often you'll need to be draining your tanks, but you can simply divide the total 24-hour dehumidification rate by the tank to get a sense of how many times a day that you will need to be draining your tank (assuming full use at full power).
Safety features
Some (but not all) dehumidifiers have an auto shut-off feature that will cease operation upon a water tank reaching capacity. The auto shut-off feature will prevent flooding and damage to your equipment.
Dehumidifiers will typically have an alarm (like an iron, for example) that will alert you to the fact that your dehumidifier has reached (or is near) its tank capacity. It is our firm recommendation to view dehumidifiers with this safety feature with particularly high regard.
Adjustability
Being able to change the temperature and humidity level is a lovely feature to have. The VonHaus 20L/Day Dehumidifier (mentioned in this list), for example, is a rare example of a dehumidifier that does both of these things.
Energy-saving features
Look for dehumidifiers with a timer. A dehumidifier with a timer allows you to automate the humidity levels within a given room without even needing to be inside it. Not all dehumidifiers are fitted with a timer, however, so be sure to read an Amazon listing thoroughly to double-check if it has one (if that is a feature that is important to you).
Moisture removal
Last, but certainly not least, is your dehumidifier's ability to do the thing it was designed to do. It can be a geometric work of art, but it will be totally useless if it can't effectively take moisture out of the air. Be sure to check the specs and read supplier information and third-party reviews to ensure you get an accurate overview of what a given dehumidifier is actually capable of.
A dehumidifier designed for small rooms is probably not going to work well in a large room, and a dehumidifier designed for large rooms is probably overkill for a small room (with perhaps the exception of a dehumidifier that has variable power settings).
Essential Factors to Keep in Mind
 Space and size
Like alluded to above, larger rooms will typically require larger dehumidifiers; therefore, make sure you get a space-appropriate dehumidifier when making your selection. Using a dehumidifier designed for large rooms in a small room will probably be inefficient unless used at lower power levels. Keep in mind, though, that not all dehumidifiers have these settings.
Options
Well, it is advisable to go shopping with the exact item you want to buy in mind. The only problem is the dynamic nature of the marketplace. It is almost impossible to find the exact product as you want it. That is why you need to be open-minded and consider buying online.
Now, open-mindedness doesn't mean simply buying the first thing that catches your eye. The best thing to do is to know your options. Assessing your options carefully will allow you to settle for the right alternatives.
Once you know what suits your space and budget, finding out which alternatives are available in the market will save you energy and time.
This article has highlighted the best dehumidifiers on the market today. Evaluate your options and only make a purchase once you are certain that the item you've selected is the best option.
How to Efficiently Use Your Dehumidifier
Read the details of your manual
The first step to a successful appliance application is mastery of the instructions. Once you have the details with you, it is now time to start exploring.
You should have a good idea of what to do in hazardous situations. Not only that, in case of an accident, what should you do? Who should you call for assistance in case you are in need of assistance? In the event of a fire, do you have adequate gear on hand to put out the fire?
Most buyers overlook these aspects. Remember, different products have different advanced features, which only the manual can fully explain.
Every manufacturer is legally obliged to contain safety tips and correct operational information in these manuals, which is why we advise you not to skip any details.
Select heating method
Some dehumidifiers come with the ability to not only adjust humidity but also the temperature. This selection alone has the power to decide the level of energy efficiency your dehumidifier achieves.
For instance, imagine having all your rooms dehumidified when you only spend time in a single room. Wouldn't that be a waste of energy? This is assuming that you don't have a legitimate reason for their use, of course.
Deciding to dehumidify occupied rooms alone—and only when necessary—will potentially save you hundreds (or even thousands) of pounds annually on your electricity bill. A couple of the reasons that you may want to dehumidify a room nobody is occupying is if you are trying to ward off mould or if you are about to enter the room, the latter of which is only possible by using a timer or remote system.
Heating controls
Heating controls are made to improve your user experience. If well utilised, it will save you energy, time, and money. It will also protect you from potential safety hazards. Below are some of the controls you should utilise.
Imagine leaving your seat every time to adjust your dehumidifier. It is annoying and inconvenient, especially when you are busy doing other things. This is where a remote control comes in handy. Like a TV set, it allows you to switch the heater into a setting of your preference.
This is another important feature you could take advantage of. With a timer, you can arrange for your heater to go off or turn on at specific times. This will save you a considerable amount of energy in the long run.
Tips for positioning your dehumidifier
New purchases come with a manual that will most likely advise you on positioning your new dehumidifier. The best thing to do is to follow the step-by-step instructions. This will ensure you have a safe and comfortable experience that won't rack up a large electricity bill from suboptimal use.
The Bottom Line
Dehumidifiers are a fantastic way of alleviating the negative effects of allergies and ensuring a more comfortable climate.
If you're particularly sensitive to allergens or routinely get a bad night of sleep due to humidity, a dehumidifier is a no-brainer. In order to make the best choice, it is advisable to find a dehumidifier that ticks all the boxes. Even if you have a bottomless budget, the most expensive dehumidifier may not necessarily be the best one for your needs.
As always, make sure you read your manual thoroughly before use.
Avoid Expensive Breakdown Costs
Boiler Replacement Promise: If it's under 7 years old and we can't repair it, we'll replace it.
Try YourRepair. From £8/mo
All plans include: annual boiler service, all parts and labour, unlimited support and 24hr helpline.