Best Saniflo Toilet and Macerating Toilets in 2023
Our in-depth analysis reviews the best Saniflos for toilets.  We'll cover what a macerator is, the Saniflo macerator range, and what you need to know when buying one. Takes only 5 minutes to read — and you may want to do just that to ensure you're making an informed purchase.
Ready?
What Is a Saniflo Toilet System?
Saniflo systems allow you to install a new toilet facility without the need for the usual large exit pipe into a nearby sewage drain.
That means your toilet can be placed almost anywhere in the home or a commercial property, where there is access to an outflow pipe of some sort.
Domestic Saniflo Systems
Domestic Saniflo toilets work by a process of maceration. Before waste gets to the exit pipe, it is broken down into liquid form, making it easier to discharge via the macerator pump, either vertically or horizontally.
The Saniflo's system of blades rotates rapidly to turn solid waste matter into liquid in just a few seconds. A pump then removes the waste from the macerator unit, allowing the toilet to refill with water again.
Commercial Saniflo Systems
When Saniflo products are designed for commercial premises, more powerful grinder mechanisms are used in place of normal macerators.
In a commercial properties, there's a good chance toilet users are not as fussy about what they're flushing than they would be at home; and the grinder system can handle it.
The 7 Best Saniflo Macerators
To help you find the best macerator pump and Saniflo system, we've created reviews of domestic and commercial units below.
The SaniPLUS is the most popular macerator in the range, and for good reason.
Warranty
First up, you're going to get a 2-year warranty. Go and check out any online product reviews, and you'll see that cheap macerating pumps offer 1-year at best!
These units are not exactly cheap, so having a long warranty gives you some form of financial protection, long-term.
Noise
We've replaced cheap macerators in properties that are only a few years old. Why? The noise is horrendous.
Saniflo are the leading brand in this space, and they know that noise is a problem with all macerators.
That's why they've worked hard to improve their noise reduction system, year-on-year. They're now one of the quietest macerators available in the UK.
Multi-Macerating Capabilities
Standard units will only condense toilet waste. But, the SaniPLUS will cover waste from:
Toilets
Showers
Bidets
Sinks
And, the system uses a carbon filter, that helps to ensure there are no blockages.
Pump Power
The SaniPLUS can pump out at 100m horizontally, and 5m vertically. If you need a pump bigger than this, you'll be looking at a commercial unit.
Size
Size wise, it's fairly-compact. It's 512mm wide and just 270mm high, so it's easily boxed in so it's not on show.
Who Is The SaniPLUS Suitable For?
Anyone with moderate-high macerating needs, in a domestic property.
More importantly, it's suitable for those that are fed-up of ridiculously noisy macerators, thanks to Saniflo's noise reduction system.
There are other products in the line-up we've reviewed below, but the SaniPLUS is our top pick.
Need to keep your macerating pump out of sight? The SaniPACK Pro was designed exactly for that purpose.
It can be used with a wall hung toilet and is ideal for those space-saving in their bathroom.
The SaniPACK Pro is a midrange macerator pump system that works well for both commercial and home use.
There have been some online reviews noting problems with the electrical systems on occasion, but this is usually down to poor (and DIY) installation.
If you're looking for a heavy duty macerator that's ideal for both commercial & domestic – the SaniBEST Pro incorporates a state of the art grinder system…
And that makes it the ideal macerator for high volumes and multiple streams of waste from toilets, showers and basins.
Where other Saniflo products have restrictions on what you can flush, the SaniBest can deal with sanitary products and even the odd cotton bud or two.
The system also comes with a vent connection; that's vital if you're installing on commercial premises.
If you're looking for a space saving solution when it comes to finding the best macerator pump on the market, the SaniCOMPACT is an ideal choice.
It's an all in one toilet, with the macerator hidden inside the unit.
That means it can be placed in any room where there's access to an exterior outflow pipe.
The pump discharges waste up to 30 metres horizontally and 3 metres vertically. That's less powerful than most Saniflow products on the market.
No cistern is required and the unit fits tightly to the wall, with a width of just 403mm and height of 220mm.
It comes with a two year guarantee.
Most of the online Saniflo macerator reviews point to its ease of installation and long term reliability as the major selling points.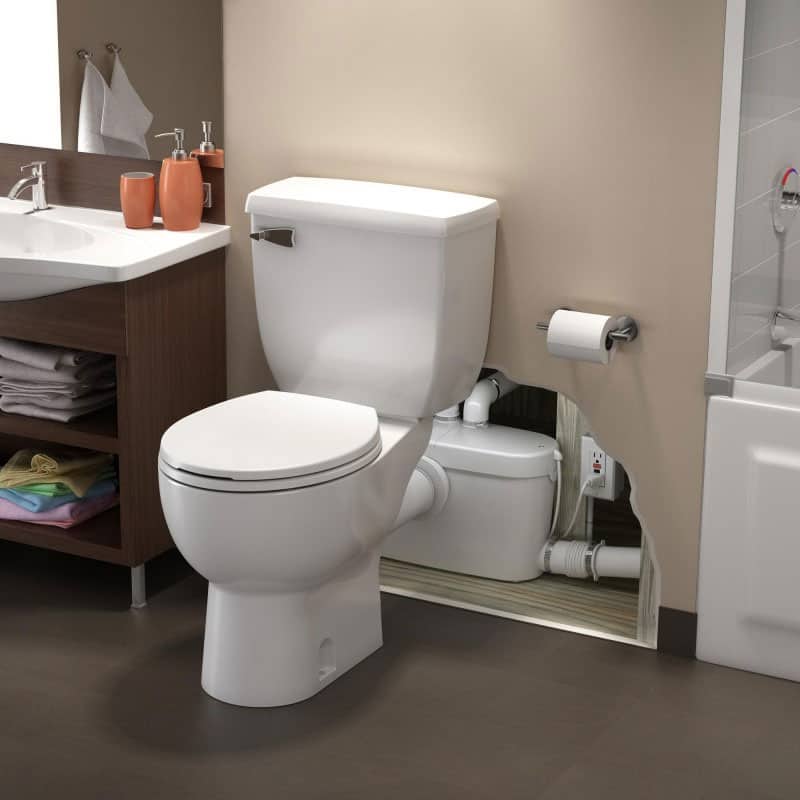 The SaniACCESS is one of the company's most popular systems which they call "the most advanced macerator in the world". It is designed to fit behind the toilet – that makes maintenance a breeze.
This Saniflo system has two outlets, one of which can be sealed if you are only using it for serving your toilet.
As with other products in the range, it can be used for handling waste not just from your toilet, but also:
Shower areas
Sinks & basins
Bidets
In recent years, Saniflo introduced noise reduction technology for all their systems. That means you'll hear little or nothing when the macerator pump engages.
The benefits of the SaniACCESS system is that it sits neatly behind your toilet, largely out of sight.
Like the SaniPLUS, it's easy to access the blade and the electrics via a top panel if there is a problem.
For those that are all about energy efficiency, all Saniflo products use much less water than traditional toilets, and the SaniACCESS is no exception.
Professional installation ensures everything is connected properly, and online reviews back this up.
Those that have had problems, installed the system themselves and regretted it fairly-quickly.
The SaniSTAR is a wall hung toilet system.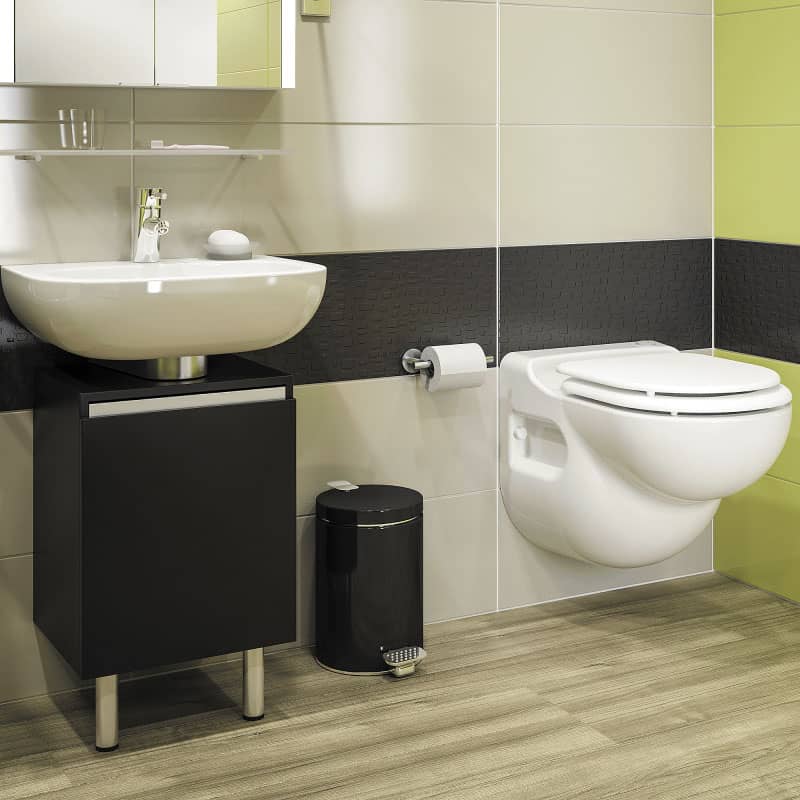 A little more costly than other systems on the market, it does however, have a powerful macerating pump.
It's a great solution if you have low water pressure or want to install your toilet below sewer pipe level (in a basement for instance).
The macerator is built into the unit which makes overall installation easier. And, the flush is controlled electronically which helps reduce water consumption.
Designed to be installed in any area of the home, the SaniSTAR comes with the usual (and impressive) 2 year warranty.
This is another Saniflo product that uses a grinder mechanism and is ideal for commercial installations.
With a strong pump mechanism, the system can be installed up to 25 feet below the sewage pipe line, and up to 150 feet from any soil stack.
As with the SaniBEST, it can cope with products such as sanitary towels and cotton buds thanks to the high powered grinding mechanism.
A vent system is included for all commercial installations, to comply with current building standards.
Buying A Saniflo System
There are several things you need to consider when purchasing your Saniflo system.
Price
The first is your budget. As with all systems, the more you invest, the better quality you get.
Buying a cheap macerator isn't always a good thing.
Location
Where are you planning on installing the Saniflo system, and what macerating capabilities do you need?
For instance, if you need your macerator hidden away, you'll need something like the SaniPACK.
 Type Of Macerator
Do you need a grinder, or a standard macerator?
Macerators are great for domestic use, but can struggle if anything other than conventional waste is being flushed.
If you have commercial premises, then opting for a grinder means your system will handle any kind of waste. That's going to save you having problems with blocked toilets, further down the line.
Installation
Finally, you'll need to decide whether you are going to have your Saniflow system installed by a professional, or on a DIY basis.
The Saniflo toilet reviews with low ratings often tend to be associated with poor or DIY installation.
Do you really want to install something that's controlling the flow of waste in your property, on a DIY basis?
Parting words
Thanks for reading our 5-minute review of the 7 best Saniflo systems for commercial and domestic properties.
Got a question? Leave a comment below and we'll get back to you as soon as possible.
Avoid Expensive Breakdown Costs
Boiler Replacement Promise: If it's under 7 years old and we can't repair it, we'll replace it.
Try YourRepair. From £8/mo
All plans include: annual boiler service, all parts and labour, unlimited support and 24hr helpline.