HeatingForce is reader-supported. When you buy through links on our site, we may earn an affiliate commission. Learn more
24/7 Home Rescue Boiler & Heating Cover Service (REVIEW)
24/7 Home Rescue is an established provider of home emergency cover for both homeowners and landlords. They offer support and repair services for everything from your appliances to your car.

Their boiler and heating cover service is one of their most popular, but what does it cover, how does it work, and what are the advantages and disadvantages? In this review, we are going to take a deep dive into the 24/7 Home Rescue Boiler & Heating Cover Service and tell you everything you need to know.
24/7 Home Rescue: Quick overview
Three monthly plans to choose from
Prices from just £7.47 a month
Annual boiler service included
All parts and Labour included too
95% first-visit repair rate
24/7 UK-based helpline
Unlimited support
Customer service promise
Who are 24/7 Home Rescue?
24/7 Home Rescue is a Burnley-based company that has been offering emergency cover to both homeowners and landlords right across the UK for several years.
Its mission statement is to provide first-class cover through excellent customer service and best business practices. They claim to offer competitive prices, a flexible contract model that puts power in the hands of their customers and to link users up to a network of the best and most trustworthy tradespeople in their area.
According to their website, nobody has to be more than a few moments away from 24/7 assistance if they sign up with 24/7 Home Rescue.
24/7 Home Rescue Boiler & Heating Cover explained
24/7 Home Rescue Boiler & Heating Cover is a simple home cover service that helps you to get fast boiler and heating systems repairs without having to worry about big upfront costs.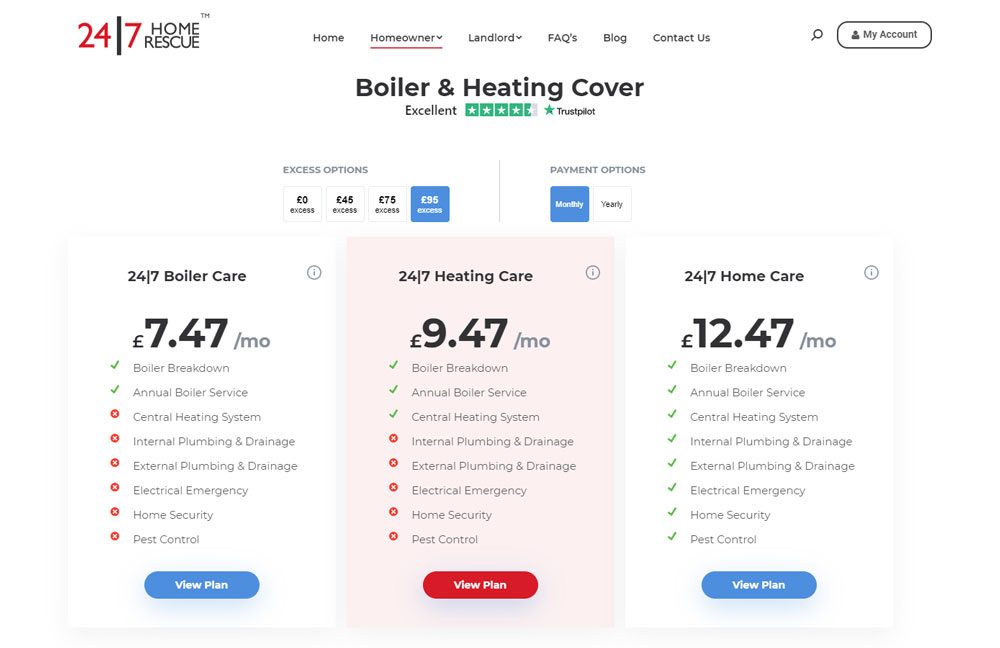 With 24/7 Home Rescue, all you have to do is sign up for one of their three care packages:
24/7 Boiler Care – Priced from £7.47 per month
This package includes any emergency boiler repairs you might need and also includes an annual boiler service.
24/7 Heating Care – Priced from £9.47 per month
This package includes any emergency repairs to your boiler and heating system as well as an annual boiler service.
24/7 Home Care – Priced from £12.47 per month
This is the complete package and includes emergency repairs to your boiler and heating system, as well as your internal and external plumbing and drainage. It also includes electrical emergencies, home security, pest control, and an annual boiler service.
Full details of all these packages can be found on the 24/7 Home Rescue website. Once you have chosen your preferred plan, just click on the blue Confirm Plan button, enter your details, make the payment, and you are covered. It is as simple as that.
Once you are covered, all you have to do is call up the 24/7 Home Rescue emergency number if you have a problem. This line is open 24 hours a day, 7 days a week (as the company name suggests) and their team of helpful support staff will help you to arrange for emergency repairs to be carried out.
How much does 24/7 Home Rescue Boiler & Heating Cover cost?
In the previous section, we detailed the lowest available price each of the three 24/7 Home Rescue Boiler and Heating cover packages.
However, there is some flexibility in the pricing to suit your preferences. These low prices all come with a standard excess price of £95. If you prefer, you can reduce this excess to either £75, £45, or £0. Needless to say, the lower the excess, the higher the monthly. But even if you go as low as a £0, package costs are no more than double the lowest prices quoted above.
One of the big USPs of 24/7 Home Rescue Boiler & Heating Cover is their contract model. They don't force you to sign up for long-term or fixed-term contracts. All 24/7 Home Rescue packages are offered as 30-day rolling contracts. This means you have the flexibility to cancel your deal if you are not satisfied with the service and the only cost you will incur is the coverage until the end of that month.
24/7 Home Rescue also pride themselves on not having any hidden costs in their service. Their website clearly states what is and isn't included in each package. As long as you read through the website clearly before signing up, you shouldn't face any hidden surprises.
Other considerations
Before you begin to choose the right 24/7 Home Rescue Boiler & Heating Cover package, there are a few other factors you should consider.
The first is to make sure that your boiler and heating system will be covered by 24/7 Home Rescue.
On their website, 24/7 Home Rescue is clear that they can fix, cover and repair all major brands. This is encouraging, but it is important to note that they do only guarantee to use manufacturer parts and engineers for the following boiler makes:
Potterton
Viessmann
Ideal
Glowworm
Baxi
Worcester Bosch
This doesn't mean they can't fix other boilers; they can. But they might use unofficial parts to do so and while this won't affect how the boiler works, it could affect any warranty you still have on your boiler. It is therefore worth checking up on this before signing up with 24/7 Home Rescue.
With this type of homecare coverage, it is always tempting to look at the lowest prices on offer on the website and leap on what looks like a great deal. But we would strongly advise you to take a little time to consider the detail and decide which package offers the right deal for you.
A £95 excess is a lot if you think you might need to use the emergency service more than once, so think about paying more per month for a lower excess. Equally, while the Home Care package costs more, it does offer a lot more coverage and in the long-run could prove a more cost-effective deal.
It is also worth bearing in mind that the average cost of an annual boiler service in the UK is around £80 and all three of the 24/7 Home Rescue Boiler and Heating packages include this as standard.
Why choose 24/7 Home Rescue Boiler & Heating Cover?
24/7 Home Rescue is one of the longest-established and well-regarded homecare coverage providers in the country. Users are attracted to their low prices, excellent customer service, and flexible contracts.

Repair Rates
24/7 Home Rescue's repair rate is 95% on the first visit. This is a highly impressive statistic and is testament to the high level of service and the quality of tradespeople that 24/7 Home Rescue works with.
They also offer more manufacturer repairs than the majority of other service providers which undoubtedly contributes to this high success rate.
Customer Promise
In this review, we have made several references to 24/7 Home Rescue's high level of customer service. But what does that actually mean? On their website, 24/7 Home Rescue outline a five-point customer promise that all users benefit from. This includes:
Nationwide Coverage – No matter where in the UK you are based, 24/7 Home Rescue's network of more than 3,000 engineers is guaranteed to get to you fast. They aim to reach you in as little as 4 hours.
Unlimited callouts and claims – You can use the 24/7 Home Rescue emergency service as often as you need to and there is no cap on the number of claims you can make.
Parts and Labour – 24/7 Home Rescue always uses new parts in every repair and where possible, these parts are sourced directly from the manufacturer. Your care package includes the cost of all parts and also all labour.
No hidden charges – All 24/7 Home Rescue guarantees you will not be hit with any hidden charges. All costs are included in your cover package and there will be no hidden labour fees, call out charges or additional charges for parts.
24/7 UK helpline & callouts – 24/7 Home Rescue operates a UK-based helpline that is open around the clock all year round. This means whenever you have an emergency, you can be sure that help is only a swift phone call away.
Reviews
The 24/7 Home Rescue website makes a big deal of its ratings on TrustPilot which is displayed prominently across the site.
It is understandable why. 24/7 Home Rescue has a 4.5* rating which classes it as excellent. This is all the more impressive when you consider that there have been more than 35,000 reviews of their service placed on the site.
Of all those reviews, more than 88% rate 24/7 Home Rescue as either excellent or good, which is a glowing endorsement of the company and the service it provides.
Why choose a boiler and heating cover plan?
24/7 Home Rescue offers a compelling level of service and packages, but the question that gets put to us all too frequently is whether you really need to sign up for one at all.
There is no definitive answer we can give to this and, ultimately, it is an individual decision that you have to make for yourself.
Some people will decide that their home insurance offers coverage of these issues so there is no need to bother with dedicated care plans for boilers and heating systems. But if you have to make a claim on your home insurance, be prepared for a long wait before you receive anything back and the chances are your insurance premiums will increase significantly as a result of making a claim.
You may also decide that your boiler warranty means this kind of deal is not necessary. But unless you use HEATABLE, which offers a 10-year warranty on Worcester Bosch or Viessmann boilers, these generally don't last long, will only cover a very limited set of problems. A warranty will also not cover things like labour costs and it is always just after a warranty expire that things often start going wrong.
Home care plans such as the ones offered by 24/7 Home Rescue are designed to fill the gap between home insurance and boiler warranties. They offer peace of mind that, if the worst happens and your boiler or heating system does break down, you can be sure that you can get an experienced engineer out fast to fix the problem. Even more importantly, you can do so without having to find a large sum of money to pay for it.
This is an attractive offer to tens of thousands of people up and down the country who have chosen to sign up for services like 24/7 Home Rescue. They have weighed up the advantages and disadvantages and decided that they would prefer to pay a few pounds a month for a home care package than run the risk of a big bill at some point down the line.
Our view is that the advantages of getting a boiler and heating cover plan outweigh the disadvantages. But ultimately this is an individual decision for you and your family to make.
Conclusion
24/7 Home Rescue is one of the best-established and highest-regarded providers of boiler and heating repair plans in the UK with thousands of satisfied customers and a rating of excellent on TrustPilot.
It offers a range of packages on flexible rolling monthly contracts at extremely cost-effective prices. All its repairs are made with new parts and it offers more direct manufacturer repairs and official engineers than any of its rivals.
24/7 Home Rescue has an impressive 95% first visit repair record and offers a round-the-clock UK-based helpline that guarantees to get an experienced engineer to your door fast if you have any problems.
We have been hugely impressed with the level of service offered by 24/7 Home Rescue and wouldn't hesitate to recommend them to any reader thinking to invest in a boiler and heating cover service.
Avoid Expensive Breakdown Costs
Boiler Replacement Promise: If it's under 7 years old and we can't repair it, we'll replace it.
Try
YourRepair
. From £9/mo
All plans include: annual boiler service, all parts and labour, unlimited support and 24hr helpline.