There area tonne of cheap and efficient wireless programmable room thermostats on the market, and the Salus RT500RF is one of them.
In this quick review, we'll cover all its features, price and the best alternative.
Features
Let's start by saying the Salus RT500RF's functions are split into two units.
The first is the receiver. This switches the heating on and off. The control centre will then operate the temperature sensing and control side of the thermostat. These two elements work in harmony using a radio frequency (hence, the RF).
This thermostat is quick and easy to install, and can be set to run on a 5/2 or a 7-day calendar. And, it's perfect for most properties given the fact it is a reasonable 30m range.
Being a wireless thermostat, the Salus RT500RF can be placed anywhere in the home. It doesn't have to be wall mounted. Alongside it's sleek looking LCD design, it comes with a stylish desk stand.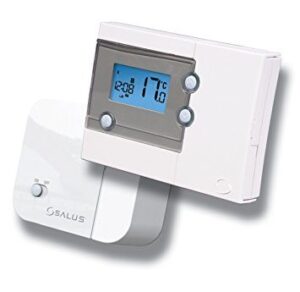 Salus RT500RF Price
Lower end stats tend to sit in the £30-60 range. The Salus RT500RF sells in most online stores for £35, so it's competitively priced.
There's a great deal on Amazon right now, with the RT500RF selling for less than £30 (at time of writing).
Pros & Cons
The price, the fact it's wireless and has 7-day capability all works in favour of the RT500RF.
The biggest let down is the fact this is not a smart thermostat. That said, the likes of the Nest & Worcester Wave (both being smart thermostats) are over £150 more expensive.
Salus RT500RF Alternative – Honeywell DT90E1012
The most obvious competitor to the RT500RF is the Honeywell DT90E1012.
The biggest bonus here is the Honeywell are well known as being one of the leaders in heating controls; their reputation is second to none.
If you're looking for a product from a brand with an exceptional reputation, and similar in price to the RT500RF, the 90E1012 is an excellent choice.
The biggest problem here is that the Honeywell 90E isn't wireless.
That said, there are two really cool settings the 90E offers.
First, it has a frost setting. This can be activated to stop pipes freezing which can sometimes lead to boilers lockouts and expensive repair bills.
Secondly, it has an ECO feature. The principle behind the ECO feature is to give timed setbacks and boosts. This reduces the demand for energy and makes boilers operate more efficiently; reducing energy bills.
Salus RT500RF Review Verdict
The Salus RT500RF is a great wireless programmable room thermostat. If you must have a wireless thermostat and have a small budget, this is a great option.
If you'd prefer to go with a brand with a bigger reputation and can live without a wireless capabilities, the Honeywell DT90E1012 is going to be the right choice.
The Salus RT500RF can be found here and the Honeywell DT90E1012 here.