Welcome to our 3-minute review of the Vokera Excel 29 combi boiler.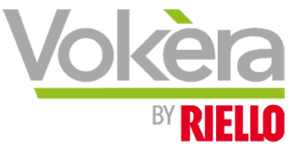 Choosing a new boiler isn't easy. There's a tonne of brands and models to choose from.
Below we'll cover the suitable property size for the Vokera Excel 29, it's key features (and how they stack up against other boilers), the cost, alternatives and our overall review verdict.
Before that, make sure you get advice from a professional. Boiler engineers can spec your property, and offer the most suitable boiler for your house.
You can get a quote, and advice on the best combi boiler for your property here.
Suitable Property Size
Most importantly, what sized property is the Vokera Excel 29 suitable for?
Given its 29kw output, that puts it in the range of a typical 3-4 bedroom property.
This assumes that your family doesn't have an excessive demand for output.
If any of the following sounds familiar, you'll need to speak to an engineer to make sure the 29kw is going to provide enough central heating and hot water output:
More than one shower running at once
Additional radiators or towel rails have been installed (for instance, in an extension)
Your property is an exceptionally large 3-4 bedroom property with lots of radiators
We've created a guide to exactly what size boiler you need here.
But, each property is different. Whether that's the number (and size) of radiators it has, the internal space, or the quality of the insulation.
With a typical boiler installation costing around £2000, it's highly advisable to get an expert's opinion before making a sizable investment.
Features
A Rated Efficiency
The Vokera Excel is an A-rated combi boiler. That means water heating efficiency of 84% (A) and seasonal efficiency of up to 93% (A++).
That's up there with the best-of-the-best.
If you've got a boiler that's even a few years old, you'll be looking at some big cash savings on your gas bill.
Warranty
I'm not a fan of boilers with a short warranty. If anything, it doesn't exactly fill a buyer with confidence.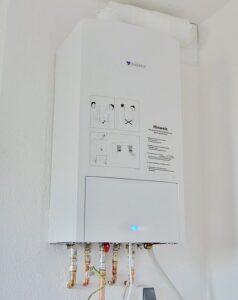 The warranty on the Vokera Excel 29kw is what really lets it down. It's just 2-years, and that's not good for a boiler.
Consider this. There are boilers out there with 5, 7 (Ideal Logic Plus) and even 10 year warranties (Ideal Vogue).
Size
Compact combi boilers are the "in" thing right now. And, the Vokera Excel 29 is about as compact as it gets.
It weighs under 30kg and will fit in the average kitchen cupboard.
So, if you've got a large boiler fitted currently – this is going to free up some space.
Conversion Options
As standard, the Excel is a gas combi. But, Vokera do offer an LPG conversion kit.
Cost
All boilers (not just Vokera combis) vary in price. Manufacturers regularly offer deals.
Typically, you'd expect to pay around £700-£750 for a Excel 29kw combi.
And, we'll explain how that stacks up to the alternatives below.
Alternatives
Vokera boilers are known for being a fairly budget brand. So, comparable pricing isn't going to come from the likes of Worcester Bosch, Vaillant, or Baxi.
As an example, the alternative from Worcester Bosch would be their 30I combi boiler. You'd expect to pay £1,000 for that boiler unit.
Ideal Logic Plus 30kw
A better comparison comes from Ideal Boilers. They're known for two things:
Low prices
High quality – comparable to Worcester, Vaillant and Baxi
And, that's why they're a good alternative to budget brands (whereby they're better quality, and not much more expensive), and high-end brands (offering similar quality, but huge cost savings).
Suitable Property Size
Given the Logic Plus is a 30kw combi, it's offering similar output for heating/hot water as the Vokera.
Efficiency
Like the Vokera Excel 29kw, it's A-rated. So, both boilers are going to be saving you a sizable chunk on your gas bill!
Important: Warranty
This is where the difference becomes obvious.
The warranty on the Ideal Logic Plus is a massive 7-years. That's 5 years more than the Vokera.
We like to see 5-years+ warranty on new boiler installations, as a minimum.
Size
The Ideal Logic Plus 30 will fit in a standard kitchen cupboard.
It's a compact boiler.
You can see the dimensions below.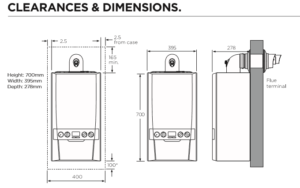 Cost
We'd expect to pay £750-£800 (boiler only) for the Logic Plus 30.
So essentially, you've got a boiler that's similar to the Vokera Excel 29kw for a similar price, except:
It's manufactured by a more reputable brand
The unit comes with an additional 5 years warranty
Vokera Excel 29 Combi Boiler Review Verdict
The Excel 29kw is similar in price to the comparable Logic Plus, but lacks the warranty.
If this was going to be installed in my own property, I'd choose the Logic Plus with a 7-year warranty over the Vokera.
What's Next?
Hopefully this quick review of the Vokera Excel has been useful.
As we've already mentioned, get free help and advice with a boiler quote to make sure you get the right boiler installed.
Each property is different. And, buying a boiler that doesn't have enough output could result in:
Radiators not getting up to temperature
Showers going hot and cold
Hot water running out as and when you use it
In this article