Welcome to our 3-minute guide to Potteron boiler problems.
In our quick guide, we'll cover some common faults, what they mean, and what you'll need to do next to fix the problem.
Before we start, you can get quotes from Potterton boiler engineers to help fix your problem here.
#1 – Boiler Pressure Too Low
This is a common problem with all boiler brands, not just Potterton.
When a boiler pressure is too low, it will lockout.
Essentially, the boiler will stop working and display a fault code. In this case, it's likely that the E119 error will be displayed on Promax, Profile, Suprima, system and store boilers.
If you've got a Potterton Gold or Titanium, the error code showing should be E118.
What Causes Low Boiler Pressure?
Any leak in your central heating system, will cause your boiler to lose pressure.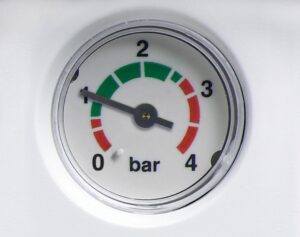 Leaks in the boiler can come from:
Cracked heat exchangers
Faulty boiler pump seals
Leaking pressure release valve
But, leaks are not limited to the boiler. Any part of your heating could be the culprit including:
Weak soldered joints
Valves on radiators
Pinholes in radiators or towel rails
The Fix
Resetting a boiler won't fix the problem. The system will continue to leak and once pressure is below 0.6 bar, the boiler won't restart, even after a reset.
Topping up the system pressure can clear the fault code, but it doesn't solve the problem; a leak that could be causing water damage.
The leak needs to be found and fixed. Sometimes this can be a small repair (re-soldering a copper joint) and sometimes parts need replacing (such as boiler pump seals).
Read our guide to boiler's that lose pressure.
#2 – Fan Cycling On And Off
When you turn on your boiler you'll notice a small whirring noise that goes on for 2-5 seconds, before the boiler fires up.
This is the boiler fan. The fan in your Potterton creates a draught that allows harmful flue gases to escape. The boiler needs to recognise the fan is operational before starting up.
The circuit board gets this signal from an air pressure switch. This measures internal air pressure to determine if the fan is working, and if there's a fault.
So, if the fan isn't recognised, or the signal is intermittent it will:
Not fire up
Cycle on and off as it loses signal
As this can be caused by a whole host of problems, the boiler might display the wrong or misleading fault codes.
It could display the E131, E151 or E152 as these are flue and PCB fault codes. It can also cause an ignition fault (code E133).
However, it's much more likely to display the E160 and E161 fault codes. These are fan specific fault codes for Potterton boilers.
What Causes A Fan Fault?
Like most boilers, fan faults like this on a Potterton can be narrowed down to:
Loose or damaged wiring – the circuit board isn't receiving the signal it needs
A faulty air pressure switch – the switch is sending the wrong signals to the boiler
A broken PCB – it's not giving or receiving the correct signals from the PCB and fan.
The Fix
The boiler's casing needs to be removed. And, that's a job for a Gas Safe engineer.
Using electrical testing equipment, they'll need to determine whether the fault lies with the:
Fan
PCB
Air Pressure Switch
Wiring
Sometimes, repairing the wiring can fix the issue. In other cases, replacement parts will be needed.
#3 – Boiler Cycles Off Before Radiators Are Up To Temperature
Another common fault with Potterton boilers, is a unit that heats up radiators, but cuts off before they're up to temperature.
If this is the case with your Potterton boiler, there's a good chance there's a E20 or E28 fault code being displayed.
This relates to the sensors that monitor the temperature of water.
Once up to temperature, they'll send a signal back to the boiler to say that the temperature is optimal, and to cut off the gas supply until water temperature drops.
If these sensors are faulty, they'll be providing the wrong signals, potentially cutting off the gas supply before water temperature is optimal.
What Causes The Boiler To Cycle Off?
There are two culprits here:
NTC thermistors
Limescale
NTC Thermistors
NTC thermistors are the temperature sensors. If they are faulty, they'll provide incorrect readings to the PCB. However, on occasion, it's actually the PCB that's at fault.
Limescale
Then there's limescale. When limescale attaches itself to pipes and components, it burns hotter than other sections of the heating system.
So, if limescale has managed to attach itself near by the NTC thermistor, this will burn hotter than the rest of the water.
The NTC thermistor then assumes (incorrectly) that the rest of the water in the heating system is up to temperature, and cuts off the gas supply.
The Fix
Get a Gas Safe engineer to check the NTC thermistor. If it seems operational, there's a good chance that removing limescale will fix the problem.
This can be done by completing a hot flush using chemicals. If the limescale has built-up over years, sections of the pipework that contain the NTC thermistor may have to be removed and replaced.
#4 – Return Pipe Is Cold
A cold return pipe isn't just a problem with Potterton boilers; but all boilers.
When a boiler ignites, it will take a while for the return pipe to heat up. Hot water comes out of the flow (so this pipe warms up within minutes).
After travelling around your heating system (where water will lose heat) it comes back into the boiler via the return pipe.
So, there will be a differential in temperature, but not a huge one. A boiler will display a fault code such as the E125 and E193 and then lockout.
What Causes A Cold Return Pipe?
Cold return pipes represent a circulation fault of some kind.
By that, we mean either:
The pump isn't doing its job
There's a blockage
Pump Faults
This could be anything from blown seals, to the wrong pump, or even an incorrect speed setting.
For a full list of heating pump faults, click here.
Blockages
Most likely, you'll have a blockage from central heating sludge. A typical sign of this is radiators that are hot at the top but cold at the bottom.
Sludge has made it's way into the heating system, not been removed, and has settled at the bottom of radiators.
The Fix
A Gas Safe engineer will need to remove the casing on your Potterton, and assess the condition of the pump. Blown seals are easy to recognise, given the pump will be leaking if this is the case.
They'll check the pump is operational, and its speed setting.
If this doesn't fix the problem, it's likely they'll need to hot flush your system will chemicals to remove any heating sludge.
#5 – No Hot Water
With older Potterton Promax, Suprima and Profile boilers, we get lots of people asking why they have no hot water, even when the heating works.
On the flip side, a similar problem can occur, but customers have heating but not hot water.
What Causes A Boiler Not To Provide Hot Water?
The problem isn't limited to, but is usually associated with a diverter valve that's stuck.
A diverter valve essentially directs hot water to taps and showers, or your radiators.
On a combi, if it's broken or stuck, it will only provide one or the other.
However, if the valve is partially stuck, you might get radiators heating up slightly, every time you turn on hot taps, or run a bath.
Basically, hot water that is meant to be directed to your bath, shower or taps, is leaking through the diverter valve.
The Fix
This isn't the only problem that can cause your Potterton boiler to provide no hot water. So, it's worth getting a qualified local engineer in to help.
They'll assess the diverter valve, and there's a good chance it's worth replacing, rather than wasting time trying to fit an old and faulty part.
We've wrote more on faulty diverter valves here.
What's Next?
Thanks for reading our 3-minute guide to common Potterton boiler faults, symptoms and fixes.
If you've got a problem with your Potteron boiler, you can get repair quotes from engineers here.
Still got a question? Leave a comment below and we'll get back to you as soon as possible.
In this article