Welcome to our 5-minute review of the Greenstar CDI Classic combi boiler range, from Worcester Bosch.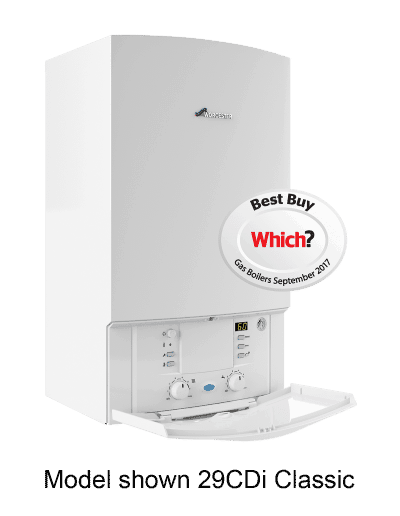 The Worcester brand needs no introduction. It's been awarded the Which? Best Buy for the eighth year in a row.
And, although the Greenstar range isn't the cheapest combi boiler available, it's certainly one of the best in terms of quality.
Greenstar CDI Classic Overview
The CDI Classic range from Worcester, are combination boilers.
That means they heat hot water on demand, rather than needing a hot water storage tank, or cylinder. If you have either of these water storage facilities, you'll need a system, or regular boiler.
Although these are designed as gas combi boilers, all the CDI Classic range can be converted to LPG. They can't, however, be converted to oil.
This ISN'T a compact boiler. A compact boiler is designed to fit in a standard kitchen unit, so it can be installed out of sight, rather than being hung on a wall, in plain view.
If you want a compact boiler, there are boilers from Worcester (such as the 28CDI Compact), as well as the new release from Baxi (the Baxi 600), as well as all Ideal Logic Plus boilers. You can find out more about compact boilers using our site's search function here.
Greenstar CDI Classic Range
With all Greenstar CDI Classic boilers, you'll get A-rating in terms of efficiency. That's for both hot water and heating.
Basically, if you've got a right ole' banger of a boiler, a new CDI could save you up to £305 per year, on energy bills alone (check out this guide over at the Energy Saving Trust).
You've got a choice of the following boilers:
Greenstar 29CDi Classic
Greenstar 34CDi Classic
Greenstar 38CDi Classic
Greenstar 42CDi Classic
What Size Greenstar CDI Classic Do You Need?
Unsure about what size CDI Classic combi boiler you need for your property? No problem. This quick table gives an indication of which boiler you need.
| | |
| --- | --- |
| Boiler | Property Type |
| 29CDI | Medium in size, approximately 12 radiators, and only one shower/bath in use at once |
| 34CDI | Slightly higher output, but suitable for a similar sized property as above |
| 38CDI | Medium-large property with approximately 14 radiators, and 2 showers in use at once |
| 42CDI | Medium-large property with approximately 14 radiators, and 2 showers in use at once |
Worcester Greenstar CDI Classic Review
Power Output & Size
Don't let the names fool you. Many boilers name, indicates the kw output. However, all four models in the CDI Classic combi range have a central heating output of 30kw.
30kw is reasonable in terms of central heating output. That's going to power anything up to a typical 4-bedroomed property.
But it's the hot water output that really differs.
Greenstar 29CDi Classic: 30.9kw
Greenstar 34CDi Classic: 35kw
Greenstar 38CDi Classic: 40kw
Greenstar 42CDi Classic: 42kw
And, for such a powerful boiler, it's reasonably compact too. Dimensions for the 29CDI, 34CDI, 38CDI AND the biggest boiler in the range, the 42CDI, are 760 x 440 x 360.
Flow Rate
The CDI Classic range differs slightly in terms of flow rate, too.
The higher the flow rate, the more taps and showers you're going to be able to power at once. That's important, given there's no hot water storage facility here; whatever the boiler can heat and circulate, is all the hot water you'll have access too.
| | |
| --- | --- |
| Boiler | Flow Rate |
| 29CDI | 12.3 litres per minute |
| 34CDI | 14.3 litres per minute |
| 38CDI | 16.4 litres per minute |
| 42CDI | 17.2 litres per minute |
As you can see from the table, if you live in a small or medium property with 1 shower, you'll be able to go for the 29CDI Classic, or the 34CDI Classic. For most medium sized properties, you'll need the 38CDI Classic. And, for large properties, you'll be heading for the 42CDI Classic.
Anti-Freeze Features
Back in March 2018, we had a cold spell. Typical temperatures throughout the UK were around -4 for multiple days. Naturally, in the likes of Scotland and Wales, the temperatures were even lower.
We had an influx of 10x the amount of people visiting our website, looking for ways to fix their boiler. The problem 99% of people faced? A frozen condensate pipe. That's always the first place to start, when fixing a boiler in these temperatures.
Whilst it's not a major issue and can be fixed easily. It's still down time for your boiler, as well as an emergency boiler repair call out fee. Not good!
That's why the Greenstar CDI Classic range incorporates an important feature; an improved condensate syphon. According to Worcester, this unit is going to stop your boiler freezing up, and locking out, down to temperatures of -15, for up to 48 hours (source).
This frost protection, means that the Greenstar CDI Classic, can easily be installed in a garage or loft.
Warranty
As I've mentioned in many of my boiler reviews, warranty is something that buyers should be focusing. A boiler manufacturer, is essentially, telling you what they think of their own boiler.
2-year warranty? They think their appliance is garbage.
5-year warranty? Now we're talking, we'd never buy a boiler with less than 5-years.
The Worcester Greenstar CDI Classic range has one of the highest warranties of any boiler. You'll be able to grab up to 10-years.
Worcester's warranty conditions can be confusing, and they change all the time, so make sure you read the small print, before getting your boiler installed.
Typically, to get this warranty, you'll need to use a Worcester Accredited installer. These aren't employed by Worcester, they are simply Gas Safe engineers that have completed Worcester's training program.
Alongside a suitable installer, it's likely you'll need to get a magnetic system filter installed, as well as Worcester branded boiler controls.
Prices
Prices for the CDI Classic vary a great deal. If you're looking to buy a boiler direct, here are some prices you should expect to pay.
| | |
| --- | --- |
| Boiler | Price |
| 29CDI | £1,100 |
| 34CDI | £1,200 |
| 38CDI | £1,400 |
| 42CDI | £1,600 |
Don't scrimp, by buying a smaller model than you should. You need to get your property spec'd by a qualified heating engineer, to make sure you are buying a boiler with the correct output.
You can get your property spec'd and then get a free installation quote here.
Installation Prices
The prices mentioned above, are for the boiler only. On top of this, you'll need materials (such as a flue, filter and copper pipe), and of course; the cost of labour.
So, how much is it going to cost to install a Greenstar CDI Classic in your property?
| | |
| --- | --- |
| Boiler | Installation Price |
| 29CDI | £2,100 |
| 34CDI | £2,200 |
| 38CDI | £2,400 |
| 42CDI | £2,600 |
As you can see, a typical installation price is going to be £1000. That includes all parts associated with the install (filters, pipe, fittings), as well as fitting by a Gas Safe registered installer.
Prices will vary. For quotes not including the likes of boiler filters, and for a true straight swap (i.e. an easy job), the price could be as low as £600 (again, including the flue etc). But, expect to see an average of around £1,000 across multiple quotes.
Where To Get Installation Quotes For Your Greenstar CDI Classic
We've created an incredibly detailed guide to getting a new boiler fitted here.
That's going to cover everything you need to know, as well as a detailed comparison, comparing the installation prices from British Gas, Help-Link, BOXT, and even local installers.
Can't be bothered to read the full guide? The short-version is this:
Get multiple quotes from local installers, and then compare them back-to-back.
Then, jump onto BOXT, it's an online boiler installation company, partly owned by Worcester. Naturally, the prices for Worcester here, are incredibly cheap!
Protecting Your CDI Classic Combi Boiler
When getting your installation quotes, make sure they are itemised. One thing we'd recommend, is fitting a boiler filter (there's a quick guide to boiler filters here).
These filters help to catch debris in your heating system. And, whatever these filters catch, isn't getting lodged in your boiler and causing problems. That's a good thing…by the way.
Worcester actually make their own system filter, in both 22mm and 28mm, depending on the size of the return pipework to your boiler.
So, when you're comparing quotes back to back, check to see which ones are offering a system filter to protect your boiler.
What's Next?
Thanks for reading our review of the Worcester Greenstar CDI Classic range.
We regularly post up boiler reviews, money saving tips, and boiler fault finding guides. Like what you've read? Bookmark this page and pop back soon.
Have an opinion on a Worcester boiler, or a question about another brand?
Leave a comment below, and we'll get back to you as soon as we can.
In this article