Looking for a cheap combi boiler, but don't know where to start? This 10-minute guide has everything you need to know.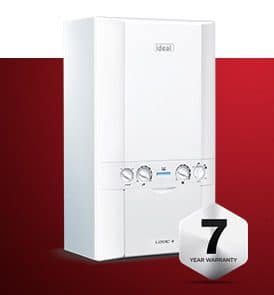 Below, we'll be covering leading boiler brands, the best buy combi boilers available this year, and two specific recommendations.
How Much Does A Good Cheap Combi Boiler Cost?
Avoiding the most expensive, and the unreliable low-end products, the best overall cheap combi boilers are likely to cost in the region of £700-£1,000.
Which Cheap Combi Boiler Should You Choose? [Reviews & Recommendations]
But, with several brands to choose from, and with each offering a handful of different ranges, it's not exactly easy choosing a new boiler.
Some of the most popular boilers in the UK include the:
Vaillant EcoTec
Baxi 600
Worcester Greenstar I
Worcester CDI Compact
Ideal Logic Plus
Potterton Titanium
And, the list keeps on going…
The problem? Not all the best, are cheap (naturally). But, with cash in hand, there are products that stand out from the crowd.
They rival boilers that cost 10-25% more, include an excellent warranty, and are from some of the most popular boiler brands in the UK.
The Best Cheap Combi Boilers
We've highlighted two recommendations below; the Baxi 600 and the Ideal Logic Plus.
In terms of overall value for money thanks to a high warranty, efficiency and reliability, we think they're the best cheap combi boilers available.
Baxi 600
In a recent article, we covered the launch of the Baxi 600, it's one of the best compact boilers on the market.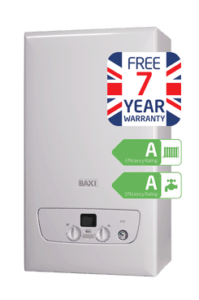 For such a small and compact boiler, the output is impressive. It's available in both 24kw and 30kw models.
Here are a few highlights of our recent review.
Size
Compact boilers are the in-thing right now. House prices are increasing, and our wages aren't; space comes at a premium.
And, even if you have plenty of space in your home, the chances are you don't want to stare at an ugly boiler on your day off.
The Baxi 600 is a cheap combi boiler that's designed to fit into small spaces, such as a kitchen cupboard. That's similar in a way to the Worcester Bosch CDI Compact (but you'll see why we've picked the Baxi 600 instead, in just a second).
The dimensions of the Baxi 600?
Width = 390mm
Height = 700mm
Depth = 285mm
Warranty
As we mention in most posts, including this one, you shouldn't be buying a boiler with less than 2-years warranty. In fact, we'd be aiming for 5-years as a minimum.
And, the Baxi 600 smashes our warranty minimum, with a huge 7-years. That's more than enough piece of mind.
Price
And, here's where it's leaps and bounds above the equivalent Worcester Bosch; price.
Boiler prices for 24kw-30kw boilers are in the region of £800-£1,300. But, at the lower end, there tends to be a lot of low quality brands, and unreliable boilers.
That's why we were shocked to find a brand like Baxi, selling their 24kw for around £750, and the 30kw for around £850; an absolute bargain!
Ideal Logic Plus
Ideal Boilers are a UK brand, knocking out 10,000 quality units per year. And, that popularity has snowballed, partly thanks to their hugely popular Ideal Logic Plus.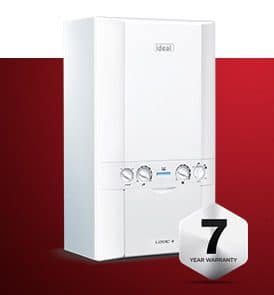 If someone's asking for a boiler recommendation, assuming the Plus is suitable, there's a good chance we're going to recommend it.
And, here's why…
Size
In terms of actual KW size, and therefore output, you're going to get more choice with the Ideal Logic Plus than the Baxi 600; 24kw, 30kw and 35kw. And, they do have the Vogue, with a longer warranty, and 40kw output.
Physical size is comparable to the Baxi 600, making this a compact combi boiler.
Dimensions are:
Width = 395mm
Height = 700mm
Depth = 278mm
So, slightly larger in terms of width. But, slightly smaller in terms of depth.
Warranty
There's no doubt, the main target for Baxi, is Ideal and their Logic Plus. It's similar in size, and the warranty is identical; 7-years. That said, Ideal Boilers do offer a 10-year warranty on their heat exchangers, and that's one of the most expensive parts to repair.
Price
Pricing is similar to the Baxi 600 too, with the Ideal Logic Plus 24kw costing around £750.
You should expect to pay £100-150 extra for the 30kw model.
Baxi 600 Or Ideal Logic Plus?
We trust both brands, and we're impressed on all fronts (warranty, price, size and output). Realistically, we'd be happy to have either installed. What we'd do, is get multiple quotes from local installers.
There's a good chance they have a relationship with their local plumbing merchant and can get better prices from one brand over the other. That's the one we'd go with, as both these boilers top dozens of others, especially in terms of price.
Typical Combi Boiler Prices [From Leading Brands]
We'd not advise heading for the cheapest combi boiler that you can find. Why? They're usually very low quality, and that's backed up by the length of the warranty; ridiculously short.
Don't like our two recommendations above?
Let's quickly run through what you want from your boiler, and the prices you should expect to pay.
Warranty
First up, is warranty. We'd NEVER advise installing a boiler with less than 2-years warranty. We believe that manufacturers are telling us exactly what they think of their products, when they offer their warranty.
And, whilst 2-years is better than none, we'd advise heading for a 5-year plus warranty. Boiler repairs aren't cheap, and a long warranty is all that stands between you and footing the bill for these expensive repairs.
There are plenty of boilers from leading brands, with warranties in the region of 5-10 years. The additional cost in comparison to a lower quality boiler with a short warranty, isn't worth the saving, given warranty loss.
Brand
Brand has a huge bearing on price. Worcester Bosch tend to be amongst the most expensive, but they've earnt a solid reputation.
Regardless of the type of cheap combi boiler you're looking for, here's the brands we'd be sticking too.
LPG & Gas
For LPG & Gas combi boilers, we'd be heading for:
Baxi
Ideal Boilers
Vaillant
Potterton
Worcester Bosch
Oil
If you need a cheap oil boiler with a long warranty, high efficiency, and from a well-known brand, you'll want to head for:
Grant
Worcester Bosch
Warmflow
Combi Boiler Installation: What's Cheap?
OK, so you've chosen your boiler. Now what?
Let's discuss combi boiler installation prices, and what we'd consider cheap. Well, we say cheap. New boilers aren't cheap, but getting a combination of the right installer, and the best value for money on your boiler purchase, can save you plenty of pound notes.
If you'd prefer the long version, we've created a guide to combi boiler replacement costs here, there's even a section detailing what to expect in terms of price, when getting a new boiler from British Gas, and other national installers.
LPG & Gas Combi Boilers
A typical combi boiler will be in the 24kw-30kw range. That's going to power central heating and hot water for a 1-3 bedroom property.
LPG & Gas Boiler Installation Prices
Expect a cheap combi boiler installation to sit in the £1,700-£2,000. There's a tonne of factors that affect the price including boiler size, brand, complexity of the installation, and so on.
You can get quotes from up to 3 installers here. You'll be able to get a straight up comparison to find the cheapest boiler deal possible.
Oil Combi Boilers
Guestimating installation costs for LPG and gas boilers is relatively straight forward, even though prices can vary from boiler-to-boiler and installer-to-installer. However, oil boiler prices vary even more.
Oil Boiler Installation Prices
A cheap combi oil boiler could be as little as £1,200. An expensive one? Upwards of £2,000.
To help you figure out what you should expect in terms of cost, we've created an oil boiler cost guide here.
Where To Buy Cheap Combi Boiler Packs
You'll be able to buy most cheap combi boilers from leading national stores offering plumbing and heating supplies. That includes the likes of:
Screwfix
B&Q
Plumbase
Plumb Center
Grahams
However, we personally wouldn't bother. Your boiler installation company will get much better deals than any DIY or plumbing store offers to the average retail customer. But, that's not the only reason to get your installer to grab your boiler on your behalf.
If there's a fault with a boiler that you've purchased outside of the installation contract, there's a good chance they're not going to go out their way to sort out the problem. Their job is to install it, not to fix it.
So, if the boiler is installed and there's a problem, it's on you to get a replacement, not them. Alternatively, you can leave it in their hands. There's a good chance they have the relationship with a local plumbing merchant which means they can simply walk in and swap it for a replacement, if there are any problems.
And, to double check that your installer is getting good prices on materials, you can compare up to 3 installation quotes here, and pick the cheapest!
Paying For Your Boiler
There's probably a good reason your looking for cheap combi boilers, because you've had a sudden breakdown, and the replacement is an unexpected cost.
But, you don't have to scrimp, fitting a sub-standard boiler to save £100 or so now, only for it to cost you £100s more in the long run.
More and more companies are offering combi boiler installations on finance. So, if you don't have the cash up front, you can compare quotes and pay for your boiler monthly.
What's Next?
Thanks for reading our 10-minute guide to the best cheap combi boilers.
Think a quote you've received is a rip off? Confused about any boiler reviews you've read online?
We're here to help. Drop a comment below and we'll get back to you as soon as possible.
In this article