Welcome to our guide covering the Baxi Duo Tec 28 combi boiler.
If you've already read our general overview of the Baxi Duo Tec range, you'll know we're huge fans. In fact, we're a fan of most Baxi boilers, and we recently wrote up a quick overview of the new 600 in our guide to compact boilers here.
Today, we're going run through a quick review of the Duo Tec 28 combi. So, if you're not sure if this is the right boiler for you, you'll have everything you need to know to make a decision, within the next 5-minutes.
What Size Property Is The Baxi Duo Tec 28 Designed For?
Before you go any further, it's worth working out if the 28kw Duo Tec is the right size boiler for your property.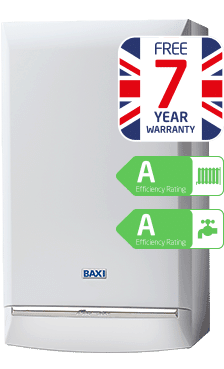 The 28kw isn't the smallest in the Duo Tec range, that would be the 24kw. The 24kw is designed for the smallest of properties, but we also need to take into account hot water demand, and the number of radiators.
You'll also need to consider the flow rate. The 24kw is low, at 9.8 litres per minute. This rises to 11.5 litres per minute for the Duo Tec 28. But, if that's still not enough, you can jump to the Duo Tec 33, which provides a massive 13.5 litres per minute.
Typically, you'd expect to fit a 24kw in 1-2 bedroom apartments, flats, and sometimes, small terraced houses.
For homeowners with average hot water and heating demand, a 28kw is going to cover everything in the 2-3 bedroom range, sometimes even 4-bedroomed properties, depending on the size and number of radiators, as well as showers.
This might seem vague, but no property is the same. Feel free to get a general gauge of what size boiler you need here.
But realistically, you need to be speaking to a heating engineer. Get a quote for your boiler installation, your engineer will spec your property, and determine which is the most suitable boiler to install.
Baxi Duo Tec Reviews Online
The best way to see how good a product is, is to go and check out online reviews, just like you would if you bought something off Amazon.
Unfortunately, most boiler sales tend to be through plumbing merchants, so they're not reviewed very often.
However, there's a cool little review site called Revoo, where homeowners have been reviewing the Baxi Duo Tec range. You'll see over 350 reviews, with an average rating of 9.3, which is pretty-darn' good.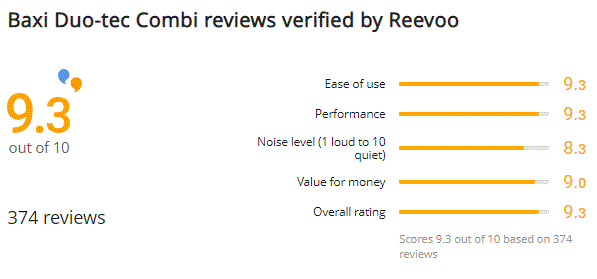 How Big Is It?
The next thing you need to decide, is whether you need a compact boiler. Basically, do you need to install it in a tiny space, such as a kitchen cupboard?
If the answer to that question is yes, the Baxi Duo Tec 28kw boiler, isn't suitable.
These are the dimensions of a Duo Tec combi:
450mm (width) x 780mm (height) x 345mm (depth)
To install this, you'll need side clearance of 5mm, 200mm upper, lower of 150mm and 450mm front clearance for servicing.
Like I said, getting the right spec boiler, that also fits into the installation area, can be confusing. So, just get your boiler engineer to measure up when they're there giving you a quote.
And, if you do need a compact boiler and like the Baxi brand, the Baxi 600 we mentioned above, is worth a shout. If you're looking at the 28kw Duo Tec, it's likely you'll need the Baxi 630, not the 624.
Is The Duo Tec 28 Efficient?
It sure is, and it's also Boiler Plus compliant.
Baxi are up there with the leading boiler manufacturers in the UK. And, it's not just reliability and competitive pricing that has allowed them to create a quality brand image.
Efficiency is extremely important. There's little point saving a few quid by buying a cheap boiler, only to find you spend that saving 10x over, on energy bills, due to it being inefficient.
Baxi's Duo Tec 28 is endorsed by the Energy Saving Trust, thanks to it's 88.6% efficiency, giving it an A-rating. So, you'll be saving a tonne of cash on energy bills, in comparison to your old and inefficient boiler.
How Long Is The Warranty?
In pretty-much every single review written on this website, you'll hear us banging on about warranty, so we'll do the same here.
Don't buy a boiler with a low warranty. The boiler is only part of the overall installation cost. And, saving a few hundred pounds now on a boiler with a low warranty (2-years for instance), is going to come back to haunt you.
If a boiler was deemed reliable by a manufacturer, they wouldn't offer a short warranty. At the end of the day, like you, they don't want to pay for repairs. So, you can bet your bottom dollar when the warranty runs out, that's the time when there's the biggest chance of something going wrong.
An installation cost of £1,800 or more? For things to start self-destructing after 2-years?
No thanks.
I personally wouldn't buy a boiler with a warranty below 5-years. But, there are a tonne of brands offering boilers with a larger warranty than this. Where it's cost-effective, get the biggest warranty you can.
With the Baxi Duo Tec 28, you'll get a long 7-year warranty, and that's plenty in our opinion.
Are There Any Features Worth Mentioning?
This year, we had a cold snap. In a single day, our site went from the average of around 2,500 visits, to over 20,000.
And, most of the people's problems, related to a simple fault; a frozen condensate pipe. The condensate pipe allows condensed gases to escape from the boiler. Unfortunately, they freeze easily, cause a blockage, and the boiler stops working.
The solution is to thaw out the pipe and reset the boiler. Or…
Buy a boiler with frost protection, which the Duo Tec 28 has.
Frost protection ensures that boilers fitted in garages or lofts, don't freeze up. That means zero downtime, and no expensive call-out charges to get a boiler engineer to come and fix your appliance.
What's The Price?
Baxi's boiler prices are typically up there with the more expensive, being a premium brand.
The price of the Duo Tec 28kw sits at around £830 at time of writing, and that's actually quite cheap.
Most would probably compare this with something like the Worcester 30i, which sits at around £1,000, and the Ideal Logic Plus 30kw, which is priced around £800.
So, in terms of cost, it's competitive in relation to other boiler brand's offerings.
How Much Will It Cost Including Installation?
Now, labour rates vary throughout the country, as does the complexity of a job.
Typically, we'd expect the installation price of a Duo Tec 28, to be in the region of £1,800-£2,000. Comparing quotes from multiple installers will help you get the best deal.
You can read our guide to boiler installation costs here. That's going to give you a good idea of what adds on or reduces the cost of an installation like this one.
Should You Buy The Baxi Duo Tec 28?
So, what's the review verdict?
Well, with frost protection, A-rating in terms of efficiency and price well below their main competitor, Worcester, it's certainly value for money.
The main downfall here, is it's not compact. After all, who doesn't want to save space? We'd be happy installing this, although for those needing a compact boiler, the new Baxi 600 is the way to go.
The best thing to do? Speak to a heating engineer. Don't just get multiple quotes from different installers. If needs be, get quotes for different (but, suitable) boilers, and see how they stack up.
You can get up to 3 different boiler installation quotes here.
What's Next?
Thanks for reading our review of the Baxi Duo Tec 28 combi boiler. Got a Duo Tec 28, and have an opinion? Still got questions about which boiler you should install?
Leave us a comment below and we'll get back to you as soon as possible.
In this article